Abstract
Vaccines that elicit targeted tumor antigen-specific T-cell responses have the potential to be used as adjuvant therapy in patients with high risk of relapse. However, the responses induced by vaccines in cancer patients have generally been disappointing. To improve vaccine function, we investigated the possibility of exploiting the immunostimulatory capacity of type 1 Natural killer T (NKT) cells, a cell type enriched in lymphoid tissues that can trigger improved antigen-presenting function in dendritic cells (DCs). In this phase I dose escalation study, we treated eight patients with high-risk surgically resected stage II–IV melanoma with intravenous autologous monocyte-derived DCs loaded with the NKT cell agonist α-GalCer and peptides derived from the cancer testis antigen NY-ESO-1. Two synthetic long peptides spanning defined immunogenic regions of the NY-ESO-1 sequence were used. This therapy proved to be safe and immunologically effective, inducing increases in circulating NY-ESO-1-specific T cells that could be detected directly ex vivo in seven out of eight patients. These responses were achieved using as few as 5 × 105 peptide-loaded cells per dose. Analysis after in vitro restimulation showed increases in polyfunctional CD4+ and CD8+ T cells that were capable of manufacturing two or more cytokines simultaneously. Evidence of NKT cell proliferation and/or NKT cell-associated cytokine secretion was seen in most patients. In light of these strong responses, the concept of including NKT cell agonists in vaccine design requires further investigation.
This is a preview of subscription content, log in to check access.
Access options
Buy single article
Instant access to the full article PDF.
US$ 39.95
Price includes VAT for USA
Subscribe to journal
Immediate online access to all issues from 2019. Subscription will auto renew annually.
US$ 199
This is the net price. Taxes to be calculated in checkout.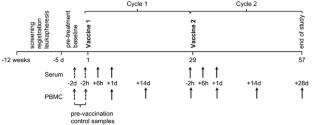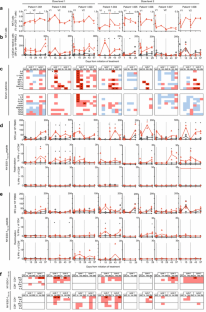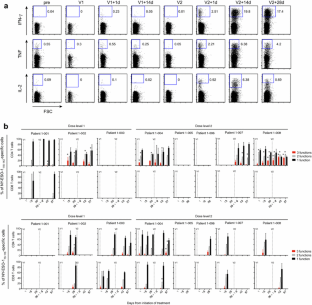 Abbreviations
α-GalCer:

α-Galactosylceramide

AE:

Adverse event

AJCC:

American Joint Committee on Cancer

CDR3:

Complementary determining region 3

CTCAE:

Common terminology criteria for adverse events

DCV:

Dendritic cell vaccine

ECOG:

Eastern Cooperative Oncology Group performance status

FGF2:

Fibroblast growth factor 2

FWER:

Family wise error rate

IP-10:

IFN-γ-inducible protein-10

M1:

Influenza virus matrix protein 1

MCP-1:

Monocyte chemoattractant protein-1

MIP:

Macrophage inflammatory protein

NKT cell:

Natural killer T cell

NP:

Influenza virus nucleoprotein

NY-ESO-1:

New York esophageal squamous cell carcinoma-1

PB-1:

Influenza virus protein basic-1

PDGF-BB:

Platelet-derived growth factor BB

PGE2 :

Prostaglandin E2

RANTES:

Regulated on activation, normal T cell expressed and secreted
References
1.

Kirkwood JM, Strawderman MH, Ernstoff MS, Smith TJ, Borden EC, Blum RH (1996) Interferon alfa-2b adjuvant therapy of high-risk resected cutaneous melanoma: the Eastern Cooperative Oncology Group Trial EST 1684. J Clin Oncol 14(1):7–17

2.

Lens MB, Dawes M (2002) Interferon alfa therapy for malignant melanoma: a systematic review of randomized controlled trials. J Clin Oncol 20(7):1818–1825

3.

Hodi FS, O'Day SJ, McDermott DF, Weber RW, Sosman JA, Haanen JB, Gonzalez R, Robert C, Schadendorf D, Hassel JC, Akerley W, van den Eertwegh AJ, Lutzky J, Lorigan P, Vaubel JM, Linette GP, Hogg D, Ottensmeier CH, Lebbe C, Peschel C, Quirt I, Clark JI, Wolchok JD, Weber JS, Tian J, Yellin MJ, Nichol GM, Hoos A, Urba WJ (2010) Improved survival with ipilimumab in patients with metastatic melanoma. N Engl J Med 363(8):711–723. https://doi.org/10.1056/NEJMoa1003466

4.

Larkin J, Chiarion-Sileni V, Gonzalez R, Grob JJ, Cowey CL, Lao CD, Schadendorf D, Dummer R, Smylie M, Rutkowski P, Ferrucci PF, Hill A, Wagstaff J, Carlino MS, Haanen JB, Maio M, Marquez-Rodas I, McArthur GA, Ascierto PA, Long GV, Callahan MK, Postow MA, Grossmann K, Sznol M, Dreno B, Bastholt L, Yang A, Rollin LM, Horak C, Hodi FS, Wolchok JD (2015) Combined nivolumab and ipilimumab or monotherapy in untreated melanoma. N Engl J Med 373(1):23–34

5.

Robert C, Long GV, Brady B, Dutriaux C, Maio M, Mortier L, Hassel JC, Rutkowski P, McNeil C, Kalinka-Warzocha E, Savage KJ, Hernberg MM, Lebbe C, Charles J, Mihalcioiu C, Chiarion-Sileni V, Mauch C, Cognetti F, Arance A, Schmidt H, Schadendorf D, Gogas H, Lundgren-Eriksson L, Horak C, Sharkey B, Waxman IM, Atkinson V, Ascierto PA (2015) Nivolumab in previously untreated melanoma without BRAF mutation. N Engl J Med 372(4):320–330

6.

Robert C, Thomas L, Bondarenko I, O'Day S, Weber J, Garbe C, Lebbe C, Baurain JF, Testori A, Grob JJ, Davidson N, Richards J, Maio M, Hauschild A, Miller WH Jr, Gascon P, Lotem M, Harmankaya K, Ibrahim R, Francis S, Chen TT, Humphrey R, Hoos A, Wolchok JD (2011) Ipilimumab plus dacarbazine for previously untreated metastatic melanoma. N Engl J Med 364(26):2517–2526

7.

Eggermont AM, Chiarion-Sileni V, Grob JJ, Dummer R, Wolchok JD, Schmidt H, Hamid O, Robert C, Ascierto PA, Richards JM, Lebbe C, Ferraresi V, Smylie M, Weber JS, Maio M, Bastholt L, Mortier L, Thomas L, Tahir S, Hauschild A, Hassel JC, Hodi FS, Taitt C, de Pril V, de Schaetzen G, Suciu S, Testori A (2016) Prolonged survival in stage III melanoma with ipilimumab adjuvant therapy. N Engl J Med 375(19):1845–1855

8.

Naidoo J, Page DB, Li BT, Connell LC, Schindler K, Lacouture ME, Postow MA, Wolchok JD (2015) Toxicities of the anti-PD-1 and anti-PD-L1 immune checkpoint antibodies. Ann Oncol 26(12):2375–2391

9.

Weber JS, Kahler KC, Hauschild A (2012) Management of immune-related adverse events and kinetics of response with ipilimumab. J Clin Oncol 30(21):2691–2697

10.

Coffman RL, Sher A, Seder RA (2010) Vaccine adjuvants: putting innate immunity to work. Immunity 33(4):492–503. https://doi.org/10.1016/j.immuni.2010.10.002

11.

Fujii S, Shimizu K, Smith C, Bonifaz L, Steinman RM (2003) Activation of natural killer T cells by alpha-galactosylceramide rapidly induces the full maturation of dendritic cells in vivo and thereby acts as an adjuvant for combined CD4 and CD8 T cell immunity to a coadministered protein. J Exp Med 198(2):267–279

12.

Hermans IF, Silk JD, Gileadi U, Salio M, Mathew B, Ritter G, Schmidt R, Harris AL, Old L, Cerundolo V (2003) NKT cells enhance CD4+ and CD8+ T cell responses to soluble antigen in vivo through direct interaction with dendritic cells. J Immunol 171(10):5140–5147

13.

Leslie DS, Vincent MS, Spada FM, Das H, Sugita M, Morita CT, Brenner MB (2002) CD1-mediated gamma/delta T cell maturation of dendritic cells. J Exp Med 196(12):1575–1584

14.

Vincent MS, Leslie DS, Gumperz JE, Xiong X, Grant EP, Brenner MB (2002) CD1-dependent dendritic cell instruction. Nat Immunol 3(12):1163–1168. https://doi.org/10.1038/ni851

15.

Lantz O, Bendelac A (1994) An invariant T cell receptor alpha chain is used by a unique subset of major histocompatibility complex class I-specific CD4+ and CD4−8− T cells in mice and humans. J Exp Med 180(3):1097–1106

16.

Masuda K, Makino Y, Cui J, Ito T, Tokuhisa T, Takahama Y, Koseki H, Tsuchida K, Koike T, Moriya H, Amano M, Taniguchi M (1997) Phenotypes and invariant alpha beta TCR expression of peripheral V alpha 14 + NK T cells. J Immunol 158(5):2076–2082

17.

Prussin C, Foster B (1997) TCR V alpha 24 and V beta 11 coexpression defines a human NK1 T cell analog containing a unique Th0 subpopulation. J Immunol 159(12):5862–5870

18.

Mattner J, Debord KL, Ismail N, Goff RD, Cantu C 3rd, Zhou D, Saint-Mezard P, Wang V, Gao Y, Yin N, Hoebe K, Schneewind O, Walker D, Beutler B, Teyton L, Savage PB, Bendelac A (2005) Exogenous and endogenous glycolipid antigens activate NKT cells during microbial infections. Nature 434(7032):525–529. https://doi.org/10.1038/nature03408

19.

Wu D, Xing GW, Poles MA, Horowitz A, Kinjo Y, Sullivan B, Bodmer-Narkevitch V, Plettenburg O, Kronenberg M, Tsuji M, Ho DD, Wong CH (2005) Bacterial glycolipids and analogs as antigens for CD1d-restricted NKT cells. Proc Natl Acad Sci USA 102(5):1351–1356. https://doi.org/10.1073/pnas.0408696102

20.

Zhou D, Mattner J, Cantu C 3rd, Schrantz N, Yin N, Gao Y, Sagiv Y, Hudspeth K, Wu YP, Yamashita T, Teneberg S, Wang D, Proia RL, Levery SB, Savage PB, Teyton L, Bendelac A (2004) Lysosomal glycosphingolipid recognition by NKT cells. Science 306(5702):1786–1789. https://doi.org/10.1126/science.1103440

21.

Akimoto K, Natori T, Morita M (1993) Synthesis and stereochemistry of agelasphin-9b. Tetrahedron Lett 34:5593–5596

22.

Natori T, Koezuka Y, Higa T (1993) Agelasphins, novel alpha-galactosylceramides from the marine sponge agelas mauritianus. Tetrahedron Lett 34:5591–5592

23.

Kobayashi E, Motoki K, Uchida T, Fukushima H, Koezuka Y (1995) KRN7000, a novel immunomodulator, and its antitumor activities. Oncol Res 7(10–11):529–534

24.

Morita M, Motoki K, Akimoto K, Natori T, Sakai T, Sawa E, Yamaji K, Koezuka Y, Kobayashi E, Fukushima H (1995) Structure-activity relationship of alpha-galactosylceramides against B16-bearing mice. J Med Chem 38(12):2176–2187

25.

Yamaguchi Y, Motoki K, Ueno H, Maeda K, Kobayashi E, Inoue H, Fukushima H, Koezuka Y (1996) Enhancing effects of (2S,3S,4R)-1-O-(alpha-d-galactopyranosyl)-2-(N-hexacosanoylamino)-1,3,4-octadecanetriol (KRN7000) on antigen-presenting function of antigen-presenting cells and antimetastatic activity of KRN7000-pretreated antigen-presenting cells. Oncol Res 8(10–11):399–407

26.

Kitamura H, Iwakabe K, Yahata T, Nishimura S, Ohta A, Ohmi Y, Sato M, Takeda K, Okumura K, Van Kaer L, Kawano T, Taniguchi M, Nishimura T (1999) The natural killer T (NKT) cell ligand alpha-galactosylceramide demonstrates its immunopotentiating effect by inducing interleukin (IL)-12 production by dendritic cells and IL-12 receptor expression on NKT cells. J Exp Med 189(7):1121–1128

27.

Tomura M, Yu WG, Ahn HJ, Yamashita M, Yang YF, Ono S, Hamaoka T, Kawano T, Taniguchi M, Koezuka Y, Fujiwara H (1999) A novel function of Valpha14+CD4+NKT cells: stimulation of IL-12 production by antigen-presenting cells in the innate immune system. J Immunol 163(1):93–101

28.

Petersen TR, Sika-Paotonu D, Knight DA, Dickgreber N, Farrand KJ, Ronchese F, Hermans IF (2010) Potent anti-tumor responses to immunization with dendritic cells loaded with tumor tissue and an NKT cell ligand. Immunol Cell Biol 88(5):596–604. https://doi.org/10.1038/icb.2010.9

29.

Chang DH, Osman K, Connolly J, Kukreja A, Krasovsky J, Pack M, Hutchinson A, Geller M, Liu N, Annable R, Shay J, Kirchhoff K, Nishi N, Ando Y, Hayashi K, Hassoun H, Steinman RM, Dhodapkar MV (2005) Sustained expansion of NKT cells and antigen-specific T cells after injection of alpha-galactosyl-ceramide loaded mature dendritic cells in cancer patients. J Exp Med 201(9):1503–1517. https://doi.org/10.1084/jem.20042592

30.

Ishikawa A, Motohashi S, Ishikawa E, Fuchida H, Higashino K, Otsuji M, Iizasa T, Nakayama T, Taniguchi M, Fujisawa T (2005) A phase I study of alpha-galactosylceramide (KRN7000)-pulsed dendritic cells in patients with advanced and recurrent non-small cell lung cancer. Clin Cancer Res 11(5):1910–1917

31.

Nicol AJ, Tazbirkova A, Nieda M (2011) Comparison of clinical and immunological effects of intravenous and intradermal administration of alpha-galactosylceramide (KRN7000)-pulsed dendritic cells. Clin Cancer Res 17(15):5140–5151

32.

Nieda M, Okai M, Tazbirkova A, Lin H, Yamaura A, Ide K, Abraham R, Juji T, Macfarlane DJ, Nicol AJ (2004) Therapeutic activation of Valpha24+Vbeta11+NKT cells in human subjects results in highly coordinated secondary activation of acquired and innate immunity. Blood 103(2):383–389. https://doi.org/10.1182/blood-2003-04-1155

33.

Jager E, Nagata Y, Gnjatic S, Wada H, Stockert E, Karbach J, Dunbar PR, Lee SY, Jungbluth A, Jager D, Arand M, Ritter G, Cerundolo V, Dupont B, Chen YT, Old LJ, Knuth A (2000) Monitoring CD8 T cell responses to NY-ESO-1: correlation of humoral and cellular immune responses. Proc Natl Acad Sci USA 97(9):4760–4765

34.

Robbins PF, Morgan RA, Feldman SA, Yang JC, Sherry RM, Dudley ME, Wunderlich JR, Nahvi AV, Helman LJ, Mackall CL, Kammula US, Hughes MS, Restifo NP, Raffeld M, Lee CC, Levy CL, Li YF, El-Gamil M, Schwarz SL, Laurencot C, Rosenberg SA (2011) Tumor regression in patients with metastatic synovial cell sarcoma and melanoma using genetically engineered lymphocytes reactive with NY-ESO-1. J Clin Oncol 29(7):917–924

35.

Melief CJ, van der Burg SH (2008) Immunotherapy of established (pre)malignant disease by synthetic long peptide vaccines. Nat Rev Cancer 8(5):351–360

36.

Fujii S, Shimizu K, Kronenberg M, Steinman RM (2002) Prolonged IFN-gamma-producing NKT response induced with alpha-galactosylceramide-loaded DCs. Nat Immunol 3(9):867–874. https://doi.org/10.1038/ni827

37.

Giaccone G, Punt CJ, Ando Y, Ruijter R, Nishi N, Peters M, von Blomberg BM, Scheper RJ, van der Vliet HJ, van den Eertwegh AJ, Roelvink M, Beijnen J, Zwierzina H, Pinedo HM (2002) A phase I study of the natural killer T-cell ligand alpha-galactosylceramide (KRN7000) in patients with solid tumors. Clin Cancer Res 8(12):3702–3709

38.

McEwen-Smith RM, Salio M, Cerundolo V (2015) The regulatory role of invariant NKT cells in tumor immunity. Cancer Immunol Res 3(5):425–435

39.

Snyder-Cappione JE, Tincati C, Eccles-James IG, Cappione AJ, Ndhlovu LC, Koth LL, Nixon DF (2010) A comprehensive ex vivo functional analysis of human NKT cells reveals production of MIP1-alpha and MIP1-beta, a lack of IL-17, and a Th1-bias in males. PLoS ONE 5(11):e15412

40.

Martinuzzi E, Scotto M, Enee E, Brezar V, Ribeil JA, van Endert P, Mallone R (2008) Serum-free culture medium and IL-7 costimulation increase the sensitivity of ELISpot detection. J Immunol Methods 333(1–2):61–70. https://doi.org/10.1016/j.jim.2008.01.003

41.

Moodie Z, Huang Y, Gu L, Hural J, Self SG (2006) Statistical positivity criteria for the analysis of ELISpot assay data in HIV-1 vaccine trials. J Immunol Methods 315(1–2):121–132

42.

R Core Team (2015) R: a language and environment for statistical computing. R Foundation for Statistical Computing, Vienna, Austria. http://www.r-project.org. Accessed 1 Mar 2016

43.

Richter J, Neparidze N, Zhang L, Nair S, Monesmith T, Sundaram R, Miesowicz F, Dhodapkar KM, Dhodapkar MV (2013) Clinical regressions and broad immune activation following combination therapy targeting human NKT cells in myeloma. Blood 121(3):423–430. https://doi.org/10.1182/blood-2012-06-435503

44.

Exley MA, Hou R, Shaulov A, Tonti E, Dellabona P, Casorati G, Akbari O, Akman HO, Greenfield EA, Gumperz JE, Boyson JE, Balk SP, Wilson SB (2008) Selective activation, expansion, and monitoring of human iNKT cells with a monoclonal antibody specific for the TCR alpha-chain CDR3 loop. Eur J Immunol 38(6):1756–1766

45.

Gibney GT, Kudchadkar RR, DeConti RC, Thebeau MS, Czupryn MP, Tetteh L, Eysmans C, Richards A, Schell MJ, Fisher KJ, Horak CE, Inzunza HD, Yu B, Martinez AJ, Younos I, Weber JS (2015) Safety, correlative markers, and clinical results of adjuvant nivolumab in combination with vaccine in resected high-risk metastatic melanoma. Clin Cancer Res 21(4):712–720

46.

Krishnadas DK, Shusterman S, Bai F, Diller L, Sullivan JE, Cheerva AC, George RE, Lucas KG (2015) A phase I trial combining decitabine/dendritic cell vaccine targeting MAGE-A1, MAGE-A3 and NY-ESO-1 for children with relapsed or therapy-refractory neuroblastoma and sarcoma. Cancer Immunol Immunother 64(10):1251–1260

47.

Chen JL, Dawoodji A, Tarlton A, Gnjatic S, Tajar A, Karydis I, Browning J, Pratap S, Verfaille C, Venhaus RR, Pan L, Altman DG, Cebon JS, Old LL, Nathan P, Ottensmeier C, Middleton M, Cerundolo V (2015) NY-ESO-1 specific antibody and cellular responses in melanoma patients primed with NY-ESO-1 protein in ISCOMATRIX and boosted with recombinant NY-ESO-1 fowlpox virus. Int J Cancer 136(6):E590–E601

48.

Dhodapkar MV, Steinman RM, Sapp M, Desai H, Fossella C, Krasovsky J, Donahoe SM, Dunbar PR, Cerundolo V, Nixon DF, Bhardwaj N (1999) Rapid generation of broad T-cell immunity in humans after a single injection of mature dendritic cells. J Clin Invest 104(2):173–180

49.

Bijker MS, van den Eeden SJ, Franken KL, Melief CJ, van der Burg SH, Offringa R (2008) Superior induction of anti-tumor CTL immunity by extended peptide vaccines involves prolonged, DC-focused antigen presentation. Eur J Immunol 38(4):1033–1042

50.

Seder RA, Darrah PA, Roederer M (2008) T-cell quality in memory and protection: implications for vaccine design. Nat Rev Immunol 8(4):247–258

51.

Yuan J, Gnjatic S, Li H, Powel S, Gallardo HF, Ritter E, Ku GY, Jungbluth AA, Segal NH, Rasalan TS, Manukian G, Xu Y, Roman RA, Terzulli SL, Heywood M, Pogoriler E, Ritter G, Old LJ, Allison JP, Wolchok JD (2008) CTLA-4 blockade enhances polyfunctional NY-ESO-1 specific T cell responses in metastatic melanoma patients with clinical benefit. Proc Natl Acad Sci USA 105(51):20410–20415

52.

Berinstein NL, Karkada M, Oza AM, Odunsi K, Villella JA, Nemunaitis JJ, Morse MA, Pejovic T, Bentley J, Buyse M, Nigam R, Weir GM, MacDonald LD, Quinton T, Rajagopalan R, Sharp K, Penwell A, Sammatur L, Burzykowski T, Stanford MM, Mansour M (2015) Survivin-targeted immunotherapy drives robust polyfunctional T cell generation and differentiation in advanced ovarian cancer patients. Oncoimmunology 4(8):e1026529

53.

Lin Y, Gallardo HF, Ku GY, Li H, Manukian G, Rasalan TS, Xu Y, Terzulli SL, Old LJ, Allison JP, Houghton AN, Wolchok JD, Yuan J (2009) Optimization and validation of a robust human T-cell culture method for monitoring phenotypic and polyfunctional antigen-specific CD4 and CD8 T-cell responses. Cytotherapy 11(7):912–922

54.

Sabado RL, Pavlick A, Gnjatic S, Cruz CM, Vengco I, Hasan F, Spadaccia M, Darvishian F, Chiriboga L, Holman RM, Escalon J, Muren C, Escano C, Yepes E, Sharpe D, Vasilakos JP, Rolnitzsky L, Goldberg JD, Mandeli J, Adams S, Jungbluth A, Pan L, Venhaus R, Ott PA, Bhardwaj N (2015) Resiquimod as an immunologic adjuvant for NY-ESO-1 protein vaccination in patients with high-risk melanoma. Cancer Immunol Res 3(3):278–287
Acknowledgements
The authors wish to thank the Hugh Green Cytometry Core for flow cytometry support.
Funding
This work was funded by Health Research Council programme Grant 10/667 and the Health Research Council of New Zealand IROF fund 14/1003.
Ethics declarations
Conflict of interest
The authors declare that they have no conflict of interest.
Ethical approval and ethical standards
The study was approved by the Northern B Health and Disability Ethics Committee (Ref 13/NTB/5) and registered with the Australian and New Zealand Clinical Trials Registry (ACTRN12612001101875). The study was monitored by an independent Data Monitoring Committee appointed by the Health Research Council of New Zealand.
Informed consent
All patients gave written informed consent.
Electronic supplementary material
Below is the link to the electronic supplementary material.
About this article
Cite this article
Gasser, O., Sharples, K.J., Barrow, C. et al. A phase I vaccination study with dendritic cells loaded with NY-ESO-1 and α-galactosylceramide: induction of polyfunctional T cells in high-risk melanoma patients. Cancer Immunol Immunother 67, 285–298 (2018). https://doi.org/10.1007/s00262-017-2085-9
Received:

Accepted:

Published:

Issue Date:
Keywords
Melanoma

Dendritic cell

NKT cell

α-Galactosylceramide

NY-ESO-1