Abstract
Approximately, 50% of human melanomas are driven by BRAF mutations, which produce tumors that are highly immunosuppressive and often resistant to vaccine therapy. We introduced lipid-coated calcium phosphate nanoparticles (LCP NPs) as a carrier to efficiently deliver a tumor-specific antigen, the BRAFV600E peptide, to drive dendritic cell (DC) maturation and antigen presentation in C57BL6 mice. The BRAF peptide vaccine elicited a robust, antigen-specific cytotoxic T cell response and potent tumor growth inhibition in a murine BRAF-mutant melanoma model. Advanced BRAF-specific immune response was illustrated by IFN-γ production assay and cytotoxic T lymphocyte (CTL) assay. Remodeling of immunosuppressive modules within the tumor microenvironment further facilitated CTL infiltration. Thus, using LCP NPs to deliver the BRAF peptide vaccine is a promising strategy for the BRAF-mutant melanoma therapy.
This is a preview of subscription content, log in to check access.
Access options
Buy single article
Instant access to the full article PDF.
US$ 39.95
Price includes VAT for USA
Subscribe to journal
Immediate online access to all issues from 2019. Subscription will auto renew annually.
US$ 199
This is the net price. Taxes to be calculated in checkout.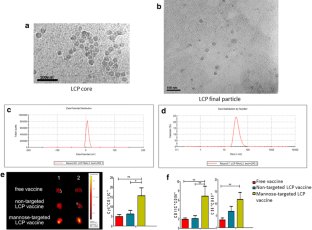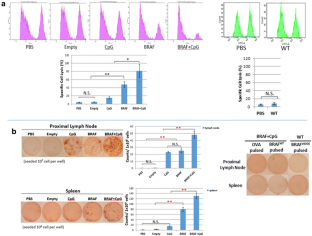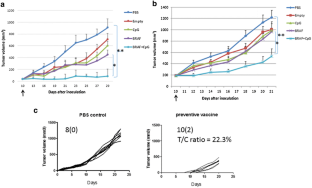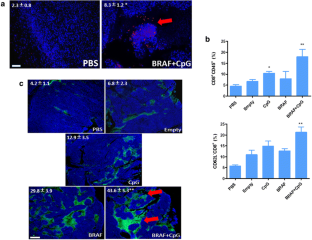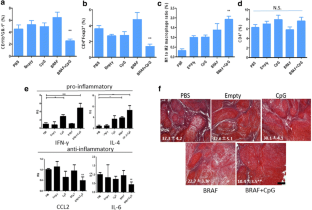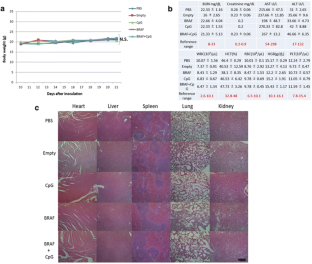 Abbreviations
CCL2:

C-C Motif chemokine 2

CFSE:

Carboxyfluorescein succinimidyl ester

DOPA:

Dioleoylphosphatydic acid

DOTAP:

(±)-N,N,N-Trimethyl-2,3-bis(z-octadec-9-ene-oyloxy)-1-propanaminium chloride

DSPE-PEG-2000:

1,2-Distearoyl-sn-glycero-3-phosphoethanolamine-N-[amino(polyethylene glycol)-2000

DSPE-PEG-NHS:

3-(N-succinimidyloxyglutaryl) aminopropyl, polyethyleneglycol-carbamyl-distearoylphosphatidylethanolamine

FAP:

Fibroblast activation protein

LCP NP:

Lipid-coated calcium phosphate nanoparticle

ODN:

Oligodeoxynucleotides

OS:

Overall survival

TEM:

Transmission electron microscope

Th1:

Type 1 T helper

TME:

Tumor microenvironment
References
1.

Siegel RL, Miller KD, Jemal A (2016) Cancer statistics, 2016. CA Cancer J Clin 66(1):7–30

2.

Gloster HM Jr, Brodland DG (1996) The epidemiology of skin cancer. Dermatol Surg 22(3):217–226

3.

Smyth MJ, Dunn GP, Schreiber RD (2006) Cancer immunosurveillance and immunoediting: the roles of immunity in suppressing tumor development and shaping tumor immunogenicity. Adv Immunol 90:1–50

4.

Miao L, Li J, Liu Q et al (2017) Transient and local expression of chemokine and immune checkpoint traps to treat pancreatic cancer. ACS Nano 11(9):8690–8706. doi:10.1021/acsnano.7b01786

5.

Klemm F, Joyce JA (2015) Microenvironmental regulation of therapeutic response in cancer. Trends Cell Biol 25(4):198–213

6.

Sithanandam G, Kolch W, Duh FM et al (1990) Complete coding sequence of a human B-raf cDNA and detection of B-raf protein kinase with isozyme specific antibodies. Oncogene 5(12):1775–1780

7.

Chapman PB, Hauschild A, Robert C et al (2011) Improved survival with vemurafenib in melanoma with BRAF V600E mutation. N Engl J Med 364(26):2507–2516

8.

Hauschild A, Grob JJ, Demidov LV et al (2012) Dabrafenib in BRAF-mutated metastatic melanoma: a multicentre, open-label, phase 3 randomised controlled trial. Lancet 380(9839):358–365

9.

Long GV, Stroyakovskiy D, Gogas H et al (2014) Combined BRAF and MEK inhibition versus BRAF inhibition alone in melanoma. N Engl J Med 371(20):1877–1888

10.

Junttila MR, de Sauvage FJ (2013) Influence of tumour micro-environment heterogeneity on therapeutic response. Nature 501(7467):346–354

11.

Rammensee H, Bachmann J, Emmerich NP et al (1999) SYFPEITHI: database for MHC ligands and peptide motifs. Immunogenetics 50(3–4):213–219

12.

Cintolo JA, Datta J, Xu S et al (2016) Type I-polarized BRAF-pulsed dendritic cells induce antigen-specific CD8 + T cells that impact BRAF-mutant murine melanoma. Melanoma Res 26(1):1–11

13.

Guo X, Huang L (2012) Recent advances in nonviral vectors for gene delivery. Acc Chem Res 45(7):971–979

14.

Liu Q, Das M, Liu Y et al (2017) Targeted drug delivery to melanoma. Adv Drug Deliv Rev. doi:10.1016/j.addr.2017.09.016

15.

Li J, Chen YC, Tseng YC et al (2010) Biodegradable calcium phosphate nanoparticle with lipid coating for systemic siRNA delivery. J Control Release 142(3):416–421

16.

Xu Z, Ramishetti S, Tseng YC et al (2013) Multifunctional nanoparticles co-delivering Trp2 peptide and CpG adjuvant induce potent cytotoxic T-lymphocyte response against melanoma and its lung metastasis. J Control Release 172(1):259–265

17.

Reddy R, Zhou F, Nair S et al (1992) In vivo cytotoxic T lymphocyte induction with soluble proteins administered in liposomes. J Immunol 148(5):1585–1589

18.

Czerkinsky CC, Nilsson LA, Nygren H et al (1983) A solid-phase enzyme-linked immunospot (ELISPOT) assay for enumeration of specific antibody-secreting cells. J Immunol Methods 65(1–2):109–121

19.

Chen WS, Xu PZ, Gottlob K et al (2001) Growth retardation and increased apoptosis in mice with homozygous disruption of the Akt1 gene. Genes Dev 15(17):2203–2208

20.

Xu Z, Wang Y, Zhang L et al (2014) Nanoparticle-delivered transforming growth factor-beta siRNA enhances vaccination against advanced melanoma by modifying tumor microenvironment. ACS Nano 8(4):3636–3645

21.

Lu Y, Miao L, Wang Y et al (2016) Curcumin micelles remodel tumor microenvironment and enhance vaccine activity in an advanced melanoma model. Mol Ther 24(2):364–374

22.

Bamford S, Dawson E, Forbes S et al (2004) The COSMIC (Catalogue of Somatic Mutations in Cancer) database and website. Br J Cancer 91(2):355–358

23.

Davies H, Bignell GR, Cox C et al (2002) Mutations of the BRAF gene in human cancer. Nature 417(6892):949–954

24.

Pratilas CA, Taylor BS, Ye Q et al (2009) (V600E)BRAF is associated with disabled feedback inhibition of RAF-MEK signaling and elevated transcriptional output of the pathway. Proc Natl Acad Sci USA 106(11):4519–4524

25.

Soengas MS, Lowe SW (2003) Apoptosis and melanoma chemoresistance. Oncogene 22(20):3138–3151

26.

Avril MF, Aamdal S, Grob JJ et al (2004) Fotemustine compared with dacarbazine in patients with disseminated malignant melanoma: a phase III study. J Clin Oncol 22(6):1118–1125

27.

Crosby T, Fish R, Coles B et al (2002) Systemic treatments for metastatic cutaneous melanoma. Cochrane Database Syst Rev. doi:10.1002/14651858.CD001215

28.

Falkson CI, Ibrahim J, Kirkwood JM et al (1998) Phase III trial of dacarbazine versus dacarbazine with interferon alpha-2b versus dacarbazine with tamoxifen versus dacarbazine with interferon alpha-2b and tamoxifen in patients with metastatic malignant melanoma: an Eastern Cooperative Oncology Group study. J Clin Oncol 16(5):1743–1751

29.

Middleton MR, Grob JJ, Aaronson N et al (2000) Randomized phase III study of temozolomide versus dacarbazine in the treatment of patients with advanced metastatic malignant melanoma. J Clin Oncol 18(1):158–166

30.

Mocellin S, Pasquali S, Rossi CR et al (2010) Interferon alpha adjuvant therapy in patients with high-risk melanoma: a systematic review and meta-analysis. J Natl Cancer Inst 102(7):493–501

31.

Theofilopoulos AN, Baccala R, Beutler B et al (2005) Type I interferons (alpha/beta) in immunity and autoimmunity. Annu Rev Immunol 23:307–336

32.

Schwartzentruber DJ, Lawson DH, Richards JM et al (2011) gp100 peptide vaccine and interleukin-2 in patients with advanced melanoma. N Engl J Med 364(22):2119–2127

33.

Hodi FS, O'Day SJ, McDermott DF et al (2010) Improved survival with ipilimumab in patients with metastatic melanoma. N Engl J Med 363(8):711–723

34.

Robert C, Schachter J, Long GV et al (2015) Pembrolizumab versus ipilimumab in advanced melanoma. N Engl J Med 372(26):2521–2532

35.

Hassel JC (2016) Ipilimumab plus nivolumab for advanced melanoma. Lancet Oncol 17(11):1471–1472

36.

Wolchok JD, Kluger H, Callahan MK et al (2013) Nivolumab plus ipilimumab in advanced melanoma. N Engl J Med 369(2):122–133

37.

Schadendorf D, Hodi FS, Robert C et al (2015) Pooled analysis of long-term survival data from phase II and phase III trials of ipilimumab in unresectable or metastatic melanoma. J Clin Oncol 33(17):1889–1894

38.

Topalian SL, Taube JM, Anders RA et al (2016) Mechanism-driven biomarkers to guide immune checkpoint blockade in cancer therapy. Nat Rev Cancer 16(5):275–287

39.

Miao L, Guo S, Lin CM et al (2017) Nanoformulations for combination or cascade anticancer therapy. Adv Drug Deliv Rev 115:3–22

40.

Nelson CM, Bissell MJ (2006) Of extracellular matrix, scaffolds, and signaling: tissue architecture regulates development, homeostasis, and cancer. Annu Rev Cell Dev Biol 22:287–309

41.

Conniot J, Silva JM, Fernandes JG et al (2014) Cancer immunotherapy: nanodelivery approaches for immune cell targeting and tracking. Front Chem 2:105

42.

Miao L, Liu Q, Lin CM et al (2017) Targeting tumor-associated fibroblasts for therapeutic delivery in desmoplastic tumors. Cancer Res 77(3):719–731

43.

Hu K, Miao L, Goodwin TJ et al (2017) Quercetin remodels the tumor microenvironment to improve the permeation, retention, and antitumor effects of nanoparticles. ACS Nano 11(5):4916–4925

44.

Andreatta M, Nielsen M (2016) Gapped sequence alignment using artificial neural networks: application to the MHC class I system. Bioinformatics 32(4):511–517

45.

Nielsen M, Lundegaard C, Worning P et al (2003) Reliable prediction of T-cell epitopes using neural networks with novel sequence representations. Protein Sci 12(5):1007–1017

46.

Tseng YC, Xu Z, Guley K et al (2014) Lipid-calcium phosphate nanoparticles for delivery to the lymphatic system and SPECT/CT imaging of lymph node metastases. Biomaterials 35(16):4688–4698

47.

Medzhitov R, Janeway CA Jr (2002) Decoding the patterns of self and nonself by the innate immune system. Science 296(5566):298–300

48.

Umansky V, Sevko A (2013) Tumor microenvironment and myeloid-derived suppressor cells. Cancer Microenviron 6(2):169–177

49.

Lo A, Wang LC, Scholler J et al (2015) Tumor-promoting desmoplasia is disrupted by depleting FAP-expressing stromal cells. Cancer Res 75(14):2800–2810

50.

Rigel DS, Carucci JA (2005) Malignant melanoma: prevention, early detection, and treatment in the 21st century. CA Cancer J Clin 50(4):215–236 quiz 237-40

51.

Restifo NP, Dudley ME, Rosenberg SA (2012) Adoptive immunotherapy for cancer: harnessing the T cell response. Nat Rev Immunol 12(4):269–281

52.

Porter DL, Levine BL, Kalos M et al (2011) Chimeric antigen receptor-modified T cells in chronic lymphoid leukemia. N Engl J Med 365(8):725–733

53.

Allen TM, Cullis PR (2004) Drug delivery systems: entering the mainstream. Science 303(5665):1818–1822
Acknowledgements
The work was supported by NIH Grants CA149387 and CA198999. Leaf Huang is a Senior Visiting Scholar of the State Key Laboratory of Molecular Engineering of Polymers, Fudan University, China.
Ethics declarations
Conflict of interest
The authors declare that they have no conflict of interest.
About this article
Cite this article
Liu, Q., Zhu, H., Liu, Y. et al. BRAF peptide vaccine facilitates therapy of murine BRAF-mutant melanoma. Cancer Immunol Immunother 67, 299–310 (2018). https://doi.org/10.1007/s00262-017-2079-7
Received:

Accepted:

Published:

Issue Date:
Keywords
BRAF-mutant melanoma

Peptide vaccine

Immunotherapy

Nanoparticles