Abstract
CTLA-4 function as a negative regulator of T cell-mediated immune response is well established, whereas much less is known about the immunoregulatory role of its soluble isoform (sCTLA-4). No data are available on CTLA-4 expression and prognostic impact in malignant pleural mesothelioma (MPM). We investigated, by immunohistochemistry, CTLA-4 expression in tumor tissues and, by ELISA, sCTLA-4 levels in sera and matched pleural effusions from 45 MPM patients. Prognostic effect of CTLA-4 expression on overall survival (OS) was assessed through Cox regression and prognostic significance expressed as death rate ratio (HR). We found that 56.0 % of MPM tissues expressed CTLA-4 with variable intensity and percentage of positive cells estimated by the immunoreactive score. sCTLA-4 levels were significantly higher in sera (S-sCTLA-4) than in pleural effusions (PE-sCTLA-4) (geometric mean ratio = 2.70, P value = 0.020). CTLA-4 expression at the tissue level was higher in the epithelioid histological subtype than in the sarcomatoid, whereas at the serum level, it was higher in the sarcomatoid subtype. A homogeneous favorable prognostic effect was found for CTLA-4 overexpression in tissue, serum and pleural effusion. Interestingly, only the PE-sCTLA-4 was found to be a statistically significant positive prognostic factor (HR = 0.37, 95 % CI = 0.18–0.77, P value = 0.007). Indeed, PE-sCTLA-4 correlated with CTLA-4 expression in tissues, whereas this latter expression showed a weak association with OS. To confirm our findings, further experimental evidences obtained from a larger cohort of MPM patients are required. However, our results would indicate a positive correlation of PE-sCTLA-4 levels and OS in MPM patients.
Access options
Buy single article
Instant access to the full article PDF.
US$ 39.95
Tax calculation will be finalised during checkout.
Subscribe to journal
Immediate online access to all issues from 2019. Subscription will auto renew annually.
US$ 119
Tax calculation will be finalised during checkout.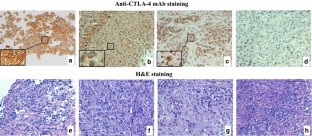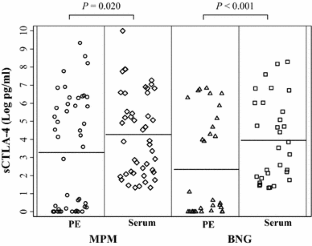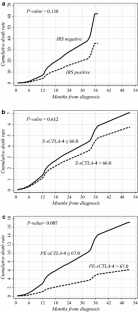 Abbreviations
APC:

Antigen-presenting cells

BNG:

Pulmonary benign disease

CI:

Confidence intervals

CTLA-4:

Cytotoxic T lymphocyte antigen-4

FFPE:

Formalin-fixed paraffin embedded

GM:

Geometric mean

HR:

Hazard ratio

IHC:

Immunohistochemistry

IRS:

Immunoreactive score

mCTLA-4:

Membrane CTLA-4

MPM:

Malignant pleural mesothelioma

OS:

Overall survival

PE:

Pleural effusion

PE-sCTLA-4:

Soluble CTLA-4 in PE

sCTLA-4:

Soluble CTLA-4

S-sCTLA-4:

Soluble CTLA-4 in serum

Teffs:

Effector T cells

Tregs:

Regulatory T cells
References
1.

Robinson BW, Lake RA (2005) Advances in malignant mesothelioma. N Engl J Med 353:1591–1603

2.

Porpodis K, Zarogoulidis P, Boutsikou E, Papaioannou A, Machairiotis N, Tsakiridis K, Katsikogiannis N, Zaric B, Perin B, Huang H et al (2013) Malignant pleural mesothelioma: current and future perspectives. J Thorac Dis 5(Suppl 4):S397–S406

3.

Ismail-Khan R, Robinson LA, Williams CC Jr, Garrett CR, Bepler G, Simon GR (2006) Malignant pleural mesothelioma: a comprehensive review. Cancer Control 13:255–263

4.

Remon J, Reguart N, Corral J, Lianes P (2015) Malignant pleural mesothelioma: new hope in the horizon with novel therapeutic strategies. Cancer Treat Rev 41:27–34

5.

Maker AV, Attia P, Rosenberg SA (2005) Analysis of the cellular mechanism of antitumor responses and autoimmunity in patients treated with CTLA-4 blockade. J Immunol 175:7746–7754

6.

Calabrò L, Morra A, Fonsatti E, Cutaia O, Amato G, Giannarelli D, Di Giacomo AM, Danielli R, Altomonte M, Mutti L, Maio M (2013) Tremelimumab for patients with chemotherapy-resistant advanced malignant mesothelioma: an open-label, single-arm, phase 2 trial. Lancet Oncol 14:1104–1111

7.

Calabrò L, Morra A, Fonsatti E, Cutaia O, Fazio C, Annesi D, Lenoci M, Amato G, Danielli R, Altomonte M et al (2015) Efficacy and safety of an intensified schedule of tremelimumab for chemotherapy-resistant malignant mesothelioma: an open-label, single-arm, phase 2 study. Lancet Respir Med 3:301–309

8.

Walker LS, Sansom DM (2011) The emerging role of CTLA-4 as a cell-extrinsic regulator of T cell responses. Nat Rev Immunol 11:852–863

9.

Krummel MF, Allison JP (1996) CTLA-4 engagement inhibits IL-2 accumulation and cell cycle progression upon activation of resting T cells. J Exp Med 183:2533–2540

10.

Brunner MC, Chambers CA, Chan FK, Hanke J, Winoto A, Allison JP (1999) CTLA-4-mediated inhibition of early events of T cell proliferation. J Immunol 162:5813–5820

11.

Engelhardt JJ, Sullivan TJ, Allison JP (2006) CTLA-4 overexpression inhibits T cell responses through a CD28-B7-dependent mechanism. J Immunol 177:1052–1061

12.

Zheng Y, Manzotti CN, Burke F, Dussably L, Qureshi O, Walker LS, Sansom DM (2008) Acquisition of suppressive function by activated human CD4 + CD25- T cells is associated with the expression of CTLA-4 not FoxP3. J Immunol 181:1683–1691

13.

Oaks MK, Hallett KM (2000) Cutting edge: a soluble form of CTLA-4 in patients with autoimmune thyroid disease. J Immunol 164:5015–5018

14.

Ward FJ, Dahal LN, Wijesekera SK, Abdul-Jawad SK, Kaewarpai T, Xu H, Vickers MA, Barker RN (2013) The soluble isoform of CTLA-4 as a regulator of T-cell responses. Eur J Immunol 43:1274–1285

15.

Saverino D, Brizzolara R, Simone R, Chiappori A, Milintenda-Floriani F, Pesce G, Bagnasco M (2007) Soluble CTLA-4 in autoimmune thyroid diseases: relationship with clinical status and possible role in the immune response dysregulation. Clin Immunol 123:190–198

16.

Simone R, Brizzolara R, Chiappori A, Milintenda-Floriani F, Natale C, Greco L, Schiavo M, Bagnasco M, Pesce G, Saverino D (2009) A functional soluble form of CTLA-4 is present in the serum of celiac patients and correlates with mucosal injury. Int Immunol 21:1037–1045

17.

Ueda H, Howson JM, Esposito L, Heward J, Snook H, Chamberlain G, Rainbow DB, Hunter KM, Smith AN, Di Genova G et al (2003) Association of the T-cell regulatory gene CTLA-4 with susceptibility to autoimmune disease. Nature 423:506–511

18.

Simone R, Tenca C, Fais F, Luciani M, De Rossi G, Pesce G, Bagnasco M, Saverino D (2012) A soluble form of CTLA-4 is present in paediatric patients with acute lymphoblastic leukaemia and correlates with CD1d + expression. PLoS One 7(9):e44654

19.

Erfani N, Razmkhah M, Ghaderi A (2010) Circulating soluble CTLA-4 (sCTLA-4) is elevated in patients with breast cancer. Cancer Invest 28:828–832

20.

Contardi E, Palmisano GL, Tazzari PL, Martelli AM, Falà F, Fabbi M, Kato T, Lucarelli E, Donati D, Polito L et al (2005) CTLA-4 is constitutively expressed on tumor cells and can trigger apoptosis upon ligand interaction. Int J Cancer 117:538–550

21.

Laurent S, Queirolo P, Boero S, Salvi S, Piccioli P, Boccardo S, Minghelli S, Morabito A, Fontana V, Pietra G et al (2013) The engagement of CTLA-4 on primary melanoma cell lines induces antibody-dependent cellular cytotoxicity and TNF-α production. J Transl Med 11:108

22.

Salvi S, Fontana V, Boccardo S, Merlo DF, Margallo E, Laurent S, Morabito A, Rijavec E, Dal Bello MG, Mora M, Ratto GB, Grossi F, Truini M, Pistillo MP (2012) Evaluation of CTLA-4 expression and relevance as a novel prognostic factor in patients with non-small cell lung cancer. Cancer Immunol Immunother 61:1463–7214

23.

Shah KV, Chien AJ, Yee C, Moon RT (2008) CTLA-4 is a direct target of Wnt/beta-catenin signalling and is expressed in human melanoma tumors. J Invest Dermatol 128:2870–2879

24.

Mao H, Zhang L, Yang Y, Zuo W, Bi Y, Gao W, Deng B, Sun J, Shao Q, Qu X (2010) New insights of CTLA-4 into its biological function in breast cancer. Curr Cancer Drug Targets 10:728–736

25.

Antczak A, Pastuszak-Lewandoska D, Górski P, Domańska D, Migdalska-Sęk M, Czarnecka K, Nawrot E, Kordiak J, Brzeziańska E (2013) CTLA-4 expression and polymorphisms in lung tissue of patients with diagnosed non-small-cell lung cancer. Biomed Res Int 2013:576486

26.

Marubini E, Valsecchi MG (2004) Analysing survival data from clinical trials and observational studies. Wiley & Sons, New York

27.

Liang H, Zou G (2008) Improved AIC selection strategy for survival analysis. Comput Stat Data Anal 52:2538–2548

28.

DiCiccio TJ, Efron B (1996) Bootstrap confidence intervals. Stat Sci 11:189–228

29.

Leung HT, Bradshaw J, Cleaveland JS, Linsley PS (1995) Cytotoxic T lymphocyte-associated molecule-4, a high-avidity receptor for CD80 and CD86, contains an intracellular localization motif in its cytoplasmic tail. J Biol Chem 270:25107–25114

30.

Tai X, Van Laethem F, Pobezinsky L, Guinter T, Sharrow SO, Adams A, Granger L, Kruhlak M, Lindsten T, Thompson CB et al (2012) Basis of CTLA-4 function in regulatory and conventional CD4(+) T cells. Blood 119:5155–5163

31.

Valdés L, San-José E, Estévez JC, González-Barcala FJ, Alvarez-Dobaño JM, Golpe A, Valle JM, Penela P, Vizcaíno L, Pose A (2010) Cholesterol in pleural exudates depends mainly on increased capillary permeability. Transl Res 155:178–184

32.

Chen YQ, Shi HZ, Qin XJ, Mo WN, Liang XD, Huang ZX, Yang HB, Wu C (2005) CD4 + CD25 + regulatory T lymphocytes in malignant pleural effusion. Am J Respir Crit Care Med 172:1434–1439

33.

Esposito L, Hunter KM, Clark J, Rainbow DB, Stevens H, Denesha J, Duley S, Dawson S, Coleman G, Nutland S et al (2014) Investigation of soluble and transmembrane CTLA-4 isoforms in serum and microvesicles. J Immunol 193:889–900

34.

Cao J, Zhang L, Huang S, Chen P, Zou L, Chen H, Xiang Y, Lai X, Ren G (2011) Aberrant production of soluble co-stimulatory molecules CTLA-4 and CD28 in patients with chronic hepatitis B. Microb Pathog 51:262–267

35.

Steiner K, Moosig F, Csernok E, Selleng K, Gross WL, Fleischer B, Bröker BM (2001) Increased expression of CTLA-4 (CD152) by T and B lymphocytes in Wegener's granulomatosis. Clin Exp Immunol 126:143–150

36.

Shen Y, Yang T, Wang T, Chen L, Wen F (2013) Elevated circulating cytotoxic T lymphocyte-associated antigen-4 levels are related to lung function and inflammation in chronic obstructive pulmonary disease. Respirology 18:885–886

37.

Musk AW, Olsen N, Alfonso H, Reid A, Mina R, Franklin P, Sleith J, Hammond N, Threlfall T, Shilkin KB, de Klerk NH (2011) Predicting survival in malignant mesothelioma. Eur Respir J 38:1420–1424

38.

Guazzelli A, Hussain M, Krstic-Demonacos M, Mutti L (2015) Tremelimumab for the treatment of malignant mesothelioma. Expert Opin Biol Ther 15:1819–1829

39.

Ward FJ, Dahal LN, Khanolkar RC, Shankar SP, Barker RN (2014) Targeting the alternatively spliced soluble isoform of CTLA-4: prospects for immunotherapy? Immunotherapy 6:1073–1084
Acknowledgments
Supported in part by Grants from the Italian Ministry of Health (5 × 1000 funds 2011), AIL Sezione La Spezia and Fondazione Umberto Veronesi (Grant 2013), Milan, Italy. The authors would like to thank Dr. Roberto Benelli for image analysis and graphical support.
Ethics declarations
Conflict of interest
The authors declare that they have no conflict of interest.
Additional information
S. Roncella and S. Laurent contributed equally to this work.
About this article
Cite this article
Roncella, S., Laurent, S., Fontana, V. et al. CTLA-4 in mesothelioma patients: tissue expression, body fluid levels and possible relevance as a prognostic factor. Cancer Immunol Immunother 65, 909–917 (2016). https://doi.org/10.1007/s00262-016-1844-3
Received:

Accepted:

Published:

Issue Date:
Keywords
CTLA-4

Mesothelioma

Pleural effusion

Prognostic factor

Overall survival