Abstract
Background
The impacts of patient age and gender on immune response (IR) and clinical outcome after cancer vaccines are not known. We hypothesized younger and female patients would have higher IR rates and better survival.
Methods
Patients with resected stage IIB–IV melanoma in three clinical trials (Mel43, Mel44, Mel48) were vaccinated with 12 melanoma-associated peptides restricted by class I MHC. The cumulative incidence rate of CD8+ T cell responses (direct interferon-gamma ELIspot assay) by week 7 was compared by age and gender. Overall survival (OS) and disease-free survival (DFS) landmark analyses were compared by Kaplan–Meier estimates and in multivariate analyses.
Results
T cell responses were evaluated in 327 patients and detected in 50 % of males and 48 % of females, with no difference in IR by gender or menopausal status. Males had trends toward longer DFS (p = 0.12) and OS (p = 0.09). Cumulative incidence of IR was higher in patients <64 years of age versus older patients (p = 0.03). OS and DFS were similar by age group (p > 0.50). In multivariate modeling, younger age was associated with better IR (OR 0.40, p value 0.003), without an impact of age or gender on clinical outcomes.
Conclusion
These data support the hypothesis that older patients are less likely to develop T cell responses to a cancer vaccine. Nonetheless, significant proportions of older patients mount immune responses with comparable survival outcomes. Thus, these data support including older patients in cancer vaccine trials, but suggest value in stratifying patients by age </>64 years.
Access options
Buy single article
Instant access to the full article PDF.
US$ 39.95
Tax calculation will be finalised during checkout.
Subscribe to journal
Immediate online access to all issues from 2019. Subscription will auto renew annually.
US$ 119
Tax calculation will be finalised during checkout.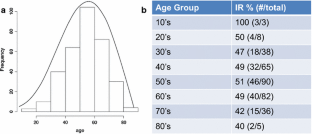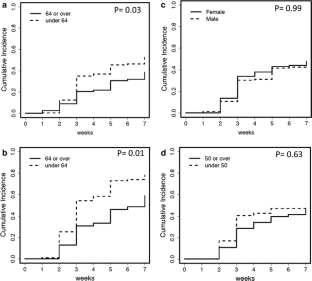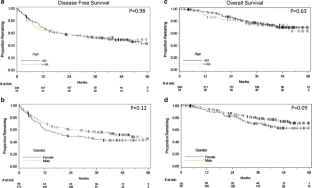 Abbreviations
6MHP:

6 Melanoma helper peptides

12MP:

12 class I MHC-restricted peptides

DFS:

Disease-free survival

FDA:

Food and Drug Administration

IR:

Immune response
References
1.

Higano CS, Schellhammer PF, Small EJ, Burch PA, Nemunaitis J, Yuh L, Provost N, Frohlich MW (2009) Integrated data from 2 randomized, double-blind, placebo-controlled, phase 3 trials of active cellular immunotherapy with sipuleucel-T in advanced prostate cancer. Cancer 115:3670–3679. doi:10.1002/cncr.24429

2.

Kantoff PW, Higano CS, Shore ND, Berger ER, Small EJ, Penson DF et al (2010) Sipuleucel-T immunotherapy for castration-resistant prostate cancer. N Engl J Med 363:411–422. doi:10.1056/NEJMoa1001294

3.

Schwartzentruber DJ, Lawson DH, Richards JM, Conry RM, Miller DM, Treisma J et al (2011) Gp100 peptide vaccine and interleukin-2 in patients with advanced melanoma. N Engl J Med 364:2119–2127. doi:10.1056/NEJMoa1012863

4.

Brunsvig PF, Kyte JA, Kersten C, Sundstrum S, Muller M, Nyakas M, Hansen GL, Gaudemack G, Aamdal S (2011) Telomerase peptide vaccination in NSCLC: a phase II trial in stage III patients vaccinated after chemoradiotherapy and an 8-year update on a phase I/II trial. Clin Cancer Res 17:6847–6857. doi:10.1158/1078-0432.CCR-11-1385

5.

Okada H, Butterfield LH, Hamilton RL, Hoji A, Sakaki M, Ahn BJ et al (2015) Induction of robust type-I CD8+ T-cell responses in WHO grade 2 low-grade glioma patients receiving peptide-based vaccines in combination with poly-ICLC. Clin Cancer Res 21:286–294. doi:10.1158/1078-0432.CCR-14-1790

6.

Tiriveedhi V, Tucker N, Herndon J, Li L, Sturmoski M, Ellis M et al (2014) Safety and preliminary evidence of biologic efficacy of a mammaglobin—a DNA vaccine in patients with stable metastatic breast cancer. Clin Cancer Res 20:5964–5975. doi:10.1158/1078-0432.CCR-14-0059

7.

Weihrauch MR, Ansen S, Jurkiewicz E, Geisen C, Xia Z, Anderson KS et al (2005) Phase I/II combined chemoimmunotherapy with carcinoembryonic antigen-derived HLA-A2-restricted CAP-1 peptide and irinotecan, 5-fluorouracil, and leucovorin in patients with primary metastatic colorectal cancer. Clin Cancer Res 11:5993–6001. doi:10.1158/1078-0432.CCR-05-0018

8.

Agarwalla P, Barnard Z, Fecci P, Dranoff G, Curry W (2012) Sequential immunotherapy by vaccination with GM-CSF-expressing glioma cells and CTLA-4 blockade effectively treats established murine intracranial tumors. J Immunother 35:385–389. doi:10.1097/CJI.0b013e3182562d59

9.

Sorensen MR, Holst PJ, Steffensen MA, Christensen JP, Thomsen AR (2010) Adenoviral vaccination combined with CD40 stimulation and CTLA-4 blockage can lead to complete tumor regression in a murine melanoma model. Vaccine 28:6757–6764. doi:10.1016/j.vaccine.2010.07.066

10.

Toungouz M, Libin M, Bulte F, Faid L, Lehman F, Duriau D et al (2001) Transient expansion of peptide-specific lymphocytes producing IFN-gamma after vaccination with dendritic cells pulsed with MAGE peptides in patients with mage-A1/A3-positive tumors. J Leukoc Biol 69:937–943

11.

Slingluff CL Jr, Petroni G, Yamshchikov GV, Hibbitts S, Grosh WW, Chianese-Bullock KA et al (2004) Immunologic and clinical outcomes of vaccination with a multiepitope melanoma peptide vaccine plus low-dose interleukin-2 administered either concurrently or on a delayed schedule. J Clin Oncol 22:4474–4485. doi:10.1200/JCO.2004.10.212

12.

Nikolich-Žugich J (2014) Aging of the T cell compartment in mice and humans: from no naive expectations to foggy memories. J Immunol 193:2622–2629. doi:10.4049/jimmunol.1401174

13.

Pawelec G, Goldeck D, Derhovanessian E (2014) Inflammation, ageing and chronic disease. Curr Opin Immunol 29:23–28. doi:10.1016/j.coi.2014.03.007

14.

Derhovanessian E, Maier AB, Hahnel K, McElhaney JE, Slagboom EP, Pawelec G (2014) Latent infection with cytomegalovirus is associated with poor memory CD4 responses to influenza A core proteins in the elderly. J Immunol 193:3624–3631. doi:10.4049/jimmunol.1303361

15.

Sandberg K, Ji H, Hay M (2014) Sex-specific immune modulation of primary hypertension. Cell Immunol 294:95–101. doi:10.1016/j.cellimm.2014.12.001

16.

Laser A, Ghosh A, Roelofsdd K, Sadig O, McEvoy B, DiMustro P, Eliason J, Upchurch GR (2014) Increased estrogen receptor alpha in experimental aortic aneurysms in females compared with males. J Surg Res 186:467–474. doi:10.1016/j.jss.2013.07.050d

17.

Chang C, Lee SO, Wang R, Yeh S, Chang T (2013) Androgen receptor (AR) physiological roles in male and female reproductive systems: lessons learned from AR-knockout mice lacking AR in selective cells. Biol Reprod 89:21. doi:10.1095/biolreprod.113.109132

18.

Klein SL, Jedlicka A, Pekosz A (2010) The Xs and Y of immune responses to viral vaccines. Lancet Infect Dis 10:338–349. doi:10.1016/S1473-3099(10)70049-9

19.

Klein SL (2000) The effects of hormones on sex differences in infection: from genes to behavior. Neurosci Biobehav Rev 24:627–638. doi:10.1016/S0149-7634(00)00027-0

20.

Angele MK, Schwacha MG, Ayala A, Chaudry IH (2000) Effect of gender and sex hormones on immune responses following shock. Shock 14:81–90

21.

Knöferl MW, Angele MK, Diodato MD, Schwacha MG, Ayala A, Cioffi WG, Bland KI, Chaudry IH (2002) Female sex hormones regulate macrophage function after trauma-hemorrhage and prevent increased death rate from subsequent sepsis. Ann Surg 235:105–112

22.

Slingluff CL Jr, Petroni GR, Chianese-Bullock KA, Smolkin ME, Hibbitts S, Murphy C et al (2007) Immunologic and clinical outcomes of a randomized phase II trial of two multipeptide vaccines for melanoma in the adjuvant setting. Clin Cancer Res 13:6386–6395. doi:10.1158/1078-0432.CCR-07-0486

23.

Slingluff CL Jr, Petroni GR, Chianese-Bullock KA, Smolkin M, Ross MI, Haas NB et al (2011) Randomized multicenter trial of the effects of melanoma-associated helper peptides and cyclophosphamide on the immunogenicity of a multipeptide melanoma vaccine. J Clin Oncol 29:2924–2932. doi:10.1200/JCO.2010.33.8053

24.

Slingluff CL Jr (2014) A multipeptide vaccine in melanoma patients with evaluation of the injection site microenvironment. ClinicalTrials.gov. https://clinicaltrials.gov/ct2/show/NCT00705640. Accessed 23 Jan 2015

25.

Slingluff CL Jr, Petroni GR, Olson WC, Smolkin ME, Ross MI, Haas NB et al (2009) Effect of granulocyte/macrophage colony-stimulating factor on circulating CD8+ and CD4+ T-cell responses to a multipeptide melanoma vaccine: outcome of a multicenter randomized trial. Clin Cancer Res 15:7036–7044. doi:10.1158/1078-0432.CCR-09-1544

26.

Harris RC, Chianese-Bullock KA, Petroni GR, Schaefer JT, Brill LB, Molhoek KR, Deacon DH, Patterson JW, Slingluff CL Jr (2012) The vaccine-site microenvironment induced by injection of incomplete Freund's adjuvant, with or without melanoma peptides. J Immunother 35:78–88. doi:10.1097/CJI.0b013e31823731a4

27.

Salerno EP, Shea SM, Olson WC, Petroni GR, Smolkin ME, McSkimming C, Chianese-Bullock KA, Slingluff CL Jr (2013) Activation, dysfunction and retention of T cells in vaccine sites after injection of incomplete Freund's adjuvant, with or without peptide. Cancer Immunol Immunother 62:1149–1159. doi:10.1007/s00262-013-1435-5

28.

Gray RJ (1988) A class of K-sample tests for comparing the cumulative incidence of a competing risk. Ann Stat 16:1141–1154. doi:10.2307/2241622

29.

Zeng C, Wen W, Morgans AK, Pao W, Shu X, Zheng W (2015) Disparities by race, age, and sex in the improvement of survival for major cancers: results from the National Cancer Institute Surveillance, Epidemiology, and End Results (SEER) Program in the United States, 1990 to 2010. JAMA Oncol 1:88–96. doi:10.1001/jamaoncol.2014.161

30.

Jafari MD, Jafari F, Halabi WJ, Nguyen VQ, Pigazzi A, Carmichael JC, Mills SD, Stamos MJ (2014) Colorectal cancer resections in the aging US population: a trend toward decreasing rates and improved outcomes. JAMA Surg 149:557–564. doi:10.1001/jamasurg.2013.4930

31.

AlHilli MM, Bakkum-Gamez JN, Mariani A, Weaver AL, McGree ME, Keeney GL, Jatoi A, Dowdy SC, Podratz KC (2015) Risk-adjusted outcomes in elderly endometrial cancer patients: implications of the contrasting impact of age on progression-free and cause-specific survival. Gynecol Oncol 138:133–140. doi:10.1016/j.ygyno.2015.04.010

32.

Nadpara P, Madhavan SS, Tworek C (2015) Guideline-concordant timely lung cancer care and prognosis among elderly patients in the United States: a population-based study. Cancer Epidemiol. doi:10.1016/j.canep.2015.06.005

33.

Chen RC, Royce TJ, Extermann M, Reeve BB (2012) Impact of age and comorbidity on treatment and outcomes in elderly cancer patients. Semin Radiat Oncol 22:265–271. doi:10.1016/j.semradonc.2012.05.002

34.

Furman D, Hejblum BP, Simon N, Jojic V, Dekker CL, Thiebaut R, Tibshirani RJ, Davis MM (2014) Systems analysis of sex differences reveals an immunosuppressive role for testosterone in the response to influenza vaccination. Proc Natl Acad Sci USA 111:869–874. doi:10.1073/pnas.1321060111

35.

Stidham KR, Johnson JL, Seigler HF (1994) Survival superiority of females with melanoma. A multivariate analysis of 6383 patients exploring the significance of gender in prognostic outcome. AMA Arch Surg 129:316–324. doi:10.1001/archsurg.1994.01420270094020

36.

Morgese F, Berardi R, Sampaolesi C, Torniai M, Marcantognini G, Giacchetti A et al (2015) Gender differences and outcome of melanoma patients. J Transl Med 13(Suppl 1):13. doi:10.1186/1479-5876-13-S1-P13

37.

Donizy P, Kaczorowshi M, Halon A, Leskiewivz M, Kozyra C, Matkowski R (2015) Paucity of tumor-infiltrating lymphocytes is an unfavorable prognosticator and predicts lymph node metastases in cutaneous melanoma patients. Anticancer Res 35:351–358

38.

Pollow DP, Uhrlaub J, Romero-Aleshire MJ, Sandberg K, Nikolich-Zugich J, Brooks HL, Hay M (2014) Sex differences in T-lymphocyte tissue infiltration and development of angiotensin II hypertension. Hypertension 64:384–390. doi:10.1161/HYPERTENSIONAHA.114.03581
Acknowledgments
This research was funded in part by the National Institutes of Health [NIH]/National Cancer Institute [NCI] grants NIH R01 CA057653 and CA 118386 and NIH R21 CA103528 awarded to Craig Slingluff, T32 CA163177 awarded to Yinin Hu/Craig Slingluff, and K25 CA181638 awarded to Nolan Wages, and Cancer Center Support Grant P30 CA044579.
Ethics declarations
Conflict of interest
Craig Slingluff is an inventor of several peptides included in the vaccine that was administered during the clinical trials studied within this paper. The University of Virginia Licensing and Ventures Group holds the patents for those peptides, which have been licensed through the Ludwig Institute for Cancer Research to Glaxo Smith Kline. The remaining authors have nothing to disclose or competing interests in association with this study.
Additional information
Data included in this article were previously presented in two separate portions at the Society of Immunotherapy of Cancer 2014 Annual Meeting in Washington DC, USA, as a poster presentation, and the 2015 Academic Surgical Congress in Las Vegas, USA, as a plenary oral presentation.
Electronic supplementary material
Below is the link to the electronic supplementary material.
About this article
Cite this article
Ramirez, A.G., Wages, N.A., Hu, Y. et al. Defining the effects of age and gender on immune response and outcomes to melanoma vaccination: a retrospective analysis of a single-institution clinical trials' experience. Cancer Immunol Immunother 64, 1531–1539 (2015). https://doi.org/10.1007/s00262-015-1758-5
Received:

Accepted:

Published:

Issue Date:
Keywords
Age

Gender

Peptide vaccines

Melanoma

Clinical trials

Outcomes