Abstract
Objective
Dendritic cell (DC)-based cancer vaccines may have a significant benefit to patients with advanced pancreatic cancer. However, variations among clinical studies make it difficult to compare clinical outcomes. Here, we identified factors that determined the clinical benefits by analyzing data obtained at seven Japanese institutions that employed the same DC preparation and treatment regimens.
Methods
Of 354 patients who met the inclusion criteria, 255 patients who received standard chemotherapy combined with peptide-pulsed DC vaccines were analyzed.
Results
The mean survival time from diagnosis was 16.5 months (95 % CI 14.4–18.5) and that from the first vaccination was 9.9 months (95 % CI 8.0–12.9). Known prognostic baseline factors related to advanced pancreatic cancer, namely ECOG-PS, peritoneal metastasis, liver metastasis, and the prognostic nutrition index, were also representative. Importantly, we found that erythema reaction after vaccination was an independent and treatment-related prognostic factor for better survival and that OK-432 might be a good adjuvant enhancing the antitumor immunity during DC vaccination.
Conclusions
This is the first report of a multicenter clinical study suggesting the feasibility and possible clinical benefit of an add-on DC vaccine in patients with advanced pancreatic cancer who are undergoing chemotherapy. These findings need to be addressed in well-controlled prospective randomized trials.
This is a preview of subscription content, log in to check access.
Access options
Buy single article
Instant access to the full article PDF.
US$ 39.95
Price includes VAT for USA
Subscribe to journal
Immediate online access to all issues from 2019. Subscription will auto renew annually.
US$ 199
This is the net price. Taxes to be calculated in checkout.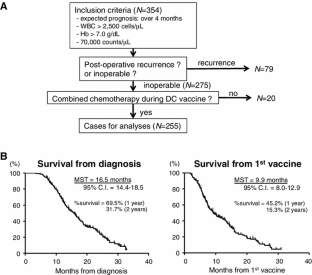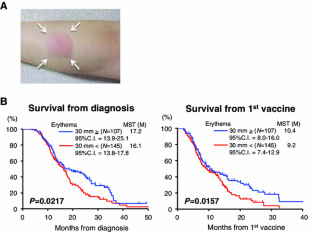 References
1.

Jemal A, Siegel R, Xu J, Ward E (2010) Cancer statistics, 2010. CA Cancer J Clin 60:277–300

2.

Wada K, Takaori K, Traverso LW, Hruban RH, Furukawa T, Brentnall TA et al (2013) Clinical importance of familial pancreatic cancer registry in Japan: a report from kick-off meeting at international symposium on pancreas cancer 2012. J Hepatobiliary Pancreat Sci 20:557–566

3.

Cleary SP, Gryfe R, Guindi M, Greig P, Smith L, Mackenzie R et al (2004) Prognostic factors in resected pancreatic adenocarcinoma: analysis of actual 5-year survivors. J Am Coll Surg 198:722–731

4.

Burris HA 3rd, Moore MJ, Andersen J, Green MR, Rothenberg ML, Modiano MR et al (1997) Improvements in survival and clinical benefit with gemcitabine as first-line therapy for patients with advanced pancreas cancer: a randomized trial. J Clin Oncol 15:2403–2413

5.

Ueno H, Ioka T, Ikeda M, Ohkawa S, Yanagimoto H, Boku N et al (2013) Randomized phase III study of gemcitabine plus S-1, S-1 alone, or gemcitabine alone in patients with locally advanced and metastatic pancreatic cancer in Japan and Taiwan: gEST Study. J Clin Oncol 31:1640–1648

6.

Fukushima M, Satake H, Uchida J, Shimamoto Y, Kato T, Takechi T et al (1998) Preclinical antitumor efficacy of S-1: a new oral formulation of 5-fluorouracil on human tumor xenografts. Int J Oncol 13:693–698

7.

Banchereau J, Steinman RM (1998) Dendritic cells and the control of immunity. Nature 392:245–252

8.

Hsu FJ, Benike C, Fagnoni F, Liles TM, Czerwinski D, Taidi B et al (1996) Vaccination of patients with B-cell lymphoma using autologous antigen-pulsed dendritic cells. Nat Med 2:52–58

9.

Nestle FO, Alijagic S, Gilliet M, Sun Y, Grabbe S, Dummer R et al (1998) Vaccination of melanoma patients with peptide- or tumor lysate-pulsed dendritic cells. Nat Med 4:328–332

10.

Pecher G, Häring A, Kaiser L, Thiel E (2002) Mucin gene (MUC1) transfected dendritic cells as vaccine: results of a phase I/II clinical trial. Cancer Immunol Immunother 51:669–673

11.

Kondo H, Hazama S, Kawaoka T, Yoshino S, Yoshida S, Tokuno K et al (2008) Adoptive immunotherapy for pancreatic cancer using MUC1 peptide-pulsed dendritic cells and activated T lymphocytes. Anticancer Res 28:379–387

12.

Suso EM, Dueland S, Rasmussen AM, Vetrhus T, Aamdal S, Kvalheim G et al (2011) hTERT mRNA dendritic cell vaccination: complete response in a pancreatic cancer patient associated with response against several hTERT epitopes. Cancer Immunol Immunother 60:809–818

13.

Bauer C, Dauer M, Saraj S, Schnurr M, Bauernfeind F, Sterzik A et al (2011) Dendritic cell-based vaccination of patients with advanced pancreatic carcinoma: results of a pilot study. Cancer Immunol Immunother 60:1097–1107

14.

Rong Y, Qin X, Jin D, Lou W, Wu L, Wang D et al (2011) A phase I pilot trial of MUC1-peptide-pulsed dendritic cells in the treatment of advanced pancreatic cancer. Clin Exp Med 12:173–180

15.

Kimura Y, Tsukada J, Tomoda T, Takahashi H, Imai K, Shimamura K et al (2012) Clinical and immunologic evaluation of dendritic cell-based immunotherapy in combination with gemcitabine and/or S-1 in patients with advanced pancreatic carcinoma. Pancreas 41:195–205

16.

Vincent J, Mignot G, Chalmin F, Ladoire S, Bruchard M, Chevriaux A et al (2010) 5-Fluorouracil selectively kills tumor-associated myeloid-derived suppressor cells resulting in enhanced T cell-dependent antitumor immunity. Cancer Res 70:3052–3061

17.

Bauer C, Bauernfeind F, Sterzik A, Orban M, Schnurr M, Lehr HA et al (2007) Dendritic cell-based vaccination combined with gemcitabine increases survival in a murine pancreatic carcinoma model. Gut 56:1275–1282

18.

Nagayama H, Sato K, Morishita M, Uchimaru K, Oyaizu N, Inazawa T et al (2003) Results of a phase I clinical study using autologous tumour lysate-pulsed monocyte-derived mature dendritic cell vaccinations for stage IV malignant melanoma patients combined with low dose interleukin-2. Melanoma Res 13:521–530

19.

Kuwabara K, Nishishita T, Morishita M, Oyaizu N, Yamashita S, Kanematsu T et al (2007) Results of a phase I clinical study using dendritic cell vaccinations for thyroid cancer. Thyroid 17:53–58

20.

Takahashi H, Okamoto M, Shimodaira S, Tsujitani S, Nagaya M, Ishidao T, DC-vaccine study group at the Japan Society of Innovative Cell Therapy (J-SICT) et al (2013) Impact of dendritic cell vaccines pulsed with Wilms' tumour-1 peptide antigen on the survival of patients with advanced non-small cell lung cancers. Eur J Cancer 49:852–859

21.

Kobayashi M, Sakabe T, Abe H, Tanii M, Takahashi H, Chiba A et al (2013) DC-vaccine study group at the Japan society of innovative cell therapy (J-SICT) dendritic cell-based immunotherapy targeting synthesized peptides for advanced biliary tract cancer. J Gastrointest Surg 17:1609–1617

22.

Oji Y, Nakamori S, Fujikawa M, Nakatsuka S, Yokota A, Tatsumi N et al (2004) Overexpression of the Wilms' tumor gene WT1 in pancreatic ductal adenocarcinoma. Cancer Sci 95:583–587

23.

Hollingsworth MA, Strawhecker JM, Caffrey TC, Mack DR (1994) Expression of MUC1, MUC2, MUC3 and MUC4 mucin mRNAs in human pancreatic and intestinal tumor cell lines. Int J Cancer 57:198–203

24.

Okamoto M, Oshikawa T, Tano T, Ohe G, Furuichi S, Nishikawa H et al (2003) Involvement of Toll-like receptor 4 signaling in interferon-gamma production and antitumor effect by streptococcal agent OK-432. J Natl Cancer Inst 95:316–326

25.

Okamoto M, Furuichi S, Nishioka Y, Oshikawa T, Tano T, Ahmed SU et al (2004) Expression of toll-like receptor 4 on dendritic cells is significant for anticancer effect of dendritic cell-based immunotherapy in combination with an active component of OK-432, a streptococcal preparation. Cancer Res 64:5461–5470

26.

Pinato DJ, North BV, Sharma R (2012) A novel, externally validated inflammation-based prognostic algorithm in hepatocellular carcinoma: the prognostic nutritional index (PNI). Br J Cancer 106:1439–1445

27.

Kanda M, Fujii T, Kodera Y, Nagai S, Takeda S, Nakao A (2011) Nutritional predictors of postoperative outcome in pancreatic cancer. Br J Surg 98:268–274

28.

Park S, Chung MJ, Park JY, Chung JB, Bang S, Park SW et al (2013) Phase II trial of erlotinib plus gemcitabine chemotherapy in Korean patients with advanced pancreatic cancer and prognostic factors for chemotherapeutic response. Gut Liver 7:611–615

29.

Vickers MM, Powell ED, Asmis TR, Jonker DJ, Hilton JF, O'Callaghan CJ et al (2012) Comorbidity, age and overall survival in patients with advanced pancreatic cancer - results from NCIC CTG PA.3: a phase III trial of gemcitabine plus erlotinib or placebo. Eur J Cancer 48:1434–1442

30.

Yi JH, Lee J, Park SH, Lee KT, Lee JK, Lee KH et al (2011) A prognostic model to predict clinical outcomes with first-line gemcitabine-based chemotherapy in advanced pancreatic cancer. Oncology 80:175–180

31.

Inal A, Ciltas A, Yildiz R, Berk V, Kos FT, Dane F et al (2012) Long term survivors with metastatic pancreatic cancer treated with gemcitabine alone or plus cisplatin: a retrospective analysis of an Anatolian Society of Medical Oncology multicenter study. Asian Pac J Cancer Prev 13:1841–1844

32.

Hoos A, Eggermont AM, Janetzki S, Hodi FS, Ibrahim R, Anderson A et al (2010) Improved endpoints for cancer immunotherapy trials. J Natl Cancer Inst 102:1388–1397

33.

de Vries IJ, Bernsen MR, Lesterhuis WJ, Scharenborg NM, Strijk SP, Gerritsen MJ et al (2005) Immunomonitoring tumor-specific T cells in delayed-type hypersensitivity skin biopsies after dendritic cell vaccination correlates with clinical outcome. J Clin Oncol 23:5779–5787

34.

Hersey P, Menzies SW, Halliday GM, Nguyen T, Farrelly ML, DeSilva C et al (2004) Phase I/II study of treatment with dendritic cell vaccines in patients with disseminated melanoma. Cancer Immunol Immunother 53:125–134

35.

Nishida S, Koido S, Takeda Y, Homma S, Komita H, Takehara A et al (2014) Wilms tumor gene (WT1) peptide-based cancer vaccine combined with gemcitabine for patients with advanced pancreatic cancer. J Immunother 37:105–114

36.

Sugimachi K, Maehara Y, Akazawa K, Kondo Y, Kunii Y, Kitamura M et al (1994) Postoperative chemotherapy including intraperitoneal and intradermal administration of the streptococcal preparation OK-432 for patients with gastric cancer and peritoneal dissemination: a prospective randomized study. Cancer Chemother Pharmacol 33:366–370
Acknowledgments
This report is dedicated to the patients who participated in our studies and to their primary oncology doctors. We also thank the present and former staff of each participating institution. Data collection from each institution was supported by the Research and Development Division of tella Inc., and data analyses were supported and checked by Dr. J. Kishimoto, Kyushu University, as an independent specialist from the company.
Conflict of interest
Prof. Y. Yonemitsu is also a member of the Board of Directors on Science and Medicine at tella Inc., and Drs. S. Yusa and T. Ishidao are the current and former chiefs of the Research and Development Division of tella Inc., respectively. Dr. Okamoto, who was excluded from the data analyses, is a stockholder of tella Inc. All remaining authors have declared no conflicts of interest.
Electronic supplementary material
Below is the link to the electronic supplementary material.
About this article
Cite this article
Kobayashi, M., Shimodaira, S., Nagai, K. et al. Prognostic factors related to add-on dendritic cell vaccines on patients with inoperable pancreatic cancer receiving chemotherapy: a multicenter analysis. Cancer Immunol Immunother 63, 797–806 (2014). https://doi.org/10.1007/s00262-014-1554-7
Received:

Accepted:

Published:

Issue Date:
Keywords
Advanced pancreatic cancer

Chemotherapy

Dendritic cell vaccine

OK-432

Erythema