Abstract
Introduction
Ipilimumab, a cytotoxic T lymphocyte-associated antigen-4 blocking antibody, has improved overall survival (OS) in metastatic melanoma in phase III trials. However, about 80 % of patients fail to respond, and no predictive markers for benefit from therapy have been identified. We analysed a 'real world' population of patients treated with ipilimumab to identify markers for treatment benefit.
Methods
Patients with advanced cutaneous melanoma were treated in the Netherlands (NL) and the United Kingdom (UK) with ipilimumab at 3 mg/kg. Baseline characteristics and peripheral blood parameters were assessed, and patients were monitored for the occurrence of adverse events and outcomes.
Results
A total of 166 patients were treated in the Netherlands. Best overall response and disease control rates were 17 and 35 %, respectively. Median follow-up was 17.9 months, with a median progression-free survival of 2.9 months. Median OS was 7.5 months, and OS at 1 year was 37.8 % and at 2 years was 22.9 %. In a multivariate model, baseline serum lactate dehydrogenase (LDH) was demonstrated to be the strongest predictive factor for OS. These findings were validated in an independent cohort of 64 patients from the UK.
Conclusion
In both the NL and UK cohorts, long-term benefit of ipilimumab treatment was unlikely for patients with baseline serum LDH greater than twice the upper limit of normal. In the absence of prospective data, clinicians treating melanoma may wish to consider the data presented here to guide patient selection for ipilimumab therapy.
Access options
Buy single article
Instant access to the full article PDF.
USD 39.95
Price excludes VAT (USA)
Tax calculation will be finalised during checkout.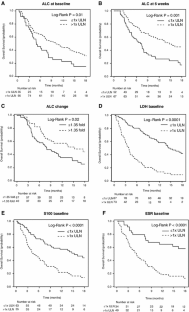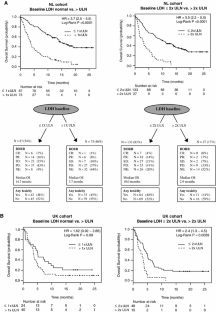 References
Simpson TR, Li F, Montalvo-Ortiz W, Sepulveda MA, Bergerhoff K, Arce F, Roddie C, Henry JY, Yagita H, Wolchok JD, Peggs KS, Ravetch JV, Allison JP, Quezada SA (2013) Fc-dependent depletion of tumor-infiltrating regulatory T cells co-defines the efficacy of anti-CTLA-4 therapy against melanoma. J Exp Med 210(9):1695–1710. doi:10.1084/jem.20130579

Hodi FS, O'Day SJ, McDermott DF, Weber RW, Sosman JA, Haanen JB, Gonzalez R, Robert C, Schadendorf D, Hassel JC, Akerley W, van den Eertwegh AJ, Lutzky J, Lorigan P, Vaubel JM, Linette GP, Hogg D, Ottensmeier CH, Lebbe C, Peschel C, Quirt I, Clark JI, Wolchok JD, Weber JS, Tian J, Yellin MJ, Nichol GM, Hoos A, Urba WJ (2010) Improved survival with ipilimumab in patients with metastatic melanoma. N Engl J Med 363(8):711–723. doi:10.1056/NEJMoa1003466

Robert C, Thomas L, Bondarenko I, O'Day S, Weber J, Garbe C, Lebbe C, Baurain JF, Testori A, Grob JJ, Davidson N, Richards J, Maio M, Hauschild A, Miller WH, Jr, Gascon P, Lotem M, Harmankaya K, Ibrahim R, Francis S, Chen TT, Humphrey R, Hoos A, Wolchok JD (2011) Ipilimumab plus dacarbazine for previously untreated metastatic melanoma. N Engl J Med 364(26):2517–2526. doi:10.1056/NEJMoa1104621

Balch CM, Gershenwald JE, Soong SJ, Thompson JF, Atkins MB, Byrd DR, Buzaid AC, Cochran AJ, Coit DG, Ding S, Eggermont AM, Flaherty KT, Gimotty PA, Kirkwood JM, McMasters KM, Mihm MC Jr, Morton DL, Ross MI, Sober AJ, Sondak VK (2009) Final version of 2009 AJCC melanoma staging and classification. J Clin Oncol 27(36):6199–6206. doi:10.1200/JCO.2009.23.4799

Yang JC, Hughes M, Kammula U, Royal R, Sherry RM, Topalian SL, Suri KB, Levy C, Allen T, Mavroukakis S, Lowy I, White DE, Rosenberg SA (2007) Ipilimumab (anti-CTLA4 antibody) causes regression of metastatic renal cell cancer associated with enteritis and hypophysitis. J Immunother 30(8):825–830. doi:10.1097/CJI.0b013e318156e47e

Tomasini P, Khobta N, Greillier L, Barlesi F (2012) Ipilimumab: its potential in non-small cell lung cancer. Ther Adv Med Oncol 4(2):43–50. doi:10.1177/1758834011431718

Slovin SF, Higano CS, Hamid O, Tejwani S, Harzstark A, Alumkal JJ, Scher HI, Chin K, Gagnier P, McHenry MB, Beer TM (2013) Ipilimumab alone or in combination with radiotherapy in metastatic castration-resistant prostate cancer: results from an open-label, multicenter phase I/II study. Ann Oncol 24(7):1813–1821. doi:10.1093/annonc/mdt107

Grosso JF, Jure-Kunkel MN (2013) CTLA-4 blockade in tumor models: an overview of preclinical and translational research. Cancer Immun 13:5

Thompson JA, Hamid O, Minor D, Amin A, Ron IG, Ridolfi R, Assi H, Berman D, Siegel J, Weber JS (2012) Ipilimumab in treatment-naive and previously treated patients with metastatic melanoma: retrospective analysis of efficacy and safety data from a phase II trial. J Immunother 35(1):73–77. doi:10.1097/CJI.0b013e31823735d6

Ku GY, Yuan J, Page DB, Schroeder SE, Panageas KS, Carvajal RD, Chapman PB, Schwartz GK, Allison JP, Wolchok JD (2010) Single-institution experience with ipilimumab in advanced melanoma patients in the compassionate use setting: lymphocyte count after 2 doses correlates with survival. Cancer 116(7):1767–1775. doi:10.1002/cncr.24951

Attia P, Phan GQ, Maker AV, Robinson MR, Quezado MM, Yang JC, Sherry RM, Topalian SL, Kammula US, Royal RE, Restifo NP, Haworth LR, Levy C, Mavroukakis SA, Nichol G, Yellin MJ, Rosenberg SA (2005) Autoimmunity correlates with tumor regression in patients with metastatic melanoma treated with anti-cytotoxic T-lymphocyte antigen-4. J Clin Oncol 23(25):6043–6053. doi:10.1200/JCO.2005.06.205

Di Giacomo AM, Danielli R, Calabro L, Bertocci E, Nannicini C, Giannarelli D, Balestrazzi A, Vigni F, Riversi V, Miracco C, Biagioli M, Altomonte M, Maio M (2011) Ipilimumab experience in heavily pretreated patients with melanoma in an expanded access program at the University Hospital of Siena (Italy). Cancer Immunol Immunother 60(4):467–477. doi:10.1007/s00262-010-0958-2

Wilgenhof S, Du Four S, Vandenbroucke F, Everaert H, Salmon I, Lienard D, Marmol VD, Neyns B (2013) Single-center experience with ipilimumab in an expanded access program for patients with pretreated advanced melanoma. J Immunother 36(3):215–222. doi:10.1097/CJI.0b013e31828eed39

Delyon J, Mateus C, Lefeuvre D, Lanoy E, Zitvogel L, Chaput N, Roy S, Eggermont AM, Routier E, Robert C (2013) Experience in daily practice with ipilimumab for the treatment of patients with metastatic melanoma: an early increase in lymphocyte and eosinophil counts is associated with improved survival. Ann Oncol 24(6):1697–1703. doi:10.1093/annonc/mdt027

Di Giacomo AM, Calabro L, Danielli R, Fonsatti E, Bertocci E, Pesce I, Fazio C, Cutaia O, Giannarelli D, Miracco C, Biagioli M, Altomonte M, Maio M (2013) Long-term survival and immunological parameters in metastatic melanoma patients who responded to ipilimumab 10 mg/kg within an expanded access programme. Cancer Immunol Immunother 62(6):1021–1028. doi:10.1007/s00262-013-1418-6

Weide B, Elsasser M, Buttner P, Pflugfelder A, Leiter U, Eigentler TK, Bauer J, Witte M, Meier F, Garbe C (2012) Serum markers lactate dehydrogenase and S100B predict independently disease outcome in melanoma patients with distant metastasis. Br J Cancer 107(3):422–428. doi:10.1038/bjc.2012.306

Manola J, Atkins M, Ibrahim J, Kirkwood J (2000) Prognostic factors in metastatic melanoma: a pooled analysis of Eastern Cooperative Oncology Group trials. J Clin Oncol 18(22):3782–3793

Wolchok JD, Hoos A, O'Day S, Weber JS, Hamid O, Lebbe C, Maio M, Binder M, Bohnsack O, Nichol G, Humphrey R, Hodi FS (2009) Guidelines for the evaluation of immune therapy activity in solid tumors: immune-related response criteria. Clin Cancer Res 15(23):7412–7420. doi:10.1158/1078-0432.CCR-09-1624

Fantin VR, St-Pierre J, Leder P (2006) Attenuation of LDH-A expression uncovers a link between glycolysis, mitochondrial physiology, and tumor maintenance. Cancer Cell 9(6):425–434. doi:10.1016/j.ccr.2006.04.023

Gatenby RA, Gillies RJ (2004) Why do cancers have high aerobic glycolysis? Nat Rev Cancer 4(11):891–899. doi:10.1038/nrc1478

Lardner A (2001) The effects of extracellular pH on immune function. J Leukoc Biol 69(4):522–530

Ratner S (1992) Motility of IL-2-stimulated lymphocytes in neutral and acidified extracellular matrix. Cell Immunol 139(2):399–410

Larkin J, Del VM, Ascierto PA, Schachter J, Garbe C, Neyns B (2013) Open-label, multicenter safety study of vemurafenib in patients with BRAFV600E mutation-positive metastatic melanoma: interim analysis. In: 2013 ASCO Annual Meeting, Chicago, Illinois

Ascierto PA, Simeone E, Giannarelli D, Grimaldi AM, Romano A, Mozzillo N (2012) Sequencing of BRAF inhibitors and ipilimumab in patients with metastatic melanoma: a possible algorithm for clinical use. J Transl Med 10:107. doi:10.1186/1479-5876-10-107

Chapman PB, Hauschild A, Robert C, Haanen JB, Ascierto P, Larkin J, Dummer R, Garbe C, Testori A, Maio M, Hogg D, Lorigan P, Lebbe C, Jouary T, Schadendorf D, Ribas A, O'Day SJ, Sosman JA, Kirkwood JM, Eggermont AM, Dreno B, Nolop K, Li J, Nelson B, Hou J, Lee RJ, Flaherty KT, McArthur GA, Group B-S (2011) Improved survival with vemurafenib in melanoma with BRAF V600E mutation. N Engl J Med 364(26):2507–2516. doi:10.1056/NEJMoa1103782

Flaherty KT, Robert C, Hersey P, Nathan P, Garbe C, Milhem M, Demidov LV, Hassel JC, Rutkowski P, Mohr P, Dummer R, Trefzer U, Larkin JM, Utikal J, Dreno B, Nyakas M, Middleton MR, Becker JC, Casey M, Sherman LJ, Wu FS, Ouellet D, Martin AM, Patel K, Schadendorf D, Group MS (2012) Improved survival with MEK inhibition in BRAF-mutated melanoma. N Engl J Med 367(2):107–114. doi:10.1056/NEJMoa1203421

Topalian SL, Hodi FS, Brahmer JR, Gettinger SN, Smith DC, McDermott DF, Powderly JD, Carvajal RD, Sosman JA, Atkins MB, Leming PD, Spigel DR, Antonia SJ, Horn L, Drake CG, Pardoll DM, Chen L, Sharfman WH, Anders RA, Taube JM, McMiller TL, Xu H, Korman AJ, Jure-Kunkel M, Agrawal S, McDonald D, Kollia GD, Gupta A, Wigginton JM, Sznol M (2012) Safety, activity, and immune correlates of anti-PD-1 antibody in cancer. N Engl J Med 366(26):2443–2454. doi:10.1056/NEJMoa1200690

Brahmer JR, Tykodi SS, Chow LQ, Hwu WJ, Topalian SL, Hwu P, Drake CG, Camacho LH, Kauh J, Odunsi K, Pitot HC, Hamid O, Bhatia S, Martins R, Eaton K, Chen S, Salay TM, Alaparthy S, Grosso JF, Korman AJ, Parker SM, Agrawal S, Goldberg SM, Pardoll DM, Gupta A, Wigginton JM (2012) Safety and activity of anti-PD-L1 antibody in patients with advanced cancer. N Engl J Med 366(26):2455–2465. doi:10.1056/NEJMoa1200694

Hamid O, Robert C, Daud A, Hodi FS, Hwu WJ, Kefford R, Wolchok JD, Hersey P, Joseph RW, Weber JS, Dronca R, Gangadhar TC, Patnaik A, Zarour H, Joshua AM, Gergich K, Elassaiss-Schaap J, Algazi A, Mateus C, Boasberg P, Tumeh PC, Chmielowski B, Ebbinghaus SW, Li XN, Kang SP, Ribas A (2013) Safety and tumor responses with lambrolizumab (anti-PD-1) in melanoma. N Engl J Med 369(2):134–144. doi:10.1056/NEJMoa1305133

European Commission - Community Register of Medicinal Products (2011) http://ec.europa.eu/health/documents/community-register/html/h698.htm. Last updated November 2013
Acknowledgments
No funds were received to conduct this study. The authors want to acknowledge the members of the Dutch Working Group on Immunotherapy of Oncology (WIN-O) for their assistance in obtaining the data and their constructive discussion concerning the outcomes of this study.
Conflict of interest
G. A. P. Hospers, A. J. M. van den Eertwegh, E. W. Kapiteijn, J. W. de Groot, P. Lorigan, M. E. Gore, J. B. A. G. Haanen, J. M. G. Larkin and C. U. Blank have participated in advisory board meetings of Bristol-Myers Squibb for which the faculty has received compensation. P Lorigan has received support for travel and compensation for educational and speaker bureau activities. J. M. G. Larkin and M. E. Gore acknowledge National Health Service funding to the National Institute for Health Research Biomedical Research Centre at the Royal Marsden Hospital. J. B. A. G. Haanen and T. N. M. Schumacher are members of the Bristol-Meyers Squibb Immuno-Oncology network and have furthermore received a grant for translational research from Bristol-Meyers Squibb. C. U. Blank receives funding for an investigator-initiated study from Bristol-Myers Squibb. All other authors declared that they have no conflict of interest.
Additional information
Bianca Heemskerk and Harm van Tinteren have contributed equally to this work.
Electronic supplementary material
Below is the link to the electronic supplementary material.
About this article
Cite this article
Kelderman, S., Heemskerk, B., van Tinteren, H. et al. Lactate dehydrogenase as a selection criterion for ipilimumab treatment in metastatic melanoma. Cancer Immunol Immunother 63, 449–458 (2014). https://doi.org/10.1007/s00262-014-1528-9
Received:

Accepted:

Published:

Issue Date:

DOI: https://doi.org/10.1007/s00262-014-1528-9
Keywords