Abstract
Purpose
The aim of the study was to analyze MR imaging features of hepatic epithelioid angiomyolipoma (HEAML).
Methods
This study included 113 patients with 122 pathologically confirmed HEAML who underwent enhanced MRI scanning before partial hepatectomy. MR images were retrospectively reviewed and correlated with pathological findings.
Results
The mean age of 113 patients was 48.12 ± 11.77 years old, and the male to female ratio was 1:3.35 with 87 females (76.99%). 107 (94.69%) patients presented as single tumor, and 96 patients (84.96%) were asymptomatic. 122 HEAML lesions were diagnosed pathologically in 113 patients, with the average of 4.47 ± 3.26 cm. 109 lesions (89.34%) and 108 lesions (88.52%) showed regular and well-defined boundary. On T1WI, 121 lesions (99.18%) mainly presented hypointensity. On T2WI, 118 lesions (96.72%) and 109 lesions (89.34%) mainly showed hyperintensity and heterogeneous signals. Most of the lesions (97.46%) showed hyperintensity on DWI. 118 lesions (96.72%) manifested as severe hyperenhancement and 106 lesions (86.89%) showed heterogeneity during the arterial phase. As for the lesion enhancement pattern, 73 lesions (59.84%) presented as persistent enhancement, 37 lesions (30.33%) as wash out, 8 lesions (6.56%) as degressive enhancement, and 4 lesions (3.28%) as poor blood supply. Additionally, 96 lesions (78.69%) with intra-tumor vessels and 85 lesions (69.67%) with outer rim were confirmed during the delayed phase.
Conclusion
At enhanced MRI, hypointensity on T1WI, hyperintensity and heterogeneous signals on T2WI, hyperintensity on DWI, little or no fat component, heterogenous hyperenhancement, persistent enhancement, intra-tumor vessels, and outer rim would be helpful to diagnose HEAML.
Graphical abstract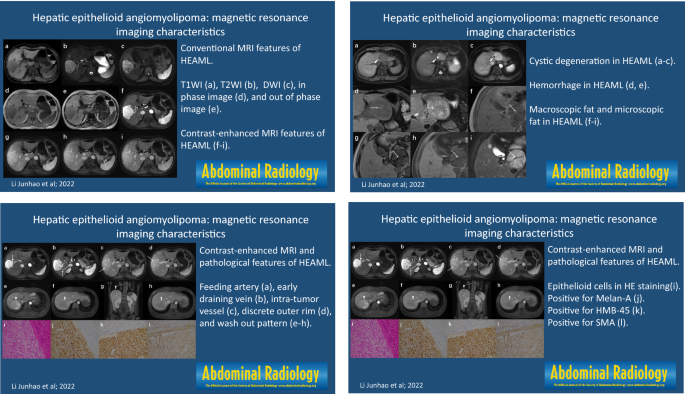 Access options
Buy single article
Instant access to the full article PDF.
USD 39.95
Price excludes VAT (USA)
Tax calculation will be finalised during checkout.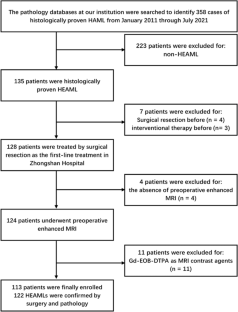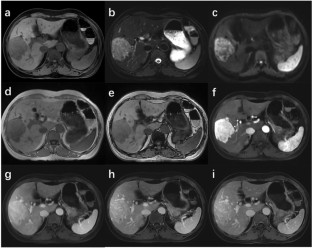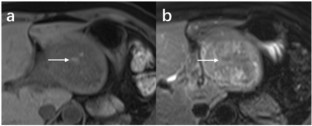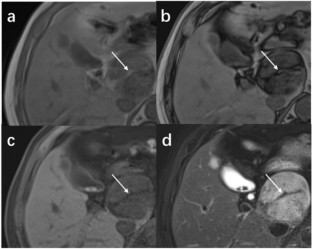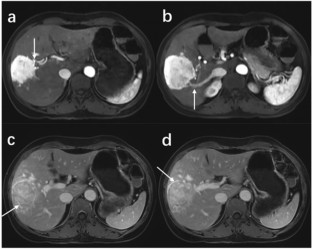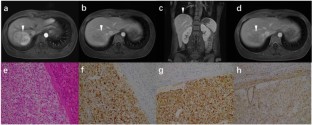 Abbreviations
AML:

Angiomyolipoma

EAML:

Epithelioid angiomyolipoma

HEAML:

Hepatic epithelioid angiomyolipoma

PEComas:

Perivascular epithelioid cell tumors

HMB-45:

Human melanoma black 45

SMA:

Smooth muscle actin

TSC:

Tuberous sclerosis syndrome
References
Eble JN, Amin MB, Young RH, Epithelioid angiomyolipoma of the kidney: a report of five cases with a prominent and diagnostically confusing epithelioid smooth muscle component, Am J Surg Pathol 21(10) (1997) 1123-30. https://doi.org/10.1097/00000478-199710000-00001

Eble JN, Angiomyolipoma of kidney, Semin Diagn Pathol 15(1) (1998) 21-40.

Tsui WM, Colombari R, Portmann BC, Bonetti F, Thung SN, Ferrell LD, Nakanuma Y, Snover DC, Bioulac-Sage P, Dhillon AP, Hepatic angiomyolipoma: a clinicopathologic study of 30 cases and delineation of unusual morphologic variants, Am J Surg Pathol 23(1) (1999) 34-48. https://doi.org/10.1097/00000478-199901000-00004

Armah HB, Parwani AV, Perivascular epithelioid cell tumor, Arch Pathol Lab Med 133(4) (2009) 648-54. https://doi.org/10.5858/133.4.648

Skaret MM, Vicente DA, Deising AC, An Enlarging Hepatic Mass of Unknown Etiology, Gastroenterology 160(3) (2021) e14-e16. https://doi.org/10.1053/j.gastro.2020.06.054

Zhou Y, Chen F, Jiang W, Meng Q, Wang F, Hepatic epithelioid angiomyolipoma with an unusual pathologic appearance: expanding the morphologic spectrum, Int J Clin Exp Pathol 7(9) (2014) 6364-9.

Yamasaki S, Tanaka S, Fujii H, Matsumoto T, Okuda C, Watanabe G, Suda K, Monotypic epithelioid angiomyolipoma of the liver, Histopathology 36(5) (2000) 451-6. https://doi.org/10.1046/j.1365-2559.2000.00848.x

Liu J, Zhang CW, Hong DF, Tao R, Chen Y, Shang MJ, Zhang YH, Primary hepatic epithelioid angiomyolipoma: A malignant potential tumor which should be recognized, World J Gastroenterol 22(20) (2016) 4908-17. https://doi.org/10.3748/wjg.v22.i20.4908

Kaneko K, Yoshida S, Yamamoto K, Arita Y, Kijima T, Yokoyama M, Ishioka J, Matsuoka Y, Saito K, Fujii Y, Renal epithelioid angiomyolipoma: Incidence in a Japanese cohort and diagnostic utility of diffusion-weighted magnetic resonance imaging, Int J Urol 27(7) (2020) 599-604. https://doi.org/10.1111/iju.14251

Fukuda Y, Omiya H, Takami K, Mori K, Kodama Y, Mano M, Nomura Y, Akiba J, Yano H, Nakashima O, Ogawara M, Mita E, Nakamori S, Sekimoto M, Malignant hepatic epithelioid angiomyolipoma with recurrence in the lung 7 years after hepatectomy: a case report and literature review, Surg Case Rep 2(1) (2016) 31. https://doi.org/10.1186/s40792-016-0158-1

Garoufalia Z, Machairas N, Kostakis ID, Liakea A, Tsaparas P, Liapis G, Sotiropoulos GC, Malignant potential of epithelioid angiomyolipomas of the liver: A case report and comprehensive review of the literature, Mol Clin Oncol 9(2) (2018) 226-230. https://doi.org/10.3892/mco.2018.1659

Hornick JL, Fletcher CD, PEComa: what do we know so far?, Histopathology 48(1) (2006) 75-82. https://doi.org/10.1111/j.1365-2559.2005.02316.x

Parfitt JR, Bella AJ, Izawa JI, Wehrli BM, Malignant neoplasm of perivascular epithelioid cells of the liver, Arch Pathol Lab Med 130(8) (2006) 1219-22. https://doi.org/10.5858/2006-130-1219-MNOPEC

Aydin H, Magi-Galluzzi C, Lane BR, Sercia L, Lopez JI, Rini BI, Zhou M, Renal angiomyolipoma: clinicopathologic study of 194 cases with emphasis on the epithelioid histology and tuberous sclerosis association, Am J Surg Pathol 33(2) (2009) 289-97. https://doi.org/10.1097/PAS.0b013e31817ed7a6

Nonomura A, Mizukami Y, Kadoya M, Angiomyolipoma of the liver: a collective review, J Gastroenterol 29(1) (1994) 95-105. https://doi.org/10.1007/BF01229084

Zhao Y, Ouyang H, Wang X, Ye F, Liang J, MRI manifestations of liver epithelioid and nonepithelioid angiomyolipoma, J Magn Reson Imaging 39(6) (2014) 1502-8. https://doi.org/10.1002/jmri.24291

Mao JX, Teng F, Liu C, Yuan H, Sun KY, Zou Y, Dong JY, Ji JS, Dong JF, Fu H, Ding GS, Guo WY, Two case reports and literature review for hepatic epithelioid angiomyolipoma: Pitfall of misdiagnosis, World J Clin Cases 7(8) (2019) 972-983. https://doi.org/10.12998/wjcc.v7.i8.972

Liu W, Wang J, Huang Q, Lu Q, Liang W, Comparison of MRI Features of Epithelioid Hepatic Angiomyolipoma and Hepatocellular Carcinoma: Imaging Data From Two Centers, Front Oncol 8 (2018) 600. https://doi.org/10.3389/fonc.2018.00600

Dai CL, Xue LP, Li YM, Multi-slice computed tomography manifestations of hepatic epithelioid angiomyolipoma, World J Gastroenterol 20(12) (2014) 3364-8. https://doi.org/10.3748/wjg.v20.i12.3364

Xu PJ, Shan Y, Yan FH, Ji Y, Ding Y, Zhou ML, Epithelioid angiomyolipoma of the liver: cross-sectional imaging findings of 10 immunohistochemically-verified cases, World J Gastroenterol 15(36) (2009) 4576-81. https://doi.org/10.3748/wjg.15.4576

Wang S, Xia H, Liu X, Liu Y, Lou C, Hepatic epithelioid angiomyolipoma mimicking hepatocellular carcinoma on MR and (18)F-FDG PET/CT imaging: A case report and literature review, Hell J Nucl Med 25(2) (2022) 205-209. https://doi.org/10.1967/s002449912480

Wang FS, Fan JG, Zhang Z, Gao B, Wang HY, The global burden of liver disease: the major impact of China, Hepatology 60(6) (2014) 2099-108. https://doi.org/10.1002/hep.27406

Flemming P, Lehmann U, Becker T, Klempnauer J, Kreipe H, Common and epithelioid variants of hepatic angiomyolipoma exhibit clonal growth and share a distinctive immunophenotype, Hepatology 32(2) (2000) 213-7. https://doi.org/10.1053/jhep.2000.9142

Jung DH, Hwang S, Hong SM, Kim KH, Ahn CS, Moon DB, Alshahrani AA, Lee SG, Clinico-pathological correlation of hepatic angiomyolipoma: a series of 23 resection cases, ANZ J Surg 88(1-2) (2018) E60-E65. https://doi.org/10.1111/ans.13880

Lee SY, Kim BH, Epithelioid angiomyolipoma of the liver: a case report, Clin Mol Hepatol 23(1) (2017) 91-94. https://doi.org/10.3350/cmh.2017.0011

Liang W, Shao J, Liu W, Ruan S, Tian W, Zhang X, Wan D, Huang Q, Ding Y, Xiao W, Differentiating Hepatic Epithelioid Angiomyolipoma From Hepatocellular Carcinoma and Focal Nodular Hyperplasia via Radiomics Models, Front Oncol 10 (2020) 564307. https://doi.org/10.3389/fonc.2020.564307

Nguyen TTL, Terris B, Barat M, Hepatic epithelioid angiomyolipoma mimicking hepatocellular carcinoma, Diagn Interv Imaging 101(7-8) (2020) 501-503. https://doi.org/10.1016/j.diii.2020.01.016

Saito Y, Shimada M, Utsunomiya T, Morine Y, Imura S, Ikemoto T, Mori H, Hanaoka J, Sugimoto K, Iwahashi S, Yamada S, Asanoma M, Ishibashi H, Hepatic epithelioid angiomyolipoma with arterioportal venous shunting mimicking hepatocellular carcinoma: report of a case, J Med Invest 60(3-4) (2013) 262-6. https://doi.org/10.2152/jmi.60.262

Tryggvason G, Blondal S, Goldin RD, Albrechtsen J, Bjornsson J, Jonasson JG, Epithelioid angiomyolipoma of the liver: case report and review of the literature, APMIS 112(9) (2004) 612-6. https://doi.org/10.1111/j.1600-0463.2004.apm1120909.x

O'Malley ME, Chawla TP, Lavelle LP, Cleary S, Fischer S, Primary perivascular epithelioid cell tumors of the liver: CT/MRI findings and clinical outcomes, Abdom Radiol (NY) 42(6) (2017) 1705-1712. https://doi.org/10.1007/s00261-017-1074-y

Prasad SR, Wang H, Rosas H, Menias CO, Narra VR, Middleton WD, Heiken JP, Fat-containing lesions of the liver: radiologic-pathologic correlation, Radiographics 25(2) (2005) 321-31. https://doi.org/10.1148/rg.252045083

Yoshimura H, Murakami T, Kim T, Nakamura H, Hirabuki N, Sakon M, Wakasa K, Inoue Y, Angiomyolipoma of the liver with least amount of fat component: imaging features of CT, MR, and angiography, Abdom Imaging 27(2) (2002) 184-7. https://doi.org/10.1007/s00261-001-0108-6

Zhong Y, Shen Y, Pan J, Wang Y, An Y, Guo A, Ma L, Ye H, Wang H, Renal epithelioid angiomyolipoma: MRI findings, Radiol Med 122(11) (2017) 814-821. https://doi.org/10.1007/s11547-017-0788-9

Lei JH, Liu LR, Wei Q, Song TR, Yang L, Yuan HC, Jiang Y, Xu H, Xiong SH, Han P, A Four-Year Follow-up Study of Renal Epithelioid Angiomyolipoma: A Multi-Center Experience and Literature Review, Sci Rep 5 (2015) 10030. https://doi.org/10.1038/srep10030

Hogemann D, Flemming P, Kreipe H, Galanski M, Correlation of MRI and CT findings with histopathology in hepatic angiomyolipoma, Eur Radiol 11(8) (2001) 1389-95. https://doi.org/10.1007/s003300000750

Iannaccone R, Piacentini F, Murakami T, Paradis V, Belghiti J, Hori M, Kim T, Durand F, Wakasa K, Monden M, Nakamura H, Passariello R, Vilgrain V, Hepatocellular carcinoma in patients with nonalcoholic fatty liver disease: helical CT and MR imaging findings with clinical-pathologic comparison, Radiology 243(2) (2007) 422-30. https://doi.org/10.1148/radiol.2432051244

Mortele KJ, Praet M, Van Vlierberghe H, de Hemptinne B, Zou K, Ros PR, Focal nodular hyperplasia of the liver: detection and characterization with plain and dynamic-enhanced MRI, Abdom Imaging 27(6) (2002) 700-7. https://doi.org/10.1007/s00261-001-0140-6

Rowan DJ, Allende DS, Bellizzi AM, Gill RM, Liu X, McKenzie CA, Moreira RK, Mounajjed T, Said S, Westerhoff M, Jenkins SM, Batts KP, Burgart LJ, Lamps LW, Graham RP, Diagnostic challenges of focal nodular hyperplasia: interobserver variability, accuracy, and the utility of glutamine synthetase immunohistochemistry, Histopathology 79(5) (2021) 791-800. https://doi.org/10.1111/his.14424

Broker MEE, Taimr P, de Vries M, Braun LMM, de Man RA, Ijzermans JNM, Dwarkasing RS, Performance of Contrast-Enhanced Sonography Versus MRI With a Liver-Specific Contrast Agent for Diagnosis of Hepatocellular Adenoma and Focal Nodular Hyperplasia, AJR Am J Roentgenol 214(1) (2020) 81-89. https://doi.org/10.2214/AJR.19.21251

Park HJ, Byun JH, Kang JH, Kang HJ, Yu E, Lee SJ, Kim SY, Won HJ, Shin YM, Kim PN, Value of discrepancy of the central scar-like structure between dynamic CT and gadoxetate disodium-enhanced MRI in differentiation of focal nodular hyperplasia and hepatocellular adenoma, Eur J Radiol 139 (2021) 109730. https://doi.org/10.1016/j.ejrad.2021.109730
Acknowledgements
I would like to thank Dr. Xu Pengju for providing the means and encouragement to write and publish this paper. Dr. Xu Pengju also made a host of important suggestions included in this study. Another special shoutout goes to Dr. Shao Xiali, who contributed to the methods in this study aimed at explaining the differences between hemorrhage, necrosis, cystic degeneration, and microscopic fat. While my understanding of the thesis writing process has undeniably benefitted from my work advising medical students, I owe particular thanks to Wang Zhe and Ma Jing who inspired my writing. Finally, I thank Cao Yiran, not only for her continuous moral and spiritual support to this text, but also for the example she sets to PhD students.
Funding
This work was supported by the Shanghai Municipal Key Clinical Specialty (shslczdzk03202).
Ethics declarations
Conflict of interest
The authors declare that the research was conducted in the absence of any commercial or financial relationships that could be construed as a potential conflict of interest.
Ethical approval
The study was performed in accordance with the ethical standards as laid down in the 1964.
Declaration of Helsinki and its later amendments or comparable ethical standards. Zhongshan hospital review board approved this retrospective study and waived the requirement for informed consent.
Additional information
Publisher's Note
Springer Nature remains neutral with regard to jurisdictional claims in published maps and institutional affiliations.
Rights and permissions
Springer Nature or its licensor (e.g. a society or other partner) holds exclusive rights to this article under a publishing agreement with the author(s) or other rightsholder(s); author self-archiving of the accepted manuscript version of this article is solely governed by the terms of such publishing agreement and applicable law.
About this article
Cite this article
Junhao, L., Hongxia, Z., Jiajun, G. et al. Hepatic epithelioid angiomyolipoma: magnetic resonance imaging characteristics. Abdom Radiol 48, 913–924 (2023). https://doi.org/10.1007/s00261-023-03818-z
Received:

Revised:

Accepted:

Published:

Issue Date:

DOI: https://doi.org/10.1007/s00261-023-03818-z
Keywords