Abstract
Purpose
Ultrasound is the first-line imaging modality to evaluate adnexa in girls with clinical suspicion of torsion. Patients with equivocal ultrasound findings can undergo MRI for better delineation of adnexal pathology. Here, we assess the utility of intravenous contrast in MRI evaluation of adnexal torsion in children.
Methods
Two pediatric radiologists (R1, R2) retrospectively reviewed 198 pelvic MRI exams in 172 girls (median age 15 years). Each MRI was reviewed twice. The first review included pre-contrast images only. A second review, at least 1 month later, included both pre- and post-contrast images. Readers concluded if findings were suspicious for torsion or not. Readers' findings were compared to each other's and to surgical and MRI reports and clinical course.
Results
198 MRI exams yielded 354 evaluable ovaries. Surgical and pathological reports were available for 47 patients. 11 patients had adnexal torsion. Both readers accurately diagnosed acutely torsed ovaries during pre- and post-contrast reviews (n = 4). However, readers disagreed on torsed paraovarian cysts (n = 4) and chronically/intermittently torsed ovaries (n = 3). In 21 non-torsed ovaries that had lesions, one or both readers concluded that there were pre-contrast features of torsion. In this set with ovarian lesions, contrast helped readers to correctly conclude no torsion (R1 = 8, R2 = 6) more commonly than to incorrectly conclude torsion (1 each), improving post-contrast specificity for each reader.
Conclusions
Post-contrast sequences did not provide additional benefit in evaluating acutely torsed ovaries but helped in excluding torsion in patients with adnexal lesions. Therefore, contrast administration should be individualized, potentially reserved only for those with abnormal ultrasound or pre-contrast images.
Graphical abstract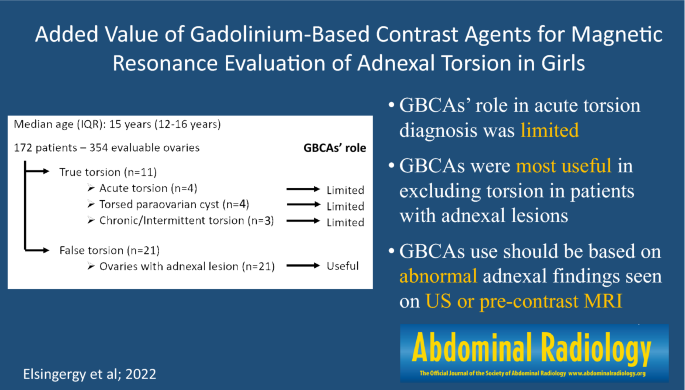 Access options
Buy single article
Instant access to the full article PDF.
USD 39.95
Price excludes VAT (USA)
Tax calculation will be finalised during checkout.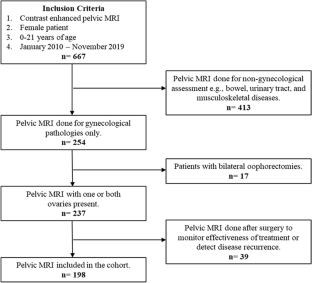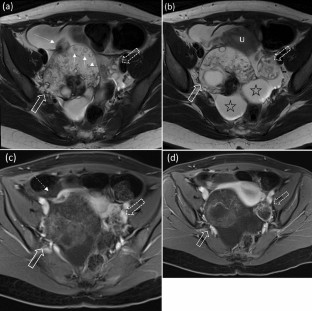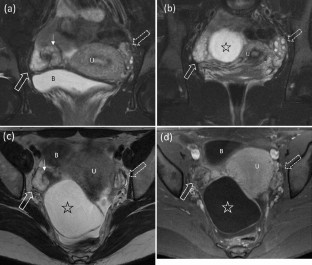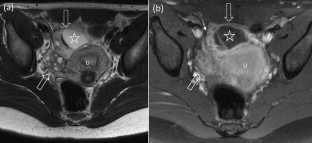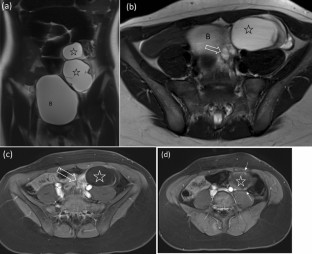 Abbreviations
DWI:

Diffusion weighted imaging

GBCAs:

gadolinium-based contrast agents

Gd:

Gadolinium

HIPAA:

Health insurance portability and accountability act

IRB:

Institutional review board

MRI:

Magnetic resonance imaging

US:

Ultrasound
References
(2019) Adnexal Torsion in Adolescents: ACOG Committee Opinion No, 783. Obstetrics and gynecology 134:e56-e63.

Guthrie BD, Adler MD, Powell EC (2010) Incidence and trends of pediatric ovarian torsion hospitalizations in the United States, 2000-2006. Pediatrics 125:532-538.

Sintim-Damoa A, Majmudar AS, Cohen HL, Parvey LS (2017) Pediatric Ovarian Torsion: Spectrum of Imaging Findings. Radiographics : a review publication of the Radiological Society of North America, Inc 37:1892–1908.

Chang HC, Bhatt S, Dogra VS (2008) Pearls and Pitfalls in Diagnosis of Ovarian Torsion. RadioGraphics 28:1355-1368.

Ayyala RS, Khwaja A, Anupindi SA (2017) Pelvic pain in the middle of the night: use of MRI for evaluation of pediatric female pathology in the emergent setting. Emergency radiology 24:681-688.

Mashiach R, Melamed N, Gilad N, Ben-Shitrit G, Meizner I (2011) Sonographic diagnosis of ovarian torsion: accuracy and predictive factors. Journal of ultrasound in medicine : official journal of the American Institute of Ultrasound in Medicine 30:1205-1210.

Scheinfeld MH, Moon JY, Fagan MJ, Davoudzadeh R, Wang D, Taragin BH (2017) MRI usage in a pediatric emergency department: an analysis of usage and usage trends over 5 years. Pediatric radiology 47:327-332.

Sala E, Rockall A, Rangarajan D, Kubik-Huch RA (2010) The role of dynamic contrast-enhanced and diffusion weighted magnetic resonance imaging in the female pelvis. European journal of radiology 76:367-385.

Thawait SK, Batra K, Johnson SI, Torigian DA, Chhabra A, Zaheer A (2016) Magnetic resonance imaging evaluation of non ovarian adnexal lesions. Clinical imaging 40:33-45.

Chilla B, Hauser N, Singer G, Trippel M, Froehlich JM, Kubik-Huch RA (2011) Indeterminate adnexal masses at ultrasound: effect of MRI imaging findings on diagnostic thinking and therapeutic decisions. Eur Radiol 21:1301-1310.

Saini A, Dina R, McIndoe GA, Soutter WP, Gishen P, deSouza NM (2005) Characterization of Adnexal Masses with MRI. American Journal of Roentgenology 184:1004-1009.

Ramalho M, Ramalho J (2017) Gadolinium-Based Contrast Agents: Associated Adverse Reactions. Magnetic resonance imaging clinics of North America 25:755-764.

Altun E, Martin DR, Wertman R, Lugo-Somolinos A, Fuller ER, 3rd, Semelka RC (2009) Nephrogenic systemic fibrosis: change in incidence following a switch in gadolinium agents and adoption of a gadolinium policy--report from two U.S. universities. Radiology 253:689-696.

Wang Y, Alkasab TK, Narin O, Nazarian RM, Kaewlai R, Kay J, Abujudeh HH (2011) Incidence of nephrogenic systemic fibrosis after adoption of restrictive gadolinium-based contrast agent guidelines. Radiology 260:105-111.

(2017) FDA Drug Safety Communication: FDA evaluating the risk of brain deposits with repeated use of gadolinium-based contrast agents for magnetic resonance imaging (MRI). U.S. Food & Drug Administration.

Mithal LB, Patel PS, Mithal D, Palac HL, Rozenfeld MN (2017) Use of gadolinium-based magnetic resonance imaging contrast agents and awareness of brain gadolinium deposition among pediatric providers in North America. Pediatric radiology 47:657-664.

Harvey LA (2018) REDCap: web-based software for all types of data storage and collection. Spinal cord 56:625.

Gilligan LA, Trout AT, Schuster JG, Schwartz BI, Breech LL, Zhang B, Towbin AJ (2019) Normative values for ultrasound measurements of the female pelvic organs throughout childhood and adolescence. Pediatric radiology 49:1042-1050.

McHugh ML (2012) Interrater reliability: the kappa statistic. Biochem Med (Zagreb) 22:276-282.

Anders JF, Powell EC (2005) Urgency of evaluation and outcome of acute ovarian torsion in pediatric patients. Archives of pediatrics & adolescent medicine 159:532-535.

Dawood MT, Naik M, Bharwani N, Sudderuddin SA, Rockall AG, Stewart VR (2021) Adnexal Torsion: Review of Radiologic Appearances. RadioGraphics 41:609-624.

Grunau GL, Harris A, Buckley J, Todd NJ (2018) Diagnosis of Ovarian Torsion: Is It Time to Forget About Doppler? Journal of Obstetrics and Gynaecology Canada 40:871-875.

Farrell TP, Boal DK, Teele RL, Ballantine TV (1982) Acute torsion of normal uterine adnexa in children: sonographic demonstration. American Journal of Roentgenology 139:1223-1225.

Lam CZ, Chavhan GB (2018) Magnetic resonance imaging of pediatric adnexal masses and mimics. Pediatr Radiol 48:1291-1306.

Savelli L, Ghi T, De Iaco P, Ceccaroni M, Venturoli S, Cacciatore B (2006) Paraovarian/paratubal cysts: comparison of transvaginal sonographic and pathological findings to establish diagnostic criteria. Ultrasound in Obstetrics & Gynecology 28:330-334.

Kishimoto K, Ito K, Awaya H, Matsunaga N, Outwater EK, Siegelman ES (2002) Paraovarian cyst: MR imaging features. Abdominal Imaging 27:685-689.

Moyle PL, Kataoka MY, Nakai A, Takahata A, Reinhold C, Sala E (2010) Nonovarian Cystic Lesions of the Pelvis. RadioGraphics 30:921-938.

Glanc P, Ghandehari H, Kahn D, Melamed N (2015) OP15.09: Acute ovarian torsion: the impact of time delays to surgery. Ultrasound in Obstetrics & Gynecology 46:99-99.

Rousseau V, Massicot R, Darwish AA, Sauvat F, Emond S, Thibaud E, Nihoul-Fékété C (2008) Emergency Management and Conservative Surgery of Ovarian Torsion in Children: A Report of 40 Cases. Journal of Pediatric and Adolescent Gynecology 21:201-206.

Socransky S, Wiss R, Bota G, Furtak T (2010) How long does it take to perform emergency ultrasound for the primary indications? Critical Ultrasound Journal 2:59-63.

Elsingergy MM, Carlsson T, Andronikou S (2022) Evaluation of quality of renal tract ultrasound scans and reports performed in children with first urinary tract infection. J Med Imaging Radiat Sci 53:65-74.

Ashwal E, Krissi H, Hiersch L, Less S, Eitan R, Peled Y (2015) Presentation, Diagnosis, and Treatment of Ovarian Torsion in Premenarchal Girls. Journal of pediatric and adolescent gynecology 28:526-529.

Kato H, Kanematsu M, Uchiyama M, Yano R, Furui T, Morishige K (2014) Diffusion-weighted imaging of ovarian torsion: usefulness of apparent diffusion coefficient (ADC) values for the detection of hemorrhagic infarction. Magnetic resonance in medical sciences : MRMS : an official journal of Japan Society of Magnetic Resonance in Medicine 13:39-44.

Bekci T, Cakir IM, Aslan S (2022) Differentiation of affected and nonaffected ovaries in ovarian torsion with magnetic resonance imaging texture analysis. Rev Assoc Med Bras (1992) 68:641-646.
Acknowledgements
We thank Johnny Mclaughlin (Radiology Systems Analyst) and Andrew Longoria (PACS Administrator) from the Department of Radiology of the Children's Hospital of Philadelphia for facilitating retrieval, anonymization, and review of MRI images.
Funding
No financial support was granted for this study.
Ethics declarations
Conflict of interest
All authors have no conflicts of interest to be disclosed.
Additional information
Publisher's Note
Springer Nature remains neutral with regard to jurisdictional claims in published maps and institutional affiliations.
Rights and permissions
Springer Nature or its licensor holds exclusive rights to this article under a publishing agreement with the author(s) or other rightsholder(s); author self-archiving of the accepted manuscript version of this article is solely governed by the terms of such publishing agreement and applicable law.
About this article
Cite this article
Elsingergy, M.M., Oliver, E.R., Otero, H.J. et al. Added value of gadolinium-based contrast agents for magnetic resonance evaluation of adnexal torsion in girls. Abdom Radiol 47, 3868–3882 (2022). https://doi.org/10.1007/s00261-022-03642-x
Received:

Revised:

Accepted:

Published:

Issue Date:

DOI: https://doi.org/10.1007/s00261-022-03642-x
Keywords