Abstract
Rectal spacers are commonly used in the radiotherapy for prostate cancers, serving as a means to protect the rectum and surrounding structures from radiation toxicity. Polyethylene Glycol-Based Gels (SpaceOAR ™ and Space-OAR Vue™, Boston Scientific) are the most commonly used rectal spacers. Given their increasingly widespread use and the relative paucity of radiology literature on this topic, it is imperative for the radiologist to recognize both the normal and abnormal placement of these polyethylene glycol-based rectal spacers, particularly as the latter may be associated with suboptimal therapy and/or complications.
Graphical abstract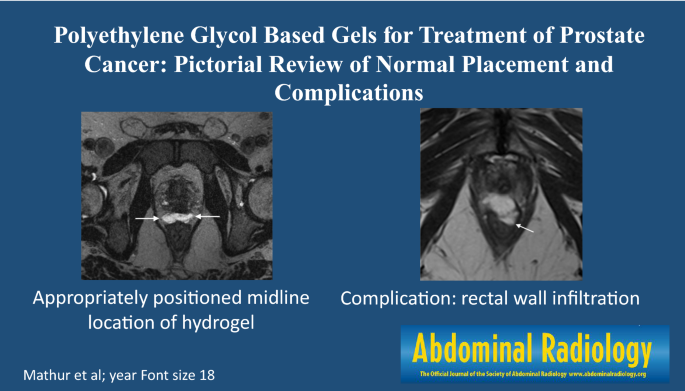 Access options
Buy single article
Instant access to the full article PDF.
USD 39.95
Price excludes VAT (USA)
Tax calculation will be finalised during checkout.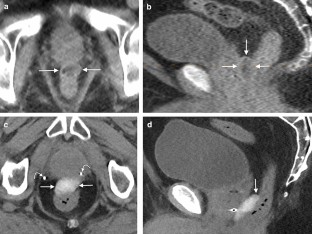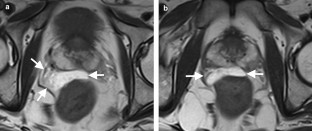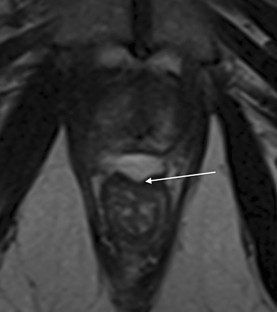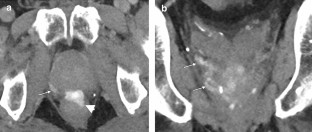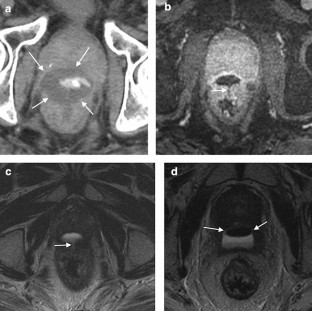 References
Siegel RL, Miller KD, Fuchs HE, Jemal A (2022) Cancer statistics, 2022. CA: A Cancer Journal for Clinicians 72 (1):7–33. https://doi.org/10.3322/caac.21708

Armstrong N, Bahl A, Pinkawa M, Ryder S, Ahmadu C, Ross J, Bhattacharyya S, Woodward E, Battaglia S, Binns J (2021) SpaceOAR hydrogel spacer for reducing radiation toxicity during radiotherapy for prostate cancer. A systematic review. Urology 156:e74-e85

Datta NR, Stutz E, Rogers S, Bodis S (2017) Conventional versus hypofractionated radiation therapy for localized or locally advanced prostate cancer: a systematic review and meta-analysis along with therapeutic implications. International Journal of Radiation Oncology* Biology* Physics 99 (3):573–589

Schörghofer A, Drerup M, Kunit T, Lusuardi L, Holzinger J, Karner J, Groher M, Zoubek C, Forstner R, Sedlmayer F (2019) Rectum-spacer related acute toxicity–endoscopy results of 403 prostate cancer patients after implantation of gel or balloon spacers. Radiation Oncology 14 (1):1-7

Conroy D, Becht K, Forsthoefel M, Pepin AN, Lei S, Rashid A, Collins BT, Lischalk JW, Suy S, Aghdam N (2021) Utilization of Iodinated SpaceOAR Vue™ During Robotic Prostate Stereotactic Body Radiation Therapy (SBRT) to Identify the Rectal–Prostate Interface and Spare the Rectum: A Case Report. Frontiers in oncology:2967

Sheridan AD, Nath SK, Huber S, Rosasco S, Weinreb JC, Israel GM (2017) Role of MRI in the use of an absorbable hydrogel spacer in men undergoing radiation therapy for prostate cancer: What the radiologist needs to know. American Journal of Roentgenology 209 (4):797-799

Fischer-Valuck BW, Chundury A, Gay H, Bosch W, Michalski J (2017) Hydrogel spacer distribution within the perirectal space in patients undergoing radiotherapy for prostate cancer: Impact of spacer symmetry on rectal dose reduction and the clinical consequences of hydrogel infiltration into the rectal wall. Practical radiation oncology 7 (3):195-202

Mariados N, Sylvester J, Shah D, Karsh L, Hudes R, Beyer D, Kurtzman S, Bogart J, Hsi R, Kos M (2015) Hydrogel Spacer Prospective Multicenter Randomized Controlled Pivotal Trial: Dosimetric and Clinical Effects of Perirectal Spacer Application in Men Undergoing Prostate Image Guided Intensity Modulated Radiation Therapy. International Journal of Radiation Oncology, Biology, Physics 92 (5):971-977

Vaggers S, Rai B, Chedgy E, de la Taille A, Somani B (2021) Polyethylene glycol-based hydrogel rectal spacers for prostate brachytherapy: a systematic review with a focus on technique. World Journal of Urology 39 (6)

Dempsey P, Power J, Yates A, Maher M, Murphy B, McNicholas M (2022) Creation of a protective space between the rectum and prostate prior to prostate radiotherapy using a hydrogel spacer. Clinical Radiology 77 (3):e195-e200

Karsh LI, Gross ET, Pieczonka CM, Aliotta PJ, Skomra CJ, Ponsky LE, Nieh PT, Han M, Hamstra DA, Shore ND (2018) Absorbable hydrogel spacer use in prostate radiotherapy: a comprehensive review of phase 3 clinical trial published data. Urology 115:39-44

Morisaka H, Marino K (2022) Hydrogel Spacer Migration Into Periprostatic Venous Plexus. American Journal of Roentgenology 218 (4):757-757

[13] Kuperus JM, Kim DG, Shah T, Ghareeb G, Lane BR (2021) Rectourethral fistula following SpaceOAR gel placement for prostate cancer radiotherapy: a rare complication. Urology Case Reports 35:101516

Teh AYM, Ko H-T, Barr G, Woo HH (2014) Rectal ulcer associated with SpaceOAR hydrogel insertion during prostate brachytherapy. BMJ Case Reports 2014:bcr2014206931. https://doi.org/10.1136/bcr-2014-206931
Ethics declarations
Conflict of interest
Mahan Mathur, Daniella Asch, and Gary Israel declare that they have no conflict of interest.
Additional information
Publisher's Note
Springer Nature remains neutral with regard to jurisdictional claims in published maps and institutional affiliations.
Rights and permissions
Springer Nature or its licensor holds exclusive rights to this article under a publishing agreement with the author(s) or other rightsholder(s); author self-archiving of the accepted manuscript version of this article is solely governed by the terms of such publishing agreement and applicable law.
About this article
Cite this article
Mathur, M., Asch, D. & Israel, G. Polyethylene glycol-based gels for treatment of prostate cancer: pictorial review of normal placement and complications. Abdom Radiol 47, 3847–3854 (2022). https://doi.org/10.1007/s00261-022-03630-1
Received:

Revised:

Accepted:

Published:

Issue Date:

DOI: https://doi.org/10.1007/s00261-022-03630-1
Keywords