Graphical abstract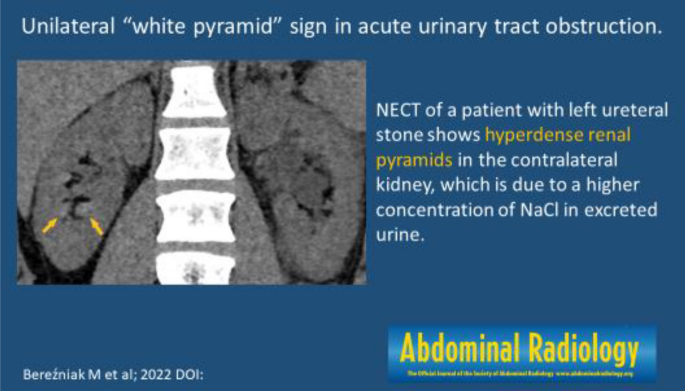 Access options
Buy single article
Instant access to the full article PDF.
USD 39.95
Price excludes VAT (USA)
Tax calculation will be finalised during checkout.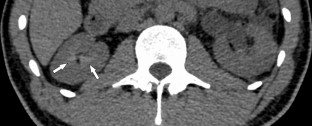 Data and material availability
References
Tublin ME, Tessler FN, McCauley TR, Kesack CD (1997) Effect of hydration status on renal medulla attenuation on unenhanced CT scans. AJR Am J Roentgenol 168(1):257–259. https://doi.org/10.2214/ajr.168.1.8976956

Roychowdhury A, Makris J, Colby JM et al (1998) Unilateral absence of the "white pyramid" sign on non-contrast CT: a sign of tubular hydronephrosis? In: Presented at the 98th meeting of the American Roentgen Ray Society, scientific session 33, San Francisco, Calif, April 26–May 1, 1998

Hsu CT, Wang ZJ, Yu AS et al (2008) Physiology of renal medullary tip hyperattenuation at unenhanced CT: urinary specific gravity and the NaCl concentration gradient. Radiology 247(1):147-153. https://doi.org/10.1148/radiol.2471070585

Kumar R, Wang ZJ, Fu Y, Forsythe C, Webb EM, Yeh BM (2010) Visualization of renal medullary hyperattenuation at unenhanced CT: what is the effect of furosemide administration? Radiology 255(2):495-500. https://doi.org/10.1148/radiol.10091769

Li C, Wang W, Kwon TH, Knepper MA, Nielsen S, Frøkiaer J (2003) Altered expression of major renal Na transporters in rats with unilateral ureteral obstruction. Am J Physiol Renal Physiol. 284(1):F155-F166. https://doi.org/10.1152/ajprenal.00272.2002
Funding
No funding was received for this study.
Ethics declarations
Conflict of interest
The authors declare that they have no conflict of interest.
Ethical approval
This article does not contain any studies with human participants or animals performed by any of the authors.
Informed consent
Statement of informed consent was not applicable since the manuscript does not contain any patient data.
Additional information
Publisher's Note
Springer Nature remains neutral with regard to jurisdictional claims in published maps and institutional affiliations.
About this article
Cite this article
Bereźniak, M., Palczewski, P., Sułkowska, K. et al. Unilateral "white pyramid" sign in acute urinary tract obstruction. Abdom Radiol 47, 2277–2278 (2022). https://doi.org/10.1007/s00261-022-03505-5
Received:

Revised:

Accepted:

Published:

Issue Date:

DOI: https://doi.org/10.1007/s00261-022-03505-5