Abstract
The use of diverse types of drugs can result in a variety of acute and chronic complications that affect almost any organ. The bowel is one of the organs impacted by the side effects of medications. Imaging frequently plays a crucial role in the detection and characterization of complications occurring in the bowel. They include pseudomembranous colitis or antibiotic-associated colitis; angioedema induced by angiotensin-converting enzyme inhibitors; nonsteroidal anti-inflammatory drug-induced enteropathy; cocaine toxicity; clozapine-induced hypomobility; and bowel toxicity induced by chemotherapeutic agents. It is imperative that radiologists are fully aware of these complications and toxicities as well as the relevant findings. In this way, proper treatment can be implemented immediately. The treatment will involve discontinuation of a drug or a change in regimen.
Access options
Buy single article
Instant access to the full article PDF.
USD 39.95
Price excludes VAT (USA)
Tax calculation will be finalised during checkout.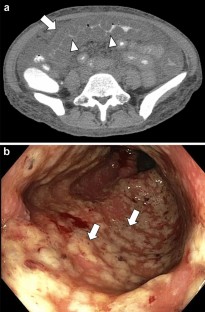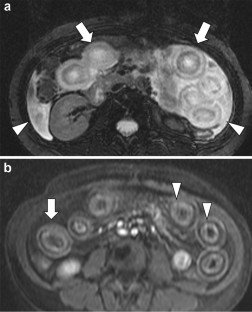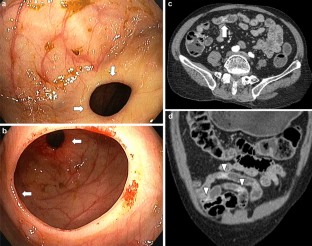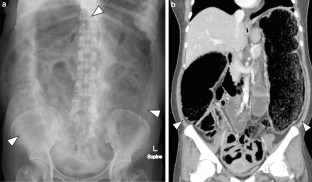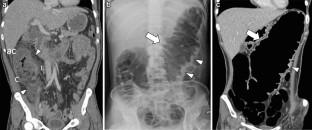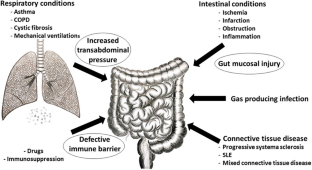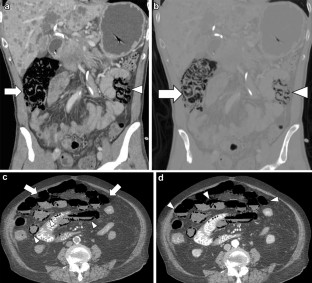 References
Surawicz CM, McFarland LV (1999) Pseudomembranous colitis: causes and cures. Digestion; 60:91–100.

Knoop FC, Owens M, Crocker IC (1993) Clostridium difficile: clinical disease and diagnosis. Clin Microbiol Rev 6:251–265.

Thoeni RF, Cello J P (2006). CT imaging of colitis. Radiology 240:623–638.

Trudel JL (2007). Clostridium difficile colitis. Clin Colon Rectal Surg 20:13–17.

Boland GW, Lee MJ, Cats AM, Gaa JA, Saini S, Mueller PR (1994). Antibiotic-induced diarrhea: specificity of abdominal CT for the diagnosis of Clostridium difficile disease. Radiology 191:103–106.

Fishman EK, Kavuru M, Jones B (1991). Pseudomembranous colitis: CT evaluation of 26 cases. Radiology 1991; 180:57–60.

Kirkpatrick ID, Greenberg HM (2001) Evaluating the CT diagnosis of Clostridium difficile: should CT guide therapy? AJR 176:635–639.

Boland GW, Lee MJ, Cats AM, Ferraro MJ, Matthia AR, Mueller PR (1995). Clostridium difficile colitis: correlation of CT findings with severity of clinical disease. Clin Radiol 50:153–156.

Sitthipong Srisajjakul MD, Patcharin Prapaisilp M Sc, Nisakorn Kijsawat MD (2013) Multidetector computed tomography features of positive endoscopic or toxin assay Clostridium difficile colitis. Journal Med asso Thai 96(4):356-364

Banerji A, Clark S, Blanda M, LoVecchio F, Snyder B, Camargo CA Jr (2008) Multicenter study of patients with angiotensin-converting enzyme inhibitor-induced angioedema who present to the emergency department Ann Allergy Asthma Immunol 100(4):327–32.

Scheirey CD, Scholz FJ, Shortsleeve MJ, Katz DS (2011) Angiotensin-converting enzyme inhibitor induced small-bowel angioedema: clinical and imaging findings in 20 patients. AJR Am J Roentgenol 197:393–8.

Barak N, Hart J, Sitrin MD (2001) Enalapril-induced eosinophilic gastroenteritis. J Clin Gastroenterol 33:157–8

Nikpoor B, Duan QL, Rouleau GA (2005) Acute adverse reactions associated with angiotensin-converting enzyme inhibitors: genetic factors and therapeutic implication. Expert Opinion on Pharmacotherapy 6(11):1851–1856.

K.L. Wilin, M.J. Czupryn, R. Mui, A. Renno, J.A. Murphy.(2018) ACE Inhibitor-induced angioedema of the small bowel: a case report and review of the literature. Journal of Pharmacy Practice 31(1):99–103.

Shahzad G, Korsten MA, Blatt C, Motwani P (2006). Angiotensin converting enzyme (ACE) inhibitor-associated angioedema of the stomach and small intestine: a case report. Mt Sinai J Med 73:1123–1125.

Nussberger J, Cugno M, Amstutz C, Cicardi M, Pellacani A, Agostoni A (1998) Plasma bradykinin in angio-oedema. Lancet 351:1693–1697.

Spahn TW, Grosse-Thie W, Mueller MK (2008) Endoscopic visualization of angiotensin-converting enzyme inhibitor-induced small bowel angioedema as a cause of relapsing abdominal pain using double-balloon enteroscopy. Digestive Diseases and Sciences. 53(5):1257–1260.

E. Backer AI, De Schepper AM, Vandevenne JE, Schoeters P, Michielsen P, Stevens W(2001). CT of angioedema of the small bowel. AJR Am J Roentgenol 176(3):649–652.

Oudit G, Girgrah N, Allard J (2001) ACE inhibitor-induced angioedema of the intestine: case report, incidence, pathophysiology, diagnosis and management. Can J Gastroenterol 15:827–832.

D. Sondhi, M. Lippmann, and G. Murali (2004) Airway compromise due to angiotensin-converting enzyme inhibitor-induced angioedema: clinical experience at a large community teaching hospital Chest 126 (2) 2:400–404

J. B. Kostis, H. J. Kim, J. Rusnak et al (2005) Incidence and characteristics of angioedema associated with enalapril. Archives of Internal Medicine165(4):1637–1642.

Slesser AA, Wharton R, Smith GV et al. Systematic review of small bowel diaphragm disease requiring surgery. Colorectal Dis 2012; 14(7):804–813.

Hayashi Y, Yamamoto H, Taguchi H (2009) Nonsteroidal anti-inflammatory drug-induced small-bowel lesions identified by double-balloon endoscopy: endoscopic features of the lesions and endoscopic treatments for diaphragm disease. J Gastroenterol 4419):57–63.

J Romero Vazquez, J M Herrerias Gutierrez (2010) Capsule endoscopy and nonsteroidal anti-inflammatory drugs (NSAID)-induced enteropathy—a bit of light in a long, dark tunnel. Rev Esp Enferm Dig 102(2):73–9.

Flicek KT, Hara AK, De Petris G, Pasha SF, Yadav AD, Johnson CD (2014) Diaphragm Disease of the Small Bowel: A Retrospective Review of CT Findings. AJR Am J Roentgenol 202:W140–145.

Judson M. Frye, Stephanie L. Hansel, Steven G. Dolan, Jeff L. Fidler, Louis M. Wong Kee Song, John M. Barlow et al (2015) NSAID enteropathy: appearance at CT and MR enterography in the age of multi-modality imaging and treatment. Abdominal Imaging 40(5):1011–1025.

De Petris G, Lopez JI (2008) Histopathology of diaphragm disease of the small intestine: a study of 10 cases from a single institution. Am J Clin Path ; 130(4):518–525.

Palmer S.E.; McLean R.M.; Ellis P.M.; Harrison-Woolrych M (2008) Life-threatening clozapine-induced gastrointestinal hypomotility: an analysis of 102 cases J Clin Psychiatry 69(5):759–68.

Hibbard, KR, Propst, A, Frank, DE, Wyse, J (2009) Fatalities associated with clozapine-related constipation and bowel obstruction: a literature review and two cases reports. Psychosomatics 50(4):416–9.

Baptista T, Carrizo E, Fernandez E, Connell L, Servigna M, Parra A (2015) Colonic transit diagnostic test shows significant gastrointestinal hypomotility in clozapine-treated patients in comparison with subjects treated with other antipsychotics. Schizophr. Res. 166(4):207-211

Every-Palmer, S., Nowitz, M., Stanley, J., Grant, E., Huthwaite, M., Dunn, H (2016) Clozapine-treated patients have marked gastrointestinal hypomotility, the probable basis of life-threatening gastrointestinal complications: a cross sectional study. EBioMedicine 5:125–34.

De Hert M, Hudyana H, Dockx L, Bernagie C, Sweers K. Tack J (2011) Second-generation antipsychotics and constipation: a review of the literature. Eur Psychiatry. 26(1):34–44.

Levin, T. T., Barrett, J., & Mendelowitz, (2002) A Death from clozapine-induced constipation: case report and literature review. Psychosomatics 43(1):71–3.

Cohen D, Bogers JP, van Dijk D, Bakker B, Schulte PF (2012) Beyond white blood cell monitoring: screening in the initial phase of clozapine therapy. J Clin Psychiatry. 73(10):1307–1312.

De Hert M, Hudyana H, Dockx L (2011) Second-generation antipsychotics and constipation: a review of the literature. Eur Psychiatry 26(1):34–44.

Baptista T (2014) A fatal case of ischemic colitis during clozapine administration. Rev Bras Psiquiatr. 36(4):358–358.

Bellows CF, Raafat AM (2002) The surgical abdomen associated with cocaine abuse. J Emerg Med 23:383–6.

Hoang MP, Lee EL, Anand A (1998) Histologic spectrum of arterial and arteriolar lesions in acute and chronic cocaine-induced mesenteric ischaemia: report of three cases and literature review. Am K Surg Pathol 22:1404–10.

Hebra A. Brown M.F.; McGeehin K. O'Neil J.A. (1993) Ross A.J. Systemic and mesenteric vascular effects of platelet-activating factor and cocaine. In vivo effects on a neonatal swine model. Am Surg 59:50–54.

Linder JD, Monkemuller KE, Raijman I, Johnson L, Lazenby AJ, Wilcox CM (2009) Cocaine-associated ischemic colitis. South Med J 93:909–913.

Wiesner W, Khurana B, Ji H, Ros PR (2003) CT of acute bowel ischemia. Radiology. 226:635–50.

Thornton E, Howard SA, Jagannathan J, Krajewski KM, Shinagare AB, O'Regan K, et al (2012) Imaging features of bowel toxicities in the setting of molecular targeted therapies in cancer patients. Br J Radiol. 85(1018):1420–6.

Jean M. Torrisi, Lawrence H. Schwartz, Marc J. Gollub, Michelle S. Ginsberg, George J. Bosl,. Hedvig Hricak. (2011) CT Findings of Chemotherapy Induced Toxicity: What Radiologists need to know about the clinical and radiologic manifestations of chemotherapy toxicity. Radiology 258(1): 41–56.

Chitra Viswanathan, Priya Bhosale, Dhakshin Moorthy Ganeshan, Myelene T. Truong, Paul Silverman, Aparna Balachandran (2012) Imaging of complications of oncological therapy in the gastrointestinal system. Cancer Imaging 12(1): 163–172.

Claudia Sassi, Milena Pasquali, Giancarlo Facchini, Alberto Bazzocchi, Giuseppe Battista (2017) Pneumatosis intestinalis in oncologic patients: when should the radiologist not be afraid? BJR Case rep 3(1):20160017.

Weisner W, Mortele KJ, Glickman JN, Ji H, Ros PR (2001) Pneumatosis intestinalis and portomesenteric venous gas in intestinal ischemia: correlation of CT findings with severity of ischemia and clinical outcome. AJR 177:1319–1323.

Eric J. Gray, Ayeh Darvishzadeh, Ankush Sharma, Dhakshinamoorthy Ganeshan. Silvana C. Faria, Chandana Lall (2016) Cancer therapy-related complications in the bowel and mesentery: an imaging perspective. Abdom Radiol 10; 41(10):2031–47.

Coriat R, Ropert S, Mir O, Billemont B, Chaussade S, Massault PP (2011) Pneumatosis intestinalis associated with treatment of cancer patients with the vascular growth factor receptor tyrosine kinase inhibitors sorafenib and sunitinib. Invest New Drugs 29:1090–1093.

Alfonso Reginelli, Angelo Sangiovanni, Giovanna Vacca, Maria Paola Belfiore, Maria Pignatiello, Giuseppe Viscardi (2021) Chemotherapy-induced bowel ischemia: diagnostic imaging overview. Abdom Radiol

Kyungmouk Steve Lee, Sinchun Hwang, Sandra M Hurtado Rúa, Yelena Y Janjigian, Marc J. Gollub (2013) Distinguishing Benign and Life-Threatening Pneumatosis Intestinalis in Patients With Cancer by CT Imaging Features AJR 200(5):1042–7.

Knechtle SJ, Davidoff AM, Rice PP (1990) Pneumatosis intestinalis. Surgical management and clinical outcome. Ann Surg 212:160–164.

Kaur H, Loyer EM, David CL (2008) Radiologic findings in taxane induced colitis. Eur J Radiol 66:75–78.

White RH, Chew HK, Zhou H, Parikh-Patel A, Harris D, Harvey D, Wun T (2005) Incidence of venous thromboembolism in the year before the diagnosis of cancer in 528,693 adults. Arch Intern Med 165:1782–1787.

Stephanie Anne Holler Howard, Katherine M. Krajewski, Eavan Thornton, Jyothi P. Jagannathan, Kevin O Regan, James Cleary (2012) Decade of molecular targeted therapy: Abdominal Manifestations of Drug Toxicities—What radiologists should know. AJR 199:58–64

Atul B Shinagare, Stephanie A Howard, Katherine M Krajewski, Katherine A Zukotynski, Jyothi P Jagannathan, Nikhil H Ramaiya (2012) Pneumatosis Intestinalis and Bowel Perforation Associated with Molecular Targeted Therapy: An Emerging Problem and the Role of Radiologists in its management. AJR 199(6):1259–1265.
Acknowledgements
The authors gratefully acknowledge Dr. Julajak Limsrivilai for the contribution of this article.
Funding
This was an unfunded study.
Ethics declarations
Conflict of interest
All authors declare that there are no personal or professional conflicts of interest related to any aspect of this study.
Additional information
Publisher's Note
Springer Nature remains neutral with regard to jurisdictional claims in published maps and institutional affiliations.
About this article
Cite this article
Srisajjakul, S., Prapaisilp, P. & Bangchokdee, S. Drug-induced bowel complications and toxicities: imaging findings and pearls. Abdom Radiol 47, 1298–1310 (2022). https://doi.org/10.1007/s00261-022-03452-1
Received:

Revised:

Accepted:

Published:

Issue Date:

DOI: https://doi.org/10.1007/s00261-022-03452-1
Keywords
Bowel complications

Bowel imaging

Chemotherapeutic agents

Drug toxicities