Abstract
Pheochromocytoma is a neuroendocrine tumor arising in the adrenal medulla with varied imaging appearances and associated risk of serious cardiovascular complications if left undiagnosed and untreated. It is discovered incidentally in up to 70% of cases due to the increase in use of CT in clinical practice. Biopsy can have life-threatening consequences, so imaging is crucial for diagnosis and surgical planning. The purpose of this review is to demonstrate unusual CT appearances of pheochromocytoma and enhance diagnostic confidence in cases discovered incidentally. High level of suspicion for pheochromocytoma based on CT findings, along with urinary metanephrine levels, can obviate the need for additional expensive imaging.
Graphical abstract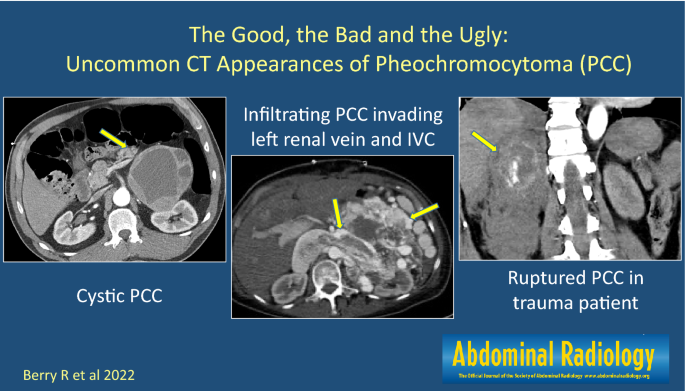 Access options
Buy single article
Instant access to the full article PDF.
USD 39.95
Price excludes VAT (USA)
Tax calculation will be finalised during checkout.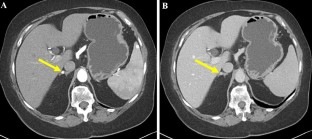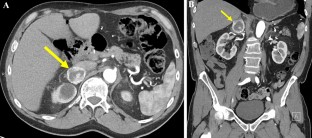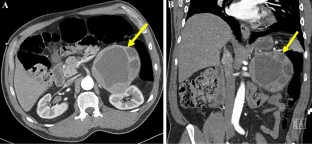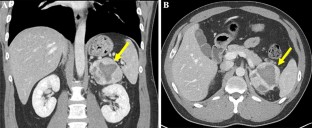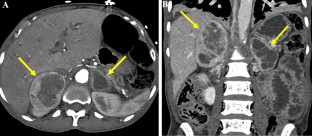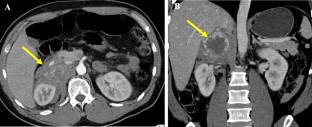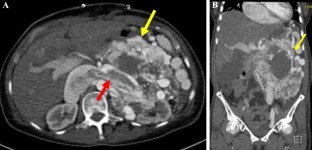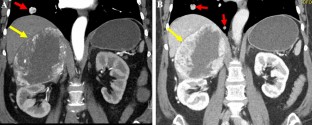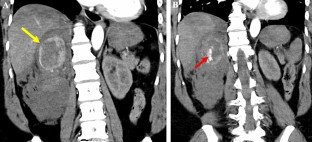 References
Reisch N, Peczkowska M, Januszewicz A, Neumann HP. Pheochromocytoma: presentation, diagnosis and treatment. J Hypertens 2006;24(12):2331-2339. https://doi.org/10.1097/01.hjh.0000251887.01885.54

Havekes B, Lai EW, Corssmit EP, Romijn JA, Timmers HJ, Pacak K. Detection and treatment of pheochromocytomas and paragangliomas: current standing of MIBG scintigraphy and future role of PET imaging. Q J Nucl Med Mol Imaging 2008;52(4):419-429.

Tsvetov G, Shimon I, Benbassat C. Adrenal incidentaloma: clinical characteristics and comparison between patients with and without extraadrenal malignancy. J Endocrinol Invest 2007;30(8):647-652. doi: https://doi.org/10.1007/bf03347444

Stolk RF, Bakx C, Mulder J, Timmers HJ, Lenders JW. Is the excess cardiovascular morbidity in pheochromocytoma related to blood pressure or to catecholamines? The Journal of Clinical Endocrinology & Metabolism 2013;98(3):1100-1106.

Zelinka T, Petrák O, Turková H, Holaj R, Štrauch B, Kršek M, Vrankova A, Musil Z, Dušková J, Kubinyi J. High incidence of cardiovascular complications in pheochromocytoma. Hormone and Metabolic Research 2012;44(05):379-384.

Kopetschke R, Slisko M, Kilisli A, Tuschy U, Wallaschofski H, Fassnacht M, Ventz M, Beuschlein F, Reincke M, Reisch N. Frequent incidental discovery of phaeochromocytoma: data from a German cohort of 201 phaeochromocytoma. European journal of endocrinology 2009;161(2):355-361.

Glazer D, Mayo-Smith W. Management of incidental adrenal masses: an update. Abdom Radiol (NY) 2019 Jul 29 [Epub].

Oshmyansky AR, Mahammedi A, Dackiw A, Ball DW, Schulick RD, Zeiger MA, Siegelman SS. Serendipity in the diagnosis of pheochromocytoma. Journal of computer assisted tomography 2013;37(5):820-823.

Bravo EL. Pheochromocytoma: current concepts in diagnosis, localization, and management. Primary Care: Clinics in Office Practice 1983;10(1):075-086.

Ilias I, Pacak K. Current approaches and recommended algorithm for the diagnostic localization of pheochromocytoma. The Journal of Clinical Endocrinology & Metabolism 2004;89(2):479-491.

Beierwaltes WH. Endocrine imaging: parathyroid, adrenal cortex and medulla, and other endocrine tumors. Part II. Journal of Nuclear Medicine 1991;32(8):1627-1639.

Blake MA, Kalra MK, Maher MM, Sahani DV, Sweeney AT, Mueller PR, Hahn PF, Boland GW. Pheochromocytoma: an imaging chameleon. Radiographics 2004;24(suppl_1):S87-S99.

Leung K, Stamm M, Raja A, Low G. Pheochromocytoma: the range of appearances on ultrasound, CT, MRI, and functional imaging. American Journal of Roentgenology 2013;200(2):370-378.

Northcutt BG, Trakhtenbroit MA, Gomez EN, Fishman EK, Johnson PT. Adrenal adenoma and pheochromocytoma: comparison of multidetector CT venous enhancement levels and washout characteristics. Journal of computer assisted tomography 2016;40(2):194-200.

Kim KY, Kim JH, Hong AR, Seong M-W, Lee KE, Kim S-J, Kim SW, Shin CS, Kim SY. Disentangling of malignancy from benign pheochromocytomas/paragangliomas. PLoS One 2016;11(12):e0168413.

Northcutt BG, Raman SP, Long C, Oshmyansky AR, Siegelman SS, Fishman EK, Johnson PT. MDCT of adrenal masses: can dual-phase enhancement patterns be used to differentiate adenoma and pheochromocytoma? American Journal of Roentgenology 2013;201(4):834-839.

Lam AK-y. Update on adrenal tumours in 2017 World Health Organization (WHO) of endocrine tumours. Endocrine pathology 2017;28(3):213–227.

Holman J, Salvatori R, Fishman EK, Johnson PT. Caveat regarding CMS Merit-based Incentive Payment Systems incidental adrenal nodule measure. Abdominal Radiology 2019;44(3):1152-1154.

Al-Waeli DK, Mansour AA, Haddad NS. Reliability of adrenal computed tomography in predicting the functionality of adrenal incidentaloma. Nigerian Postgraduate Medical Journal 2020;27(2):101.

Munden R, Adams D, Curry N. Cystic pheochromocytoma: radiologic diagnosis. Southern medical journal 1993;86(11):1302-1305.

Velasquez G, Nath P, Zollikofer C, Valdez-Davila O, Castaneda-Zuniga WR, Formanek A, Amplatz K. The "ring sign" of necrotic pheochromocytoma. Radiology 1979;131(1):69-71.

Renard J, Clerici T, Licker M, Triponez F. Pheochromocytoma and abdominal paraganglioma. Journal of visceral surgery 2011;148(6):e409-e416.

Linnoila RI, Keiser HR, Steinberg SM, Lack EE. Histopathology of benign versus malignant sympathoadrenal paragangliomas: clinicopathologic study of 120 cases including unusual histologic features. Human pathology 1990;21(11):1168-1180.

Rednam SP, Erez A, Druker H, Janeway KA, Kamihara J, Kohlmann WK, Nathanson KL, Tomlinson GE, Villani A, Voss SD. Von Hippel–Lindau and hereditary pheochromocytoma/paraganglioma syndromes: clinical features, genetics, and surveillance recommendations in childhood. Clinical Cancer Research 2017;23(12):e68-e75.

Chittiboina P, Lonser RR. Von Hippel–Lindau disease. Handbook of clinical neurology 2015;132:139-156.

Thompson LD. Pheochromocytoma of the Adrenal gland Scaled Score (PASS) to separate benign from malignant neoplasms: a clinicopathologic and immunophenotypic study of 100 cases. The American journal of surgical pathology 2002;26(5):551-566.

L.D. T, W.F. Y, A. K, P. K. Malignant adrenal phaeochromocytoma. World Health Organization Classification of Tumours Pathology & Genetics Tumours of Endocrine Organs., 2004: 147–150.

John H, Ziegler WH, Hauri D, Jaeger P. Pheochromocytomas: can malignant potential be predicted? Urology 1999;53(4):679-683.

Wang J, Yuan D, Lu Y, Ma Y, Huang B, Yang Y, Zhao J. A large pheochromocytoma requiring aortic and inferior vena caval reconstruction: A case report. Medicine 2019;98(29).

Elmoheen A, Yousry M, Elmesery A, Bashir K. Ruptured functioning adrenal tumour, atypical presentation with renal colic and hypertension. BMJ Case Reports CP 2020;13(12):e236050.

Kobayashi T, Iwai A, Takahashi R, Ide Y, Nishizawa K, Mitsumori K. Spontaneous rupture of adrenal pheochromocytoma: review and analysis of prognostic factors. Journal of surgical oncology 2005;90(1):31-35.

Maruyama M, Sato H, Yagame M, Shoji S, Terachi T, Osamura RY. Spontaneous rupture of pheochromocytoma and its clinical features: a case report. Tokai J Exp Clin Med 2008;33(3):110-115.

Lenders JW, Eisenhofer G, Mannelli M, Pacak K. Phaeochromocytoma. The Lancet 2005;366(9486):665-675.

Van Way 3rd C, Faraci RP, Cleveland HC, Foster JF, Scott Jr HW. Hemorrhagic necrosis of pheochromocytoma associated with phentolamine administration. Annals of surgery 1976;184(1):26.

Suzuki T, Kawabe K, Mori C, Ueno A, Asakage H, Koiso K, Akaza H, Niijima T. Pheochromocytoma with remission following phentolamine-induced shock. Urology 1984;23(6):582-584.

Newell KA, Prinz RA, Pickleman J, Braithwaite S, Brooks M, Karson TH, Glisson S. Pheochromocytoma multisystem crisis: a surgical emergency. Archives of Surgery 1988;123(8):956-959.
Ethics declarations
Conflict of interest
All authors declare that they have no conflict of interest.
Additional information
Publisher's Note
Springer Nature remains neutral with regard to jurisdictional claims in published maps and institutional affiliations.
About this article
Cite this article
Berry, R., Busireddy, K., Chu, L.C. et al. The good, the bad, and the ugly: uncommon CT appearances of pheochromocytoma. Abdom Radiol 47, 1406–1413 (2022). https://doi.org/10.1007/s00261-022-03447-y
Received:

Revised:

Accepted:

Published:

Issue Date:

DOI: https://doi.org/10.1007/s00261-022-03447-y
Keywords
Pheochromocytoma

Neuroendocrine tumor

Cystic pheochromocytoma

CT appearances of pheochromocytoma