Abstract
Purpose
To evaluate the feasibility of enrolling patients in a randomized controlled trial (RCT) comparing endovascular coils (EC) and vascular plugs (VP) for proximal splenic artery embolization (pSAE) in high-grade splenic trauma, and to collect data to inform the design of a larger clinical effectiveness trial.
Methods
Single-center, prospective, RCT of patients with Grade III–V splenic injuries selected for nonoperative management. Patients were randomized to pSAE with EC or VP. The main outcome was feasibility. We also evaluated technical success, time to stasis, complications, mortality, and splenectomy rates, by estimating rates and 95% confidence intervals.
Results
46 of 50 eligible patients were enrolled (92%, 95% CI 90–100%). Overall, splenic salvage was 98% (45/46; 95% CI 94–100%). Primary technical success was observed in 22 EC patients (96%; 95% CI 87–100%) and 20 VP patients (87%; 95% CI 73–100%). Bayesian analysis suggests a > 80% probability that primary technical success is higher for EC. Two complications (one major and one minor) occurred in the EC group (9%; CI 0–20%) and one major complication occurred in the VP group (4%; CI 0–13%).
Conclusions
Randomized comparisons of endovascular devices used for pSAE after trauma are feasible. pSAE using either EC or VP results in excellent rates of splenic salvage in trauma patients with high-grade splenic injuries. These high rates of splenic salvage and low rates of complications make their use as a primary outcome in a future trial problematic. Consideration should be given to technical parameters as a primary outcome for future trials.
Access options
Buy single article
Instant access to the full article PDF.
US$ 39.95
Tax calculation will be finalised during checkout.
Subscribe to journal
Immediate online access to all issues from 2019. Subscription will auto renew annually.
US$ 79
Tax calculation will be finalised during checkout.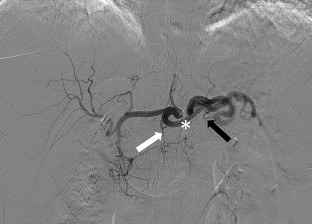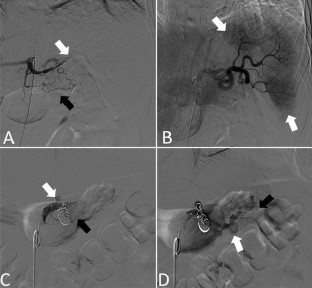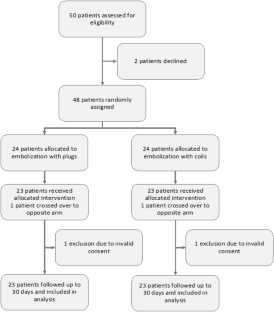 Data availability
Data are available as a supplementary file upon request.
References:
1.

DiMaggio C, Ayoung-Chee P, Shinseki M, et al. Traumatic injury in the United States: in-patient epidemiology 2000-2011. Injury 2016; 47:1393-1403.

2.

Powell M, Courcoulas A, Gardner M, et al. Management of blunt splenic trauma: significant differences between adults and children. Surgery 1997; 122:654-660.

3.

Bisharat N, Omari H, Lavi I, Raz R. Risk of infection and death among post-splenectomy patients. J Infect 2001; 43:182-186.

4.

Webb CW, Crowell K, Cravens D. Clinical inquiries. Which vaccinations are indicated after splenectomy? J Fam Pract 2006; 55:711-712.

5.

Banerjee A, Duane TM, Wilson SP, et al. Trauma center variation in splenic artery embolization and spleen salvage: a multicenter analysis. J Trauma Acute Care Surg 2013; 75:69-74.

6.

Schnuriger B, Inaba K, Konstantinidis A, Lustenberger T, Chan LS, Demetriades D. Outcomes of proximal versus distal splenic artery embolization after trauma: a systematic review and meta-analysis. J Trauma 2011; 70:252-260.

7.

Requarth JA, D'Agostino RB, Miller PR. Nonoperative management of adult blunt splenic injury with and without splenic artery embolotherapy: a meta-analysis. J Trauma 2011; 71:898-903.

8.

Bhangu A, Nepogodiev D, Lal N, Bowley DM. Meta-analysis of predictive factors and outcomes for failure of non-operative management of blunt splenic trauma. Injury 2012; 43:1337-1346.

9.

Sclafani SJ, Shaftan GW, Scalea TM, et al. Nonoperative salvage of computed tomography-diagnosed splenic injuries: utilization of angiography for triage and embolization for hemostasis. J Trauma 1995; 39:818-825.

10.

Haan JM, Bochicchio GV, Kramer N, Scalea TM. Nonoperative management of blunt splenic injury: a 5-year experience. J Trauma 2005; 58:492-498.

11.

Haan JM, Biffl W, Knudson MM, et al. Splenic embolization revisited: a multicenter review. J Trauma 2004; 56:542-547.

12.

Rong JJ, Liu D, Liang M, et al. The impacts of different embolization techniques on splenic artery embolization for blunt splenic injury: a systematic review and meta-analysis. Mil Med Res 2017; 4:17.

13.

Dent D, Alsabrook G, Erickson BA, et al. Blunt splenic injuries: high nonoperative management rate can be achieved with selective embolization. J Trauma 2004; 56:1063-1067.

14.

Bessoud D, Denys A, Calmes JM, et al. Nonoperative management of traumatic splenic injuries: is there a role for proximal splenic artery embolization? AJR Am J Roentgenol 2006; 186:779-785.

15.

Rajani RR, Claridge JA, Yowler CJ, et al. Improved outcome of adult blunt splenic injury: a cohort analysis. Surgery 2006; 140:625-631.

16.

Miller PR, Chang MC, Hoth JJ, et al. Prospective trial of angiography and embolization for all grade III to V blunt splenic injuries: nonoperative management success rate is significantly improved. J Am Coll Surg 2014; 218:644-648.

17.

Albrecht RM, Schermer CR, Morris. Nonoperative management of blunt splenic injuries: factors influencing success rates in age >55 years. Am Surg 2002; 68:227–230.

18.

McIntyre LK, Schiff M, Jurkovich GJ. Failure of nonoperative management of splenic injuries: causes and consequences. Arch Surg 2005; 140:563-568.

19.

Stein DM, Scalea TM. Nonoperative management of spleen and liver injuries. J Intensive Care Med 2006; 21:296-304.

20.

Quencer KB, Smith TA. Review of proximal splenic artery embolization in blunt abdominal trauma. CVIR Endovasc 2019; 2:11.

21.

Tau N, Atar E, Mei-Zahav M, et al. Amplatzer vascular plugs versus coils for embolization of pulmonary arteriovenous malformations in patients with hereditary hemorrhagic telangiectasia. Cardiovasc Intervent Radiol 2016; 39:1110-1114.

22.

Guirola JA, Sanchez-Ballestin M, Sierre S, Lahuerta C, Mayoral V, De Gregorio MA. A randomized trial of endovascular embolization treatment in pelvic congestion syndrome: fibered platinum coils versus vascular plugs with 1-year clinical outcomes. J Vasc Interv Radiol 2018; 29:45-53.

23.

Wong K, Johnson P, Chen Z, et al. A meta-analysis of comparative outcome and cost-effectiveness of internal iliac artery embolization with vascular plug versus coil. Cardiovasc Intervent Radiol 2020; 43:706-713.

24.

Kozar RA, Crandall M, Shanmuganathan K, et al. Organ injury scaling 2018 update: spleen, liver, and kidney. J Trauma Acute Care Surg 2018; 85:1119-1122.

25.

Cocanour CS, Moore FA, Ware DN, Marvin RG, Clark JM, Duke JH. Delayed complications of nonoperative management of blunt adult splenic trauma. Arch Surg 1998; 133:619-624.

26.

Sacks D, McClenny TE, Cardella JF, Lewis CA. Society of Interventional Radiology Clinical Practice Guidelines. J Vasc Interv Radiol 2003; 14:S199-S202.

27.

R Core Team (2019). R: A language and environment for statistical computing. R Foundation for Statistical Computing, Vienna, Austria. URL: https//www.R-projectorg/.
Acknowledgements
The authors would like to acknowledge the efforts of Drs. Ahmed K. Abdel Aal, Husameddin El-Khudari, Annie Lim, Rachel F. Oser, Souheil Saddekni, and Aliaksei Salei for their support in enrolling patients in this trial. The authors would also like to acknowledge the administrative support of Ms. Rebecca Lee.
Funding
The work was funded by a Soto Catalyst Award from the University of Alabama at Birmingham.
Ethics declarations
Conflict of interest
Andrew J. Gunn and Jan O. Jansen receive research support from Penumbra, Inc, but this study was not funded by the company. Andrew J. Gunn is a speaker for Boston Scientific and Terumo. Andrew J. Gunn is a consultant for Varian and Boston Scientific. None of the other authors have a conflict of interest to report.
Ethical approval
The study was approved by our institutional review board (IRB) at the University of Alabama at Birmingham. All patients or their representatives provided consent to participate. Consent is not required for publication.
Additional information
Publisher's Note
Springer Nature remains neutral with regard to jurisdictional claims in published maps and institutional affiliations.
About this article
Cite this article
Gunn, A.J., Raborn, J.R., Griffin, R. et al. A pilot randomized controlled trial of endovascular coils and vascular plugs for proximal splenic artery embolization in high-grade splenic trauma. Abdom Radiol 46, 2823–2832 (2021). https://doi.org/10.1007/s00261-020-02904-w
Received:

Revised:

Accepted:

Published:

Issue Date:
Keywords
Trauma

Spleen

Embolization

Randomized trial