Abstract
The perisplenic region is a complex anatomical area involving multiple peritoneal and subperitoneal structures, which influence the presentation and behavior of various pathologic processes. This review is a comprehensive resource for perisplenic anatomy and pathology with associated clinical presentations and imaging findings. Understanding the pathophysiologic intricacies of the perisplenic region assists the radiologist in building a helpful differential diagnosis and recognizing predictable disease patterns.
Access options
Buy single article
Instant access to the full article PDF.
USD 39.95
Price includes VAT (USA)
Tax calculation will be finalised during checkout.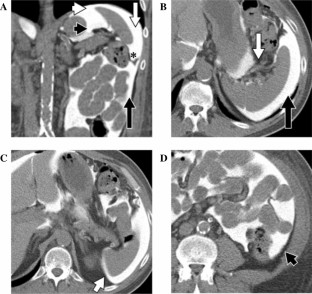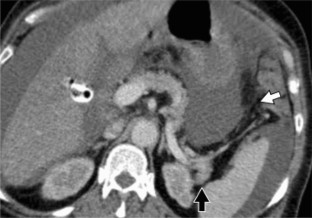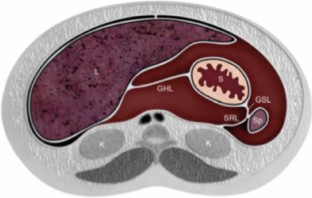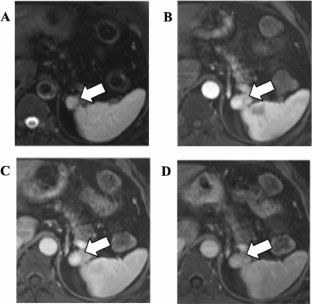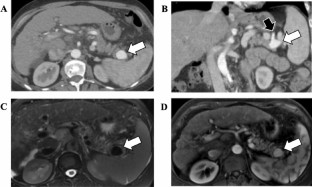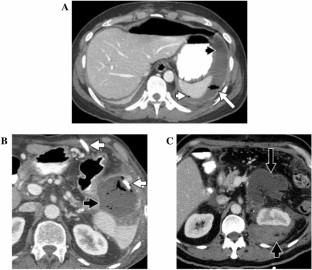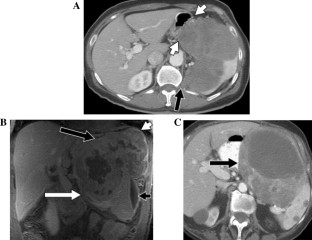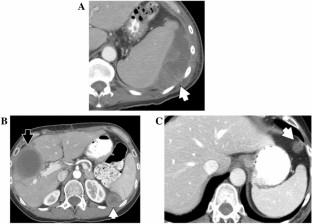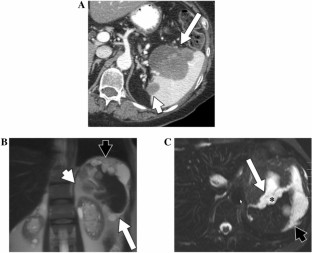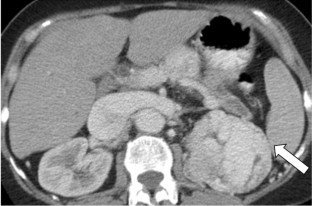 References
1.

Meyers MA, Oliphant M, Berne AS, Feldberg MAM. The peritoneal ligaments and mesenteries: Pathways of intraabdominal spread of disease. Radiology. 1987;163(3):593-604.

2.

Bentley-Hibbert S, Abdelbaki A, Elsayes KM. Cross-Sectional Imaging of the Spleen. In: Elsayes KM, ed. Cross-Sectional Imaging of the Abdomen and Pelvis: A Practical Algorithmic Approach. New York, NY: Springer New York; 2015:229–262.

3.

Pannu HK, Oliphant M. The subperitoneal space and peritoneal cavity: basic concepts. Abdom Imaging. 2015;40(7):2710-2722.

4.

Sharma M, Rai P, Rameshbabu CS, Senadhipan B. Imaging of peritoneal ligaments by endoscopic ultrasound (with videos). Endosc Ultrasound. 2015;4(1):15-27.

5.

Skandalakis PN, Celhorn GL, Skandalakis LJ, Richardson DD, Mitchell WE, Skandalakis JE. The surgical anatomy of the spleen. Surg Clin North Am. 1993;73(4):747-768.

6.

Ostermann P, Schreiber H, Lierse W. [The ligament system of the spleen and its significance for surgical interventions]. Langenbecks Arch Chir. 1987;371(3):1207-1216.

7.

Sharma M, Madambath JG, Somani P, et al. Endoscopic ultrasound of peritoneal spaces. Endosc Ultrasound. 2017;6(2):90-102.

8.

Mortelé KJ, Mortelé B, Silverman S. CT Features of the Accesory Spleen. AJR. 2004;183:1653-1657.

9.

Dogan NU, Uysal II, Demirci S, Dogan KH, Kolcu G. Accessory spleens at autopsy. Clin Anat. 2011;24(6):757-762.

10.

Valls C, Monés L, Gumà A, López-Calonge E. Torsion of a wandering accessory spleen: CT findings. Abdom Imaging. 1998;23(2):194-195.

11.

Termos S, Redha A, Zbibo R, et al. Torsion of huge wandering accessory spleen. Case report and review of literature. Int J Surg Case Rep. 2017;38:131–135.

12.

Sadro CT & Lehnert, BE. Torsion of an accessory spleen: Case report and review of the literature. Radiology Case Reports. 2013; 8(1):802.

13.

Jang KM, Kim, SH, Lee, SJ, Park, MJ, Lee, MH, & Choi, D. Differentiation of an Intrapancreatic Accessory Spleen from a Small (<3-cm) Solid Pancreatic Tumor: Value of Diffusion-weighted MR Imaging. Radiology. 2013; 266(1), 159-167.

14.

Raissaki M, Prassopoulos P, Daskalogiannaki M, Magkanas E, Gourtsoyiannis N. Acute abdomen due to torsion of wandering spleen: CT diagnosis. Eur Radiol. 1998;1412(8):1409-1412.

15.

Lake, ST, Johnson, PT, Kawamoto, S., Hruban, RH, & Fishman, EK. CT of Splenosis: Patterns and Pitfalls. American Journal of Roentgenology. 2012;199: W686-W693.

16.

Uy PPD, Francisco DM, Trivedi A, O'Loughlin M, Wu GY. Vascular Diseases of the Spleen: A Review. J Clin Transl Hepatol. 2017;5: 152-164.

17.

Bedford PD, Lodge B. Aneurysm of the splenic artery. Gut. 1960; 1:312–320.

18.

Moore SW, Guida PM, Schumacher HW. Splenic artery aneurysm. Bull Soc Int Chir. 1970; 29:210–218

19.

Pasha SF, Gloviczki, P, Stanson, AW, & Kamath, PS.. Splanchnic artery aneurysms. Mayo Clinic Proceedings. 2007; 82(4), 472-9.

20.

Stanley JC, Thomas NW, Fry WJ. Splanchnic artery aneurysms. Arch Surg. 1970; 101:689–697.

21.

Busuttil RW, Brin BJ. The diagnosis and management of visceral artery aneurysms. Surgery. 1980; 88:619–624.

22.

Stanley, JC, Wakefield TW, Graham LM, Whitehouse WM Jr, Zelenock GB, Lindenauer SM. Clinical importance and management of splanchnic artery aneurysms. J Vasc Surg. 1986; 3:836–840.

23.

Trastek VF, Pairolero PC, Bernatz PE. Splenic ar- tery aneurysms. World J Surg. 1985; 9:378–383.

24.

Agrawal G, Johnson P, Fishman E. Splenic Artery Aneurysms and Pseudoaneurysms: Clinical Distinctions and CT Appearances. AJR. 2007; 188:992–999.

25.

Khosa F, Krinsky G, Macari M, Yucel EK, Berland, L. Managing Incidental Findings on Abdominal and Pelvic CT and MRI, Part 2: White Paper of the ACR Incidental Findings Committee II on Vascular Findings. J Am Coll Radiol. 2013;10:789-794.

26.

Woods M, Traverso, L, Kozarek, R, Brandabur, J & Hauptmann, E. Successful Treatment of Bleeding Pseudoaneurysms of Chronic Pancreatitis. Pancreas. 1995;10(1), 22-30.

27.

Cho KC, Patel YD, Wachsberg RH, Seeff J. Varices in portal hypertension: evaluation with CT. Radiographics. 1995;15(3):609-622.

28.

Narra RK, Jehendran MV. Ruptured splenic abscess causing pneumoperitoneum: A rare cause revisited. BMJ Case Rep. 2015;2015:2014-2016.

29.

Nunspeet L van. Uncommon cause of pneumoperitoneum. World J Gastrointest Surg. 2013;5(12):329.

30.

Meyers MA, Charnsangavej C, Oliphant M. Intraperitoneal Spread of Infections and Seeded Metastases. In: Meyers' Dynamic Radiology of the Abdomen: Normal and Pathologic Anatomy. New York, NY: Springer New York; 2011:69–107.

31.

Saboo SS, Krajewski, KM, Oregan, KN, Giardino, A, Brown, JR, Ramaiya, N, & Jagannathan, JP. Spleen in haematological malignancies: Spectrum of imaging findings. The British Journal of Radiology. 2012;85(1009), 81-92.

32.

Ahmann DL, Kiely JM, Harrison EGJ, Payne WS. Malignant Lymphoma of the Spleen. A review of 49 cases in which the diagnosis was made at splenectomy. Cancer. 1966;19:461–469.

33.

Montemayor P, Caggiano V. Primary Hemangiosarcoma of the Spleen Associated with Leukocytosis and Abnormal Spleen Scan. Int Surg. 1980;65(4):369–373.

34.

Karakas HM, Demir M, Ozyilmaz F, Cakir B. Primary angiosarcoma of the spleen: In vivo and in vitro MRI findings. Clin Imaging. 2001;25(3):192-196.

35.

Kaza, R., Azar, S., Al-Hawary, M., & Francis, I. (2010). Primary and secondary neoplasms of the spleen. Cancer Imaging, 10, 173-182, 10000–10000. https://doi.org/10.1102/1470-7330.2010.0026

36.

Abbott RM, Levy, AD, Aguilera, NS, Gorospe, L, & Thompson, WM. Primary Vascular Neoplasms of the Spleen: Radiologic-Pathologic Correlation. RadioGraphics. 2004;24(4), 1137-1163.

37.

Compérat E, Bardier-Dupas A, Camparo P, Capron F, Charlotte F. Splenic metastases: Clinicopathologic presentation, differential diagnosis, and pathogenesis. Arch Pathol Lab Med. 2007;131(6):965-969.

38.

Levy AD, Shaw, JC. & Sobin, LH. Secondary Tumors and Tumorlike Lesions of the Peritoneal Cavity: Imaging Features with Pathologic Correlation. RadioGraphics. 2009;29(2), 347-373.

39.

Mortelé KJ, Mergo PJ, Taylor HM, Ernst MD, Ros PR. Splenic and perisplenic involvement in acute pancreatitis: Determination of prevalence and morphologic helical CT features. J Comput Assist Tomogr. 2001;25(1):50-54.

40.

Iliescu L, Orban C, Ioanitescu S, Toma L. Splenic abscess due to acute pyelonephritis. BMJ Case Rep. 2014;2:1-2.

41.

Lee DH, Smith DS. Splenic Abscess After Acute Pyelonephritis. Am J Med. 2017;130(3):e109-e110.

42.

Morioka H, Yanagisawa N, Suganuma A, Imamura A, Ajisawa A. Bilateral emphysematous pyelonephritis with a splenic abscess. Intern Med. 2013;52(1):147-150.

43.

Ielpo B, Mazzetti C, Venditti D, Buonomo O, Petrella G. A case of metachronous splenic metastasis from renal cell carcinoma after 14 years. Int J Surg. 2010;8(5):353-355.

44.

Liu Z, Chow MWL, Lua AHC, Tan RBW. Rare isolated synchronous splenic metastasis in a patient with type II papillary renal cell carcinoma. AME Case Reports. 2018;2:9-9.

45.

Costantini M, Tuderti G, Minisola F, et al. Metachronous Isolated Splenic Metastasis in a Young Patient With Renal Cell Carcinoma: Case Report and Literature Review. Urology. 2019;127:13-18.

46.

Kugel V, Dekel Y, Konichezky M, Baniel, J, Livne, PM, & Koren, R. Unusual Splenic Metastasis from Renal Cell Carcinoma. A Case Report and Review of the Literature. Pathology - Research and Practice. 2003;199(11), 739–743.
Ethics declarations
Conflict of interest
The authors have no conflict of interest to disclose.
Consent to participate
Not applicable.
Consent for publication
Not applicable.
Ethics approval
Not applicable.
Additional information
Publisher's Note
Springer Nature remains neutral with regard to jurisdictional claims in published maps and institutional affiliations.
CME activity
This article has been selected as the CME activity for the current month. Please visit https://ce.mayo.edu/node/103261 and follow the instructions to complete this CME activity.
About this article
Cite this article
Etchison, A., Menias, C.O., Ganeshan, D.M. et al. A review of anatomy, pathology, and disease spread in the perisplenic region. Abdom Radiol 46, 805–817 (2021). https://doi.org/10.1007/s00261-020-02736-8
Received:

Revised:

Accepted:

Published:

Issue Date:
Keywords
Anatomy

Radiology–pathology correlation

Perisplenic region

Peritoneal disease