Abstract
Over the past decade, the Prostate Imaging-Reporting and Data System (PI-RADS) has revolutionized the manner in which prostate cancer is screened for, detected, biopsied, and managed. The single greatest contribution of PI-RADS has been the standardization of interpretation and reporting of findings on MRI of the prostate. This standardization has led to the wide acceptance of the PI-RADS lexicon at a time when structured reporting templates are becoming more widespread in radiology and other medical fields. The author reviews the benefits of structured reporting templates with a focus on prostate MRI, prior studies on this topic, and details of a suggested template.
Access options
Buy single article
Instant access to the full article PDF.
USD 39.95
Price includes VAT (USA)
Tax calculation will be finalised during checkout.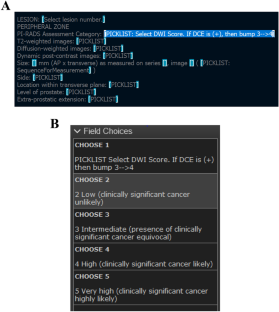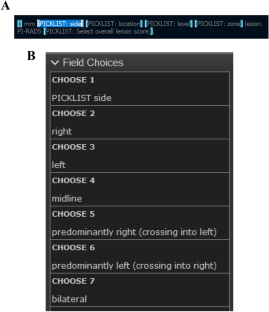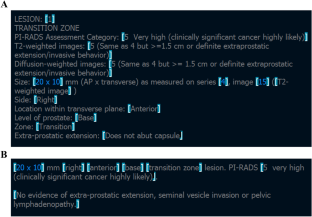 References
1.

Weinreb JC, Barentsz JO, Choyke PL, Cornud F, Haider MA, Macura KJ, et al. PI-RADS Prostate Imaging - Reporting and Data System: 2015, Version 2. European urology 2016;69(1):16-40.

2.

Turkbey B, Rosenkrantz AB, Haider MA, Padhani AR, Villeirs G, Macura KJ, et al. Prostate Imaging Reporting and Data System Version 2.1: 2019 Update of Prostate Imaging Reporting and Data System Version 2. European urology 2019;76(3):340-351.

3.

Kahn CE, Jr., Heilbrun ME, Applegate KE. From guidelines to practice: how reporting templates promote the use of radiology practice guidelines. Journal of the American College of Radiology : JACR 2013;10(4):268-273.

4.

Kee D, Zalcberg JR. Radiology reporting templates in oncology: a time for change. Journal of medical imaging and radiation oncology 2009;53(6):511-513.

5.

Sippo DA, Birdwell RL, Andriole KP, Raza S. Quality Improvement of Breast MRI Reports With Standardized Templates for Structured Reporting. Journal of the American College of Radiology : JACR 2017;14(4):517-520.

6.

Fitzgibbons PL, Lazar AJ, Spencer S. Introducing new College of American Pathologists reporting templates for cancer biomarkers. Archives of pathology & laboratory medicine 2014;138(2):157-158.

7.

Gillman LM, Vergis A, Park J, Minor S, Taylor M. Structured operative reporting: a randomized trial using dictation templates to improve operative reporting. American journal of surgery 2010;199(6):846-850.

8.

Wetterauer C, Winkel DJ, Federer-Gsponer JR, Halla A, Subotic S, Deckart A, et al. Structured reporting of prostate magnetic resonance imaging has the potential to improve interdisciplinary communication. PLoS One 2019;14(2):e0212444.

9.

Magnetta MJ, Donovan AL, Jacobs BL, Davies BJ, Furlan A. Evidence-Based Reporting: A Method to Optimize Prostate MRI Communications With Referring Physicians. AJR American journal of roentgenology 2018;210(1):108-112.

10.

Schwartz LH, Panicek DM, Berk AR, Li Y, Hricak H. Improving communication of diagnostic radiology findings through structured reporting. Radiology 2011;260(1):174-181.

11.

Margolies LR, Pandey G, Horowitz ER, Mendelson DS. Breast Imaging in the Era of Big Data: Structured Reporting and Data Mining. AJR American journal of roentgenology 2016;206(2):259-264.

12.

Iyer VR, Hahn PF, Blaszkowsky LS, Thayer SP, Halpern EF, Harisinghani MG. Added value of selected images embedded into radiology reports to referring clinicians. Journal of the American College of Radiology : JACR 2010;7(3):205-210.

13.

Weiss DL, Langlotz CP. Structured reporting: patient care enhancement or productivity nightmare? Radiology 2008;249(3):739-747.

14.

Silveira PC, Dunne R, Sainani NI, Lacson R, Silverman SG, Tempany CM, et al. Impact of an Information Technology-Enabled Initiative on the Quality of Prostate Multiparametric MRI Reports. Academic radiology 2015;22(7):827-833.

15.

Shaish H, Feltus W, Steinman J, Hecht E, Wenske S, Ahmed F. Impact of a Structured Reporting Template on Adherence to Prostate Imaging Reporting and Data System Version 2 and on the Diagnostic Performance of Prostate MRI for Clinically Significant Prostate Cancer. Journal of the American College of Radiology : JACR 2018;15(5):749-754.

16.

Ganeshan D, Duong PT, Probyn L, Lenchik L, McArthur TA, Retrouvey M, et al. Structured Reporting in Radiology. Academic radiology 2018;25(1):66-73.

17.

Spilseth B, Ghai S, Patel NU, Taneja SS, Margolis DJ, Rosenkrantz AB. A Comparison of Radiologists' and Urologists' Opinions Regarding Prostate MRI Reporting: Results From a Survey of Specialty Societies. AJR American journal of roentgenology 2018;210(1):101-107.

18.

Mungovan SF, Sandhu JS, Akin O, Smart NA, Graham PL, Patel MI. Preoperative Membranous Urethral Length Measurement and Continence Recovery Following Radical Prostatectomy: A Systematic Review and Meta-analysis. European urology 2017;71(3):368-378.

19.

Benson MC, Whang IS, Olsson CA, McMahon DJ, Cooner WH. The use of prostate specific antigen density to enhance the predictive value of intermediate levels of serum prostate specific antigen. J Urol 1992;147(3 Pt 2):817-821.

20.

Rosenkrantz AB, Kopec M, Kong X, Melamed J, Dakwar G, Babb JS, et al. Prostate cancer vs. post-biopsy hemorrhage: diagnosis with T2- and diffusion-weighted imaging. Journal of magnetic resonance imaging : JMRI 2010;31(6):1387-1394.

21.

Navot B, Ahmed FS, Shaish H. Diffuse Peripheral Zone T2 Hypointensity: When to Worry About Prostate Cancer. J Comput Assist Tomogr 2019;43(4):641-644.
Ethics declarations
Conflict of interest
None.
Additional information
Publisher's Note
Springer Nature remains neutral with regard to jurisdictional claims in published maps and institutional affiliations.
Electronic supplementary material
Below is the link to the electronic supplementary material.
About this article
Cite this article
Shaish, H. Structured prostate MRI reporting: how and why. Abdom Radiol 45, 3969–3973 (2020). https://doi.org/10.1007/s00261-020-02720-2
Received:

Revised:

Accepted:

Published:

Issue Date:
Keywords
Prostate cancer

MRI

Structured reporting templates