Abstract
Objectives
To evaluate the potential clinical and technical utility to manage in practice the use of a robotic MRI in-bore-targeted prostate biopsies in the current work-up of prostate cancer diagnosis.
Methods
Thirty patients with a single cancer suspicious lesion interpreted on MRI using PI-RADSv2.1 category ≥ 3 underwent in-bore robotic transrectal MRI remote-controlled-guided biopsy. It was analyzed the technical success, clinical details, biopsy findings in correlation with the MRI examination, complications and cancer detection rate (CDR).
Results
The overall CDR for any cancer was 73% (22/30). It was 86% (19/22) for significant tumors (Gleason score of more than 6 or maximum cancer core length greater than 3 mm for Gleason 6) and 77% (17/22) for tumors with Gleason > 6. CDR for biopsy-naïve patients was 89% (16/18) and 50% (6/12) for patients with prior negative transrectal ultrasound-guided biopsies. The CDR for PI-RADS > 3 was 92% (22/24). All the lesions (n = 30) were reachable with the robotic MRI device. A self-limited rectal hemorrhagic complication was reported.
Conclusion
This initial data show that a robotic MRI-guided biopsy could be useful, efficient and feasible procedure in the new paradigm to diagnose significant prostate cancer in selected patients.
Access options
Buy single article
Instant access to the full article PDF.
US$ 39.95
Tax calculation will be finalised during checkout.
Subscribe to journal
Immediate online access to all issues from 2019. Subscription will auto renew annually.
US$ 79
Tax calculation will be finalised during checkout.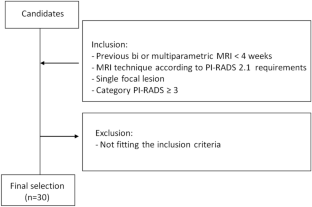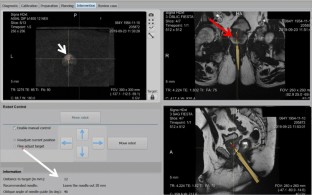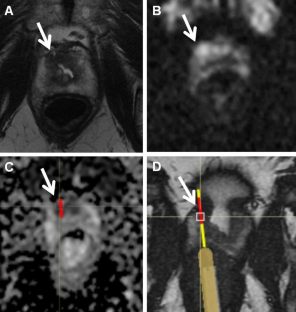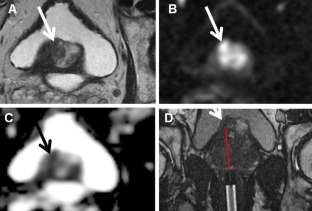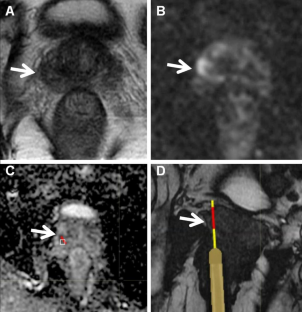 Funding
The authors state that this work has not received any funding.
Ethics declarations
Guarantor
The scientific guarantor of this publication is Joan C Vilanova.
Conflict of interest
The authors of this manuscript declare relationships with the following companies: Soteria Medical: Martijn Hoogenboom. The authors: Joan C. Vilanova, Anna Pérez de Tudela, Josep Puig, Joaquim Barceló, Montse Planas, Sònia Sala, Santiago Thio-Henestrosa of this manuscript declare no relationships with any companies, whose products or services may be related to the subject matter of the article.
Informed consent
Written informed consent was obtained from all subjects (patients) in this study.
Ethical approval
Institutional Review Board approval was obtained.
Additional information
Publisher's Note
Springer Nature remains neutral with regard to jurisdictional claims in published maps and institutional affiliations.
About this article
Cite this article
Vilanova, J.C., Pérez de Tudela, A., Puig, J. et al. Robotic-assisted transrectal MRI-guided biopsy. Technical feasibility and role in the current diagnosis of prostate cancer: an initial single-center experience. Abdom Radiol 45, 4150–4159 (2020). https://doi.org/10.1007/s00261-020-02665-6
Received:

Revised:

Accepted:

Published:

Issue Date:
Keywords
Prostate cancer

Magnetic resonance imaging

Biopsy

Robotics