Abstract
Purpose
To assess the value of diffusion-weighted MRI in the pre-therapeutic evaluation of pediatric renal cortical tumors.
Methods
This IRB-approved, retrospective multi-center study included 122 pediatric patients with 130 renal tumors, who underwent MRI including DWI before neoadjuvant chemotherapy and nephrectomy. Two radiologists independently assessed each tumor volumetrically, and apparent diffusion coefficient (ADC) values were calculated on a voxel-wise basis, including parameters derived from histogram and texture analysis.
Results
Inter-reader agreement was excellent (ICC 0.717–0.975). For both readers, patients with locally aggressive tumor growth (SIOP 3 stage) or with metastases (M1) had significantly lower 12.5th-percentile ADC values (p ≤ 0.028) compared to those with lower-stage tumors, and the parameter energy differed significantly between patients with M1 and those with M0 status (p ≤ 0.028). Contrast and homogeneity differed significantly between benign nephroblastomatosis and malignant nephroblastoma (p ≤ 0.045, both readers). As compared to all other subtypes, the blastemal subtype demonstrated significantly higher skewness (p ≤ 0.022, both readers) and the diffuse anaplastic subtype demonstrated significantly higher 75th-percentile ADC values (p ≤ 0.042, both readers).
Conclusions
Diffusion-weighted MRI may be of value in identifying benign nephroblastomatosis and assessing nephroblastoma subtypes. Therefore, further research is warranted to assess its value in risk stratification for pediatric patients with renal tumors in the future.
Access options
Buy single article
Instant access to the full article PDF.
USD 39.95
Price excludes VAT (USA)
Tax calculation will be finalised during checkout.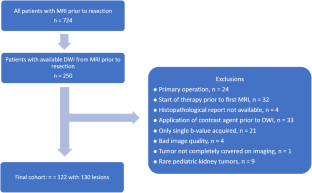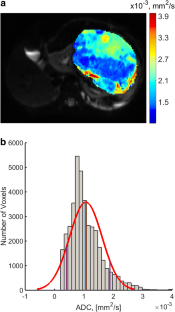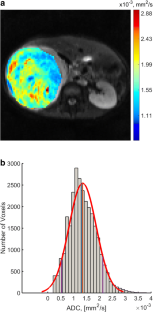 References
Pastore G, Znaor A, Spreafico F, Graf N, Pritchard-Jones K, Steliarova-Foucher E (2006) Malignant renal tumours incidence and survival in European children (1978–1997): Report from the Automated Childhood Cancer Information System project. European journal of cancer (Oxford, England 1990) 42(13):2103–14.

Dome JS, Graf N, Geller JI, Fernandez CV, Mullen EA, Spreafico F et al. (2015) Advances in Wilms Tumor Treatment and Biology: Progress Through International Collaboration. Journal of clinical oncology official journal of the American Society of Clinical Oncology 33(27):2999–3007.

Dome JS, Perlman EJ, Graf N (2014) Risk stratification for wilms tumor: Current approach and future directions. American Society of Clinical Oncology educational book. American Society of Clinical Oncology. Meeting. https://doi.org/10.14694/EdBook_AM.2014.34.215.

Hotker AM, Mazaheri Y, Wibmer A, Zheng J, Moskowitz CS, Tickoo SK et al. (2016) Use of DWI in the Differentiation of Renal Cortical Tumors. AJR. American journal of roentgenology 206(1):100–5.

Donati OF, Mazaheri Y, Afaq A, Vargas HA, Zheng J, Moskowitz CS et al. (2014) Prostate cancer aggressiveness: Assessment with whole-lesion histogram analysis of the apparent diffusion coefficient. Radiology 271(1):143–52.

Wibmer A, Hricak H, Gondo T, Matsumoto K, Veeraraghavan H, Fehr D et al. (2015) Haralick texture analysis of prostate MRI: Utility for differentiating non-cancerous prostate from prostate cancer and differentiating prostate cancers with different Gleason scores. European radiology 25(10):2840–50.

Hales PW, Olsen OE, Sebire NJ, Pritchard-Jones K, Clark CA (2015) A multi-Gaussian model for apparent diffusion coefficient histogram analysis of Wilms' tumour subtype and response to chemotherapy. NMR in biomedicine 28(8):948–57.

Humphries PD, Sebire NJ, Siegel MJ, Olsen OE (2007) Tumors in pediatric patients at diffusion-weighted MR imaging: Apparent diffusion coefficient and tumor cellularity. Radiology 245(3):848–54.

Littooij AS, Humphries PD, Olsen OE (2015) Intra- and interobserver variability of whole-tumour apparent diffusion coefficient measurements in nephroblastoma: A pilot study. Pediatric radiology 45(11):1651–60.

Littooij AS, Sebire NJ, Olsen OE (2016) Whole-tumor apparent diffusion coefficient measurements in nephroblastoma: Can it identify blastemal predominance? Journal of magnetic resonance imaging JMRI. https://doi.org/10.1002/jmri.25506.

McDonald K, Sebire NJ, Anderson J, Olsen OE (2011) Patterns of shift in ADC distributions in abdominal tumours during chemotherapy-feasibility study. Pediatric radiology 41(1):99–106.

Meeus EM, Zarinabad N, Manias KA, Novak J, Rose HEL, Dehghani H et al. (2018) Diffusion-weighted MRI and intravoxel incoherent motion model for diagnosis of pediatric solid abdominal tumors. Journal of magnetic resonance imaging JMRI 47(6):1475–86.

Schneider CA, Rasband WS, Eliceiri KW (2012) NIH Image to ImageJ: 25 years of image analysis. Nature methods 9(7):671–5.

Haralick, R.M., K. Shanmugan, and I. Dinstein (1973) Textural Features for Image Classification. IEEE Transactions on Systems, Man, and Cybernetics SMC-3:610–21.

Graf N, Tournade MF, Kraker J de (2000 Aug) The role of preoperative chemotherapy in the management of Wilms' tumor. The SIOP studies. International Society of Pediatric Oncology, United States.

Cresswell GD, Apps JR, Chagtai T, Mifsud B, Bentley CC, Maschietto M et al. (2016) Intra-Tumor Genetic Heterogeneity in Wilms Tumor: Clonal Evolution and Clinical Implications. EBioMedicine 9:120–9.

Pritchard-Jones K, Bergeron C, Camargo B de, van den Heuvel-Eibrink MM, Acha T, Godzinski J et al. (2015) Omission of doxorubicin from the treatment of stage II-III, intermediate-risk Wilms' tumour (SIOP WT 2001): An open-label, non-inferiority, randomised controlled trial. Lancet (London, England) 386(9999):1156–64.

Tixier F, Hatt M, Valla C, Fleury V, Lamour C, Ezzouhri S et al. (2014) Visual versus quantitative assessment of intratumor 18F-FDG PET uptake heterogeneity: Prognostic value in non-small cell lung cancer. Journal of nuclear medicine official publication, Society of Nuclear Medicine 55(8):1235–41.

van den Heuvel-Eibrink MM, van Tinteren H, Bergeron C, Coulomb-L'Hermine A, Camargo B de, Leuschner I et al. (2015) Outcome of localised blastemal-type Wilms tumour patients treated according to intensified treatment in the SIOP WT 2001 protocol, a report of the SIOP Renal Tumour Study Group (SIOP-RTSG). European journal of cancer (Oxford, England 1990) 51(4):498–506.
Acknowledgements
This research was funded in part through the NIH/NCI Cancer Center Support Grant P30 CA008748. This study was funded partly by Deutsche Krebshilfe Grant No: 50-2709-Gr2 and by the European Union's Seventh Framework Program for research, technological development, and demonstration under Grant Agreement No. 600841 (CHIC project). The authors want to thank all institutions that contributed to this study as part of the SIOP 2001 register trial. In addition, they thank Ada Muellner, MS for her editing.
Ethics declarations
Conflict of interest
All authors declare that they have no conflicts of interest.
Research involving human participants
All procedures performed in studies involving human participants were in accordance with the ethical standards of the institutional and/or national research committee and with the 1964 Helsinki declaration and its later amendments or comparable ethical standards.
Informed consent
The requirement for informed consent was waived by the local IRB for this retrospective study.
Additional information
Publisher's Note
Springer Nature remains neutral with regard to jurisdictional claims in published maps and institutional affiliations.
Electronic supplementary material
Below is the link to the electronic supplementary material.
About this article
Cite this article
Hötker, A.M., Lollert, A., Mazaheri, Y. et al. Diffusion-weighted MRI in the assessment of nephroblastoma: results of a multi-center trial. Abdom Radiol 45, 3202–3212 (2020). https://doi.org/10.1007/s00261-020-02475-w
Published:

Issue Date:

DOI: https://doi.org/10.1007/s00261-020-02475-w
Keywords