Abstract
Purpose
There is an unmet need for new systems with quantitative pancreatic imaging assessments to support better diagnosis and understand development of chronic pancreatitis (CP). The aims were to present such an approach for assessment of imaging features in CP, to apply this system in a multi-center cohort of CP patients (feasibility study), and to report inter-reader agreement between expert radiologists (validation study).
Methods
The feasibility study included pancreatic computed tomography (CT) or magnetic resonance imaging (MRI) from 496 patients with definitive CP in the Scandinavian Baltic Pancreatic Club (SBPC) database. Images were assessed according to the new SBPC imaging system (quantitative assessments of ductal and parenchymal features). Inter-reader agreement of reported imaging parameters was investigated for 80 CT and 80 MRI examinations by two expert radiologists.
Results
Reporting of the imaging features into the imaging system was deemed feasible for > 80% of CT and > 90% of MRI examinations. Quantitative assessments of main pancreatic duct diameters, presence/number/diameter of calcifications, and gland diameters had high levels of inter-reader agreement with κ-values of 0.75–0.87 and intraclass correlation coefficients of 0.74–0.97. The more subjective assessments, e.g., irregular main pancreatic duct and dilated side-ducts, had poor to moderate agreement with κ-values of 0.03–0.44.
Conclusion
The presented system provides a feasible mean for systematic assessment of CP imaging features. Imaging parameters based on quantitative assessment, as opposed to subjective assessments, have better reproducibility and should be preferred in the development of new grading systems for understanding pathophysiology and disease progression in CP.
Access options
Buy single article
Instant access to the full article PDF.
US$ 39.95
Tax calculation will be finalised during checkout.
Subscribe to journal
Immediate online access to all issues from 2019. Subscription will auto renew annually.
US$ 79
Tax calculation will be finalised during checkout.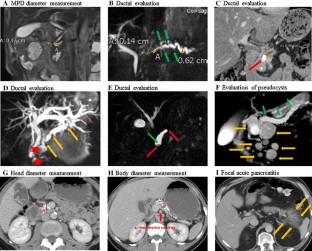 References
1.

French JJ, Charnley RM (2016) Chronic pancreatitis. Surg 34:301–306. https://doi.org/10.1016/J.MPSUR.2016.03.009

2.

Issa Y, van Santvoort HC, Fockens P, et al (2017) Diagnosis and treatment in chronic pancreatitis: an international survey and case vignette study. Hpb 19:978–985. https://doi.org/10.1016/j.hpb.2017.07.006

3.

Olesen SS, Nøjgaard C, Poulsen JL, et al (2019) Chronic Pancreatitis Is Characterized by Distinct Complication Clusters That Associate With Etiological Risk Factors. Am J Gastroenterol 1–9

4.

Hall TC, Garcea G, Webb MA, et al (2014) The socio-economic impact of chronic pancreatitis: A systematic review. J Eval Clin Pract 20:203–207. https://doi.org/10.1111/jep.12117

5.

Braganza JM, Lee SH, McCloy RF, McMahon MJ (2011) Chronic pancreatitis. TL - 377. Lancet. https://doi.org/10.1016/S0140-6736(10)61852-1

6.

Behrman SW, Fowler ES (2007) Pathophysiology of Chronic Pancreatitis. Surg Clin North Am 87:1309–1324. https://doi.org/10.1016/j.suc.2007.09.001

7.

Schneider A, Löhr JM, Singer M V. (2007) The M-ANNHEIM classification of chronic pancreatitis: Introduction of a unifying classification system based on a review of previous classifications of the disease. J Gastroenterol 42:101–119. https://doi.org/10.1007/s00535-006-1945-4

8.

Ectors N, Maillet B, Aerts R, et al (1997) Non-alcoholic duct destructive chronic pancreatitis. Gut 41:263–268. https://doi.org/10.1136/gut.41.2.263

9.

Whitcomb DC, Frulloni L, Garg P, et al (2016) Chronic pancreatitis: An international draft consensus proposal for a new mechanistic definition. Pancreatology 16:218–224. https://doi.org/10.1016/j.pan.2016.02.001

10.

Whitcomb DC, Shimosegawa T, Chari ST, et al (2018) International consensus statements on early chronic Pancreatitis. Recommendations from the working group for the international consensus guidelines for chronic pancreatitis in collaboration with The International Association of Pancreatology, American Pan. Pancreatology 18:516–527. https://doi.org/10.1016/j.pan.2018.05.008

11.

Frøkjær JB, Akisik F, Farooq A, et al (2018) Guidelines for the Diagnostic Cross Sectional Imaging and Severity Scoring of Chronic Pancreatitis. Pancreatology 18:764–773. https://doi.org/10.1016/j.pan.2018.08.012

12.

Banks PA, Bollen TL, Dervenis C, et al (2013) Classification of acute pancreatitis - 2012: Revision of the Atlanta classification and definitions by international consensus. Gut. https://doi.org/10.1136/gutjnl-2012-302779

13.

Sarner M, Cotton PB (1984) Classification of pancreatitis . Gut 25:756–759

14.

Ammann RW (1997) A clinically based classification system for alcoholic chronic pancreatitis: Summary of an International Workshop on Chronic Pancreatitis. In: Pancreas

15.

Ramesh H (2002) Proposal for a new grading system for chronic pancreatitis: the ABC system. J Clin Gastroenterol 35:67–70. https://doi.org/10.1097/00004836-200207000-00014

16.

Bagul A, Siriwardena AK (2006) Evaluation of the Manchester classification system for chronic pancreatitis. J. Pancreas 7:390–396

17.

Büchler MW, Martignoni ME, Friess H, Malfertheiner P (2009) A proposal for a new clinical classification of chronic pancreatitis. BMC Gastroenterol 9:93. https://doi.org/10.1186/1471-230X-9-93

18.

Etemad B, Whitcomb DC (2001) Chronic pancreatitis: Diagnosis, classification, and new genetic developments. Gastroenterology

19.

Tirkes T, Shah ZK, Takahashi N, et al (2019) Reporting Standards for Chronic Pancreatitis by Using CT, MRI, and MR Cholangiopancreatography: The Consortium for the Study of Chronic Pancreatitis, Diabetes, and Pancreatic Cancer. Radiology 290:207–215. https://doi.org/10.1148/radiol.2018181353

20.

Olesen SS, Poulsen JL, Drewes AM, et al (2017) The Scandinavian baltic pancreatic club (SBPC) database: design, rationale and characterisation of the study cohort. Scand J Gastroenterol 52:909–915. https://doi.org/10.1080/00365521.2017.1322138

21.

Landis JR, Koch GG (1977) The Measurement of Observer Agreement for Categorical Data. Biometrics. https://doi.org/10.2307/2529310

22.

Koo TK, Li MY (2016) A Guideline of Selecting and Reporting Intraclass Correlation Coefficients for Reliability Research. J Chiropr Med. https://doi.org/10.1016/j.jcm.2016.02.012

23.

Trikudanathan G, Walker SP, Munigala S, et al (2015) Diagnostic performance of contrast-enhanced MRI with secretin-stimulated mrcp for non-calcific chronic pancreatitis: A comparison with histopathology. Am J Gastroenterol 110:1598–1606. https://doi.org/10.1038/ajg.2015.297

24.

Khandelwal SR, Shah AJ, Patel HT, et al (2009) MR Cholangiopancreatography at 3.0 T. RadioGraphics. https://doi.org/10.1148/rg.296095505

25.

Balci NC, Smith A, Momtahen AJ, et al (2010) MRI and S-MRCP findings in patients with suspected chronic pancreatitis: Correlation with endoscopic Pancreatic Function Testing (ePFT). J Magn Reson Imaging 31:601–606. https://doi.org/10.1002/jmri.22085

26.

Backer A De, Mortele K, Ros R (2002) Chronic Pancreatitis : Diagnostic Role of Computed Tomography and Magnetic Resonance Imaging. Jbr-Btr 304–310

27.

Heuck A, Maubach PA, Reiser M, et al (1987) Age-related morphology of the normal pancreas on computed tomography. Gastrointest Radiol 12:18–22. https://doi.org/10.1007/BF01885094

28.

Kipp JP, Olesen SS, Mark EB, et al (2018) Normal pancreatic volume in adults is influenced by visceral fat, vertebral body width and age. Abdom. Radiol.

29.

Mortelé KJ, Rocha TC, Streeter JL, Taylor AJ (2007) Multimodality Imaging of Pancreatic and Biliary Congenital Anomalies. RadioGraphics. https://doi.org/10.1148/rg.263055164

30.

Andersen PL, Madzak A, Olesen SS, et al (2018) Quantification of parenchymal calcifications in chronic pancreatitis: relation to atrophy, ductal changes, fibrosis and clinical parameters. Scand J Gastroenterol 53:218–224. https://doi.org/10.1080/00365521.2017.1415372

31.

Sinha A, Singh VK, Cruise M, et al (2015) Abdominal CT predictors of fibrosis in patients with chronic pancreatitis undergoing surgery. Eur Radiol. https://doi.org/10.1007/s00330-014-3526-x
Ethics declarations
Conflict of interest
The authors declare that they have no conflict of interest.
Additional information
Publisher's Note
Springer Nature remains neutral with regard to jurisdictional claims in published maps and institutional affiliations.
About this article
Cite this article
Lisitskaya, M.V., Olesen, S.S., Svarc, P. et al. Systematic approach for assessment of imaging features in chronic pancreatitis: a feasibility and validation study from the Scandinavian Baltic Pancreatic Club (SBPC) database. Abdom Radiol 45, 1468–1480 (2020). https://doi.org/10.1007/s00261-020-02466-x
Keywords
Chronic pancreatitis

Imaging

Diagnosis

Severity

Validation