Abstract
Testicular cancer is responsible for approximately 0.1% of all cancer deaths in the USA, and seminoma is the most common type of testicular tumor. Ultrasonography is the primary imaging modality for accessing testicular and extratesticular lesions, while magnetic resonance imaging can be used for problem solving in lesion characterization in certain cases. CT imaging is usually performed for retroperitoneal staging of testicular cancer metastasis and follow-up after treatment. Extratesticular masses are common, yet rarely malignant. Imaging plays an important role in primary diagnosis of testicular cancer and differentiating it from common non-neoplastic findings. The purpose of this article is to review various imaging findings in testicular and extratesticular masses.
Access options
Buy single article
Instant access to the full article PDF.
US$ 39.95
Tax calculation will be finalised during checkout.
Subscribe to journal
Immediate online access to all issues from 2019. Subscription will auto renew annually.
US$ 79
Tax calculation will be finalised during checkout.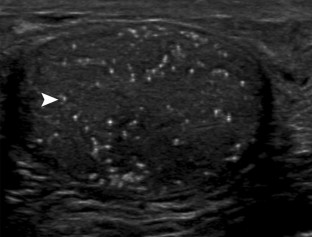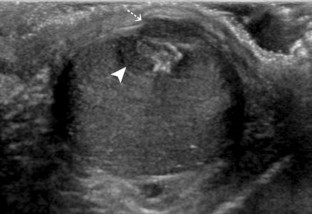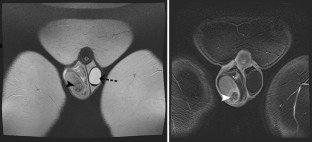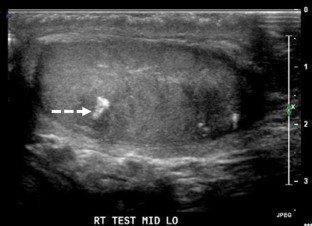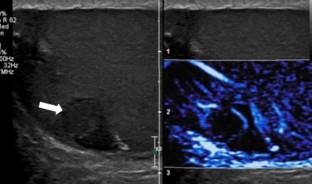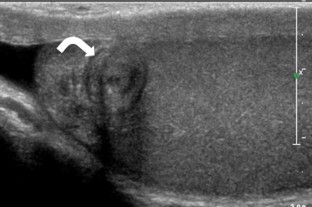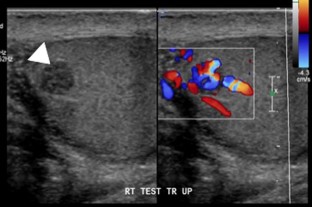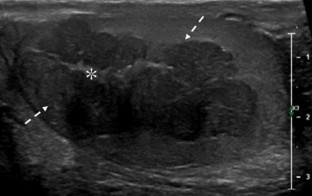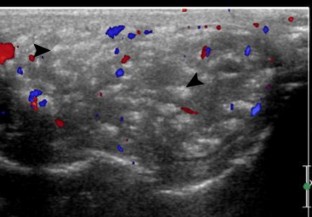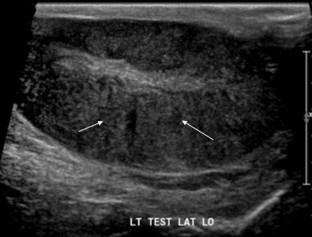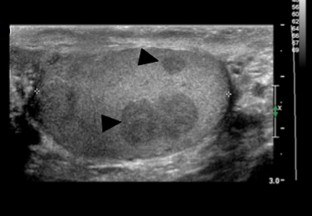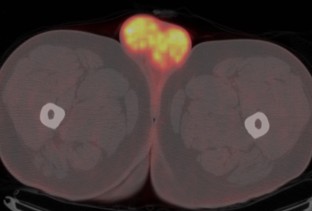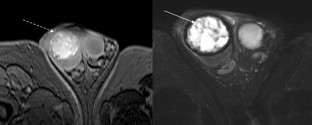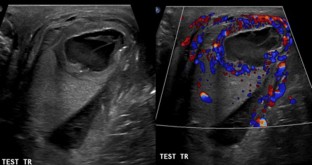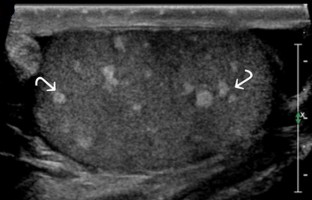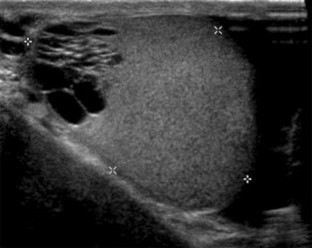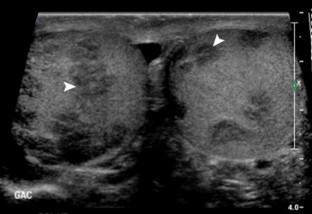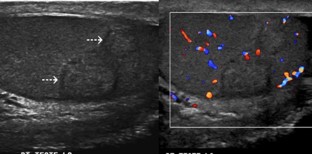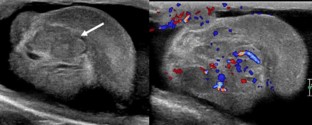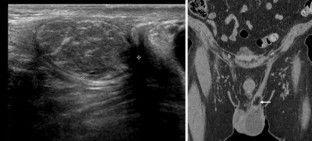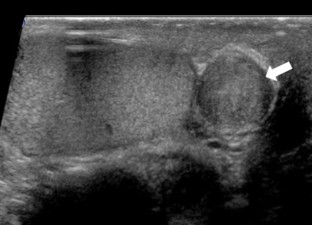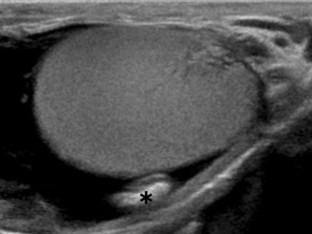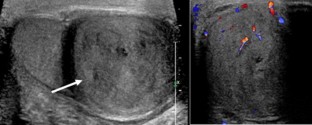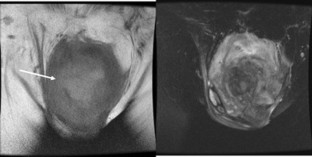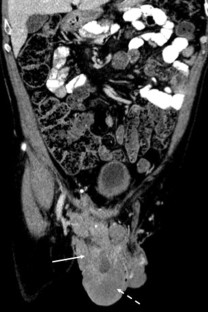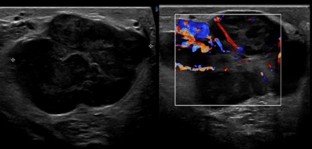 References
1.

Lejla Aganovic and Fiona Cassidy, Imaging of the Scrotum, Radiologic Clinics of North America, 2012-11-01, Volume 50, Issue 6, Pages 1145-1165.

2.

Trabert B, Chen J, Devesa SS, Bray F, McGlynn KA. International patterns and trends in testicular cancer incidence, overall and by histologic subtype, 1973-2007. Andrology 2015; 3(1):4–12.

3.

Stevenson SM, Lowrance WT. Epidemiology and diagnosis of testis cancer. Urol Clin North Am 2015; 42(3):269–275.

4.

SEER Cancer Statistics Factsheets: Testis Cancer. National Cancer Institute. Bethesda, MD. 2018. Available at: http://seer.cancer.gov/statfacts/html/testis.html. Accessed August 2, 2019.

5.

Theodore C., Terrier-Lacombe M.J., Laplanche A., et al: Bilateral germ-cell tumours: 22-year experience at the Institut Gustave Roussy. Br J Cancer 2004; 90: pp. 55-59.

6.

Wood H.M., and Elder J.S.: Cryptorchidism and testicular cancer: separating fact from fiction. J Urol 2009; 181: pp. 452-461.

7.

Coran, A. G., & Adzick, N. S. (2012). Pediatric surgery. Philadelphia, PA: Elsevier Mosby.

8.

Heller, H. T., Oliff, M. C., Doubilet, P. M., O'Leary, M. P. and Benson, C. B. (2014), Testicular microlithiasis: Prevalence and association with primary testicular neoplasm. J. Clin. Ultrasound, 42: 423-426.

9.

Wang T, Liu L, Luo J, Liu T, Wei A, A Meta-Analysis of the Relationship between Testicular Microlithiasis and Incidence of Testicular Cancer. Urol J. 2015; 12(2):2057-64.

10.

Richenberg, J. & Brejt, N. Testicular microlithiasis: is there a need for surveillance in the absence of other risk factors? Eur Radiol (2012) 22: 2540.

11.

Patel KV, Navaratne S, Bartlett E, Clarke JL, Muir GH, Sellars ME, Sidhu PS, Testicular Microlithiasis: Is Sonographic Surveillance Necessary? Single Centre 14 Year Experience in 442 Patients with Testicular Microlithiasis. Ultraschall Med. 2016; 37(1):68-73.

12.

Richenberg J., Belfield J., Ramchandani P., Rocher L., Freeman S., Tsili A.C., et al: Testicular microlithiasis imaging and follow-up: guidelines of the ESUR scrotal imaging subcommittee. Eur Radiol 2015; 25: pp. 323-330.

13.

Elzinga-Tinke JE, Sirre ME, Looijenga LHJ, Van Casteren N, Wildhagen MF, Dohle GR. The predictive value of testicular ultrasound abnormalities for carcinoma in situ of the testis in men at risk for testicular cancer. Int J Androl. 2010;33:597–603.

14.

Montgomery JS, Bloom DA. The diagnosis and management of scrotal masses. Med Clin North Am. 2011; 95:235–244.

15.

Albers P., Albrecht W., Algaba F., et al: EAU guidelines on testicular cancer: 2011 update. Eur Urol 2011; 60: pp. 304-319.

16.

S.R. Williamson, B. Delahunt, C. Magi-Galluzzi, et al. Members of the ISUP testicular tumour panel. The World Health Organization 2016 classification of testicular germ cell tumours: a review and update from the international society of urological pathology testis consultation panel. Histopathology, 70 (2017 Feb), pp. 335-346.

17.

Lewis J. Thomas, Michael A. Brooks, Andrew J. Stephenson, The Role of Imaging in the Diagnosis, Staging, Response to Treatment, and Surveillance of Patients with Germ Cell Tumors of the Testis, Urologic Clinics of North America, Volume 46, Issue 3, 2019, Pages 315-331.

18.

Andrew J Stephenson, Joel Sheinfeld, The role of retroperitoneal lymph node dissection in the management of testicular cancer, Urologic Oncology: Seminars and Original Investigations, Volume 22, Issue 3, 2004, Pages 225-233.

19.

M.B. Amin, S.B. Edge, F.L. Greene, et al. (Eds.), AJCC cancer staging manual (8th ed), Springer, New York, NY (2017).

20.

Aigner F, De Zordo T, Pallwein-Prettner L, Junker D, Schäfer G, Pichler R, Leonhartsberger N, Pinggera G, Dogra VS, Frauscher F. Real-time sonoelastography for the evaluation of testicular lesions. Radiology. 2012;263(2):584–9.

21.

Huang DY, Sidhu PS. Focal testicular lesions: colour Doppler ultrasound, contrast-enhanced ultrasound and tissue elastography as adjuvants to the diagnosis. Br J Radiol. 2012; 85 Spec No 1(Spec Iss 1):S41–S53.

22.

Marko J, Wolfman DJ, Aubin AL, et al. Testicular Seminoma and Its Mimics: From the Radiologic Pathology Archives. RadioGraphics. 2017; 37:1085–98.

23.

Tsili A.C., Bertolotto M., Turgut A.T., et al: MRI of the scrotum: recommendations of the ESUR scrotal and penile imaging working group. Eur Radiol 2018; 28: pp. 31-43).

24.

Groll RJ, Warde P, Jewett MA Comprehensive systematic review of testicular germ cell tumor surveillance. Crit Rev Oncol Hematol. 2007; 64(3):182-97.

25.

Sohaib SA, Koh DM, Husband JE The role of imaging in the diagnosis, staging, and management of testicular cancer. AJR Am J Roentgenol. 2008; 191(2):387-95.

26.

Hale GR, Teplitsky S, Truong H, Gold SA, Bloom JB, Agarwal PK. Lymph node imaging in testicular cancer. Transl Androl Urol. 2018;7(5):864–874.

27.

Kreydin EI, Barrisford GW, Feldman AS, Preston MA Testicular cancer: what the radiologist needs to know. AJR Am J Roentgenol. 2013; 200(6):1215-25.

28.

EAU Guidelines Office, Arnhem, The Netherlands. EAU Guidelines. Presented at the EAU Annual Congress Copenhagen 2018.

29.

Dotzauer R, Thomas C, Jäger W. The use of F-FDG PET/CT in testicular cancer. Transl Androl Urol. 2018; 7(5):875–878.

30.

Browne TJ, Richie JP, Gilligan TD, Rubin MA. Intertubular growth in pure seminomas: associations with poor prognostic parameters. Hum Pathol 2005; 36(6):640–645.

31.

Sommers D, Winter T. Ultrasonography evaluation of scrotal masses. Radiol Clin North Am 2014; 52: 1265-81.

32.

Mahan Mathur, Michael Spektor, MR Imaging of the Testicular and Extratesticular Tumors: When Do We Need?, Magnetic Resonance Imaging Clinics of North America, Volume 27, Issue 1, 2019, Pages 151-171.

33.

Petrelli F, Coinu A, Cabiddu M, Ghilardi M, Borgonovo K, Lonati V, et al. Surveillance or Adjuvant Treatment With Che- motherapy or Radiotherapy in Stage I Seminoma: A Systematic Review and Meta-Analysis of 13 Studies. Clin Genitourin Cancer 2015;13:428–34.

34.

Yuasa T, Yoshiki T, Ogawa O, Tanaka T, Isono T, Mishina M, et al. Detection of alpha-fetoprotein mRNA in seminoma. J Androl 1999;20:336–40.

35.

Marshall, C., Enzerra, M., Rahnemai-Azar, A.A. et al. Serum tumor markers and testicular germ cell tumors: a primer for radiologists. Abdom Radiol (2019) 44: 1083).

36.

Woodward P.J., Sohaey R., O'Donoghue M.J., et al: From the archives of the AFIP: tumors and tumorlike lesions of the testis: radiologic-pathologic correlation. Radiographics 2002; 22: pp. 189-216.

37.

L. Cheng, B. Lyu, L.M. Roth Perspectives on testicular germ cell neoplasms Hum Pathol, 59 (2017), pp. 10-25.

38.

CJ Logothetis, ML Samuels, A Trindade, DE Johnson The growing teratoma syndrome Cancer, 50 (1982), pp. 1629-1635.

39.

Ali, Tehmina Z. et al. Benign and Malignant Neoplasms of the Testis and Paratesticular Tissue Surgical Pathology Clinics, Volume 2, Issue 1, 61-159.

40.

Beck SDW, Foster RS, Bihrle R, Donohue JP. Significance of primary tumor size and preorchiectomy serum tumor marker level in predicting pathologic stage at retroperitoneal lymph node dissection in clinical Stage A nonseminomatous germ cell tumors. Urology 2007;69:557–9.

41.

Milose JC, Filson CP, Weizer AZ, Hafez KS, Montgomery JS. Role of biochemical markers in testicular cancer: diagnosis, staging, and surveillance. Open Access J Urol 2011;4:1–8.

42.

Guney S., Guney N., Sonmez N.C., et al: Risk-adapted management for patients with clinical stage I non-seminomatous germ cell tumour of the testis. Med Oncol 2009; 26: pp. 136-142.

43.

Tsili AC et al MRI in the Histologic Characterization of Testicular Neoplasms. American Journal of Roentgenology 2007 189:6.

44.

Bernard and Sweeney, Diagnosis and Treatment of Testicular Cancer: A Clinician's Perspective, Surgical Pathology Clinics, 2015, Volume 8, Issue 4, December 2015, Pages 717-723.

45.

Nidhi Aggarwal and Anil V. Parwani (2009) Spermatocytic Seminoma. Archives of Pathology & Laboratory Medicine: December 2009, Vol. 133, No. 12, pp. 1985-1988.

46.

Moch H, Cubilla AL, Humphrey PA, Reuter VE, Ulbright TM. The 2016 WHO Classification of Tumours of the Urinary System and Male Genital Organs: part A—renal, penile, and testicular tumours. Eur Urol 2016;70(1):93–105.

47.

Varela JR, Pombo F, Requejo I, Aguilera C, Bargiela A, Alvarez A. Spermatocytic seminoma: sonographic appearance. J Ultrasound Med 1996;15(8):607–609.

48.

Sharmeen F, Rosenthal MH, Howard SA. The management of retroperitoneal lymphadenopathy in spermatocytic seminoma of the testicle. Clin Imaging 2014;38(2):202–204.

49.

Grady RW, Ross JH, Kay R. Epidemiological features of testicular teratoma in a prepubertal population. J. Urol. 1997; 158; 1191–1192.

50.

Langer J.E., Ramchandani P., Siegelman E.S., and Banner M.P.: Epidermoid cysts of the testicle: sonographic and MR imaging features. AJR Am J Roentgenol 1999; 173: pp. 1295-1299.

51.

Alma G. Loya, Jonathan W. Said, and Edward G. Grant Epidermoid Cyst of the Testis: Radiologic-Pathologic Correlation RadioGraphics 2004 24:suppl_1, S243-S246.

52.

Genevieve L. Bennett and Roberto A. Garcia Benign Intratesticular Dermoid Cyst: Sonographic Findings, American Journal of Roentgenology 2002 179:5, 1315-1317.

53.

OB Stroosma, KP Delaere Carcinoid tumours of the testis BJU Int, 101 (2008), pp. 1101-1105.

54.

Dilworth JP, Farrow GM, Oesterling JE. Non‐germ cell tumors of testis. Urology 1991; 37; 399–417.

55.

Manganaro L, Vinci V, Pozza C, et al (2015) A prospective study on contrast-enhanced magnetic resonance imaging of testicular lesions: distinctive features of Leydig cell tumours. Eur Radiol 25:3586-95.

56.

Aksglaede L, Skakkebaek NE, Almstrup K, Juul A. Clinical and biological parameters in 166 boys, adolescents and adults with nonmosaic Klinefelter syndrome: a Copenhagen experience. Acta Paediatr. 2011; 100; 793–806.

57.

Fernández GC, Tardáguila F, Rivas C et al. Case report: MRI in the diagnosis of testicular Leydig cell tumour. Br J Radiol 2004;77(918):521–524.

58.

Idrees, M T, Ulbright, T M, Oliva, E, Young, R H, Montironi, R, Egevad, L, Berney, D, Srigley, J R, Epstein, J I, Tickoo, S K & the Members of the International Society of Urological Pathology Testicular Tumour Panel (2017) Histopathology 70, 513– 521. https://doi.org/10.1111/his.13115 The World Health Organization 2016 classification of testicular non‐germ cell tumours: a review and update from the International Society of Urological Pathology Testis Consultation Panel.

59.

Cassidy F.H., Ishioka K.M., McMahon C.J., et al: MR imaging of scrotal tumors and pseudotumors. Radiographics 2010; 30: pp. 665-683.

60.

Stikkelbroeck NM, Otten BJ, Pasic A, et al. High prevalence of testicular adrenal rest tumors, impaired spermatogenesis, and Leydig cell failure in adolescent and adult males with congenital adrenal hyperplasia. J Clin Endocrinol Metab. 2001;86:5721–28.

61.

Ashley RA, McGee SM, Isotaolo PA, Kramer SA, Cheville JC. Clinical and pathological features associated with the testicular tumor of the adrenogenital syndrome. J. Urol. 2007; 177; 546–549.

62.

Dumic, M., Duspara, V., Grubic, Z. et al. Testicular adrenal rest tumors in congenital adrenal hyperplasia—cross-sectional study of 51 Croatian male patients Eur J Pediatr (2017) 176: 1393.

63.

Liu P, Thorner P Sonographic appearance of Sertoli cell tumour: with pathologic correlation. Pediatr Radiol 1993;23(2):127–128.

64.

Sharon L. Shin and Eric K. Outwater, Benign Large Cell Calcifying Sertoli Cell Tumor of the Testis in a Prepubescent Patient American Journal of Roentgenology 2007 189:2.

65.

Gundrum JD, Mathiason MA, Moore DB, Go RS. Primary testicular diffuse large B‐cell lymphoma: a population‐based study on the incidence, natural history, and survival comparison with primary nodal counterpart before and after the introduction of rituximab. J Clin Oncol 2009; 27:5227–5232,

66.

Wang, C., Wang, H., Wang, Q. et al. Primary testicular lymphoma: experience with 13 cases and literature review Int J Hematol (2013) 97: 240.

67.

Fonseca R, Habermann TM, Colgan JP, O'Neill BP, White WL, Witzig TE, et al. Testicular lymphoma is associated with a high incidence of extranodal recurrence. Cancer. 2000;88:154–61.

68.

Shahab N, Doll DC. Testicular lymphoma. Semin Oncol 1999;26(3):259-269.

69.

Crellin AM, Hudson BV, Bennett MH, Harland S, Hudson GV. Non-Hodgkin's lymphoma of the testis. Radiother Oncol 1993;27(2):99-106.

70.

Bhat S, Sachin J, Ramaprasad A, Job S. Striated pattern on scrotal ultrasonography: a marker for non‐Hodgkins lymphoma of testis. Indian J Urol 2014; 30:113–114.

71.

Nabil Adra, Lawrence H. Einhorn, Testicular Cancer Update, Clinical Advances in Hematology & Oncology May 2017 - Volume 15, Issue 5, pages 386-397.

72.

Coté TR, Biggar RJ, Rosenberg PS, et al; AIDS/Cancer Study Group. Non-Hodgkin's lymphoma among people with AIDS: incidence, presentation and public health burden. Int J Cancer 1997;73(5):645-650.

73.

Cheah, C. Y., Wirth, A., & Seymour, J. F. (2014). Primary testicular lymphoma. Blood, 123(4), 486-493. Accessed August 09, 2019.

74.

Rawal A, Keeler TC, Milano MA.Testicular extramedullary myeloid cell tumor: report of a case with unique clinicopathological features and a brief review of the literature. Arch Pathol Lab Med 2004; 128:332–334.

75.

Narayanan G, Joseph R, Soman LV. Bilateral synchronous plasmacytoma of the testis. Proc (Bayl Univ Med Cent) 2016;29:196-7.

76.

Schmoll HJ, Jordan K, Huddart R, et al; ESMO Guidelines Working Group. Testicular seminoma: ESMO Clinical Practice Guidelines for diagnosis, treatment and follow-up. Ann Oncol. 2010;21(suppl 5):v140-v146.

77.

Krege S., Beyer J., Souchon R., et al: European consensus conference on diagnosis and treatment of germ cell cancer: a report of the second meeting of the European Germ Cell Cancer Consensus group (EGCCCG): part I. Eur Urol 2008; 53: pp. 478-496.

78.

Oldenburg J, Fosså SD, Nuver J, et al; ESMO Guidelines Working Group. Testicular seminoma and non-seminoma: ESMO Clinical Practice Guidelines for diagnosis, treatment and follow-up. Ann Oncol. 2013;24(suppl 6):vi125-vi132.

79.

Gilligan T, Lin DW, Aggarwal R et al: Testicular cancer: NCCN clinical practice guidelines in oncology. Version I. 2019-OCTOBER 22, 2018. https://www.nccn.org/professionals/physician_gls/default.aspx (Accessed August 1, 2019).

80.

Woodhouse J, Ferguson MM Multiple hyperechoic testicular lesions are a common finding on ultrasound in Cowden disease and represent lipomatosis of the testis. Br J Radiol 2006;79(946):801–803.

81.

Kara, T., Durmaz, M.S. & Ceken, K. Ultrasonography of tubular ectasia of the rete testis with associated scrotal findings J Med Ultrasonics (2013) 40: 27.

82.

Dogra VS, Gottlieb RH, Rubens DJ, Liao L. Benign intratesticular cystic lesions: US features. Radiographics. 2001;21(Suppl):S273–81.

83.

R. Fernandez Atuan et al Splenogonadal fusion: Case report and review of literature, Journal of Pediatric Surgery Case Reports, Volume 1, Issue 10, 2013, Pages 375-377.

84.

Rayson, D. , Burch, P. A. and Richardson, R. L. (1998), Sarcoidosis and testicular carcinoma. Cancer, 83: 337-343.

85.

Fernández-Pérez GC, Tardáguila FM, Velasco M et al. Radiologic findings of segmental testicular infarction. AJR Am J Roentgenol 2005;184(5): 1587–1593.

86.

Akbar SA, Sayyed TA, Jafri SZ, Hasteh F, Neill JS. Multimodality imaging of paratesticular neoplasms and their rare mimics. Radiographics. 2003;23(6):1461–76.

87.

Valentino M, Bertolotto M, Ruggirello M, Pavlica P, Barozzi L, Rossi C. Cystic lesions and scrotal fluid collections in adults: Ultrasound findings. J Ultrasound. 2011;14(4):208–215.

88.

Amin W, Parwani AV. Adenomatoid tumor of testis. Clin Med Pathol 2009; 2:17–22.

89.

Williams SB, Han M, Jones R, Andrawis R. Adenomatoid tumor of the testes. Urology. 2004; 63(4):779–781.

90.

Wolfman DJ, Marko J, Gould CF, Sesterhenn IA, Lattin GE Jr. Mesenchymal extratesticular tumors and tumorlike conditions: from the radiologic pathology archives. Radiographics 2015;35:1943–1954.

91.

Jung SE, Lee JM, Kang CS, Cho Y. Sclerosing Lipogranuloma of the Scrotum. J Ultrasound Med 2007;26:1231–1233.
Additional information
Publisher's Note
Springer Nature remains neutral with regard to jurisdictional claims in published maps and institutional affiliations.
About this article
Cite this article
Sharbidre, K.G., Lockhart, M.E. Imaging of scrotal masses. Abdom Radiol 45, 2087–2108 (2020). https://doi.org/10.1007/s00261-019-02395-4
Keywords
Testicular

Extratesticular

Ultrasound

Magnetic resonance imaging

Masses

Staging