Abstract
Ultrasound plays an essential role in the initial evaluation of patients with suspected or confirmed acute pancreatitis. In addition to evaluation of the pancreatic parenchyma, ultrasound is used for assessment of the gallbladder, biliary tree, peripancreatic tissues, and regional vascular structures. While enlarged and edematous pancreas are classic sonographic features of acute pancreatitis, the pancreas may appear sonographically normal in the setting of acute pancreatitis. Nonetheless, sonographic evaluation in this setting is valuable because assessment for etiologic factors such as gallstones or evidence of biliary obstruction are best performed with ultrasound. Complications of pancreatitis such as peripancreatic fluid collections, venous thrombosis, or arterial pseudoaneurysm can be identified with careful and focused ultrasound examination. Knowledge of various scanning techniques can help to mitigate some of the commonly encountered barriers to sonographic visualization of the pancreas and right upper quadrant structures. Ultrasound can also be used for guidance of percutaneous treatment such as drainage of fluid collections or pseudoaneurysm thrombosis. Difficulty in differentiating edematous from necrotizing pancreatitis can be mitigated with the use of contrast-enhanced ultrasound to assess pancreatic parenchymal enhancement.
Access options
Buy single article
Instant access to the full article PDF.
US$ 39.95
Tax calculation will be finalised during checkout.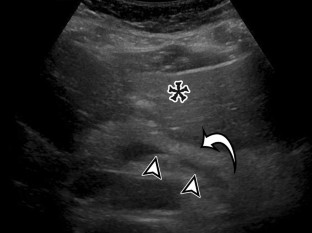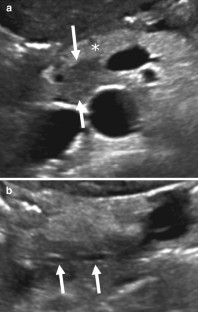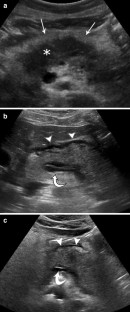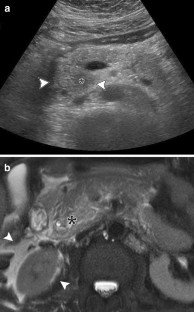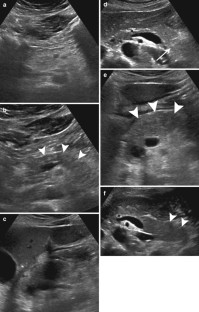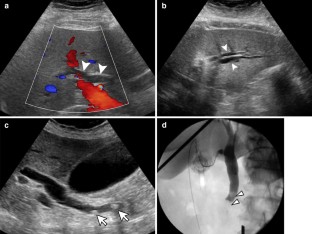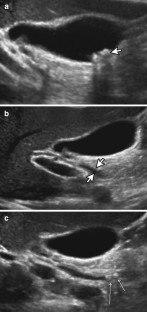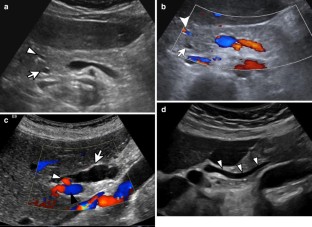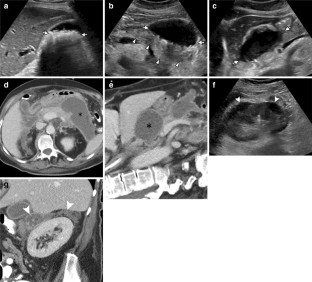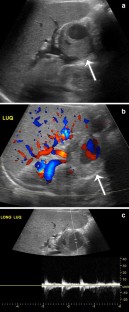 References
1.

Tenner S, Baillie J, Dewitt J, Vege SS (2013) American college of gastroenterology guideline: Management of acute pancreatitis. Am J Gastroenterol 108: 1400-1415.

2.

Waller A, Long B, Koyfman A, Gottlieb M (2018) Acute Pancreatitis: Updates for Emergency Clinicians. J Emerg Med 55: 769-779.

3.

Johnson C, Lévy P (2010) Detection of Gallstones in Acute Pancreatitis: When and How? Pancreatology 10: 27-32.

4.

Schepers NJ, Besselink MGH, van Santvoort HC, Bakker OJ, Bruno MJ (2013) Early management of acute pancreatitis. Best Pract Res Clin Gastroenterol 27: 727-743.

5.

Porter KK, Zaheer A, Kamel IR, Horowitz JM, Arif-Tiwari H, et al. (2019) ACR Appropriateness Criteria® Acute Pancreatitis. J Am Coll Radiol 16: S316-S330.

6.

Dimastromatteo J, Brentnall T, Kelly KA (2017) Imaging in pancreatic disease. Nat Rev Gastroenterol Hepatol 14: 97-109.

7.

Moon J, Cha S, Cheon Y, Ahn H, Kim Y, et al. (2003) The detection of bile duct stones in suspected gallstone pancreatitis: Comparison of Mrcp, Ercp, and intraductal us. Gastroenterology 124: A32.

8.

Hertzberg BS, Middleton WD, Preceded by: Middleton WD Ultrasound : The Requisites.

9.

Lee JS, Kim SH, Jun DW, Han JH, Jang EC, et al. (2009) Clinical implications of fatty pancreas: Correlations between fatty pancreas and metabolic syndrome. World J Gastroenterol 15: 1869.

10.

Hung C-S, Tseng P-H, Tu C-H, Chen C-C, Liao W-C, et al. (2018) Increased Pancreatic Echogenicity with US: Relationship to Glycemic Progression and Incident Diabetes. Radiology 287: 853-863.

11.

Balthazar EJ (2002) Acute Pancreatitis: Assessment of Severity with Clinical and CT Evaluation. Radiology 223: 603-613.

12.

Bollen TL, van Santvoort HC, Besselink MGH, van Es WH, Gooszen HG, et al. (2007) Update on acute pancreatitis: ultrasound, computed tomography, and magnetic resonance imaging features. Semin Ultrasound CT MR 28: 371-83.

13.

Hadidi A (1983) Pancreatic duct diameter: Sonographic measurement in normal subjects. J Clin Ultrasound 11: 17-22.

14.

Edge MD, Hoteit M, Patel AP, Wang X, Baumgarten DA, et al. (2007) Clinical significance of main pancreatic duct dilation on computed tomography: Single and double duct dilation RAPID COMMUNICATION. World J Gastroenterol 13: 1701-1705.

15.

O'Connor OJ, McWilliams S, Maher MM (2011) Imaging of Acute Pancreatitis. Am J Roentgenol 197: W221-W225.

16.

Scaglione M, Casciani E, Pinto A, Andreoli C, De Vargas M, et al. (2008) Imaging Assessment of Acute Pancreatitis: A Review. Semin Ultrasound, CT MRI 29: 322-340.

17.

To'o KJ, Raman SS, Yu NC, Kim YJ, Crawford T, et al. (2005) Pancreatic and Peripancreatic Diseases Mimicking Primary Pancreatic Neoplasia. RadioGraphics 24: 949-965.

18.

Bowman AW, Bolan CW (2019) MRI evaluation of pancreatic ductal adenocarcinoma: diagnosis, mimics, and staging. Abdom Radiol 44: 936-949.

19.

Suramo I, Päivänsalo M, Myllylä V (1984) Cranio-caudal movements of the liver, pancreas and kidneys in respiration. Acta Radiol Diagn (Stockh) 25: 129-31.

20.

Rumack CM, Wilson SR, Charboneau JW (2005) Diagnostic Ultrasound. Elsevier Mosby.

21.

Neoptolemos JP, Hall AW, Finlay DF, Berry JM, Carr-Locke DL, et al. (1984) The urgent diagnosis of gallstones in acute pancreatitis: A prospective study of three methods. Br J Surg 71: 230-233.

22.

Lankisch PG, Apte M, Banks PA (2015) Acute pancreatitis. Lancet 386: 85-96.

23.

Ratanaprasatporn L, Uyeda JW, Wortman JR, Richardson I, Sodickson AD (2018) Multimodality Imaging, including Dual-Energy CT, in the Evaluation of Gallbladder Disease. RadioGraphics 38: 75-89.

24.

Vilgrain V, Palazzo L (2001) Choledocholithiasis: role of US and endoscopic ultrasound. Abdom Imaging 26: 7-14.

25.

Mitchell SE, Clark RA (1984) A comparison of computed tomography and sonography in choledocholithiasis. AJR Am J Roentgenol 142: 729-33.

26.

Gross BH, Harter LP, Gore RM, Callen PW, Filly RA, et al. (1983) Ultrasonic evaluation of common bile duct stones: prospective comparison with endoscopic retrograde cholangiopancreatography. Radiology 146: 471-4.

27.

Sugiyama M, Atomi Y (1997) Endoscopic ultrasonography for diagnosing choledocholithiasis: a prospective comparative study with ultrasonography and computed tomography. Gastrointest Endosc 45: 143-146.

28.

van Santvoort H, Bakker O, Besselink M, Bollen T, Fischer K, et al. (2011) Prediction of common bile duct stones in the earliest stages of acute biliary pancreatitis. Endoscopy 43: 8-13.

29.

Şurlin V, Săftoiu A, Dumitrescu D (2014) Imaging tests for accurate diagnosis of acute biliary pancreatitis. World J Gastroenterol 20: 16544-9.

30.

Gore RM, Levine MS (2010) High-Yield Imaging. Gastrointestinal. Saunders/Elsevier.

31.

Majeed AW, Ross B, Johnson AG, Reed MWR (1999) Common duct diameter as an independent predictor of choledocholithiasis: Is it useful? Clin Radiol 54: 170-172.

32.

Boys JA, Doorly MG, Zehetner J, Dhanireddy KK, Senagore AJ (2014) Can ultrasound common bile duct diameter predict common bile duct stones in the setting of acute cholecystitis? Am J Surg 207: 432-435.

33.

Hunt DR, Reiter L, Scott AJ (1990) Pre-operative ultrasound measurement of bile duct diameter: Basis for selective cholangiography. Aust N Z J Surg 60: 189-192.

34.

Ko CW, Sekijima JH, Lee SP (1999) Biliary Sludge. Ann Intern Med 130: 301.

35.

Lee SP, Nicholls JF, Park HZ (1992) Biliary Sludge as a Cause of Acute Pancreatitis. N Engl J Med 326: 589-593.

36.

Kirby JM, Vora P, Midia M, Rawlinson J Vascular complications of pancreatitis: imaging and intervention. Cardiovasc Intervent Radiol 31: 957-970.

37.

Bergert H, Hinterseher I, Kersting S, Leonhardt J, Bloomenthal A, et al. (2005) Management and outcome of hemorrhage due to arterial pseudoaneurysms in pancreatitis. Surgery 137: 323-328.

38.

Silverstein W, Isikoff MB, Hill MC, Barkin J (1981) Diagnostic imaging of acute pancreatitis: prospective study using CT and sonography. AJR Am J Roentgenol 137: 497-502.

39.

Busireddy KK, AlObaidy M, Ramalho M, Kalubowila J, Baodong L, et al. (2014) Pancreatitis-imaging approach. World J Gastrointest Pathophysiol 5: 252-70.

40.

Foster BR, Jensen KK, Bakis G, Shaaban AM, Coakley FV. (2016) Revised Atlanta Classification for Acute Pancreatitis: A Pictorial Essay. RadioGraphics 36: 675-687.

41.

Freeny PC, Hauptmann E, Althaus SJ, Traverso LW, Sinanan M (1998) Percutaneous CT-guided catheter drainage of infected acute necrotizing pancreatitis: techniques and results. Am J Roentgenol 170: 969-975.

42.

De Rosa A, Gomez D, Pollock JG, Bungay P, De Nunzio M, et al. (2012) The radiological management of pseudoaneurysms complicating pancreatitis. JOP 13: 660-6.

43.

Ripollés T, Martínez MJ, López E, Castelló I, Delgado F (2010) Contrast-enhanced ultrasound in the staging of acute pancreatitis. Eur Radiol 20: 2518-2523.
Additional information
Publisher's Note
Springer Nature remains neutral with regard to jurisdictional claims in published maps and institutional affiliations.
About this article
Cite this article
Burrowes, D.P., Choi, H.H., Rodgers, S.K. et al. Utility of ultrasound in acute pancreatitis. Abdom Radiol 45, 1253–1264 (2020). https://doi.org/10.1007/s00261-019-02364-x
Keywords
Pancreatitis

Gallstones

Ultrasound

Sonographic technique

Bile duct