Abstract
Postmenopausal endometriosis is an important clinical entity which is likely under-recognized and in which the Radiologist can play a valuable role. In this review, we describe the clinical presentation and management of postmenopausal endometriosis, appraising the literature and providing case examples. Persons with postmenopausal endometriosis may present with symptoms including pelvic pain or dyschezia, but endometriosis may also be an asymptomatic, incidental finding. Women may or may not have a prior history of endometriosis or a history of symptoms consistent with it. Therapies and conditions which increase exogenous or endogenous estrogen, respectively, increase the risk. Endometriosis can be found in different locations throughout the body, and the possibility of malignancy should be assessed, especially in the postmenopausal population, where age increases cancer risk. Treatment may involve surgery or medical interventions. Guidelines describing appropriate imaging surveillance in these patients are lacking. In the postmenopausal population, Radiologists need to consider endometriosis as a diagnosis, recommend appropriate exams such as MRI and US, and suggest endometriosis-associated malignancies when appropriate, based on classic morphologic features.
This is a preview of subscription content, log in to check access.
Access options
Buy single article
Instant access to the full article PDF.
US$ 39.95
Tax calculation will be finalised during checkout.
Subscribe to journal
Immediate online access to all issues from 2019. Subscription will auto renew annually.
US$ 99
Tax calculation will be finalised during checkout.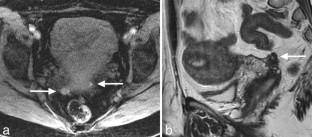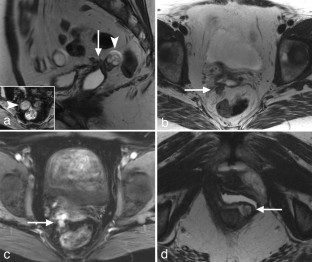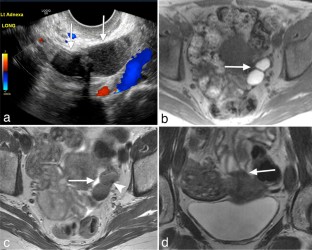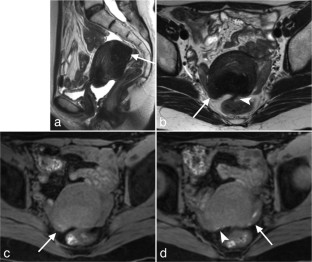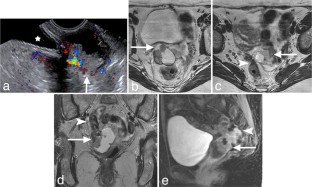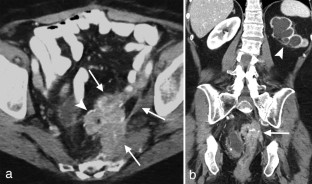 References
1.

Bulun SE (2009) Endometriosis. The New England journal of medicine 360 (3):268-279. doi:https://doi.org/10.1056/NEJMra0804690

2.

Falcone T, Flyckt R (2018) Clinical Management of Endometriosis. Obstetrics and gynecology 131 (3):557-571. doi:https://doi.org/10.1097/aog.0000000000002469

3.

Bendon CL, Becker CM (2012) Potential mechanisms of postmenopausal endometriosis. Maturitas 72 (3):214-219. doi:https://doi.org/10.1016/j.maturitas.2012.04.010

4.

Brosens I, Puttemans P, Benagiano G (2013) Endometriosis: a life cycle approach? American journal of obstetrics and gynecology 209 (4):307-316. doi:https://doi.org/10.1016/j.ajog.2013.03.009

5.

Streuli I, Gaitzsch H, Wenger JM, Petignat P (2017) Endometriosis after menopause: physiopathology and management of an uncommon condition. Climacteric : the journal of the International Menopause Society 20 (2):138-143. doi:https://doi.org/10.1080/13697137.2017.1284781

6.

Gemmell LC, Webster KE, Kirtley S, Vincent K, Zondervan KT, Becker CM (2017) The management of menopause in women with a history of endometriosis: a systematic review. Human reproduction update 23 (4):481-500. doi:https://doi.org/10.1093/humupd/dmx011

7.

Cohen I (2004) Endometrial pathologies associated with postmenopausal tamoxifen treatment. Gynecologic oncology 94 (2):256-266. doi:https://doi.org/10.1016/j.ygyno.2004.03.048

8.

Mirkin S, Archer DF, Taylor HS, Pickar JH, Komm BS (2014) Differential effects of menopausal therapies on the endometrium. Menopause (New York, NY) 21 (8):899-908. doi:https://doi.org/10.1097/gme.0000000000000186

9.

Bese T, Simsek Y, Bese N, Ilvan S, Arvas M (2003) Extensive pelvic endometriosis with malignant change in tamoxifen-treated postmenopausal women. International journal of gynecological cancer : official journal of the International Gynecological Cancer Society 13 (3):376-380

10.

Buckley CH (1990) Tamoxifen and endometriosis. Case report. British journal of obstetrics and gynaecology 97 (7):645-646. doi:https://doi.org/10.1111/j.1471-0528.1990.tb02557.x

11.

Cohen I, Altaras MM, Lew S, Tepper R, Beyth Y, Ben-Baruch G (1994) Ovarian endometrioid carcinoma and endometriosis developing in a postmenopausal breast cancer patient during tamoxifen therapy: a case report and review of the literature. Gynecologic oncology 55 (3 Pt 1):443-447. doi:https://doi.org/10.1006/gyno.1994.1319

12.

Cohen I, Beyth Y, Shapira J, Tepper R, Fishman A, Cordoba M, Bernheim J, Yigael D, Altaras MM (1997) High frequency of adenomyosis in postmenopausal breast cancer patients treated with tamoxifen. Gynecologic and obstetric investigation 44 (3):200-205. doi:https://doi.org/10.1159/000291520

13.

Ford MR, Turner MJ, Wood C, Soutter WP (1988) Endometriosis developing during tamoxifen therapy. American journal of obstetrics and gynecology 158 (5):1119. doi:https://doi.org/10.1016/0002-9378(88)90233-5

14.

de Almeida Asencio F, Ribeiro HA, Ayrosa Ribeiro P, Malzoni M, Adamyan L, Ussia A, Gomel V, Martin DC, Koninckx PR (2019) Symptomatic endometriosis developing several years after menopause in the absence of increased circulating estrogen concentrations: a systematic review and seven case reports. Gynecol Surg 16 (1):3. doi:https://doi.org/10.1186/s10397-019-1056-x

15.

Bulun SE, Yang S, Fang Z, Gurates B, Tamura M, Sebastian S (2002) Estrogen production and metabolism in endometriosis. Annals of the New York Academy of Sciences 955:75-85; discussion 86-78, 396-406. doi:https://doi.org/10.1111/j.1749-6632.2002.tb02767.x

16.

Morotti M, Remorgida V, Venturini PL, Ferrero S (2012) Endometriosis in menopause: a single institution experience. Archives of gynecology and obstetrics 286 (6):1571-1575. doi:https://doi.org/10.1007/s00404-012-2473-5

17.

Sun PR, Leng JH, Jia SZ, Lang JH (2013) Postmenopausal endometriosis: a retrospective analysis of 69 patients during a 20-year period. Chinese medical journal 126 (23):4588-4589

18.

Dick AL, Lang DW, Bergman RT, Bhatnagar BN, Selvaggi FP (1973) Postmenopausal endometriosis with ureteral obstruction. British journal of urology 45 (2):153-155. doi:https://doi.org/10.1111/j.1464-410x.1973.tb12132.x

19.

Maeda T, Uchida Y, Nakajima F (2009) Vesical endometriosis following the menopause. International urogynecology journal and pelvic floor dysfunction 20 (12):1515-1517. doi:https://doi.org/10.1007/s00192-009-0925-7

20.

Thylan S (1995) Re: Renal and diaphragmatic endometriosis de novo associated with hormone replacement therapy. The Journal of urology 154 (3):1143. doi:https://doi.org/10.1016/s0022-5347(01)67004-6

21.

Andriola V, Battaglia M, Ditonno P, Fiore MG, De Fazio M, Memeo R, Altomare DF (2016) The unexpected conundrum of endometrioid carcinoma in deep rectal endometriosis arising 11 years after total hysterectomy bilateral salpingo-oophorectomy. International journal of colorectal disease 31 (2):475-477. doi:https://doi.org/10.1007/s00384-015-2188-8

22.

Deval B, Rafii A, Felce Dachez M, Kermanash R, Levardon M (2002) Sigmoid endometriosis in a postmenopausal woman. American journal of obstetrics and gynecology 187 (6):1723-1725. doi:https://doi.org/10.1067/mob.2002.128394

23.

Izuishi K, Sano T, Shiota A, Mori H, Ebara K (2015) Small bowel obstruction caused by endometriosis in a postmenopausal woman. Asian journal of endoscopic surgery 8 (2):205-208. doi:https://doi.org/10.1111/ases.12154

24.

Magtibay PM, Heppell J, Leslie KO (2001) Endometriosis-associated invasive adenocarcinoma involving the rectum in a postmenopausal female: report of a case. Diseases of the colon and rectum 44 (10):1530-1533. doi:https://doi.org/10.1007/bf02234612

25.

Popoutchi P, dos Reis Lemos CR, Silva JC, Nogueira AA, Feres O, Ribeiro da Rocha JJ (2008) Postmenopausal intestinal obstructive endometriosis: case report and review of the literature. Sao Paulo medical journal = Revista paulista de medicina 126 (3):190-193

26.

Mohamed AAA, Selim YARM, Arif MA, Albroumi SA (2016) Gastric wall endometriosis in a postmenopausal woman. Egypt J Radiol Nucl Med 47 (4):1783-1786. doi:https://doi.org/10.1016/j.ejrnm.2016.08.005

27.

Threadcraft M, Fouad L, Bruce A, Nakhleh R, Dinh T (2017) Endometriosis in a Postmenopausal Patient Presenting as an Erythematous Vaginal Plaque. Journal of minimally invasive gynecology 24 (4):516-517. doi:https://doi.org/10.1016/j.jmig.2016.07.017

28.

Turkyilmaz E, Cinkaya A, Secen EI, Kayacetin S, Yavuz Avsar AF (2016) Postmenopausal Vaginal Endometriotic Cyst: A Case Report. J Clin Anal Med 7 (4):563-566. doi: https://doi.org/10.4328/jcam.4401

29.

Cameron M, Westwell S, Subramanian A, Ramesar K, Howlett D (2017) Postmenopausal Cutaneous Endometriosis: Mimicking Breast Metastasis. The breast journal 23 (3):356-358. doi:https://doi.org/10.1111/tbj.12742

30.

Choi SW, Lee HN, Kang SJ, Kim HO (1999) A case of cutaneous endometriosis developed in postmenopausal woman receiving hormonal replacement. Journal of the American Academy of Dermatology 41 (2 Pt 2):327-329. doi:https://doi.org/10.1016/s0190-9622(99)70377-4

31.

Flyckt R, Lyden S, Roma A, Falcone T (2011) Post-menopausal endometriosis with inferior vena cava invasion requiring surgical management. Human reproduction (Oxford, England) 26 (10):2709-2712. doi:https://doi.org/10.1093/humrep/der260

32.

Glastonbury CM (2002) The shading sign. Radiology 224 (1):199-201. doi:https://doi.org/10.1148/radiol.2241010361

33.

Corwin MG, EO; Lamba R; Wilson, M; McGahan JP (2014) Differentiation of Ovarian Endometriomas from Hemorrhagic Cysts at MR Imaging: Utility of the T2 Dark Spot Sign. Radiology 271 (1):126-132. doi:https://doi.org/10.1148/radiol.13131394

34.

Coutinho AB, LK; Pires, CE; Junqueira, F; Lima, CM; Coutinho, E; Domingues, MA; Domingues, RC; Marchiori, E (2011) MR imaging in deep pelvic endometriosis: a pictoral essay. Radiographics 31 (2):549-567. doi:https://doi.org/10.1148/rg.312105144

35.

35. Macario S, Chassang M, Novellas S, Baudin G, Delotte J, Toullalan O, Chevallier P (2012) The value of pelvic MRI in the diagnosis of posterior cul-de-sac obliteration in cases of deep pelvic endometriosis. AJR Am J Roentgenol 199 (6):1410-1415. doi:https://doi.org/10.2214/AJR.11.7898

36.

Yoon JH, Choi D, Jang KT, Kim CK, Kim H, Lee SJ, Chun HK, Lee WY, Yun SH (2010) Deep rectosigmoid endometriosis: "mushroom cap" sign on T2-weighted MR imaging. Abdom Imaging 35 (6):726-731. doi:https://doi.org/10.1007/s00261-010-9643-3

37.

Ghezzi F, Raio L, Cromi A, Duwe DG, Beretta P, Buttarelli M, Mueller MD (2005) "Kissing ovaries": a sonographic sign of moderate to severe endometriosis. Fertil Steril 83 (1):143-147. doi:https://doi.org/10.1016/j.fertnstert.2004.05.094

38.

Outwater ES, ES; Chiowanich, P; Kilger, AM; Dunton, CJ; Talerman, A (1998) Dilated Fallopian Tubes: MR Imaging Characteristics. Radiology 208:463-469. doi:https://doi.org/10.1148/radiology.208.2.9680577

39.

Li J, Liu R, Tang S, Feng F, Liu C, Wang L, Zhao W, Zhang T, Yao Y, Wang X, Sun C (2019) Impact of endometriosis on risk of ovarian, endometrial and cervical cancers: a meta-analysis. Archives of gynecology and obstetrics 299 (1):35-46. doi:https://doi.org/10.1007/s00404-018-4968-1

40.

Dhanda ST, M; Kerkar, R; Jagmohan, P (2014) Diffusion-weighted imaging of gynecologic tumors: diagnostic pearls and potential pitfalls. Radiographics 34 (5):1393-1416. doi:https://doi.org/10.1148/rg.345130131

41.

Tanaka YO, Okada S, Yagi T, Satoh T, Oki A, Tsunoda H, Yoshikawa H (2010) MRI of endometriotic cysts in association with ovarian carcinoma. AJR Am J Roentgenol 194 (2):355-361. doi:https://doi.org/10.2214/AJR.09.2985

42.

Robinson KA, Menias CO, Chen L, Schiappacasse G, Shaaban AM, Caserta MP, Elsayes KM, VanBuren WM, Bolan CW (2019) Understanding malignant transformation of endometriosis: imaging features with pathologic correlation. Abdom Radiol (NY). doi:https://doi.org/10.1007/s00261-019-01914-7

43.

Polyzos NP, Fatemi HM, Zavos A, Grimbizis G, Kyrou D, Velasco JG, Devroey P, Tarlatzis B, Papanikolaou EG (2011) Aromatase inhibitors in post-menopausal endometriosis. Reproductive biology and endocrinology : RB&E 9:90. doi:https://doi.org/10.1186/1477-7827-9-90

44.

Levine D, Brown DL, Andreotti RF, Benacerraf B, Benson CB, Brewster WR, Coleman B, Depriest P, Doubilet PM, Goldstein SR, Hamper UM, Hecht JL, Horrow M, Hur HC, Marnach M, Patel MD, Platt LD, Puscheck E, Smith-Bindman R (2010) Management of asymptomatic ovarian and other adnexal cysts imaged at US: Society of Radiologists in Ultrasound Consensus Conference Statement. Radiology 256 (3):943-954. doi:https://doi.org/10.1148/radiol.10100213
Acknowledgements
The authors wish to thank Sonia Watson, PhD, and Desiree J. Lanzino, PT, PhD, for their help in editing the manuscript.
Funding
No sources of funding were utilized to conduct this review.
Ethics declarations
Conflict of interest
No conflicts of interest to disclose.
Additional information
Publisher's Note
Springer Nature remains neutral with regard to jurisdictional claims in published maps and institutional affiliations.
About this article
Cite this article
Cope, A.G., VanBuren, W.M. & Sheedy, S.P. Endometriosis in the postmenopausal female: clinical presentation, imaging features, and management. Abdom Radiol 45, 1790–1799 (2020). https://doi.org/10.1007/s00261-019-02309-4
Keywords
Endometriosis

Postmenopause

Magnetic resonance imaging

Ultrasonography