Abstract
Bladder cancer is the most common cancer of the urinary system and often presents with hematuria. Despite its relatively high incidence, bladder cancer is often under-recognized sonographically. Moreover, even when bladder abnormalities are identified, numerous other entities may mimic the appearance of bladder cancer. Given the incidence and prevalence of bladder cancer, it is important to recognize its variable appearance sonographically and distinguish it from its common mimics. We review the sonographic appearance of bladder cancer and its mimics, providing correlative CT/MR imaging as well as pathology. We stress the importance and advantage of ultrasound as a dynamic imaging modality, with the ability to optimize distinguishing bladder cancer from similar-appearing entities.
Access options
Buy single article
Instant access to the full article PDF.
USD 39.95
Price excludes VAT (USA)
Tax calculation will be finalised during checkout.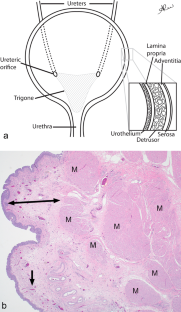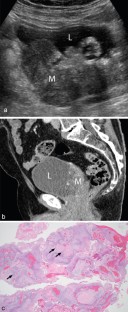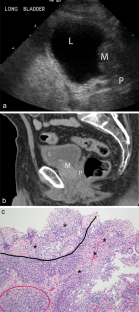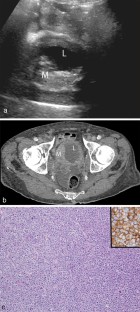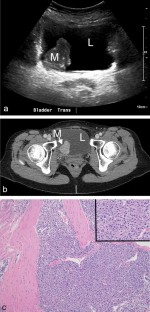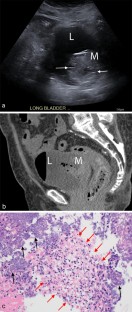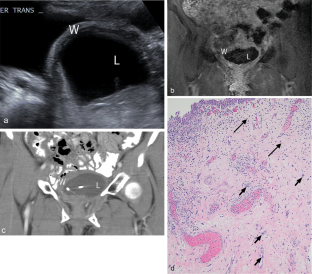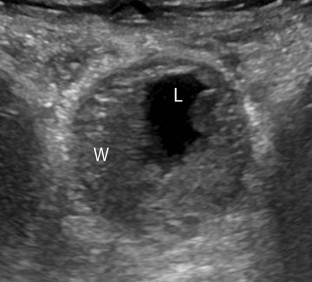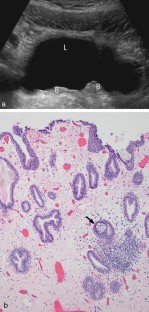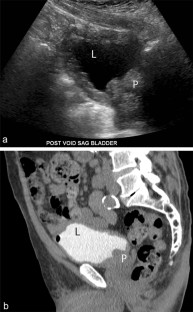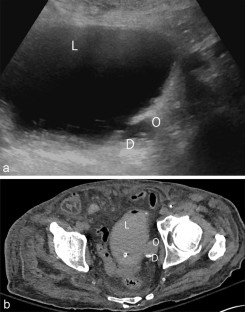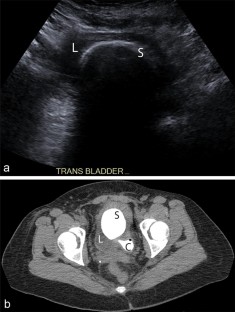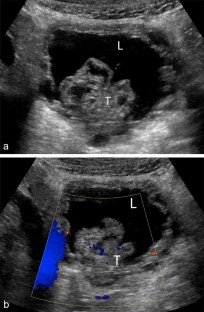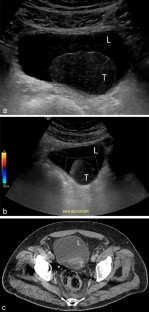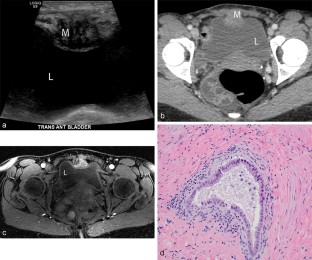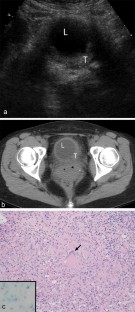 References
Tan WS, Sarpong R, Khetrapal P, Rodney S, Mostafid H, Cresswell J, Hicks J, Rane A, Henderson A, Watson D, Cherian J, Williams N, Brew-Graves C, Feber A, Kelly JD, Collaborators DIT (2018) Can Renal and Bladder Ultrasound Replace Computerized Tomography Urogram in Patients Investigated for Microscopic Hematuria? J Urol 200 (5):973-980. https://doi.org/10.1016/j.juro.2018.04.065

Horstmann M, Witthuhn R, Falk M, Stenzl A (2008) Gender-specific differences in bladder cancer: a retrospective analysis. Gend Med 5 (4):385-394. https://doi.org/10.1016/j.genm.2008.11.002

Shin K, Lim A, Odegaard JI, Honeycutt JD, Kawano S, Hsieh MH, Beachy PA (2014) Cellular origin of bladder neoplasia and tissue dynamics of its progression to invasive carcinoma. Nat Cell Biol 16 (5):469-478. https://doi.org/10.1038/ncb2956

Pashos CL, Botteman MF, Laskin BL, Redaelli A (2002) Bladder cancer: epidemiology, diagnosis, and management. Cancer Pract 10 (6):311-322

Amin MB, Edge SB, Greene FL, Byrd DR, Brookland RK, Washington MK, Gershenwald JE, Compton CC, Hess KR, Sullivan DC, Jessup JM, Brierley JD, Gaspar LE, Schilsky RL, Balch CM, Winchester DP, Asare EA (2018) AJCC Cancer Staging Manual. 8th edition edn. Springer, Chicago

Pelucchi C, Bosetti C, Negri E, Malvezzi M, La Vecchia C (2006) Mechanisms of disease: The epidemiology of bladder cancer. Nat Clin Pract Urol 3 (6):327-340. https://doi.org/10.1038/ncpuro0510

Shinagare AB, Ramaiya NH, Jagannathan JP, Fennessy FM, Taplin ME, Van den Abbeele AD (2011) Metastatic pattern of bladder cancer: correlation with the characteristics of the primary tumor. AJR Am J Roentgenol 196 (1):117-122. https://doi.org/10.2214/ajr.10.5036

Malats N, Real FX (2015) Epidemiology of bladder cancer. Hematol Oncol Clin North Am 29 (2):177-189, vii. https://doi.org/10.1016/j.hoc.2014.10.001

Bladder cancer: diagnosis and management of bladder cancer: (c) NICE (2015) Bladder cancer: diagnosis and management of bladder cancer (2017). BJU Int 120 (6):755-765. https://doi.org/10.1111/bju.14045

Schulz MR, Loomis D (2000) Occupational bladder cancer mortality among racial and ethnic minorities in 21 states. Am J Ind Med 38 (1):90-98

Fortuny J, Kogevinas M, Zens MS, Schned A, Andrew AS, Heaney J, Kelsey KT, Karagas MR (2007) Analgesic and anti-inflammatory drug use and risk of bladder cancer: a population based case control study. BMC Urol 7:13. https://doi.org/10.1186/1471-2490-7-13

Lopez-Beltran A, Montironi R, Raspollini MR, Cheng L, Netto GJ (2018) Iatrogenic pathology of the urinary bladder. Semin Diagn Pathol 35 (4):218-227. https://doi.org/10.1053/j.semdp.2018.03.001

Kleinerman RA, Boice JD, Jr., Storm HH, Sparen P, Andersen A, Pukkala E, Lynch CF, Hankey BF, Flannery JT (1995) Second primary cancer after treatment for cervical cancer. An international cancer registries study. Cancer 76 (3):442-452

Travis LB, Curtis RE, Storm H, Hall P, Holowaty E, Van Leeuwen FE, Kohler BA, Pukkala E, Lynch CF, Andersson M, Bergfeldt K, Clarke EA, Wiklund T, Stoter G, Gospodarowicz M, Sturgeon J, Fraumeni JF, Jr., Boice JD, Jr. (1997) Risk of second malignant neoplasms among long-term survivors of testicular cancer. J Natl Cancer Inst 89 (19):1429-1439

Wong-You-Cheong JJ, Woodward PJ, Manning MA, Sesterhenn IA (2006) From the Archives of the AFIP: neoplasms of the urinary bladder: radiologic-pathologic correlation. Radiographics 26 (2):553-580. https://doi.org/10.1148/rg.262055172

Patel U (2010) Imaging and Urodynamics of the Lower Urinary Tract. 2nd edn. Springer, London

Datta SN, Allen GM, Evans R, Vaughton KC, Lucas MG (2002) Urinary tract ultrasonography in the evaluation of haematuria--a report of over 1,000 cases. Ann R Coll Surg Engl 84 (3):203-205

Parada Villavicencio C, Adam SZ, Nikolaidis P, Yaghmai V, Miller FH (2016) Imaging of the Urachus: Anomalies, Complications, and Mimics. Radiographics 36 (7):2049-2063. https://doi.org/10.1148/rg.2016160062

Gopalan A, Sharp DS, Fine SW, Tickoo SK, Herr HW, Reuter VE, Olgac S (2009) Urachal carcinoma: a clinicopathologic analysis of 24 cases with outcome correlation. Am J Surg Pathol 33 (5):659-668. https://doi.org/10.1097/pas.0b013e31819aa4ae

Quan J, Pan X, Jin L, He T, Hu J, Shi B, Peng J, Chen Z, Yang S, Mao X, Lai Y (2017) Urachal carcinoma: Report of two cases and review of the literature. Mol Clin Oncol 6 (1):101-104. https://doi.org/10.3892/mco.2016.1082

Szarvas T, Modos O, Niedworok C, Reis H, Szendroi A, Szasz MA, Nyirady P (2016) Clinical, prognostic, and therapeutic aspects of urachal carcinoma-A comprehensive review with meta-analysis of 1,010 cases. Urol Oncol 34 (9):388-398. https://doi.org/10.1016/j.urolonc.2016.04.012

Wong-You-Cheong JJ, Woodward PJ, Manning MA, Davis CJ (2006) From the archives of the AFIP: Inflammatory and nonneoplastic bladder masses: radiologic-pathologic correlation. Radiographics 26 (6):1847-1868. https://doi.org/10.1148/rg.266065126

Venyo AK (2014) Lymphoma of the urinary bladder. Adv Urol 2014:327917. https://doi.org/10.1155/2014/327917

Iwamoto G, Kawahara T, Tanabe M, Ninomiya S, Takamoto D, Mochizuki T, Kuroda S, Takeshima T, Izumi K, Hattori Y, Teranishi JI, Yumura Y, Miyoshi Y, Uemura H (2017) Paraganglioma in the bladder: a case report. J Med Case Rep 11 (1):306. https://doi.org/10.1186/s13256-017-1473-2

Leestma JE, Price EB, Jr. (1971) Paraganglioma of the urinary bladder. Cancer 28 (4):1063-1073

Li W, Yang B, Che JP, Yan Y, Liu M, Li QY, Zhang YY, Zheng JH (2013) Diagnosis and treatment of extra-adrenal pheochromocytoma of urinary bladder: case report and literature review. Int J Clin Exp Med 6 (9):832-839

Bosserman AJ, Dai D, Lu Y (2019) Imaging Characteristics of a Bladder Wall Paraganglioma. Clin Nucl Med 44 (1):66-67. https://doi.org/10.1097/rlu.0000000000002324

Sanguedolce F, Loizzi D, Sollitto F, Di Bisceglie M, Lucarelli G, Carrieri G, Bufo P, Cormio L (2017) Bladder Metastases from Lung Cancer: Clinical and Pathological Implications: A Systematic Review. Oncology 92 (3):125-134. https://doi.org/10.1159/000454731

Doo SW, Kim WB, Kim BK, Yang WJ, Yoon JH, Jin SY, Song YS (2013) Metastasis of renal cell carcinoma to the bladder. Korean J Urol 54 (1):69-72. https://doi.org/10.4111/kju.2013.54.1.69

Wagenlehner FM, Weidner W, Pilatz A, Naber KG (2014) Urinary tract infections and bacterial prostatitis in men. Curr Opin Infect Dis 27 (1):97-101. https://doi.org/10.1097/qco.0000000000000024

Matz EL, Hsieh MH (2017) Review of Advances in Uroprotective Agents for Cyclophosphamide- and Ifosfamide-induced Hemorrhagic Cystitis. Urology 100:16-19. https://doi.org/10.1016/j.urology.2016.07.030

Lamm DL, van der Meijden PM, Morales A, Brosman SA, Catalona WJ, Herr HW, Soloway MS, Steg A, Debruyne FM (1992) Incidence and treatment of complications of bacillus Calmette-Guerin intravesical therapy in superficial bladder cancer. J Urol 147 (3):596-600

Singh I, Ansari MS (2001) Cystitis cystica glandularis masquerading as a bladder tumor. Int Urol Nephrol 33 (4):635-636. https://doi.org/10.1023/a:1020511826666

Manco LG (1985) Cystitis cystica simulating bladder tumor at sonography. J Clin Ultrasound 13 (1):52-54

Chung AD, Schieda N, Flood TA, Cagiannos I, Kielar AZ, McInnes MD, Siegelman ES (2015) Suburothelial and extrinsic lesions of the urinary bladder: radiologic and pathologic features with emphasis on MR imaging. Abdom Imaging 40 (7):2573-2588. https://doi.org/10.1007/s00261-015-0467-z

Dmochowski RR (2005) Bladder outlet obstruction: etiology and evaluation. Rev Urol 7 Suppl 6:S3-S13

Asimakopoulos AD, De Nunzio C, Kocjancic E, Tubaro A, Rosier PF, Finazzi-Agro E (2016) Measurement of post-void residual urine. Neurourol Urodyn 35 (1):55-57. https://doi.org/10.1002/nau.22671

Kinkel K, Frei KA, Balleyguier C, Chapron C (2006) Diagnosis of endometriosis with imaging: a review. Eur Radiol 16 (2):285-298. https://doi.org/10.1007/s00330-005-2882-y

Leone Roberti Maggiore U, Ferrero S, Candiani M, Somigliana E, Vigano P, Vercellini P (2017) Reply to Rodolfo Montironi, Silvia Gasparrini, Antonio Lopez-Beltran, et al's Letter to the Editor re: Umberto Leone Roberti Maggiore, Simone Ferrero, Massimo Candiani, et al. Bladder Endometriosis: A Systematic Review of Pathogenesis, Diagnosis, Treatment, Impact on Fertility, and Risk of Malignant Transformation. Eur Urol 2017;71:790-807. Benign Mullerian Lesions in the Urinary Bladder: Endometriosis, Endocervicosis, Endosalpingiosis, and Mullerianosis. Eur Urol 72 (5):e142. https://doi.org/10.1016/j.eururo.2017.05.028

Maccagnano C, Pellucchi F, Rocchini L, Ghezzi M, Scattoni V, Montorsi F, Rigatti P, Colombo R (2012) Diagnosis and treatment of bladder endometriosis: state of the art. Urol Int 89 (3):249-258. https://doi.org/10.1159/000339519

Beaty SD, Silva AC, De Petris G (2006) Bladder Endometriosis: Ultrasound and MRI Findings. Radiol Case Rep 1 (3):92-95. https://doi.org/10.2484/rcr.v1i3.16

Figueiredo AA, Lucon AM, Srougi M (2017) Urogenital Tuberculosis. Microbiol Spectr 5 (1). https://doi.org/10.1128/microbiolspec.tnmi7-0015-2016

Abbara A, Davidson RN, Medscape (2011) Etiology and management of genitourinary tuberculosis. Nat Rev Urol 8 (12):678-688. https://doi.org/10.1038/nrurol.2011.172

Figueiredo AA, Lucon AM, Junior RF, Srougi M (2008) Epidemiology of urogenital tuberculosis worldwide. Int J Urol 15 (9):827-832. https://doi.org/10.1111/j.1442-2042.2008.02099.x

Aswathaman K, Devasia A (2008) Thimble bladder. ANZ J Surg 78 (11):1049. https://doi.org/10.1111/j.1445-2197.2008.04742.x
Acknowledgements
We would like to acknowledge Jeslyn A. Rumbold for her editorial assistance.
Additional information
Publisher's Note
Springer Nature remains neutral with regard to jurisdictional claims in published maps and institutional affiliations.
About this article
Cite this article
Wentland, A.L., Desser, T.S., Troxell, M.L. et al. Bladder cancer and its mimics: a sonographic pictorial review with CT/MR and histologic correlation. Abdom Radiol 44, 3827–3842 (2019). https://doi.org/10.1007/s00261-019-02276-w
Published:

Issue Date:

DOI: https://doi.org/10.1007/s00261-019-02276-w
Keywords