Abstract
Nonobstructive azoospermia (NOA) can be caused by various diseases, including congenital disorders, endocrine disorders, infections, tumor or tumor-like diseases, vascular diseases, etc. Diagnosis of the underlying cause of NOA is complicated and challenging. In this study, we introduce an MR examination protocol for the etiological diagnosis of NOA, and demonstrate a series of NOA patients with different causes and imaging findings. Except for lesions of testes, the patients may also combine abnormalities of adrenal glands and central nervous system. In such cases, the patients could benefit from additional abdominal and intracranial scans.
Access options
Buy single article
Instant access to the full article PDF.
US$ 39.95
Tax calculation will be finalised during checkout.
Subscribe to journal
Immediate online access to all issues from 2019. Subscription will auto renew annually.
US$ 79
Tax calculation will be finalised during checkout.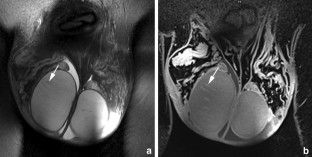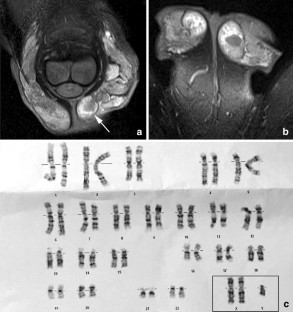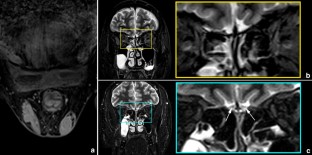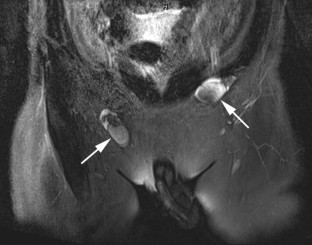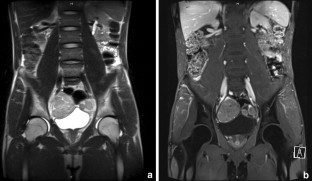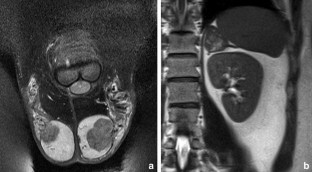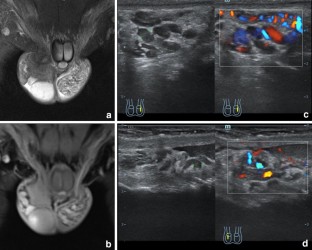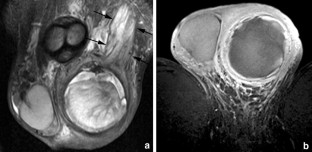 References
1.

Esteves SC (2015) Clinical management of infertile men with nonobstructive azoospermia. Asian journal of andrology 17 (3):459-470. https://doi.org/10.4103/1008-682x.148719

2.

Mantovani G, Mancini M, Gazzano G, Spada A, Colpi GM, Beck-Peccoz P, Persani L (2005) Somatic mutational analysis of DAX1 in testes from men with idiopathic azoospermia. Fertility and sterility 84 (5):1542-1544. https://doi.org/10.1016/j.fertnstert.2005.05.037

3.

Roucher-Boulez F, Mallet-Motak D, Samara-Boustani D, Jilani H, Ladjouze A, Souchon PF, Simon D, Nivot S, Heinrichs C, Ronze M, Bertagna X, Groisne L, Leheup B, Naud-Saudreau C, Blondin G, Lefevre C, Lemarchand L, Morel Y (2016) NNT mutations: a cause of primary adrenal insufficiency, oxidative stress and extra-adrenal defects. European journal of endocrinology 175 (1):73-84. https://doi.org/10.1530/eje-16-0056

4.

Santi D, Spaggiari G, Casarini L, Fanelli F, Mezzullo M, Pagotto U, Granata ARM, Carani C, Simoni M (2017) Central hypogonadism due to a giant, "silent" FSH-secreting, atypical pituitary adenoma: effects of adenoma dissection and short-term Leydig cell stimulation by luteinizing hormone (LH) and human chorionic gonadotropin (hCG). The aging male : the official journal of the International Society for the Study of the Aging Male 20 (2):96-101. https://doi.org/10.1080/13685538.2016.1276161

5.

Andreassen M, Juul A, Feldt-Rasmussen U, Jorgensen N (2018) Semen quality in patients with pituitary disease and adult-onset hypogonadotropic hypogonadism. Endocrine connections 7 (4):523-533. https://doi.org/10.1530/ec-18-0061

6.

Mittal PK, Little B, Harri PA, Miller FH, Alexander LF, Kalb B, Camacho JC (2017) Role of Imaging in the Evaluation of Male Infertility. Radiographics. 2017 May-Jun;37(3):837-854. https://doi.org/10.1148/rg.2017160125.

7.

Dogra VS, Gottlieb RH, Oka M, Rubens DJ (2003) Sonography of the scrotum. Radiology 227 (1):18-36. https://doi.org/10.1148/radiol.2271001744

8.

Parker RA, 3rd, Menias CO, Quazi R, Hara AK, Verma S, Shaaban A, Siegel CL, Radmanesh A, Sandrasegaran K (2015) MR Imaging of the Penis and Scrotum. Radiographics. 2015 Jul-Aug;35(4):1033-50. https://doi.org/10.1148/rg.2015140161.

9.

Tsili AC, Giannakis D, Sylakos A, Ntorkou A, Sofikitis N, Argyropoulou MI (2014) MR imaging of scrotum. Magnetic resonance imaging clinics of North America 22 (2):217-238, vi. https://doi.org/10.1016/j.mric.2014.01.007

10.

Wang H, Guan J, Lin J, Zhang Z, Li S, Guo Y, Cai H (2018) Diffusion-Weighted and Magnetization Transfer Imaging in Testicular Spermatogenic Function Evaluation: Preliminary Results. Journal of magnetic resonance imaging : JMRI 47 (1):186-190. https://doi.org/10.1002/jmri.25732

11.

Tsili AC, Ntorkou A, Goussia A, Astrakas L, Panopoulou E, Sofikitis N, Argyropoulou MI (2018) Diffusion tensor imaging parameters in testes with nonobstructive azoospermia. Journal of magnetic resonance imaging : JMRI 48 (5):1318-1325. https://doi.org/10.1002/jmri.26050

12.

Ntorkou A, Tsili AC, Goussia A, Astrakas LG, Maliakas V, Sofikitis N, Argyropoulou MI (2019) Testicular Apparent Diffusion Coefficient and Magnetization Transfer Ratio: Can These MRI Parameters Be Used to Predict Successful Sperm Retrieval in Nonobstructive Azoospermia? AJR American journal of roentgenology:1-9. https://doi.org/10.2214/ajr.18.20816

13.

Jungwirth A, Giwercman A, Tournaye H, Diemer T, Kopa Z, Dohle G, Krausz C (2012) European Association of Urology guidelines on Male Infertility: the 2012 update. European urology 62 (2):324-332. https://doi.org/10.1016/j.eururo.2012.04.048

14.

Winters BR, Walsh TJ (2014) The epidemiology of male infertility. The Urologic clinics of North America 41 (1):195-204. https://doi.org/10.1016/j.ucl.2013.08.006

15.

Bojesen A, Juul S, Gravholt CH (2003) Prenatal and postnatal prevalence of Klinefelter syndrome: a national registry study. The Journal of clinical endocrinology and metabolism 88 (2):622-626. https://doi.org/10.1210/jc.2002-021491

16.

Zou S, Li Z, Wang Y, Chen T, Song P, Chen J, He X, Xu P, Liang M, Luo K, Zhu X, Tian E, Du Q, Wen Z, Li Z, Wang M, Sha Y, Cao Y, Shi Y, Hu H (2014) Association study between polymorphisms of PRMT6, PEX10, SOX5, and nonobstructive azoospermia in the Han Chinese population. Biology of reproduction 90 (5):96. https://doi.org/10.1095/biolreprod.113.116541

17.

Yatsenko AN, Georgiadis AP, Ropke A, Berman AJ, Jaffe T, Olszewska M, Westernstroer B, Sanfilippo J, Kurpisz M, Rajkovic A, Yatsenko SA, Kliesch S, Schlatt S, Tuttelmann F (2015) X-linked TEX11 mutations, meiotic arrest, and azoospermia in infertile men. The New England journal of medicine 372 (22):2097-2107. https://doi.org/10.1056/nejmoa1406192

18.

Krausz C, Chianese C (2014) Genetic testing and counselling for male infertility. Current opinion in endocrinology, diabetes, and obesity 21 (3):244-250. https://doi.org/10.1097/med.0000000000000058

19.

Pierik FH, Van Ginneken AM, Dohle GR, Vreeburg JT, Weber RF (2000) The advantages of standardized evaluation of male infertility. International journal of andrology 23 (6):340-346

20.

Beard CM, Benson RC, Jr., Kelalis PP, Elveback LR, Kurland LT (1977) The incidence and outcome of mumps orchitis in Rochester, Minnesota, 1935 to 1974. Mayo Clinic proceedings 52 (1):3-7

21.

Paulsen CA, Gordon DL, Carpenter RW, Gandy HM, Drucker WD (1968) Klinefelter's syndrome and its variants: a hormonal and chromosomal study. Recent progress in hormone research 24:321-363

22.

Nieschlag E (2013) Klinefelter syndrome: the commonest form of hypogonadism, but often overlooked or untreated. Deutsches Arzteblatt international 110 (20):347-353. https://doi.org/10.3238/arztebl.2013.0347

23.

Zhang S, An Y, Li J, Guo J, Zhou G, Li J, Xu Y (2015) Relation between the testicular sperm assay and sex hormone level in patients with azoospermia induced by mumps. International journal of clinical and experimental medicine 8 (11):21669-21673

24.

Esteves SC (2016) Novel concepts in male factor infertility: clinical and laboratory perspectives. Journal of assisted reproduction and genetics 33 (10):1319-1335. https://doi.org/10.1007/s10815-016-0763-8

25.

Krausz C, Riera-Escamilla A (2018) Genetics of male infertility. Nature reviews Urology 15 (6):369-384. https://doi.org/10.1038/s41585-018-0003-3

26.

Ferlin A, Arredi B, Speltra E, Cazzadore C, Selice R, Garolla A, Lenzi A, Foresta C (2007) Molecular and clinical characterization of Y chromosome microdeletions in infertile men: a 10-year experience in Italy. The Journal of clinical endocrinology and metabolism 92 (3):762-770. https://doi.org/10.1210/jc.2006-1981

27.

Giachini C, Laface I, Guarducci E, Balercia G, Forti G, Krausz C (2008) Partial AZFc deletions and duplications: clinical correlates in the Italian population. Human genetics 124 (4):399-410. https://doi.org/10.1007/s00439-008-0561-1

28.

Krausz C, Giachini C, Xue Y, O'Bryan MK, Gromoll J, Rajpert-de Meyts E, Oliva R, Aknin-Seifer I, Erdei E, Jorgensen N, Simoni M, Ballesca JL, Levy R, Balercia G, Piomboni P, Nieschlag E, Forti G, McLachlan R, Tyler-Smith C (2009) Phenotypic variation within European carriers of the Y-chromosomal gr/gr deletion is independent of Y-chromosomal background. Journal of medical genetics 46 (1):21-31. https://doi.org/10.1136/jmg.2008.059915

29.

Teng YN, Lin YM, Sun HF, Hsu PY, Chung CL, Kuo PL (2006) Association of DAZL haplotypes with spermatogenic failure in infertile men. Fertility and sterility 86 (1):129-135. https://doi.org/10.1016/j.fertnstert.2005.12.027

30.

Becherini L, Guarducci E, Degl'Innocenti S, Rotondi M, Forti G, Krausz C (2004) DAZL polymorphisms and susceptibility to spermatogenic failure: an example of remarkable ethnic differences. International journal of andrology 27 (6):375-381. https://doi.org/10.1111/j.1365-2605.2004.00520.x

31.

Tung JY, Rosen MP, Nelson LM, Turek PJ, Witte JS, Cramer DW, Cedars MI, Pera RA (2006) Variants in Deleted in AZoospermia-Like (DAZL) are correlated with reproductive parameters in men and women. Human genetics 118 (6):730-740. https://doi.org/10.1007/s00439-005-0098-5

32.

Hu Z, Xia Y, Guo X, Dai J, Li H, Hu H, Jiang Y, Lu F, Wu Y, Yang X, Li H, Yao B, Lu C, Xiong C, Li Z, Gui Y, Liu J, Zhou Z, Shen H, Wang X, Sha J (2011) A genome-wide association study in Chinese men identifies three risk loci for non-obstructive azoospermia. Nature genetics 44 (2):183-186. https://doi.org/10.1038/ng.1040

33.

Akcan N, Poyrazoglu S, Bas F, Bundak R, Darendeliler F (2018) Klinefelter Syndrome in Childhood: Variability in Clinical and Molecular Findings. Journal of clinical research in pediatric endocrinology 10 (2):100-107. https://doi.org/10.4274/jcrpe.5121

34.

Page DC, Silber S, Brown LG (1999) Men with infertility caused by AZFc deletion can produce sons by intracytoplasmic sperm injection, but are likely to transmit the deletion and infertility. Human reproduction (Oxford, England) 14 (7):1722-1726. https://doi.org/10.1093/humrep/14.7.1722

35.

Heidelbaugh JJ (2016) Endocrinology Update: Testicular Hypogonadism. FP essentials 451:31-41

36.

Salonia A, Rastrelli G, Hackett G, Seminara SB, Huhtaniemi IT, Rey RA, Hellstrom WJG, Palmert MR, Corona G, Dohle GR, Khera M, Chan YM, Maggi M (2019) Paediatric and adult-onset male hypogonadism. Nature reviews Disease primers 5 (1):38. https://doi.org/10.1038/s41572-019-0087-y

37.

Gandhi J, Hernandez RJ, Chen A, Smith NL, Sheynkin YR, Joshi G, Khan SA (2017) Impaired hypothalamic-pituitary-testicular axis activity, spermatogenesis, and sperm function promote infertility in males with lead poisoning. Zygote (Cambridge, England) 25 (2):103-110. https://doi.org/10.1017/s0967199417000028

38.

Bouchard P, Lagoguey M, Brailly S, Schaison G (1985) Gonadotropin-releasing hormone pulsatile administration restores luteinizing hormone pulsatility and normal testosterone levels in males with hyperprolactinemia. The Journal of clinical endocrinology and metabolism 60 (2):258-262. https://doi.org/10.1210/jcem-60-2-258

39.

Veldhuis JD, Dufau ML (1987) Estradiol modulates the pulsatile secretion of biologically active luteinizing hormone in man. The Journal of clinical investigation 80 (3):631-638. https://doi.org/10.1172/jci113115

40.

MacAdams MR, White RH, Chipps BE (1986) Reduction of serum testosterone levels during chronic glucocorticoid therapy. Annals of internal medicine 104 (5):648-651

41.

Krassas GE, Poppe K, Glinoer D (2010) Thyroid function and human reproductive health. Endocrine reviews 31 (5):702-755. https://doi.org/10.1210/er.2009-0041

42.

Tanriverdi F, Dokmetas HS, Kebapci N, Kilicli F, Atmaca H, Yarman S, Ertorer ME, Erturk E, Bayram F, Tugrul A, Culha C, Cakir M, Mert M, Aydin H, Taskale M, Ersoz N, Canturk Z, Anaforoglu I, Ozkaya M, Oruk G, Hekimsoy Z, Kelestimur F, Erbas T (2014) Etiology of hypopituitarism in tertiary care institutions in Turkish population: analysis of 773 patients from Pituitary Study Group database. Endocrine 47 (1):198-205. https://doi.org/10.1007/s12020-013-0127-4

43.

Saeger W, Ludecke DK, Buchfelder M, Fahlbusch R, Quabbe HJ, Petersenn S (2007) Pathohistological classification of pituitary tumors: 10 years of experience with the German Pituitary Tumor Registry. European journal of endocrinology 156 (2):203-216. https://doi.org/10.1530/eje.1.02326

44.

Garre ML, Cama A (2007) Craniopharyngioma: modern concepts in pathogenesis and treatment. Current opinion in pediatrics 19 (4):471-479. https://doi.org/10.1097/mop.0b013e3282495a22

45.

Bergsneider M, Mirsadraei L, Yong WH, Salamon N, Linetsky M, Wang MB, McArthur DL, Heaney AP (2014) The pituitary stalk effect: is it a passing phenomenon? Journal of neuro-oncology 117 (3):477-484. https://doi.org/10.1007/s11060-014-1386-5

46.

Karstensen HG, Tommerup N (2012) Isolated and syndromic forms of congenital anosmia. Clinical genetics 81 (3):210-215. https://doi.org/10.1111/j.1399-0004.2011.01776.x

47.

Hardelin JP, Dode C (2008) The complex genetics of Kallmann syndrome: KAL1, FGFR1, FGF8, PROKR2, PROK2, et al. Sexual development : genetics, molecular biology, evolution, endocrinology, embryology, and pathology of sex determination and differentiation 2 (4-5):181-193. https://doi.org/10.1159/000152034

48.

Dode C, Teixeira L, Levilliers J, Fouveaut C, Bouchard P, Kottler ML, Lespinasse J, Lienhardt-Roussie A, Mathieu M, Moerman A, Morgan G, Murat A, Toublanc JE, Wolczynski S, Delpech M, Petit C, Young J, Hardelin JP (2006) Kallmann syndrome: mutations in the genes encoding prokineticin-2 and prokineticin receptor-2. PLoS genetics 2 (10):e175. https://doi.org/10.1371/journal.pgen.0020175

49.

Theas MS (2018) Germ cell apoptosis and survival in testicular inflammation. Andrologia 50 (11):e13083. https://doi.org/10.1111/and.13083

50.

Jalal H, Bahadur G, Knowles W, Jin L, Brink N (2004) Mumps epididymo-orchitis with prolonged detection of virus in semen and the development of anti-sperm antibodies. Journal of medical virology 73 (1):147-150. https://doi.org/10.1002/jmv.10544

51.

Liu W, Han R, Wu H, Han D (2018) Viral threat to male fertility. 50 (11):e13140. https://doi.org/10.1111/and.13140

52.

Morley JE, Distiller LA, Sagel J, Kok SH, Kay G, Carr P, Katz M (1977) Hormonal changes associated with testicular atrophy and gynaecomastia in patients with leprosy. Clinical endocrinology 6 (4):299-303

53.

Fode M, Fusco F, Lipshultz L, Weidner W (2016) Sexually Transmitted Disease and Male Infertility: A Systematic Review. European urology focus 2 (4):383-393. https://doi.org/10.1016/j.euf.2016.08.002

54.

Hviid A, Rubin S, Muhlemann K (2008) Mumps. Lancet (London, England) 371 (9616):932-944. https://doi.org/10.1016/s0140-6736(08)60419-5

55.

Manson AL (1990) Mumps orchitis. Urology 36 (4):355-358

56.

Adamopoulos DA, Lawrence DM, Vassilopoulos P, Contoyiannis PA, Swyer GI (1978) Pituitary-testicular interrelationships in mumps orchitis and other viral infections. British medical journal 1 (6121):1177-1180. https://doi.org/10.1136/bmj.1.6121.1177

57.

Lee PA, Houk CP (2013) Cryptorchidism. Current opinion in endocrinology, diabetes, and obesity 20 (3):210-216. https://doi.org/10.1097/med.0b013e32835ffc7d

58.

Muller J, Skakkebaek NE (1984) Abnormal germ cells in maldescended testes: a study of cell density, nuclear size and deoxyribonucleic acid content in testicular biopsies from 50 boys. The Journal of urology 131 (4):730-733

59.

Schindler AM, Diaz P, Cuendet A, Sizonenko PC (1987) Cryptorchidism: a morphological study of 670 biopsies. Helvetica paediatrica acta 42 (2-3):145-158

60.

Kim MS, Goodarzian F, Keenan MF, Geffner ME, Koppin CM, De Filippo RE, Kokorowski PJ (2017) Testicular Adrenal Rest Tumors in Boys and Young Adults with Congenital Adrenal Hyperplasia. The Journal of urology 197 (3 Pt 2):931-936. https://doi.org/10.1016/j.juro.2016.09.072

61.

Claahsen-van der Grinten HL, Sweep FC, Blickman JG, Hermus AR, Otten BJ (2007) Prevalence of testicular adrenal rest tumours in male children with congenital adrenal hyperplasia due to 21-hydroxylase deficiency. European journal of endocrinology 157 (3):339-344. https://doi.org/10.1530/eje-07-0201

62.

Dumic M, Duspara V, Grubic Z, Oguic SK, Skrabic V, Kusec V (2017) Testicular adrenal rest tumors in congenital adrenal hyperplasia-cross-sectional study of 51 Croatian male patients. European journal of pediatrics 176 (10):1393-1404. https://doi.org/10.1007/s00431-017-3008-7

63.

Stikkelbroeck NM, Suliman HM, Otten BJ, Hermus AR, Blickman JG, Jager GJ (2003) Testicular adrenal rest tumours in postpubertal males with congenital adrenal hyperplasia: sonographic and MR features. European radiology 13 (7):1597-1603. https://doi.org/10.1007/s00330-002-1786-3

64.

Falhammar H, Nystrom HF, Ekstrom U, Granberg S, Wedell A, Thoren M (2012) Fertility, sexuality and testicular adrenal rest tumors in adult males with congenital adrenal hyperplasia. European journal of endocrinology 166 (3):441-449. https://doi.org/10.1530/eje-11-0828

65.

Claahsen-van der Grinten HL, Otten BJ, Stikkelbroeck MM, Sweep FC, Hermus AR (2009) Testicular adrenal rest tumours in congenital adrenal hyperplasia. Best practice & research Clinical endocrinology & metabolism 23 (2):209-220. https://doi.org/10.1016/j.beem.2008.09.007

66.

Vassallo E, Pullicino R, Grech R, Mizzi A (2014) Bilateral primary testicular lymphoma. BMJ case reports 2014. https://doi.org/10.1136/bcr-2013-202997

67.

Kopp RP, Chevinsky M, Bernstein M, Bosl G, Motzer R, Bajorin D, Feldman D, Carver BS, Sheinfeld J (2017) Bilateral Testicular Germ Cell Tumors in the Era of Multimodal Therapy. Urology 103:154-160. https://doi.org/10.1016/j.urology.2016.10.018

68.

Sedaghatpour D, Berookhim BM (2017) The Role of Varicocele in Male Factor Subfertility. Current urology reports 18 (9):73. https://doi.org/10.1007/s11934-017-0713-8

69.

Barratt CLR, Bjorndahl L, De Jonge CJ, Lamb DJ, Osorio Martini F, McLachlan R, Oates RD, van der Poel S, St John B, Sigman M, Sokol R, Tournaye H (2017) The diagnosis of male infertility: an analysis of the evidence to support the development of global WHO guidance-challenges and future research opportunities. Human reproduction update 23 (6):660-680. https://doi.org/10.1093/humupd/dmx021

70.

Jensen CFS, Ostergren P, Dupree JM, Ohl DA, Sonksen J, Fode M (2017) Varicocele and male infertility. Nature reviews Urology 14 (9):523-533. https://doi.org/10.1038/nrurol.2017.98

71.

Thomas WE, Cooper MJ, Crane GA, Lee G, Williamson RC (1984) Testicular exocrine malfunction after torsion. Lancet (London, England) 2 (8416):1357-1360. https://doi.org/10.1016/s0140-6736(84)92056-7

72.

Jacobsen FM, Rudlang TM (2019) The Impact of Testicular Torsion on Testicular Function. https://doi.org/10.5534/wjmh.190037
Funding
This study was funded by Science and Technology Planning Project of Guangdong Province (2014A020212480) (Recipient: Jian Guan).
Ethics declarations
Conflict of interest
The authors declare that they have no conflicts of interests.
Ethical approval
All procedures performed in studies involving human participants were in accordance with the ethical standards of the institutional and national research committee (clinical scientific research and experimental animal ethics committee of the First Affiliated Hospital of Sun Yat-sen University, K0306116) and with the 1964 Helsinki declaration and its later amendments or comparable ethical standards.
Informed consent
Informed consent was obtained from all individual participants included in the study.
Additional information
Publisher's Note
Springer Nature remains neutral with regard to jurisdictional claims in published maps and institutional affiliations.
About this article
Cite this article
Peng, Y., Ouyang, L., Lin, Z. et al. MRI findings of nonobstructive azoospermia: lesions in and out of pelvic cavity. Abdom Radiol 45, 2213–2224 (2020). https://doi.org/10.1007/s00261-019-02232-8
Keywords
Nonobstructive azoospermia

Testes

MRI

Small surface coil

Functional imaging