Abstract
Neoplastic diseases affecting the urinary organs are common, and diagnosis by imaging is usually straightforward. However, infectious/inflammatory processes also commonly affect these organs and can be mistaken for a neoplasm. Familiarity with these potential mimickers and awareness of their imaging presentations are key for correct diagnosis. We present the imaging findings of non-neoplastic infectious/inflammatory diseases that can mimic a neoplastic process.
Access options
Buy single article
Instant access to the full article PDF.
USD 39.95
Price excludes VAT (USA)
Tax calculation will be finalised during checkout.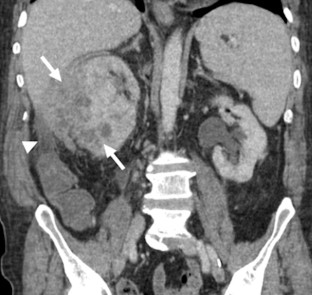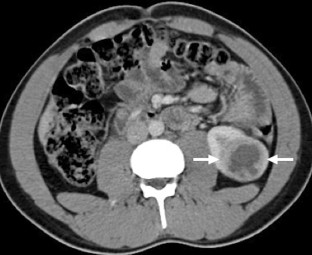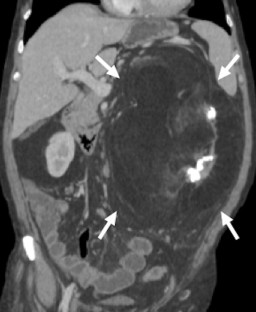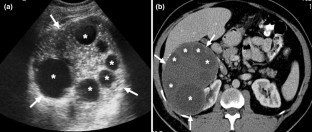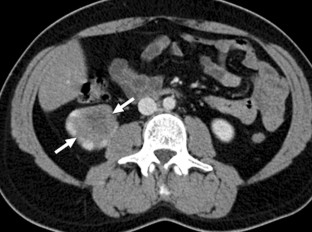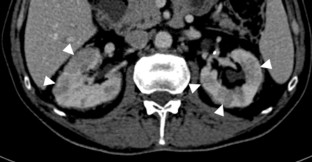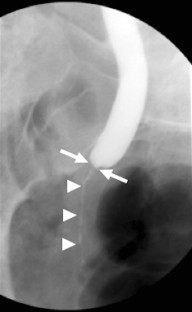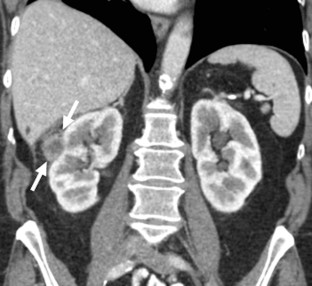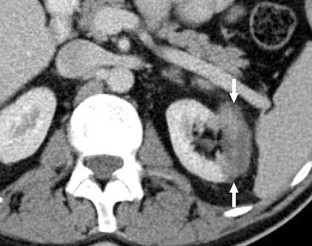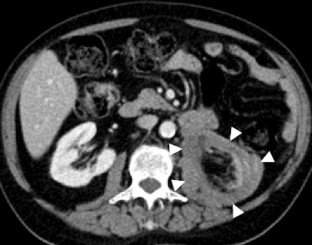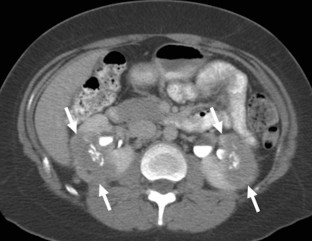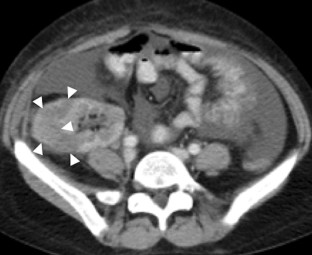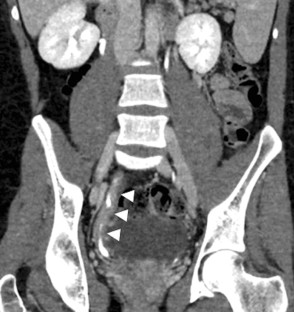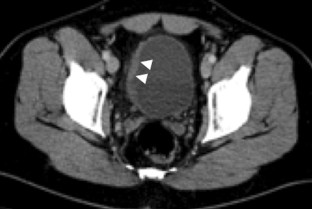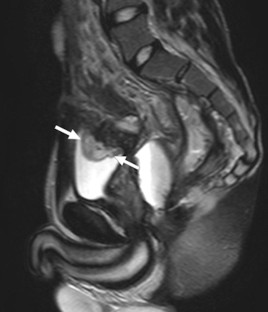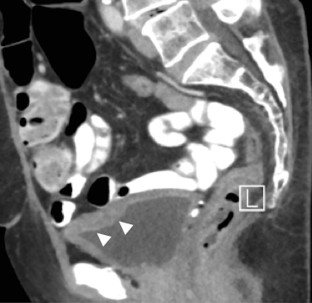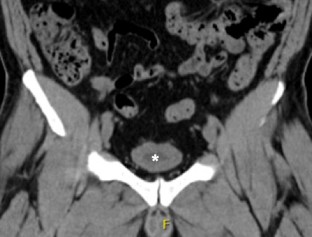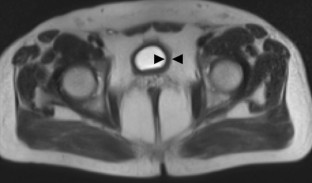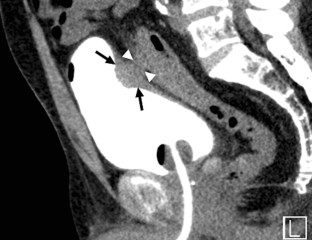 References
Sieger, N., et al., Acute focal bacterial nephritis is associated with invasive diagnostic procedures - a cohort of 138 cases extracted through a systematic review. BMC Infect Dis, 2017. 17.

Bhatt, S., G. MacLennan, and V. Dogra, Renal pseudotumors. AJR Am J Roentgenol, 2007. 188(5): p. 1380-7.

Craig, W.D., B.J. Wagner, and M.D. Travis, Pyelonephritis: radiologic-pathologic review. Radiographics, 2008. 28(1): p. 255-77; quiz 327-8.

Pappas G (2012) Brucellosis in the world today. http://www2.keelpno.gr/blog/?p=2033&lang=en.

Onaran, M., et al., Renal brucelloma: a rare infection of the kidney. Int J Urol, 2005. 12(12): p. 1058-60.

Li, J., et al., Renal abscess caused by Brucella. Int J Infect Dis, 2014. 28: p. 26-8.

Pedrosa, I., et al., Hydatid disease: radiologic and pathologic features and complications. Radiographics, 2000. 20(3): p. 795-817.

Ishimitsu, D.N., et al., Best cases from the AFIP: renal hydatid disease. Radiographics, 2010. 30(2): p. 334-7.

Gibson, M.S., M.L. Puckett, and M.E. Shelly, Renal tuberculosis. Radiographics, 2004. 24(1): p. 251-6.

Goldman, S.M., et al., Computed tomography of renal tuberculosis and its pathological correlates. J Comput Assist Tomogr, 1985. 9(4): p. 771-6.

Martinez-de-Alegria, A., et al., IgG4-related Disease from Head to Toe. Radiographics, 2015. 35(7): p. 2007-25.

Lei, W.H., et al., IgG4-related Kidney Disease Mimicking Malignant Ureter Tumor: Case Report and Literature Review. Medicine (Baltimore), 2016. 95(3): p. e2550.

Kapoor, A., R.A. Balfour-Dorsey, and D.L. George, Wegener's granulomatosis presenting as multiple kidney masses. Am J Med, 2002. 112(1): p. 82-3.

Verswijvel, G., et al., Granulomatous renal pseudotumor in Wegener's granulomatosis: imaging findings in one case. Eur Radiol, 2000. 10(8): p. 1265-7.

Park, S.B., J.K. Kim, and K.S. Cho, Complications of renal transplantation: ultrasonographic evaluation. J Ultrasound Med, 2007. 26(5): p. 615-33.

Torres, I.B., et al., The Interplay between inflammation and fibrosis in kidney transplantation. Biomed Res Int, 2014. 2014: p. 750602.

Shebel, H.M., et al., Genitourinary schistosomiasis: life cycle and radiologic-pathologic findings. Radiographics, 2012. 32(4): p. 1031-46.

Iczkowski, K.A., et al., Inflammatory pseudotumor and sarcoma of urinary bladder: differential diagnosis and outcome in thirty-eight spindle cell neoplasms. Mod Pathol, 2001. 14(10): p. 1043-51.

Heney, N.M. and R.H. Young, Case records of the Massachusetts General Hospital. Weekly clinicopathological exercises. Case 39-2003. A 33-year-old woman with gross hematuria. N Engl J Med, 2003. 349(25): p. 2442-7.

Sugita, R., et al., Inflammatory pseudotumour of the bladder: CT and MRI findings. Br J Radiol, 1999. 72(860): p. 809-11.

Song, D., et al., Inflammatory myofibroblastic tumor of urinary bladder with severe hematuria: A Case report and literature review. Medicine (Baltimore), 2019. 98(1): p. e13987.

Wong-You-Cheong, J.J., et al., From the archives of the AFIP: Inflammatory and nonneoplastic bladder masses: radiologic-pathologic correlation. Radiographics, 2006. 26(6): p. 1847-68.

McCarville, M.B., et al., Imaging findings of hemorrhagic cystitis in pediatric oncology patients. Pediatr Radiol, 2000. 30(3): p. 131-8.

Black, P.C. and P.H. Lange, Cystoprostatectomy and neobladder construction for florid cystitis glandularis. Urology, 2005. 65(1): p. 174.

Stanton, M.J. and W. Maxted, Malacoplakia: a study of the literature and current concepts of pathogenesis, diagnosis and treatment. J Urol, 1981. 125(2): p. 139-46.

Steele, B., A. Vade, and J. Lim-Dunham, Sonographic appearance of bladder malacoplakia. Pediatr Radiol, 2003. 33(4): p. 253-5.

Bidwell, J.K. and M.G. Dunne, Computed tomography of bladder malakoplakia. J Comput Assist Tomogr, 1987. 11(5): p. 909-10.

Jorulf, H. and E. Lindstedt, Urogenital schistosomiasis: CT evaluation. Radiology, 1985. 157(3): p. 745-9.

Pollack, H.M., et al., Diagnostic considerations in urinary bladder wall calcification. AJR Am J Roentgenol, 1981. 136(4): p. 791-7.

Capozza, N., et al., Cystitis glandularis in children. BJU Int, 2005. 95(3): p. 411-3.

Hochberg, D.A., J. Motta, and M.S. Brodherson, Cystitis glandularis. Urology, 1998. 51(1): p. 112-3.

Lee, G., et al., Case report: cystitis glandularis mimics bladder tumour: a case report and diagnostic characteristics. Int Urol Nephrol, 2005. 37(4): p. 713-5.

Solem, C.A., et al., Fistulas to the urinary system in Crohn's disease: clinical features and outcomes. Am J Gastroenterol, 2002. 97(9): p. 2300-5.

Golabek, T., et al., Enterovesical fistulae: aetiology, imaging, and management. Gastroenterol Res Pract, 2013. 2013: p. 617967.
Additional information
Publisher's Note
Springer Nature remains neutral with regard to jurisdictional claims in published maps and institutional affiliations.
About this article
Cite this article
Karaosmanoglu, A.D., Uysal, A., Karcaaltincaba, M. et al. Imaging findings of infectious and inflammatory diseases of the urinary system mimicking neoplastic diseases. Abdom Radiol 45, 1110–1121 (2020). https://doi.org/10.1007/s00261-019-02222-w
Published:

Issue Date:

DOI: https://doi.org/10.1007/s00261-019-02222-w
Keywords