Abstract
Chemotherapy-induced hepatopathy includes a wide variety of parenchymal and vascular hepatic changes on imaging, including diffuse or focal hepatopathies (i.e. hepatitis, steatosis, fibrosis, pseudocirrhosis, or sinusoidal obstruction). These changes can profoundly alter the hepatic parenchyma on imaging and result in both false negative and false-positive diagnoses of hepatic metastases and lead to errors in patient management strategies. It is therefore important for radiologists to have a comprehensive knowledge of the imaging patterns that may develop following chemotherapy. The purpose of this review is to explore the broad spectrum of hepatic parenchymal and vascular chemotherapy-induced changes on CT and MR imaging.
Access options
Buy single article
Instant access to the full article PDF.
USD 39.95
Price excludes VAT (USA)
Tax calculation will be finalised during checkout.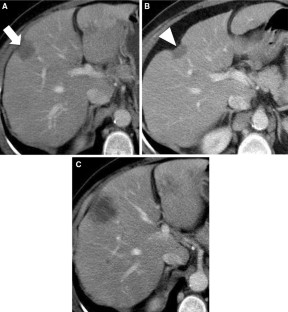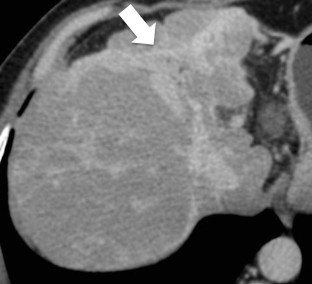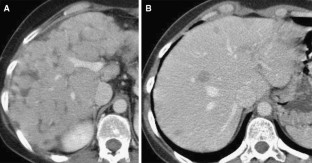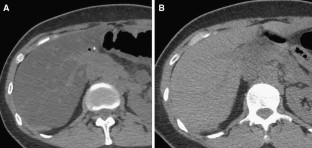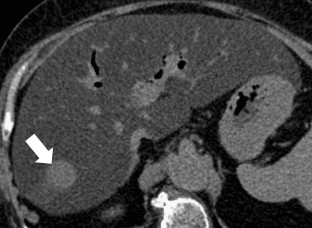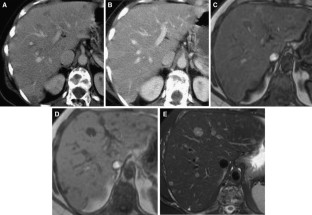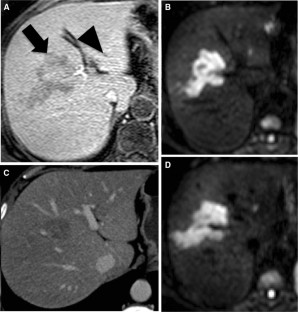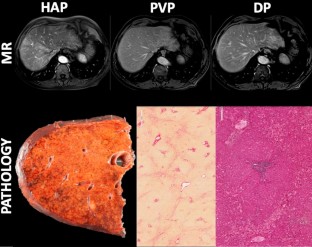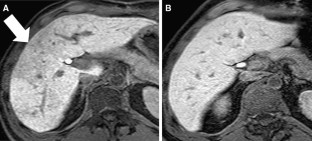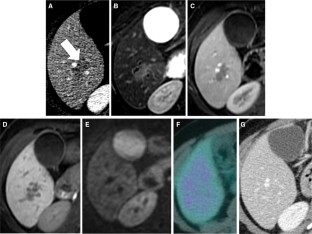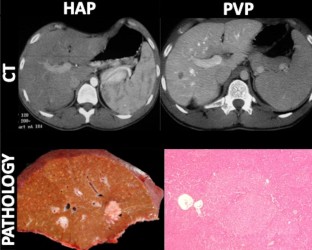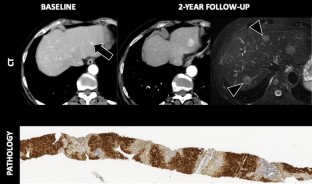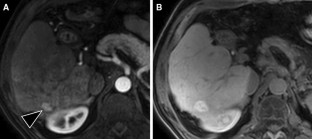 References
Grigorian A, O'Brien CB (2014) Hepatotoxicity Secondary to Chemotherapy. J Clin Transl Hepatol 2:95–102.

Sharma A, Houshyar R, Bhosale P, Choi JI, Gulati R, Lall C (2014) Chemotherapy induced liver abnormalities: an imaging perspective. Clin Mol Hepatol 20:317–326.

Ramadori G, Cameron S (2010) Effects of systemic chemotherapy on the liver. Ann Hepatol 9:133–143.

Cohen AD, Kemeny NE (2003) An update on hepatic arterial infusion chemotherapy for colorectal cancer. Oncologist 8:553–566.

Lewandowski RJ, Geschwind JF, Liapi E, Salem R (2011) Transcatheter intraarterial therapies: rationale and overview. Radiology 2011;259:641–657.

Uslusoy HS, Nak SG, Gülten M, Biyikli Z (2009) Non-alcoholic steatohepatitis with normal aminotransferase values. World J Gastroenterol;15: 1863–1868.

Oba A, Mise Y, Ito H, et al (2018) Clinical implications of disappearing colorectal liver metastases have changed in the era of hepatocyte-specific MRI and contrast-enhanced intraoperative ultrasonography. HPB (Oxford) 20:708–714.

Iannaccone R, Federle MP, Brancatelli G, et al (2006) Peliosis hepatis: spectrum of imaging findings. Am J Roentgenol 187:W43–52.

Furlan A, Brancatelli G, Dioguardi Burgio M, et al (2018) Focal Nodular Hyperplasia After Treatment With Oxaliplatin: A Multiinstitutional Series of Cases Diagnosed at MRI. Am J Roentgenol 210:775–779

Han NY, Park BJ, Sung DJ, et al (2014) Chemotherapy-induced focal hepatopathy in patients with gastrointestinal malignancy: gadoxetic acid–enhanced and diffusion-weighted MR imaging with clinical-pathologic correlation. Radiology 271:416–425.

Viganò L, Capussotti L, De Rosa G, et al (2013) Liver resection for colorectal metastases after chemotherapy: impact of chemotherapy-related liver injuries, pathological tumor response, and micrometastases on long-term survival. Ann Surg;258(5):731–740; discussion 741-2.

Krishna M (2017) Patterns of necrosis in liver disease. Clinical Liver Disease 10:53–56

Jeong WK, Choi SY, Kim J (2013) Pseudocirrhosis as a complication after chemotherapy for hepatic metastasis from breast cancer. Clin Mol Hepato 19:190–194.

Vilgrain V, Lagadec M, Ronot M (2016) Pitfalls in Liver Imaging. Radiology 278:34–51.

Young ST, Paulson EK, Washington K, Gulliver DJ, Vredenburgh JJ, Baker ME (1994) CT of the liver in patients with metastatic breast carcinoma treated by chemotherapy: findings simulating cirrhosis. Am J Roentgenol 163:1385–1388

Qayyum A, Lee GK, Yeh BM, Allen JN, Venook AP, Coakley FV (2007) Frequency of hepatic contour abnormalities and signs of portal hypertension at CT in patients receiving chemotherapy for breast cancer metastatic to the liver. Clin Imaging 31:6–10.

Adike A, Karlin N, Menias C, Carey EJ (2016) Pseudocirrhosis: A Case Series and Literature Review. Case Rep Gastroenterol 10:381–391.

Peppercorn PD, Reznek RH, Wilson P, Slevin ML, Gupta RK (1998) Demonstration of hepatic steatosis by computerized tomography in patients receiving 5-fluorouracil-based therapy for advanced colorectal cancer. Br J Cancer 77:2008–2011

Fernandez FG, Ritter J, Goodwin JW, Linehan DC, Hawkins WG, Strasberg SM (2005) Effect of steatohepatitis associated with irinotecan or oxaliplatin pretreatment on resectability of hepatic colorectal metastases. J Am Coll Surg 200:845–853.

Rubbia-Brandt L, Lauwers GY, Wang H, et al (2010) Sinusoidal obstruction syndrome and nodular regenerative hyperplasia are frequent oxaliplatin-associated liver lesions and partially prevented by bevacizumab in patients with hepatic colorectal metastasis. Histopathology 56:430–439.

Vauthey JN, Pawlik TM, Ribero D, et al (2006) Chemotherapy regimen predicts steatohepatitis and an increase in 90-day mortality after surgery for hepatic colorectal metastases. J Clin Oncol 24:2065–2072

Robinson SM, Wilson CH, Burt AD, Manas DM, White SA (2012) Chemotherapy-associated liver injury in patients with colorectal liver metastases: a systematic review and meta-analysis. Ann Surg Oncol 19:4287–4299.

Bethke A, Kühne K, Platzek I, Stroszczynski C (2011) Neoadjuvant treatment of colorectal liver metastases is associated with altered contrast enhancement on computed tomography. Cancer Imaging 11:91–99

Berger-Kulemann V, Schima W, Baroud S, et al (2012) Gadoxetic acid-enhanced 3.0 T MR imaging versus multidetector-row CT in the detection of colorectal metastases in fatty liver using intraoperative ultrasound and histopathology as a standard of reference. Eur J Surg Oncol 38:670–676

Tang A, Desai A, Hamilton G, et al (2015) Accuracy of MR imaging-estimated proton density fat fraction for classification of dichotomized histologic steatosis grades in nonalcoholic fatty liver disease. Radiology 274:416–425.

Idilman IS, Aniktar H, Idilman R, et al (2013) Hepatic steatosis: quantification by proton density fat fraction with MR imaging versus liver biopsy. Radiology 267:767–775

Reissfelder C, Brand K, Sobiegalla J, et al (2014) Chemotherapy-associated liver injury and its influence on outcome after resection of colorectal liver metastases. Surgery 155:245–254.

Zhao J, van Mierlo KMC, Gómez-Ramírez J, et al (2017) Systematic review of the influence of chemotherapy-associated liver injury on outcome after partial hepatectomy for colorectal liver metastases. Br J Surg 104:990–1002.

Vauthey JN, Mizuno T, Overman MJ, Soubrane O (2017) Can we navigate chemotherapy-induced hepatic injuries from pathology to bedside? J Hepatol 67:10–11

Wong VW, Adams LA, de Lédinghen V, Wong GL, Sookoian S (2018) Noninvasive biomarkers in NAFLD and NASH - current progress and future promise. Nat Rev Gastroenterol Hepatol 15:461–478.

Venkatesh SK, Yin M, Ehman RL (2013) Magnetic resonance elastography of liver: clinical applications. J Comput Assist Tomogr 37:887–896.

Han NY, Park BJ, Kim MJ, Sung DJ, Cho SB (2015) Hepatic Parenchymal Heterogeneity on Contrast-enhanced CT Scans Following Oxaliplatin-based Chemotherapy: Natural History and Association with Clinical Evidence of Sinusoidal Obstruction Syndrome. Radiology 276:766–774.

Fan CQ, Crawford JM (2014) Sinusoidal obstruction syndrome (hepatic veno-occlusive disease). J Clin Exp Hepatol 4:332–346.

Marzano C, Cazals-Hatem D, Rautou PE, Valla DC (2015) The significance of nonobstructive sinusoidal dilatation of the liver: Impaired portal perfusion or inflammatory reaction syndrome. Hepatology 62:956–963.

Rubbia-Brandt L, Audard V, Sartoretti P, et al (2004) Severe hepatic sinusoidal obstruction associated with oxaliplatin-based chemotherapy in patients with metastatic colorectal cancer. Ann Oncol 15:460–466

Nakano H, Oussoultzoglou E, Rosso E, et al (2008) Sinusoidal injury increases morbidity after major hepatectomy in patients with colorectal liver metastases receiving preoperative chemotherapy. Ann Surg 247:118–124

Narita M, Oussoultzoglou E, Bachellier P, Jaeck D, Uemoto S (2015) Post-hepatectomy liver failure in patients with colorectal liver metastases. Surg Today 45: 1218–1226.

Hubert C, Sempoux C, Humblet Y, et al (2013) Sinusoidal obstruction syndrome (SOS) related to chemotherapy for colorectal liver metastases: factors predictive of severe SOS lesions and protective effect of bevacizumab. HPB (Oxford) 15:858–864.

Soubrane O, Brouquet A, Zalinski S, et al (2010) Predicting high grade lesions of sinusoidal obstruction syndrome related to oxaliplatin-based chemotherapy for colorectal liver metastases: correlation with post-hepatectomy outcome. Ann Surg 251:454–460

Pereyra D, Rumpf B, Ammann M, et al (2019) The Combination of APRI and ALBI Facilitates Preoperative Risk Stratification for Patients Undergoing Liver Surgery After Neoadjuvant Chemotherapy Ann Surg Oncol 26:791–799

Overman MJ, Ferrarotto R, Raghav K, et al (2018) The Addition of Bevacizumab to Oxaliplatin-Based Chemotherapy: Impact Upon Hepatic Sinusoidal Injury and Thrombocytopenia. J Natl Cancer Inst 110:888–894.

Hubert C, Lucidi V, Weerts J, et al (2018) Impact of biological agents on the prevalence of chemotherapy associated liver injury (CALI): Multicentric study of patients operated for colorectal liver metastases. Eur J Surg Oncol 44:1532–1538

Robinson SM, Mann J, Vasilaki A, Mathers J, Burt AD, Oakley F, White SA, Mann DA (2013) Pathogenesis of FOLFOX induced sinusoidal obstruction syndrome in a murine chemotherapy model. J Hepatol 59:318–326.

Brancatelli G, Furlan A, Calandra A, Dioguardi Burgio M (2018) Hepatic sinusoidal dilatation. Abdom Radiol (NY) 43:2011–2022.

Furlan A, Minervini MI, Borhani AA, Dioguardi Burgio M, Tublin ME, Brancatelli G (2016) Hepatic Sinusoidal Dilatation: A Review of Causes With Imaging-Pathologic Correlation. Semin Ultrasound CT MR 37:525–532.

Shin NY, Kim MJ, Lim JS, et al (2012) Accuracy of gadoxetic acid-enhanced magnetic resonance imaging for the diagnosis of sinusoidal obstruction syndrome in patients with chemotherapy-treated colorectal liver metastases. Eur Radiol 22:864–871.

Cayet S, Pasco J, Dujardin F, et al (2017) Diagnostic performance of contrast-enhanced CT-scan in sinusoidal obstruction syndrome induced by chemotherapy of colorectal liver metastases: Radio-pathological correlation. Eur J Radiol 94:180–190.

Yoneda N, Matsui O, Ikeno H, et al (2015) Correlation between Gd-EOB-DTPA-enhanced MR imaging findings and OATP1B3 expression in chemotherapy-associated sinusoidal obstruction syndrome. Abdom Imaging 40:3099–3103.

Xiong WJ, Hu LJ, Jian YC, et al (2012) Focal peliosis hepatis in a colon cancer patient resembling metastatic liver tumor. World J Gastroenterol 18:5999–6002.

Donato H, Andrade L, Bastati N, Cipriano A, Ba-Ssalamah A, Caseiro-Alves F (2018) Liver Multiacinar Regenerative Nodules: Imaging Findings and Clinical Implications. Acta Med Port 31:470–477.

Wicherts DA, de Haas RJ, Sebagh M, et al (2011) Regenerative nodular hyperplasia of the liver related to chemotherapy: impact on outcome of liver surgery for colorectal metastases. Ann Surg Oncol 18:659–669.

Morris-Stiff G, White AD, Gomez D, et al (2014) Nodular regenerative hyperplasia (NRH) complicating oxaliplatin chemotherapy in patients undergoing resection of colorectal liver metastases. Eur J Surg Oncol 40:1016–1020.

Viganò L, Rubbia-Brandt L, De Rosa G, et al (2015) Nodular Regenerative Hyperplasia in Patients Undergoing Liver Resection for Colorectal Metastases After Chemotherapy: Risk Factors, Preoperative Assessment and Clinical Impact. Ann Surg Oncol 22:4149–4157.

Vigano L, De Rosa G, Toso C, et al (2017) Reversibility of chemotherapy-related liver injury. J Hepatol 2017; 67:84–91.

Calderaro J, Azoulay D, Zafrani ES (2014) Hepatocellular carcinoma and nodular regenerative hyperplasia after chemotherapy for metastatic colorectal carcinoma. Hepatology 60:1440–1441.

Ames JT, Federle MP, Chopra K (2009) Distinguishing clinical and imaging features of nodular regenerative hyperplasia and large regenerative nodules of the liver. Clin Radiol 64:1190–1195.

Brisse H, Servois V, Bouche B, et al Hepatic regenerating nodules: a mimic of recurrent cancer in children. Pediatr Radiol. 2000;30(6):386–93

Donadon M, Di Tommaso L, Roncalli M, Torzilli G (2013) Multiple focal nodular hyperplasias induced by oxaliplatin-based chemotherapy. World J Hepatol 5:340–344

Yoneda N, Matsui O, Kitao A, et al (2016) Benign Hepatocellular Nodules: Hepatobiliary Phase of Gadoxetic Acid-enhanced MR Imaging Based on Molecular Background. Radiographics 36:2010–2027

Morana G, Grazioli L, Kirchin MA, et al (2011) Solid hypervascular liver lesions: accurate identification of true benign lesions on enhanced dynamic and hepatobiliary phase magnetic resonance imaging after gadobenate dimeglumine administration. Invest Radiol 46:225–239
Ethics declarations
Disclosures
FV, M.D.B., F.B., S.C., G. Badalamenti, M.M., V.V.: Nothing to disclose. G. Brancatelli: has received lecture fees from Bayer.
Additional information
Publisher's Note
Springer Nature remains neutral with regard to jurisdictional claims in published maps and institutional affiliations.
Electronic supplementary material
Below is the link to the electronic supplementary material.
About this article
Cite this article
Vernuccio, F., Dioguardi Burgio, M., Barbiera, F. et al. CT and MR imaging of chemotherapy-induced hepatopathy. Abdom Radiol 44, 3312–3324 (2019). https://doi.org/10.1007/s00261-019-02193-y
Published:

Issue Date:

DOI: https://doi.org/10.1007/s00261-019-02193-y
Keywords