Abstract
Purpose
To provide an overview for radiologists of the systemic agents used in the treatment of advanced epithelial ovarian cancer (EOC) and their associated toxicities.
Results
EOC is a common gynecological malignancy, with the majority of patients presenting with advanced stage disease at the time of diagnosis. Although primary cytoreductive surgery and chemotherapy are the principal treatments for EOC, recurrence rates of disease remain high. As several molecular targeted therapies have been developed in the last decade, various novel agents have shown efficacy in the treatment of advanced EOC. Advanced EOC will be discussed by outlining the relevant radiological features of toxicities.
Conclusion
Knowledge of the systemic therapies utilized in the treatment of advanced EOC and their associated radiological features is critical in diagnostic image interpretation.
Access options
Buy single article
Instant access to the full article PDF.
US$ 39.95
Tax calculation will be finalised during checkout.
Subscribe to journal
Immediate online access to all issues from 2019. Subscription will auto renew annually.
US$ 79
Tax calculation will be finalised during checkout.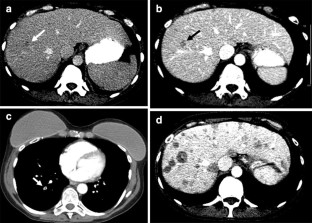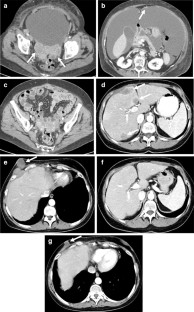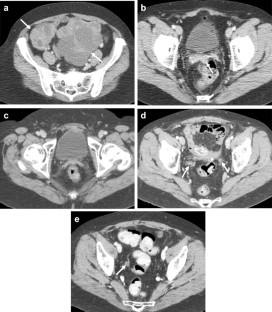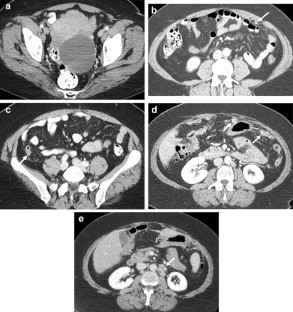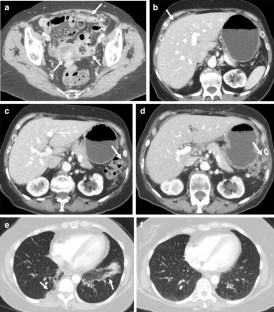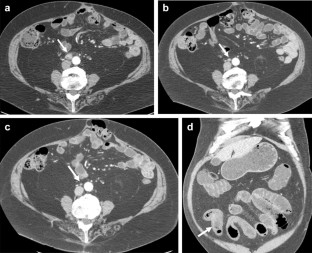 References
1.

Siegel RL, Miller KD, Jemal A (2018) Cancer statistics, 2018. CA Cancer J Clin 68:7-30.

2.

Tavassoli FA, Devilee P (2003) Pathology and genetics of tumors of the breast and female genital organs. World Health Organization Classification of Tumours series. IARC Press. Lyon, France.

3.

Bouberhan S, Shea M, Cannistra SA (2019) Advanced Epithelial Ovarian Cancer: Do More Options Mean Greater Benefits? J Clin Oncol https://doi: 10.1200/JCO.19.00500.

4.

Vergote I, Tropé CG, Amant F, Kristensen GB, Ehlen T, Johnson N, et al (2010) Neoadjuvant chemotherapy or primary surgery in stage IIIC or IV ovarian cancer. N Engl J Med 363:943-953.

5.

Kehoe S, Hook J, Nankivell M, Jayson GC, Kitchener H, Lopes T, et al (2015) Primary chemotherapy versus primary surgery for newly diagnosed advanced ovarian cancer (CHORUS): an open-label, randomised, controlled, non- inferiority trial. Lancet 386:249-257.

6.

Wright AA, Bohlke K, Armstrong DK, Bookman MA, Cliby WA, Coleman RL, et al (2016) Neoadjuvant chemotherapy for newly diagnosed, advanced ovarian cancer: Society of Gynecologic Oncology and American Society of Clinical Oncology Clinical Practice Guideline. Gynecol Oncol 143:3-15.

7.

Heintz AP, Odicino F, Maisonneuve P, Quinn MA, Benedet JL, Creasman WT, et al (2006) Carcinoma of the ovary: FIGO 26th Annual Report on the Results of Treatment in Gynecological Cancer. Int J Gynaecol Obstet 95 Suppl 1:S161-192.

8.

Monk BJ, Coleman RL (2009) Changing the paradigm in the treatment of platinum-sensitive recurrent ovarian cancer: from platinum doublets to nonplatinum doublets and adding antiangiogenesis compounds. Int J Gynecol Cancer 19 Suppl 2:S63-67.

9.

National Comprehensive Cancer Network Clinical Practice Guidelines in Oncology (2018) Ovarian Cancer Including Fallopian Tube Cancer and Primary Peritoneal Cancer. Version 2.2018. https://www.nccn.org. Accessed 7 March 2019.

10.

Pfisterer J, Ledermann JA (2006) Management of platinum-sensitive recurrent ovarian cancer. Semin Oncol 33(2 Suppl 6):S12-16.

11.

Wang D, Lippard SJ (2005) Cellular processing of platinum anticancer drugs. Nat Rev Drug Discov 4:307-320.

12.

Torrisi JM, Schwartz LH, Gollub MJ, Ginsberg MS, Bosl GJ, Hricak H (2011) CT findings of chemotherapy-induced toxicity: what radiologists need to know about the clinical and radiologic manifestations of chemotherapy toxicity. Radiology 258:41-56.

13.

Shahab N, Haider S, Doll DC (2006) Vascular toxicity of antineoplastic agents. Semin Oncol 33:121-138.

14.

Di Nisio M, Ferrante N, De Tursi M, Iacobelli S, Cuccurullo F, Büller HR, et al (2010) Incidental venous thromboembolism in ambulatory cancer patients receiving chemotherapy. Thromb Haemost 104:1049-1054.

15.

Jafri M, Protheroe A (2008) Cisplatin-associated thrombosis. Anticancer Drugs 19:927-929.

16.

Fernandes DD, Louzada ML, Souza CA, Matzinger F (2011) Acute aortic thrombosis in patients receiving cisplatin-based chemotherapy. Curr Oncol 18:e97-e100.

17.

Yeh ET, Bickford CL (2009) Cardiovascular complications of cancer therapy: incidence, pathogenesis, diagnosis, and management. J Am Coll Cardiol 53:2231-2247.

18.

Rohatgi S, Jagannathan JP, Rosenthal MH, Kim KW, Ramaiya NH, Krajewski KM (2014) Vascular toxicity associated with chemotherapy and molecular targeted therapy: what should a radiologist know? AJR Am J Roentgenol 203:1353-1362.

19.

Piccolo F (2008) Oxaliplatin-induced interstitial lung disease. Asia Pac J Clin Oncol 4:175-180.

20.

Horwitz SB (1994) Taxol (paclitaxel): mechanisms of action. Ann Oncol 5 Suppl 6:S3-6.

21.

Kampan NC, Madondo MT, McNally OM, Quinn M, Plebanski M (2015) Paclitaxel and its evolving role in the management of ovarian cancer. Biomed Res Int 2015:413076.

22.

Yakirevich E, Sabo E, Naroditsky I, Sova Y, Lavie O, Resnick MB (2006) Multidrug resistance-related phenotype and apoptosis-related protein expression in ovarian serous carcinomas. Gynecologic Oncology 100:152-159.

23.

Szakács G, Paterson JK, Ludwig JA, Booth-Genthe C, Gottesman MM (2006) Targeting multidrug resistance in cancer. Nature Reviews Drug Discovery. 5:219-34.

24.

Rowinsky EK, Eisenhauer EA, Chaudhry V, Arbuck SG, Donehower RC (1993) Clinical toxicities encountered with paclitaxel (Taxol). Semin Oncol 20:1-15.

25.

Frick MP, Maile CW, Crass JR, Goldberg ME, Delaney JP. Computed tomography of neutropenic colitis. AJR Am J Roentgenol. 1984;143: 763-5.

26.

Bielopolski D, Evron E, Moreh-Rahav O, Landes M, Stemmer SM, Salamon F (2017) Paclitaxel-induced pneumonitis in patients with breast cancer: case series and review of the literature. J Chemother 29:113-117.

27.

Katsumata N (2003) Docetaxel: an alternative taxane in ovarian cancer. Br J Cancer 89:S9-15.

28.

Vasey PA, Jayson GC, Gordon A, Gabra H, Coleman R, Atkinson R (2004) Phase III randomized trial of docetaxel-carboplatin versus paclitaxel-carboplatin as first-line chemotherapy for ovarian carcinoma. J Natl Cancer Inst 96:1682-1691.

29.

Jain RK (2008) Lessons from multidisciplinary translational trials on anti-angiogenic therapy of cancer. Nat Rev Cancer 8:309-316.

30.

Burger RA, Brady MF, Bookman MA, Fleming GF, Monk BJ, Huang H, et al (2011) Incorporation of bevacizumab in the primary treatment of ovarian cancer. N Engl J Med 365:2473-2483.

31.

Perren TJ, Swart AM, Pfisterer J, Ledermann JA, Pujade-Lauraine E, Kristensen G, et al (2011) A phase 3 trial of bevacizumab in ovarian cancer. N Engl J Med 365:2484-2496.

32.

Aghajanian C, Blank SV, Go BA, Judson PL, Teneriello MG, Husain A, et al (2012) OCEANS: a randomized, double-blind, placebo-controlled phase III trial of chemotherapy with or without bevacizumab in patients with platinum-sensitive recurrent epithelial ovarian, primary peritoneal, or fallopian tube cancer. J Clin Oncol 30:2039-2045.

33.

Coleman RL, Brady MF, Herzog TJ, Sabbatini P, Armstrong DK, Walker JL, et al. (2017) Bevacizumab and paclitaxel-carboplatin chemotherapy and secondary cytoreduction in recurrent, platinum-sensitive ovarian cancer (NRG Oncology/Gynecologic Oncology Group study GOG-0213): a multicentre, open-label, randomised, phase 3 trial. Lancet Oncol 18:779-791.

34.

Pujade-Lauraine E, Hilpert F, Weber B, Reuss A, Poveda A, Kristensen G, et al (2014) Bevacizumab combined with chemotherapy for platinum-resistant recurrent ovarian cancer: the AURELIA open-label randomized phase III trial. J Clin Oncol 32:1302-1308.

35.

Marchetti C, De Felice F, Palaia I, Musella A, Di Donato V, Gasparri ML, et al (2016) Efficacy and toxicity of bevazicumab in recurrent ovarian disease: an update meta-analysis on phase III trials. Oncotarget 7:13221-13227.

36.

Yi S, Zeng L, Kuang Y, Cao Z, Zheng C, Zhang Y, et al (2017) Anti-angiogenic drugs used with chemotherapy for patients with recurrent ovarian cancer: a meta-analysis. Onco Targets Ther 10:973-984.

37.

Tirumani SH, Fairchild A, Krajewski KM, Nishino M, Howard SA, Baheti AD, et al (2015) Anti-VEGF molecular targeted therapies in common solid malignancies: comprehensive update for radiologists. Radiographics 35:455-474.

38.

Nishino M, Jagannathan JP, Ramaiya NH, Van den Abbeele AD (2010) Revised RECIST guideline version 1.1: what oncologists want to know and what radiologists need to know. AJR Am J Roentgenol 195:281-289.

39.

Krajewski KM, Braschi-Amirfarzan M, DiPiro PJ, Jagannathan JP, Shinagare AB (2017) Molecular Targeted Therapy in Modern Oncology: Imaging Assessment of Treatment Response and Toxicities. Korean J Radiol 18:28-41.

40.

Keefe D, Bowen J, Gibson R, Tan T, Okera M, Stringer A (2011) Noncardiac vascular toxicities of vascular endothelial growth factor inhibitors in advanced cancer: a review. Oncologist 16:432-444.

41.

Hang XF, Xu WS, Wang JX, Wang L, Xin HG, Zhang RQ, et al (2011) Risk of high-grade bleeding in patients with cancer treated with bevacizumab: a meta-analysis of randomized controlled trials. Eur J Clin Pharmacol 67:613-623.

42.

Hapani S, Sher A, Chu D, Wu S (2010) Increased risk of serious hemorrhage with bevacizumab in cancer patients: a meta-analysis. Oncology 79:27-38.

43.

Schutz FA, Je Y, Azzi GR, Nguyen PL, Choueiri TK (2011) Bevacizumab increases the risk of arterial ischemia: a large study in cancer patients with a focus on different subgroup outcomes. Ann Oncol 22:1404-1412.

44.

Dy GK, Adjei AA (2013) Understanding, recognizing, and managing toxicities of targeted anticancer therapies. CA Cancer J Clin 63:249-279.

45.

Hiranuma K, Kusunoki S, Fujino K, Hirayama T, Ota T, Terao Y (2018) Drug-induced aortitis in a patient with ovarian cancer treated with bevacizumab combination therapy. Taiwan J Obstet Gynecol 57:750-752.

46.

Singer S, Grommes C, Reiner AS, Rosenblum MK, DeAngelis LM (2015) Posterior reversible encephalopathy syndrome in patients with cancer. Oncologist 20:806-811.

47.

Sarbu N, Shih RY, Jones RV, Horkayne-Szakaly I, Oleaga L, Smirniotopoulos JG (2016) White Matter Diseases with Radiologic-Pathologic Correlation. Radiographics 36:1426-1447.

48.

Badgwell BD, Camp ER, Feig B, Wolff RA, Eng C, Ellis LM, et al (2008) Management of bevacizumab-associated bowel perforation: a case series and review of the literature. Ann Oncol 19:577-582.

49.

Shinagare AB, Howard SA, Krajewski KM, Zukotynski KA, Jagannathan JP, Ramaiya NH (2012) Pneumatosis intestinalis and bowel perforation associated with molecular targeted therapy: an emerging problem and the role of radiologists in its management. AJR Am J Roentgenol 199:1259-1265.

50.

Howard SA, Krajewski KM, Thornton E, Jagannathan JP, O'Regan K, Cleary J, et al (2012) Decade of molecular targeted therapy: abdominal manifestations of drug toxicities--what radiologists should know. AJR Am J Roentgenol 199:58-64.

51.

Markman M, Bookman MA (2000) Second-line treatment of ovarian cancer. Oncologist 5:26-35.

52.

Pignata S, C Cecere S, Du Bois A, Harter P, Heitz F (2017) Treatment of recurrent ovarian cancer. Ann Oncol 28:viii51-viii56.

53.

Hoekstra AV, Hurteau JA, Kirschner CV, Rodriguez GC (2009) The combination of monthly carboplatin and weekly paclitaxel is highly active for the treatment of recurrent ovarian cancer. Gynecol Oncol 115:377-381.

54.

Plunkett W, Huang P, Xu YZ, Heinemann V, Grunewald R, Gandhi V (1995) Gemcitabine: metabolism, mechanisms of action, and self-potentiation. Semin Oncol 22:3-10.

55.

Boiselle PM, Morrin MM, Huberman MS (2000) Gemcitabine pulmonary toxicity: CT features. J Comput Assist Tomogr 24:977-980.

56.

Galvão FH, Pestana JO, Capelozzi VL (2010) Fatal gemcitabine-induced pulmonary toxicity in metastatic gallbladder adenocarcinoma. Cancer Chemother Pharmacol 65:607-610.

57.

Noble S (2009) A step in the right direction, but one size might not fit all. Lancet Oncol 10:930-931.

58.

Blom JW, Doggen CJ, Osanto S, Osendaal FR (2005) Malignancies, prothrombotic mutations, and the risk of venous thrombosis. JAMA 293:715-722.

59.

Zierler BK (2004) Ultrasonography and diagnosis of venous thromboembolism. Circulation 109:I9-I14.

60.

Catalano O, Nunziata A, de Lutio di Castelguidone E, d'Errico AG (2011) Thrombosis and cancer: spectrum of multidetector CT findings in oncologic patients with thromboembolic disease. A pictorial review. Acta Radiol 52:730-737.

61.

Zafar S, Potdar R, Tiu A, Varadi G, Leighton J (2018) Acute Left Internal Carotid Artery and Right Popliteal Artery Occlusion Related to Cisplatin-Gemcitabine Based Chemotherapy. Case Rep Neurol Med 2018:9281918.

62.

Qi WX, Lin F, Sun YJ, Tang LN, Shen Z, Yao Y (2013) Risk of venous and arterial thromboembolic events in cancer patients treated with gemcitabine: a systematic review and meta-analysis. Br J Clin Pharmacol 76:338-347.

63.

Dasanu CA (2008) Gemcitabine: vascular toxicity and prothrombotic potential. Expert Opin Drug Saf 7:703-716.

64.

De Pas T, Curigliano G, Franceschelli L, Catania C, Spaggiari L, de Braud F (2001) Gemcitabine-induced systemic capillary leak syndrome. Ann Oncol 12:1651-1652.

65.

Saif MW, McGee PJ (2005) Hemolytic-uremic syndrome associated with gemcitabine: a case report and review of literature. JOP 6:369-374.

66.

Bendix N, Glodny B, Bernathova M, Bodner G (2005) Sonography and CT of vasculitis during gemcitabine therapy. AJR Am J Roentgenol 184:S14-15.

67.

Eyre TA, Gooding S, Patel I, Moore N, Hatton C, Collins GP (2014) Gemcitabine-induced large vessel vasculitis demonstrated by PET CT: a rare, important side effect. Int J Hematol 99:798-800.

68.

Green AE, Rose PG (2006) Pegylated liposomal doxorubicin in ovarian cancer. Int J Nanomedicine 1:229-239.

69.

Waterhouse DN, Tardi PG, Mayer LD, Bally MB (2001) A comparison of liposomal formulations of doxorubicin with drug administered in free form: changing toxicity profiles. Drug Saf 24:903-920.

70.

O'Brien ME, Wigler N, Inbar M, Rosso R, Grischke E, Santoro A, et al (2004) Reduced cardiotoxicity and comparable efficacy in a phase III trial of pegylated liposomal doxorubicin HCl (CAELYX/Doxil) versus conventional doxorubicin for first-line treatment of metastatic breast cancer. Ann Oncol 15:440-449.

71.

Lao J, Madani J, Puértolas T, Alvarez M, Hernández A, Pazo-Cid R, et al (2013) Liposomal Doxorubicin in the treatment of breast cancer patients: a review. J Drug Deliv 2013:456409.

72.

Neilan TG, Coelho-Filho OR, Shah RV, Feng JH, Pena-Herrera D, Mandry D, et al (2013) Myocardial extracellular volume by cardiac magnetic resonance imaging in patients treated with anthracycline-based chemotherapy. Am J Cardiol 111:717-722.

73.

Kollmannsberger C, Mross K, Jakob A, Kanz L, Bokemeyer C (1999) Topotecan: a novel topoisomerase I inhibitor: pharmacology and clinical experience. Oncology 56:1-12.

74.

Rossi SE, Erasmus JJ, McAdams HP, Sporn TA, Goodman PC (2000) Pulmonary drug toxicity: radiologic and pathologic manifestations. Radiographics 20:1245-1259.

75.

Edgerton CC, Gilman M, Roth BJ (2004) Topotecan-induced bronchiolitis. South Med J 97:699-701.

76.

Baldwin EL, Osheroff N (2005) Etoposide, topoisomerase II and cancer. Curr Med Chem Anticancer Agents 5:363-372.

77.

Iglehart JD, Silver DP (2009) Synthetic lethality-a new direction in cancer-drug development. N Engl J Med 361:189-191.

78.

Bryant HE, Schultz N, Thomas HD, Parker KM, Flower D, Lopez E, et al (2005) Specific killing of BRCA2-deficient tumours with inhibitors of poly(ADP-ribose) polymerase. Nature 434:913-917.

79.

Moore K, Colombo N, Scambia G, Kim BG, Oaknin A, Friedlander M, et al (2018) Maintenance olaparib in patients with newly diagnosed advanced ovarian cancer. N Engl J Med 379:2495-2505.

80.

Coleman RL, Oza AM, Lorusso D, Aghajanian C, Oaknin A, Dean A, et al (2017)Rucaparib maintenance treatment for recurrent ovarian carcinoma after response to platinum therapy (ARIEL3): a randomised, double-blind, placebo-controlled, phase 3 trial. Lancet. 390:1949-1961.

81.

Mirza MR, Monk BJ, Herrstedt J, Oza AM, Mahner S, Redondo A, et al (2016)Niraparib maintenance therapy in platinum-sensitive, recurrent ovarian cancer N Engl J Med 375:2154-2164.

82.

LaFargue CJ, Dal Molin GZ, Sood AK, Coleman RL (2019) Exploring and comparing adverse events between PARP inhibitors. Lancet Oncol 20:e15-e28.

83.

Fong PC, Boss DS, Yap TA, Tutt A, Wu P, Mergui-Roelvink M, et al (2009) Inhibition of poly (ADP-ribose) polymerase in tumors from BRCA mutation carriers. N Engl J Med 361:123-134.

84.

Audeh MW, Carmichael J, Penson RT, Friedlander M, Powell B, Bell-McGuinn KM, et al (2010) Oral poly (ADP-ribose) polymerase inhibitor olaparib in patients with BRCA1 or BRCA2 mutations and recurrent ovarian cancer: a proof- of-concept trial. Lancet 376:245-251.

85.

Suh CH, Tirumani SH, Keraliya A, Kim KW, Ramaiya NH, Shinagare AB (2016) Molecular targeted therapy in gynaecologic malignancies: primer for radiologists. Br J Radiol 89:20160086.

86.

Pujade-Lauraine E, Ledermann JA, Selle F, Gebski V, Penson RT, Oza AM, et al (2017)Olaparib tablets as maintenance therapy in patients with platinum-sensitive, relapsed ovarian cancer and aBRCA1/2mutation (SOLO2/ENGOT-Ov21): a double-blind, randomised, placebo-controlled, phase 3 trial. Lancet Oncol 18:1274-1284.

87.

du Bois A, Floquet A, Kim JW, Rau J, del Campo JM, Friedlander M, et al (2014) Incorporation of pazopanib in maintenance therapy of ovarian cancer. J Clin Oncol 32:3374-3382.

88.

Tirumani SH, Jagannathan JP, Shinagare AB, Kim Kw, Krajewski KM, Ramaiya NH (2013) Acute pancreatitis associated with molecular targeted therapies: a retrospective review of the clinico-radiological features, management and outcome. Pancreatology 13:461-467.

89.

Ledermann JA, Embleton AC, Raja F, Perren TJ, Jayson GC, Rustin GJS, et al (2016) Cediranib in patients with relapsed platinum-sensitive ovarian cancer (ICON6): a randomised, double-blind, placebo-controlled phase 3 trial. Lancet 387:1066-1074.

90.

Fan CA, Reader J, Roque DM (2018) Review of Immune Therapies Targeting Ovarian Cancer. Curr Treat Options Oncol 19:74.

91.

Weber JS, Yang JC, Atkins MB, Disis ML (2015) Toxicities of immunotherapy for the practitioner. J Clin Oncol 33:2092-2099.

92.

Nishino M, Ramaiya NH, Awad MM, Sholl LM, Maattala JA, Taibi M, et al (2016) PD-1 Inhibitor-Related Pneumonitis in Advanced Cancer Patients: Radiographic Patterns and Clinical Course. Clin Cancer Res 22:6051-6060.

93.

Hansell DM, Bankier AA, MacMahon H, McLoud TC, Müller NL, Remy J (2008) Fleischner Society: glossary of terms for thoracic imaging. Radiology 246:697-722.

94.

Travis WD, Costabel U, Hansell DM, King TE Jr, Lynch DA, Nicholson AG, et al (2013) An official American Thoracic Society/European Respiratory Society statement: Update of the international multidisciplinary classification of the idiopathic interstitial pneumonias. Am J Respir Crit Care Med 188:733-748.

95.

Tirumani SH, Ramaiya NH, Keraliya A, Bailey ND, Ott PA, Hodi FS, et al (2015) Radiographic profiling of immune-related adverse events in advanced melanoma patients treated with ipilimumab. Cancer Immunol Res 3:1185-1192.

96.

Kim KW, Ramaiya NH, Krajewski KM, Jagannathan JP, Tirumani SH, Srivastava A, et al (2013) Ipilimumab associated hepatitis: imaging and clinicopathologic findings. Invest New Drugs 31:1071-1077.

97.

Raad RA, Pavlick A, Kannan R, Friedman KP (2015) Ipilimumab-induced hepatitis on 18F-FDG PET/CT in a patient with malignant melanoma. Clin Nucl Med 40:258-259.

98.

Alabed YZ, Aghayev A, Sakellis C, Van den Abbeele AD (2015) Pancreatitis Secondary to Anti-Programmed Death Receptor 1 Immunotherapy Diagnosed by FDG PET/CT. Clin Nucl Med 40:e528-529.

99.

Carpenter KJ, Murtagh RD, Lilienfeld H, Weber J, Murtagh FR (2009) Ipilimumab-induced hypophysitis: MR imaging findings. AJNR Am J Neuroradiol 30:1751-1753.

100.

Fairchild A, Tirumani SH, Rosenthal MH, Howard SA, Krajewski KM, Nishino M, et al (2015) Hormonal therapy in oncology: a primer for the radiologist. AJR Am J Roentgenol 204:W620-630.

101.

Ascher SM, Imaoka I, Lage JM (2000) Tamoxifen-induced uterine abnormalities: the role of imaging. Radiology 214:29-38.

102.

Polin SA, Ascher SM (2008) The effect of tamoxifen on the genital tract. Cancer Imaging 8:135-145.

103.

Ascher SM, Johnson JC, Barnes WA, Bae CJ, Patt RH, Zeman RK (1996) MR imaging appearance of the uterus in postmenopausal women receiving tamoxifen therapy for breast cancer: histopathologic correlation. Radiology 200:105-110.

104.

Nishino M, Hayakawa K, Nakamura Y, Morimoto T, Mukaihara S (2003) Effects of tamoxifen on hepatic fat content and the development of hepatic steatosis in patients with breast cancer: high frequency of involvement and rapid reversal after completion of tamoxifen therapy. AJR Am J Roentgenol. 180:129-134.

105.

Fiorica JV, Brunetto VL, Hanjani P, Lentz SS, Mannel R, Andersen W; Gynecologic Oncology Group study (2004) Phase II trial of alternating courses of megestrol acetate and tamoxifen in advanced endometrial carcinoma: a Gynecologic Oncology Group study. Gynecol Oncol 92:10-14.
Ethics declarations
Conflict of interest
The authors declare that there are no conflicts of interest regarding this article.
Additional information
Publisher's Note
Springer Nature remains neutral with regard to jurisdictional claims in published maps and institutional affiliations.
About this article
Cite this article
Guler, E., Smith, D.A., Somarouthu, B. et al. Overview of imaging findings associated with systemic therapies in advanced epithelial ovarian cancer. Abdom Radiol 45, 828–841 (2020). https://doi.org/10.1007/s00261-019-02175-0
Keywords
Epithelial ovarian cancer

Epithelial ovarian carcinoma

Systemic therapies