Abstract
Purpose
To present radiological aspects of jejunoileal diverticulosis and its complications.
Results
Jejunoileal diverticulosis is a relatively rare and underestimated condition, which mostly affects the elderly. It is frequently asymptomatic but it can lead to significant complications requiring surgical treatment. Jejunoileal diverticulosis is far less common than colonic diverticulosis. Acquired small bowel diverticula are often numerous but the complication rate is low. Acute diverticulitis is the most frequent complication; its classic presentation involves the jejunum and is often non-severe. Diverticular hemorrhage is the second most common complication; CT scan examination is essential to determine the accurate topography of the pathological diverticula. Small bowel obstruction can occur through several mechanisms: adhesions, enterolith, and intussusception. Extra-intestinal gas without perforation and "pseudo-ischemic" appearance are non-pathological conditions that are important to diagnose in order to avoid surgery.
Conclusion
Jejunoileal diverticulosis usually does not show any symptoms but can lead to diagnostic challenges requiring evaluation by CT. CT scan signs of these complications and some pitfalls must be known.
Access options
Buy single article
Instant access to the full article PDF.
US$ 39.95
Tax calculation will be finalised during checkout.
Subscribe to journal
Immediate online access to all issues from 2019. Subscription will auto renew annually.
US$ 79
Tax calculation will be finalised during checkout.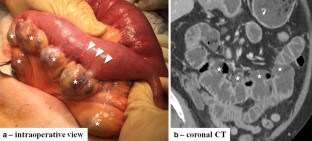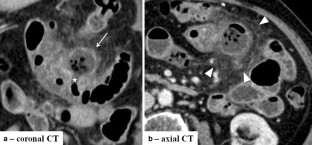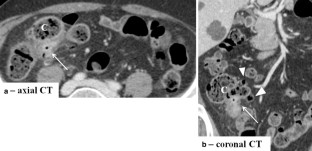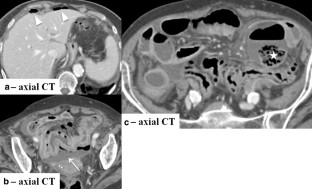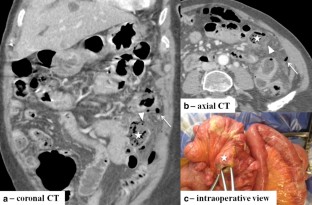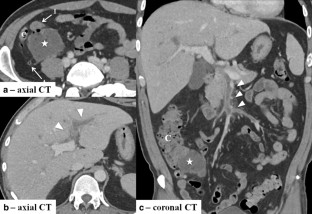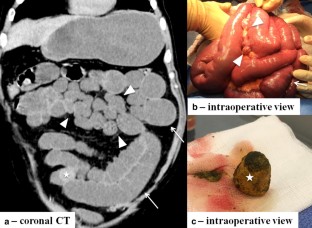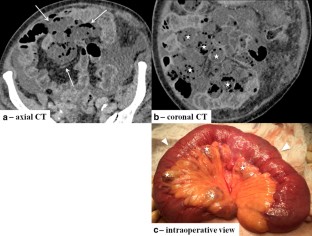 References
1.

Fintelmann F, Levine MS, Rubesin SE (2008) Jejunal diverticulosis: findings on CT in 28 patients. AJR Am J Roentgenol 190(5):1286–90.

2.

Maglinte DD, Chernish SM, DeWeese R, Kelvin FM, Brunelle RL (1986) Acquired jejunoileal diverticular disease: subject review. Radiology 158(3):577–80.

3.

Baskin Jr RH, Mayo CW (1952) Jejunal diverticulosis: a clinical study of 87 cases. Surg Clin North Am 1185.

4.

Longo WE, Vernava III AM (1992) Clinical implications of jejunoileal diverticular disease. Dis Colon Rectum 35(4):381–8.

5.

Liu C-Y, Chang W-H, Lin S-C, Chu C-H, Wang T-E, Shih S-C (2005) Analysis of clinical manifestations of symptomatic acquired jejunoileal diverticular disease. World J Gastroenterol 11(35):5557.

6.

Lempinen M, Salmela K, Kemppainen E (2004) Jejunal diverticulosis: a potentially dangerous entity. Scand J Gastroenterol 39(9):905–9.

7.

Lacalamita MC, Moschetta M, Mancini ME, Scardapane A, Angelelli G (2014) Role of CT in the diagnosis of jejunal-ileal perforations. Radiol Med (Torino) 119(9):651–7.

8.

Ghekiere O, Lesnik A, Millet I, Hoa D, Guillon F, Taourel P (2007) Direct visualization of perforation sites in patients with a non-traumatic free pneumoperitoneum: added diagnostic value of thin transverse slices and coronal and sagittal reformations for multi-detector CT. Eur Radiol 17(9):2302–9.

9.

Lebert P, Millet I, Ernst O, Boulay-Coletta I, Corno L, Taourel P, Zins M (2018) Acute Jejunoileal Diverticulitis: Multicenter Descriptive Study of 33 Patients. AJR Am J Roentgenol 210(6):1245–51.

10.

Horesh N, Klang E, Gravetz A, et al. (2016) Jejunal diverticulitis. J Laparoendosc Adv Surg Tech A 26(8):596–599

11.

Transue DL, Hanna TN, Shekhani H, Rohatgi S, Khosa F, Johnson J-O (2017) Small bowel diverticulitis: an imaging review of an uncommon entity. Emerg Radiol 24(2):195–205.

12.

Ambrosetti P (2016) Acute left-sided colonic diverticulitis: clinical expressions, therapeutic insights, and role of computed tomography. Clin Exp Gastroenterol 9:249–57.

13.

Kouraklis G, Glinavou A, Mantas D, Kouskos E, Karatzas G (2002) Clinical implications of small bowel diverticula. Isr Med Assoc J IMAJ 4(6):431–3.

14.

Hanna C, Mullinax J, Friedman MS, Sanchez J (2016) Jejunal diverticulosis found in a patient with long-standing pneumoperitoneum and pseudo-obstruction on imaging: a case report. Gastroenterol Rep 4(4):337–40.

15.

Edwards HC (1936) Diverticulosis of the small intestine. Ann Surg 103(2):230–54.

16.

Coulier B, Maldague P, Bourgeois A, Broze B (2007) Diverticulitis of the small bowel: CT diagnosis. Abdom Imaging 32(2):228–33.

17.

Kassir R, Boueil-Bourlier A, Baccot S, Abboud K, Dubois J, Petcu CA, Boutet C, Chevalier U, Montveneur M, Cano M-I, Ferreira R, Debs T, Tiffet O (2015) Jejuno-ileal diverticulitis: Etiopathogenicity, diagnosis and management. Int J Surg Case Rep 10:151–3.

18.

Krishnamurthy S, Kelly MM, Rohrmann CA, Schuffler MD (1983) Jejunal diverticulosis. A heterogenous disorder caused by a variety of abnormalities of smooth muscle or myenteric plexus. Gastroenterology 85(3):538–47.

19.

Meagher AP, Porter AJ, Rowland R, Ma G, Hoffmann DC (1993) Jejunal diverticulosis. Aust N Z J Surg 63(5):360–6.

20.

Barton JS, Karmur AB, Preston JF, Sheppard BC (2014) Familial jejuno-ileal diverticulitis: A case report and review of the literature. Int J Surg Case Rep 5(12):1038–40.

21.

Mansoori B, Delaney CP, Willis JE, Paspulati RM, Ros PR, Schmid-Tannwald C, Herrmann K (2016) Magnetic resonance enterography/enteroclysis in acquired small bowel diverticulitis and small bowel diverticulosis. Eur Radiol 26(9):2881–91.

22.

Stoker J, van Randen A, Laméris W, Boermeester MA (2009). Imaging patients with acute abdominal pain. Radiology 253(1):31–46.

23.

Huynh LN, Coughlin BF, Wolfe J, Blank F, Lee SY, Smithline HA (2004) Patient encounter time intervals in the evaluation of emergency department patients requiring abdominopelvic CT: oral contrast versus no contrast. Emerg Radiol 10(6):310–3.

24.

Akhrass R, Yaffe MB, Fischer C, Ponsky J, Shuck JM (1997) Small-bowel diverticulosis: perceptions and reality. J Am Coll Surg 184(4):383–8.

25.

Kwak JY, Park EH, Park CS, Kim JH, Han MS, Kwak JH (2016) Uncomplicated jejunal diverticulosis with pneumoperitoneum. Ann Surg Treat Res 90(6):346–9.

26.

Fiori E, Ansali A, Galati G, Graziano P, Drudi FM, Maccioni F, Cangemi V (1996) Leiomyosarcoma in jejunal diverticulum. A case report and review of the literature. Il G Chir 17(5):269–75.

27.

Spasojevic M, Naesgaard JM, Ignjatovic D (2012) Perforated midgut diverticulitis: revisited. World J Gastroenterol WJG 18(34):4714.

28.

Englund R, Jensen M (1986) Acquired diverticulosis of the small intestine: case reports and literature review. Aust N Z J Surg 56(1):51–4.

29.

Eckhauser FE, Zelenock GB, Freier DT (1979) Acute complications of jejuno-ileal pseudodiverticulosis: surgical implications and management. Am J Surg 138(2):320–3.

30.

Park H-C, Lee BH (2009) The management of terminal ileum diverticulitis. Am Surg 75(12):1199–202.

31.

Makris K, Tsiotos GG, Stafyla V, Sakorafas GH (2009) Small intestinal nonmeckelian diverticulosis. J Clin Gastroenterol 43(3):201–7.

32.

Yen HH, Chen YY, Yang CW, Soon MS (2012) Diagnosis and management of jejunoileal diverticular hemorrhage: a decade of experience. J Dig Dis 13(6):316–20.

33.

Harbi H, Kardoun N, Fendri S, Dammak N, Toumi N, Guirat A, Mzali R (2017) Jejunal diverticulitis. Review and treatment algorithm. Presse Med.

34.

Iwamuro M, Hanada M, Kominami Y, Higashi R, Mizuno M, Yamamoto K (2011) Endoscopic hemostasis for hemorrhage from an ileal diverticulum. World J Gastrointest Endosc 16;3(7):154–6.

35.

Garnet DJ, Scalcione LR, Barkan A, Katz DS (2011) Enterolith ileus: liberated large jejunal diverticulum enterolith causing small bowel obstruction in the setting of jejunal diverticulitis. Br J Radiol 84(1004):e154–7.

36.

Fourneau H, Coulier B, Afshin Rezazadeh A (2018) Small Bowel Obstruction Due to Enterolith in a Patient with Diffuse Jejuno-Ileal Diverticulosis. J Belg Soc Radiol 102(1):10.

37.

Ghrissi R, Harbi H, Elghali MA, Belhajkhlifa MH, Letaief MR (2016) Jejunal diverticulosis: a rare case of intestinal obstruction. J Surg Case Rep 2016(2).

38.

Mohi RS, Moudgil A, Bhatia SK, Seth K, Kaur T (2016) Complicated Jejunal Diverticulosis: Small Bowel Volvulus with Obstruction. Iran J Med Sci 41(6):548–51.

39.

Gurvits GE, Lan G (2014) Enterolithiasis. World J Gastroenterol 21;20(47):17819–29.

40.

Bewes PC, Haslewood GA, Roxburgh RA (1966) Bile-acid enteroliths and jejunal diverticulosis. Br J Surg 53(8):709–11.

41.

Chugay P, Choi J, Dong XD (2010) Jejunal diverticular disease complicated by enteroliths: Report of two different presentations. World J Gastrointest Surg 27;2(1):26–9.

42.

Dunn V, Nelson JA (1979) Jejunal diverticulosis and chronic pneumoperitoneum. Gastrointest Radiol 15;4(2):165–8.
Acknowledgements
We thank Dr. Paul Borde, Dr. Antonin Lereuil, Dr. Chritophe Leroy and Dr. Arturo Ze Roberto for their assistance with this study.
Funding
No funding was received for this study.
Ethics declarations
Conflict of interest
The authors declare that they have no conflict of interest.
Additional information
Publisher's Note
Springer Nature remains neutral with regard to jurisdictional claims in published maps and institutional affiliations.
About this article
Cite this article
Lebert, P., Ernst, O. & Zins, M. Acquired diverticular disease of the jejunum and ileum: imaging features and pitfalls. Abdom Radiol 44, 1734–1743 (2019). https://doi.org/10.1007/s00261-019-01928-1
Keywords
Bowel obstruction

Computed tomography

Diverticula

Diverticular hemorrhage

Diverticulitis

Small bowel