Abstract
Endosalpingiosis rarely affects the appendix but can be mistaken for acute appendicitis or appendiceal tumors. The medical literature regarding appendiceal endosalpingiosis is sparse; consisting of only four case reports which are primarily focused on the histopathology but provide little radiologic correlation. Endosalpingiosis is a rare condition characterized by the presence of benign fallopian tubal-like glandular epithelium derived from Mullerian ducts, usually affecting the serosal surfaces of the pelvis and peritoneum. It is histologically differentiated from endometriosis as endosalpingiosis lacks endometrial stroma. Endosalpingiosis tends to affect older women and has been associated with ovarian serous tumors of low malignant potential. After a retrospective review of a pathology database, we present pathologically proven cases of appendiceal endosalpingiosis with correlative imaging. We discuss the clinical presentation, illustrate the CT and MRI appearance, histologic characteristics, and review the current medical literature of appendiceal endosalpingiosis.
Access options
Buy single article
Instant access to the full article PDF.
US$ 39.95
Tax calculation will be finalised during checkout.
Subscribe to journal
Immediate online access to all issues from 2019. Subscription will auto renew annually.
US$ 79
Tax calculation will be finalised during checkout.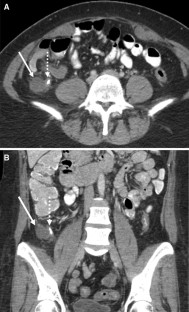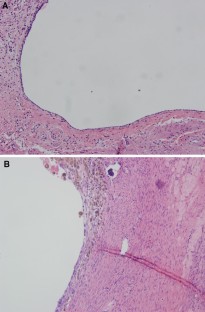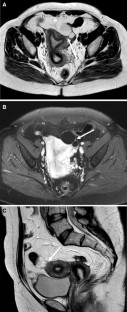 References
1.

Prentice L, Stewart A, Mohiuddin S, Johnson NP (2012) What is endosalpingiosis? Fertil Steril 98(4):942–947. https://doi.org/10.1016/j.fertnstert.2012.06.039

2.

Pollheimer MJ, Leibl S, Pollheimer VS, Ratschek M, Langner C (2007) Cystic endosalpingiosis of the appendix. Virchows Arch 450(2):239–241. https://doi.org/10.1007/s00428-006-0328-9

3.

Demir MK, Savas Y, Furuncuoglu Y, et al. (2017) Imaging findings of the unusual presentations, associations and clinical mimics of acute appendicitis. Eurasian J Med 49(3):198–203. https://doi.org/10.5152/eurasianjmed.2017.17218

4.

Sampson JA (1930) Post salpingectomy endometriosis (endosalpingiosis). Am J Obstet Gynecol 20:443–480

5.

Tallón-Aguilar L, Olano-Acosta C, López-Porras M, Flores-Cortés M, Pareja-Ciuró F (2009) Endosalpingiosis of the appendix. Cir Esp 85(6):383. https://doi.org/10.1016/j.ciresp.2008.09.017

6.

Djordjevic B, Clement-Kruzel S, Atkinson NE, Malpica A (2010) Nodal endosalpingiosis in ovarian serous tumors of low malignant potential with lymph node involvement: a case for a precursor lesion. Am J Surg Pathol 34(10):1442–1448. https://doi.org/10.1097/PAS.0b013e3181f17d33

7.

Katre R, Morani AK, Prasad SR, et al. (2010) Tumors and pseudotumors of the secondary Mullerian system: review with emphasis on cross-sectional imaging findings. AJR 195(6):1452–1459. https://doi.org/10.2214/AJR.10.4302

8.

Esselen KM, Terry KL, Samuel A, et al. (2016) Endosalpingiosis: more than just an incidental finding at the time of gynecologic surgery? Gynecol Oncol 142(2):255–260. https://doi.org/10.1016/j.ygyno.2016.05.036

9.

Irving JA, Young RH, Clement PB (2015) Sternberg's diagnostic surgical pathology, 6th edn. The Netherlands: Wolters Kluwer Health

10.

Kaneda S, Fujii S, Nosaka K, et al. (2015) MR imaging findings of mass-forming endosalpingiosis in both ovaries: a case report. Abdom Imaging 40(3):471–474. https://doi.org/10.1007/s00261-014-0327-2

11.

Cajigas A, Axiotis CA (1990) Endosalpingiosis of the vermiform appendix. Int J Gynecol Pathol 9(3):291–295

12.

Ryuko K, Miura H, Abu-Musa A, Iwanari O, Kitao M (1992) Endosalpingiosis in association with ovarian surface papillary tumor of borderline malignancy. Gynecol Oncol 46(1):107–110
Ethics declarations
Funding
No grants or funding was involved in this project.
Conflict of interest
All authors (Drs. Tudor, Williams, Myers and Umar) declare no conflicts of interest.
Ethical approval
The study is a retrospective review of the medical record and is compliant with Henry Ford. Hospital's Institutional Review Board guidelines (IRB# 12225) and was performed in accordance with the ethical standards as laid down in the 1964 Declaration of Helsinki and its later amendments or comparable ethical standards. For this type of study (retrospective review) formal consent is not required.
Informal consent
This article does not contain studies with human or animal participants performed by any of the authors.
About this article
Cite this article
Tudor, J., Williams, T.R., Myers, D.T. et al. Appendiceal endosalpingiosis: clinical presentation and imaging appearance of a rare condition of the appendix. Abdom Radiol 44, 3246–3251 (2019). https://doi.org/10.1007/s00261-018-1813-8
Keywords
Appendix

Endosalpingiosis

Endometriosis

Appendicitis

Tumors