Abstract
Purpose
Multidetector computed tomography (MDCT) is routinely used in the diagnosis of pancreatic ductal adenocarcinoma (PDAC), but it may be inadequate in some cases, especially mass-forming chronic pancreatitis (MFCP) and isoattenuating pancreatic lesions. Perfusion CT (pCT) may help resolve this problem. The aim of this study was to evaluate whether pCT could help differentiating PDAC from MFCP and in characterization of isoattenuating pancreatic lesions.
Materials and methods
This prospective study included 89 cases of pancreatic lesions detected by MDCT and further analyzed with pCT. Sixty-one cases with final pathological diagnosis PDAC and 12 cases with MFCP were included from the study. Blood volume (BV), blood flow (BF), mean transit time (MTT), and permeability surface area product (PS) maps were obtained. Perfusion values obtained from the lesions and normal parenchyma were compared.
Results
Compared with normal parenchyma, BV, BF, PS were lower and MTT was longer in PDAC and MFCP (p < 0.05). Compared with MFCP, BV, BF, PS were lower and MTT was longer in PDAC (p < 0.001). Compared with normal parenchyma, BV, BF, PS were lower and MTT was longer in isoattenuating lesions, (p < 0.001). Cutoff values of 7.60 mL/100 mL, 64.43 mL/100 mL/min, 28.08 mL/100 mL/min for BV, BF, PS, respectively, provided 100% sensitivity and specificity and 7.47 s for MTT provided 98.3% sensitivity, 80% specificity for distinguishing PDAC from MFCP.
Conclusion
pCT is a useful technology that can be helpful in overcoming the limitations of routine MDCT in diagnosing PDAC and characterization of isoattenuating lesions.
Access options
Buy single article
Instant access to the full article PDF.
USD 39.95
Price excludes VAT (USA)
Tax calculation will be finalised during checkout.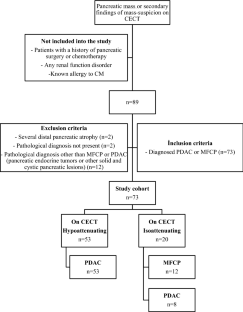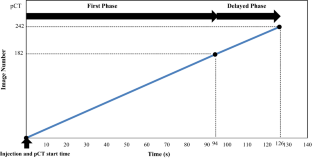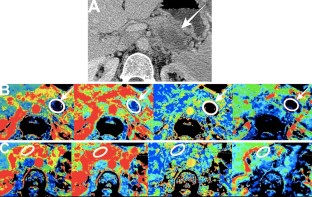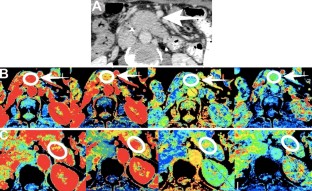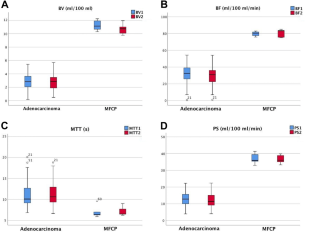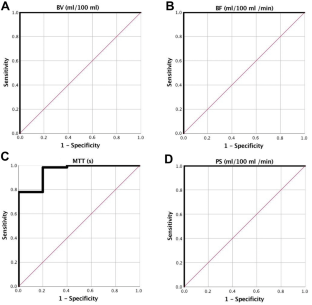 References
Rahib L, Smith BD, Aizenberg R, et al. (2014) Projecting cancer incidence and deaths to 2030: the unexpected burden of thyroid, liver, and pancreas cancers in the United States. Cancer Res 74:2913–2921

Klauss M, Stiller W, Pahn G, et al. (2013) Dual-energy perfusion-CT of pancreatic adenocarcinoma. Eur J Radiol 82:208–214

Kim R, Saif MW (2007) Is there an optimal neoadjuvant therapy for locally advanced pancreatic cancer? JOP 8:279–288

Grözinger G, Grözinger A, Horger M (2014) The role of volume perfusion CT in the diagnosis of pathologies of the pancreas. Fortschr Röntgenstr 186:1082–1093

Prokesch RW, Chow LC, Beaulieu CF, Bammer R, Jeffrey RB (2002) Isoattenuating pancreatic adenocarcinoma at multi–detector row CT: secondary signs. Radiology 224:764–768

Kim JH, Park SH, Yu ES, et al. (2010) Visually isoattenuating pancreatic adenocarcinoma at dynamic-enhanced CT: frequency, clinical and pathologic characteristics, and diagnosis at imaging examinations. Radiology 257:87–96

Yadav AK, Sharma R, Kandasamy D, et al. (2016) Perfusion CT–can it resolve the pancreatic carcinoma versus mass forming chronic pancreatitis conundrum? Pancreatology 16:979–987

Sahani DV, Kalva SP, Farrell J, et al. (2004) Autoimmune pancreatitis: imaging features. Radiology 233:345–352

Chang WI, Kim BJ, Lee JK, et al. (2009) The clinical and radiological characteristics of focal mass-forming autoimmune pancreatitis: comparison with chronic pancreatitis and pancreatic cancer. Pancreas 38:401–408

Ichikawa T, Sou H, Araki T, et al. (2001) Duct-penetrating sign at MRCP: usefulness for differentiating inflammatory pancreatic mass from pancreatic carcinomas. Radiology 221:107–116

Hartwig W, Schneider L, Diener MK, et al. (2009) Preoperative tissue diagnosis for tumours of the pancreas. Br J Surg 96:5–20

Kandel S, Kloeters C, Meyer H, et al. (2009) Whole-organ perfusion of the pancreas using dynamic volume CT in patients with primary pancreas carcinoma: acquisition technique, post-processing and initial results. Eur Radiol 19:2641–2646

Miles KA, Charnsangavej C, Lee FT, et al. (2000) Application of CT in the investigation of angiogenesis in oncology. Acad Radiol 7:840–850

Lu N, Feng XY, Hao SJ, et al. (2011) 64-slice CT perfusion imaging of pancreatic adenocarcinoma and mass-forming chronic pancreatitis. Acad Radiol 18:81–88

Xu J, Liang Z, Hao S, et al. (2009) Pancreatic adenocarcinoma: dynamic 64-slice helical CT with perfusion imaging. Abdom Imaging 34:759–766

Delrue L, Blanckaert P, Mertens D, et al. (2011) Assessment of tumor vascularization in pancreatic adenocarcinoma using 128-slice perfusion computed tomography imaging. J Comput Assist Tomogr 35:434–438

Klauss M, Stiller W, Fritz F, et al. (2012) Computed tomography perfusion analysis of pancreatic carcinoma. J Comput Assist Tomogr 36:237–242

Bluemke DA, Cameron JL, Hruban RH, et al. (1995) Potentially resectable pancreatic adenocarcinoma: spiral CT assessment with surgical and pathologic correlation. Radiology 197:381–385

Eastwood JD, Lev MH, Provenzale JM (2003) Perfusion CT with iodinated contrast material. AJR 180:3–12

Zhao X, Zhou C, Wu N, et al. (2003) Study of multiple slices pancreatic CT perfusion. Chin J Radiol 37:845–849

Kudo K, Sasaki M, Yamada K, et al. (2009) Differences in CT perfusion maps generated by different commercial software: quantitative analysis by using identical source data of acute stroke patients. Radiology 254:200–209

van Kouwen MC, Jansen JB, van Goor H, et al. (2005) FDG-PET is able to detect pancreatic carcinoma in chronic pancreatitis. Eur J Nucl Med Mol Imaging 32:399–404

Keogan MT, Tyler D, Clark L, et al. (1998) Diagnosis of pancreatic carcinoma: role of FDG PET. AJR 171:1565–1570

Ruan Z, Jiao J, Min D, et al. (2018) Multimodality imaging features distinguish pancreatic carcinoma from mass-forming chronic pancreatitis of the pancreatic head. Oncol Lett 15:9735–9744

Delbeke D, Pinson CW (2004) Pancreatic tumors: role of imaging in the diagnosis, staging, and treatment. J Hepatobil Pancreat Surg 11:4–10

Kato K, Nihashi T, Ikeda M, et al. (2013) Limited efficacy of 18F-FDG PET/CT for differentiation between metastasis-free pancreatic cancer and mass-forming chronic pancreatitis. Clin Nucl Med 38:417–421

Ozaki Y, Oguchi K, Hamano H, et al. (2008) Differentiation of autoimmune pancreatitis from suspected pancreatic cancer by fluorine-18 fluorodeoxyglucose positron emission tomography. J Gastroenterol 43:144–151
Ethics declarations
Funding
No funding was received for this study.
Conflict of interest
The authors declare that they have no conflict of interest.
Ethical approval
All procedures performed in studies involving human participants were in accordance with the ethical standards of the institutional research committee and the 1964 Declaration of Helsinki and its later amendments or comparable ethical standards. For this type of study formal consent is not required.
About this article
Cite this article
Aslan, S., Nural, M.S., Camlidag, I. et al. Efficacy of perfusion CT in differentiating of pancreatic ductal adenocarcinoma from mass-forming chronic pancreatitis and characterization of isoattenuating pancreatic lesions. Abdom Radiol 44, 593–603 (2019). https://doi.org/10.1007/s00261-018-1776-9
Published:

Issue Date:

DOI: https://doi.org/10.1007/s00261-018-1776-9
Keywords