Abstract
The placenta is commonly overlooked on magnetic resonance imaging of the pregnant patient, which is frequently performed for alternative reasons such as to characterize fetal or uterine anomalies or to investigate the etiology of acute pelvic pain in pregnancy. Placental disorders have potential for significant maternal and fetal morbidity and peripartum complications if not recognized and treated in a timely manner. The radiologist must be familiar with normal placental variants and the spectrum of benign to life-threatening conditions affecting the placenta so that the Obstetrician can be promptly notified and patient management altered, if necessary. In this pictorial essay, we will describe our MR protocol for placental imaging, provide an image-rich review of the normal placenta, placental variants, and a variety of pathological conditions affecting the placenta and gravid uterus.
Access options
Buy single article
Instant access to the full article PDF.
US$ 39.95
Tax calculation will be finalised during checkout.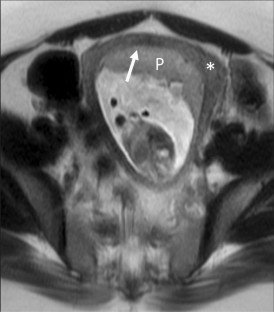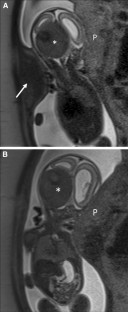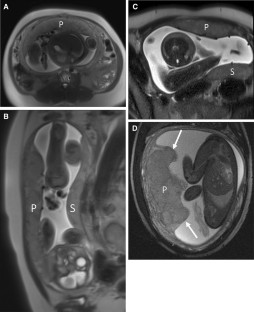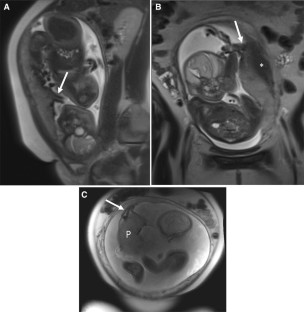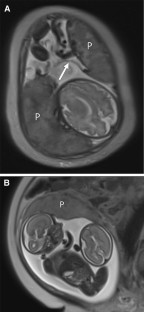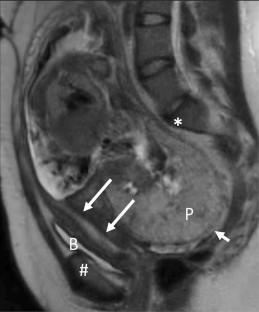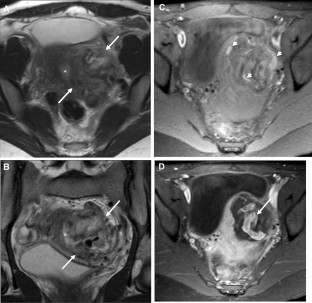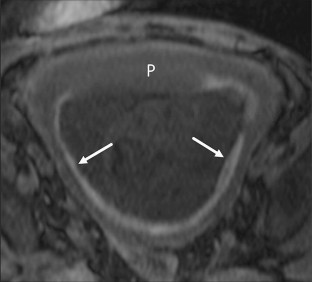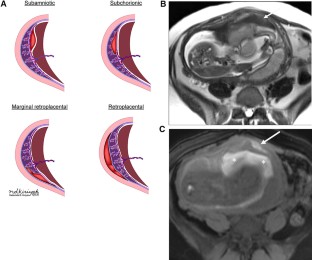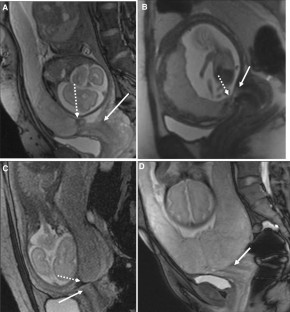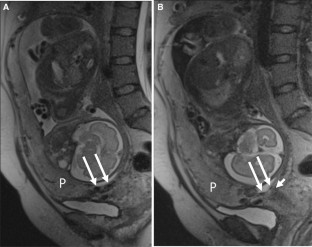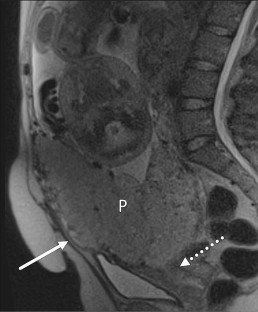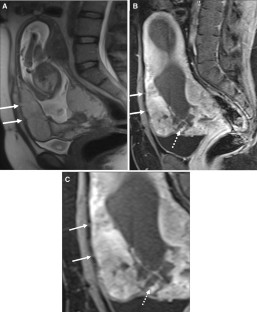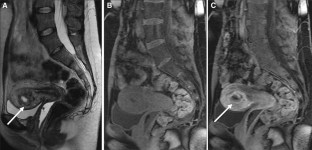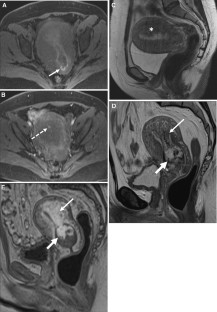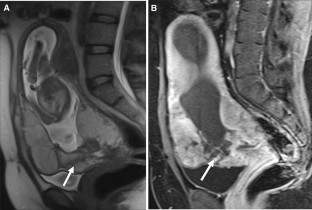 References
1.

Hertzberg B, Middleton W, Middleton W (2015) Ultrasound: the requisites. Philadelphia: Elsevier

2.

American College of Radiology (ACR), Society for Pediatric Radiology (SPR) (2015) ACR-SPR practice guideline for the safe and optimal performance of fetal magnetic resonance imaging (MRI). Reston: American College of Radiology (ACR), pp. 4–5. https://www.acr.org/-/media/ACR/Files/Practice-Parameters/mr-fetal.pdf?la=en

3.

Kanal E, Barkovich AJ, Bell C, et al. (2013) ACR guidance document on MR safe practices: 2013. J Magn Reson Imaging 37(3):501–530

4.

Ray JG, Vermeulen MJ, Bharatha A, Montanera WJ, Park AL (2016) Association between MRI exposure during pregnancy and fetal and childhood outcomes. JAMA 316:952–961

5.

Hand JW, Li Y, Thomas EL, Rutherford MA, Hajnal JV (2006) Prediction of specific absorption rate in mother and fetus associated with MRI examinations during pregnancy. Magn Reson Med 55(4):883–893

6.

ACR (American College of Radiology) (2017) ACR manual on contrast media version 10.3. https://www.acr.org/-/media/ACR/Files/Clinical-Resources/Contrast_Media.pdf

7.

Doyle S, Messiou C, Rutherford JM, Dineen RA (2009) Cancer presenting during pregnancy: radiological perspectives. Clin Radiol 64(9):857–871

8.

Raptis CA, Mellnick VM, Raptis DA, et al. (2014) Imaging of trauma in the pregnant patient. Radiographics 34(3):748–763

9.

Shaaban AM, Rezvani M, Haroun RR, et al. (2017) Gestational trophoblastic disease: clinical and imaging features. RadioGraphics 37(2):681–700

10.

Prayer D, Brugger PC, Prayer L (2004) Fetal MRI: techniques and protocols. Pediatr Radiol 34:685–693

11.

Leyendecker JR, DuBose M, Hosseinzadeh K, et al. (2012) MRI of pregnancy-related issues: abnormal placentation. AJR Am J Roentgenol 198(2):311–320

12.

Palacios Jaraquemada JM, Bruno C (2000) Gadolinium enhanced MR imaging in the differential diagnosis of placenta accreta and placenta percreta. Radiology 216:610–611

13.

Tanaka YO, Sohda S, Shigemitsu S, Niitsu M, Itai Y (2001) High temporal resolution dynamic contrast MRI in a high risk group for placenta accreta. Magn Reson Imaging 19:635–642

14.

Millischer AE, Deloison B, Silvera S, et al. (2017) Dynamic contrast enhanced MRI of the placenta: a tool for prenatal diagnosis of placenta accreta? Placenta 53:40–47

15.

Siauve N, Chalouhi GE, Deloison B, et al. (2015) Functional imaging of the human placenta with magnetic resonance. Am J Obstet Gynecol 213(4 Suppl):S103–S114

16.

Elsayes KM, Trout AT, Friedkin AM, et al. (2009) Imaging of the placenta: a multimodality pictorial review. Radiographics 29(5):1371–1391

17.

Benirschke K, Kaufmann P (2000) Pathology of the human placenta. New York: Springer Verlag

18.

Lee YM, Cleary-Goldman J, Thaker HM, Simpson LL (2006) Antenatal sonographic prediction of twin chorionicity. Am J Obstet Gynecol 195(3):863–867

19.

Trop I (2001) The twin peak sign. Radiology 220(1):68–69

20.

Nair M, Kumar G (2009) Uncomplicated monochorionic diamniotic twin pregnancy. J Obstet Gynaecol 29(2):90–93

21.

Dias T, Mahsud-dornan S, Bhide A, et al. (2010) Cord entanglement and perinatal outcome in monoamniotic twin pregnancies. Ultrasound Obstet Gynecol 35(2):201–204

22.

Gardner CS, Jaffe TA, Hertzberg BS, Javan R, Ho LM (2013) The incarcerated uterus: a review of MRI and ultrasound imaging appearances. AJR Am J Roentgenol 201(1):223–229

23.

van Beekhuizen HJ, Bodewes HW, Tepe EM, et al. (2003) Role of magnetic resonance imaging in the diagnosis of incarceration of the gravid uterus. Obstet Gynecol 102:1134–1137

24.

Fernandes DD, Sadow CA, Economy KE, Benson CB (2012) Sonographic and magnetic resonance imaging findings in uterine incarceration. J Ultrasound Med 31:645–650

25.

Gottschalk EM, Siedentopf JP, Schoenborn I, et al. (2008) Prenatal sonographic and MRI findings in a pregnancy complicated by uterine sacculation: case report and review of the literature. Ultrasound Obstet Gynecol 32:582–586

26.

Plauche W, VonAlmen W, Muller R (1984) Catastrophic uterine rupture. Obstet Gynecol. 64:792–793

27.

Claydon CS, Pernoll ML (2003) Third-trimester vaginal bleeding. In: DeCherney AH, Nathan L (eds) Current obstetric and gynaecologic diagnosis and treatment, 9th edn. New York: Lange/McGraw Hill, pp 354–368

28.

Bedi DG, Solomon A, Winsett MZ, Fagan CJ, Kumar R (1986) Ruptured uterus: sonographic diagnosis. J Clin Ultrasound 14:529–533

29.

Trop I, Levine D (2001) Hemorrhage during pregnancy: sonography and MR imaging. AJR Am J Roentgenol 176(3):607–615

30.

Masselli G, Brunelli R, Di Tola M, Anceschi M, Gualdi G (2011) MR imaging in the evaluation of placental abruption: correlation with sonographic findings. Radiology 259(1):222–230

31.

Sinha P, Kuruba N (2008) Ante-partum haemorrhage: an update. J Obstet Gynaecol 28:377–381

32.

Ananth CV, Berkowitz GS, Savitz DA, Lapinski RH (1999) Placental abruption and adverse perinatal outcomes. JAMA 282(17):1646–1651

33.

Glantz C, Purnell L (2002) Clinical utility of sonography in the diagnosis and treatment of placental abruption. J Ultrasound Med 21(8):837–840

34.

Wei SH, Helmy M, Cohen AJ (2009) CT evaluation of placental abruption in pregnant trauma patients. Emerg Radiol 16(5):365–373

35.

Reddy UM, Abuhamad AZ, Levine D, Saade GR, Fetal Imaging Workshop Invited Participants (2014) Fetal imaging: executive summary of a Joint Eunice Kennedy Shriver National Institute of Child Health and Human Development, Society for Maternal-Fetal Medicine, American Institute of Ultrasound in Medicine, American College of Obstetricians and Gynecologists, American College of Radiology, Society for Pediatric Radiology, and Society of Radiologists in Ultrasound Fetal Imaging Workshop. Am J Obstet Gynecol. 210(5):387–397

36.

Dashe JS, Mcintire DD, Ramus RM, et al. (2002) Persistence of placenta previa according to gestational age at ultrasound detection. Obstet Gynecol 99:692–697

37.

Catanzarite V, Maida C, Thomas W, et al. (2001) Prenatal sonographic diagnosis of vasa previa: ultrasound findings and obstetric outcomes in ten cases. Ultrasound Obstet Gynecol 17:109–115

38.

Kulkarni A, Powel J, Aziz M, et al. (2018) Vasa previa: prenatal diagnosis and outcomes: thirty-five cases from a single maternal-fetal medicine practice. J Ultrasound Med 37:1017–1024

39.

Oyelese Y, Jha RC, Moxley MD, Collea JV, Queenan JT (2003) Magnetic resonance imaging of vasa praevia. BJOG. 110(12):1127–1128

40.

ACOG Committee on Obstetric Practice (2002) ACOG Committee opinion. Number 266, January 2002: placenta accreta. Obstet Gynecol 99(1):169–170

41.

Tantbirojn P, Crum CP, Parast MM (2008) Pathophysiology of placenta acreta: the role of decidua and extravillous trophoblast. Placenta 29:639–645

42.

Hull AD, Moore TR (2011) Multiple repeat cesareans and the threat of placenta accreta: incidence, diagnosis, management. Clin Perinatol 38:285–296

43.

Wu S, Kocherginsky M, Hibbard JU (2005) Abnormal placentation: twenty-year analysis. Am J Obstet Gynecol 192:1458–1461

44.

Baughman WC, Corteville JE, Shah RR (2008) Placenta accreta: spectrum of US and MR imaging findings. Radiographics 28(7):1905–1916

45.

Benson CB, Genest DR, Bernstein MR, et al. (2000) Sonographic appearance of first trimester complete hydatidiform moles. Ultrasound Obstet Gynecol 16(2):188–191

46.

Barton JW, McCarthy SM, Kohorn EI, Scoutt LM, Lange RC (1993) Pelvic MR imaging findings in gestational trophoblastic disease, incomplete abortion, and ectopic pregnancy: are they specific? Radiology 186(1):163–168

47.

Kamaya A, Petrovitch I, Chen B, Frederick CE, Jeffrey RB (2009) Retained products of conception: spectrum of color Doppler findings. J Ultrasound Med 28(8):1031–1041

48.

Noonan JB, Coakley FV, Qayyum A, et al. (2003) MR imaging of retained products of conception. AJR Am J Roentgenol 181(2):435–439

49.

Nagayama M, Watanabe Y, Okumura A, et al. (2002) Fast MR imaging in obstetrics. Radiographics 22(3):563–580 (discussion 580–582)

50.

Fox HF, Sebire N (2007) Pathology of the placenta. Philadelphia: Elsevier

51.

Callen PW (2008) Ultrasonography in obstetrics and gynecology. Philadelphia: Elsevier

52.

Yagel S, Anteby EY, Shen O, et al. (1999) Placental blood flow measured by simultaneous multigate spectral Doppler imaging in pregnancies complicated by placental vascular abnormalities. Ultrasound Obstet Gynecol 14:262–266

53.

Malian V, Lee JH (2001) MR imaging and MR angiography of an abdominal pregnancy with placental infarction. AJR Am J Roentgenol 177(6):1305–1306

54.

Brown DL, DiSalvo DN, Frates MC, Davidson KM, Genest DR (2002) Placental surface cysts detected on sonography: histologic and clinical correlation. J Ultrasound Med 21(6):641–646

55.

Kung FT, Chen WJ, Hsu PH, et al. (1997) Large chorioangioma: antenatal color-flow Doppler ultrasonic imaging and its correlation with postpartum pathology, experience of 2 cases. Acta Obstet Gynecol Scand 76:277–279

56.

Kawamoto S, Ogawa F, Tanaka J, Ban S, Heshiki A (2000) Chorioangioma: antenatal diagnosis with fast MR imaging. Magn Reson Imaging 18(7):911–914

57.

Dildy GA, Moise KJ, Carpenter RJ, Klima T (1989) Maternal malignancy metastatic to the products of conception: a review. Obstet Gynecol Surv 44(7):535–540
Ethics declarations
Disclosures
All authors claim no conflicts of interest or disclosures.
About this article
Cite this article
Oppenheimer, D.C., Mazaheri, P., Ballard, D.H. et al. Magnetic resonance imaging of the placenta and gravid uterus: a pictorial essay. Abdom Radiol 44, 669–684 (2019). https://doi.org/10.1007/s00261-018-1755-1
Keywords
Placenta

Pregnancy imaging

Magnetic resonance imaging

Placenta accreta