Abstract
The purpose of this paper is to describe cross-sectional imaging anatomic and morphologic parameters of solid renal tumors that urologists and interventional radiologists need for precise management, review the commonly used terms and descriptors of those parameters, and suggest a comprehensive reporting system for detected masses.
This is a preview of subscription content, log in to check access.
Access options
Buy single article
Instant access to the full article PDF.
US$ 39.95
Price includes VAT for USA
Subscribe to journal
Immediate online access to all issues from 2019. Subscription will auto renew annually.
US$ 99
This is the net price. Taxes to be calculated in checkout.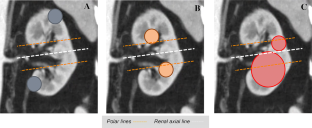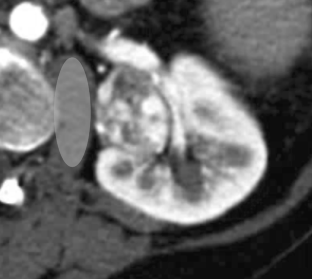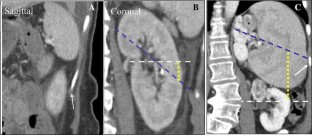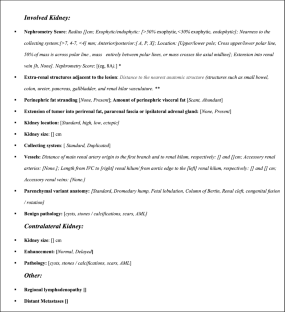 References
1.

Parsons JK, Schoenberg MS, Carter HB (2001) Incidental renal tumors: casting doubt on the efficacy of early intervention. Urology 57(6):1013–1015

2.

Siegel R, Ma J, Zou Z, Jemal A (2014) Cancer statistics, 2014. CA Cancer J Clin 64(1):9–29

3.

Muramaki M, Miyake H, Sakai I, Fujisawa M (2013) Prognostic factors influencing postoperative development of chronic kidney disease in patients with small renal tumors who underwent partial nephrectomy. Curr Urol 6(3):129–135

4.

Eisenberg MS, Brandina R, Gill IS (2010) Current status of laparoscopic partial nephrectomy. Curr Opin Urol 20(5):365–370

5.

Kutikov A, Uzzo RG (2009) The R.E.N.A.L. nephrometry score: a comprehensive standardized system for quantitating renal tumor size, location and depth. J Urol 182(3):844–853

6.

Weight CJ, Atwell TD, Fazzio RT, et al. (2011) A multidisciplinary evaluation of inter-reviewer agreement of the nephrometry score and the prediction of long-term outcomes. J Urol 186(4):1223–1228

7.

Liu ZW, Olweny EO, Yin G, et al. (2013) Prediction of perioperative outcomes following minimally invasive partial nephrectomy: role of the R.E.N.A.L nephrometry score. World J Urol 31(5):1183–1189

8.

Dahl HHM, Schwaab T, Underwood W, Kim HL (2011) RENAL nephrometry score predicts surgical outcomes of laparoscopic partial nephrectomy. BJU Int 108(6):876–881

9.

Rosevear HM, Gellhaus PT, Lightfoot AJ, et al. (2012) Utility of the RENAL nephrometry scoring system in the real world: predicting surgeon operative preference and complication risk. BJU Int 109(5):700–705

10.

Broughton GJ, Clark PE, Barocas DA, et al. (2012) Tumour size, tumour complexity, and surgical approach are associated with nephrectomy type in small renal cortical tumours treated electively. BJU Int 109(11):1607–1613

11.

Gill IS, Kavoussi L, Lane BR, et al. (2007) Comparison of 1,800 laparoscopic and open partial nephrectomies for single renal tumors. J Urol 178(1):41–46

12.

Naya Y, Kawauchi A, Oishi M, et al. (2015) Comparison of diameter-axial-polar nephrometry and RENAL nephrometry score for treatment decision-making in patients with small renal mass. Int J Clin Oncol 20(2):358–361

13.

Esen T, Acar O, Musaoğlu A, Vural M (2013) Morphometric profile of the localised renal tumors managed either by open or robot-assisted nephron-sparing surgery: the impact of scoring systems on the decision making process. BMC Urol 13:63

14.

Meeks JJ, Zhao LC, Navai N, et al. (2008) Risk factors and management of urine leaks after partial nephrectomy. J Urol 180(6):2375–2378

15.

Cha E, Jeun B, Ng C, et al. (2010) 519 identification of nephrometric variables predictive of renal impairment following partial nephrectomy. J Urol 183(4):e205

16.

Kutikov A, Smaldone MC, Egleston BL, et al. (2011) Anatomic features of enhancing renal masses predict malignant and high-grade pathology: a preoperative nomogram using the RENAL Nephrometry score. Eur Urol 60(2):241–248

17.

Salem M, Shah SN, Wood LS, et al. (2011) Contrast-enhanced CT (CE-CT) changes and nephrometry down-scoring of unresectable primary renal cell carcinoma (RCC) tumors in patients (Pts) treated with neoadjuvant sunitinib. J Clin Oncol 29(7):299

18.

Kolla SB, Spiess PE, Sexton WJ (2011) Interobserver reliability of the RENAL nephrometry scoring system. Urology 78(3):592–594

19.

Kurta JM, Thompson RH, Kundu S, et al. (2009) Contemporary imaging of patients with a renal mass: does size on computed tomography equal pathological size? BJU Int 103(1):24–27

20.

Choi SM, Choi DK, Kim TH, et al. (2015) A comparison of radiologic tumor volume and pathologic tumor volume in renal cell carcinoma (RCC). PLoS ONE 10(3):e0122019

21.

Guinan P, Sobin LH, Algaba F et al. TNM staging of renal cell carcinoma: Workgroup No. 3. Union Internationale Contre Ie Cancer (UICC) and the American Joint Committee on Cancer (AJCC). Cancer

22.

Venkatesh R, Weld K, Ames CD, et al. (2006) Laparoscopic partial nephrectomy for renal masses: effect of tumor location. Urology 67(6):1169–1174 (discussion 1174)

23.

Finley DS, Lee DI, Eichel L, et al. (2005) Fibrin glue-oxidized cellulose sandwich for laparoscopic wedge resection of small renal lesions. J Urol 173(5):1477–1481

24.

Weizer AZ, Gilbert SM, Roberts WW, Hollenbeck B, JS Wolf (2008) Tailoring technique of laparoscopic partial nephrectomy to tumor characteristics. J Urol 180(4):1273–1278

25.

Porpiglia F, Volpe A, Billia M, Renard J, Scarpa RM (2008) Assessment of risk factors for complications of laparoscopic partial nephrectomy. Eur Urol 53(3):590–596

26.

Finley DS, Beck S, Box G, et al. (2008) Percutaneous and laparoscopic cryoablation of small renal masses. J Urol 180(2):492–498 (discussion 498)

27.

Guazzoni G, Cestari A, Buffi N, et al. (2010) Oncologic results of laparoscopic renal cryoablation for clinical T1a tumors: 8 years of experience in a single institution. Urology 76(3):624–629

28.

Malcolm JB, Berry TT, Williams MB, et al. (2009) Single center experience with percutaneous and laparoscopic cryoablation of small renal masses. J Endourol 23(6):907–911

29.

Atwell TD, Carter RE, Schmit GD, et al. (2012) Complications following 573 percutaneous renal radiofrequency and cryoablation procedures. J Vasc Interv Radiol 23(1):48–54

30.

Vricella GJ, Haaga JR, Adler BL, et al. (2011) Percutaneous cryoablation of renal masses: impact of patient selection and treatment parameters on outcomes. Urology 77(3):649–654

31.

Black P, Filipas D, Fichtner JAN, Hohenfellner R, Thüroff JW (2000) Nephron sparing surgery for central renal tumors: experience with 33 cases. J Urol 163(3):737–743

32.

Frank I, Colombo JR, Rubinstein M, et al. (2006) Laparoscopic partial nephrectomy for centrally located renal tumors. J Urol 175(3):849–852

33.

Farrell MA, Charboneau WJ, DiMarco DS, et al. (2003) Imaging-guided radiofrequency ablation of solid renal tumors. Am J Roentgenol 180(6):1509–1513

34.

Schmit GD, Thompson RH, Kurup AN, et al. (2013) Usefulness of R.E.N.A.L. nephrometry scoring system for predicting outcomes and complications of percutaneous ablation of 751 renal tumors. J Urol 189(1):30–35

35.

Seideman CA, Gahan J, Weaver M, et al. (2013) Renal tumour nephrometry score does not correlate with the risk of radiofrequency ablation complications. BJU Int 112(8):1121–1124

36.

Mansilla AV, Bivins EEJr, Contreras F, et al. (2017) CT–guided microwave ablation of 45 renal tumors: analysis of procedure complexity utilizing a percutaneous renal ablation complexity scoring system. J Vascu Intervent Radiol 28(2):222–229

37.

Coll DM, Herts BR, Davros WJ, Uzzo RG, Novick AC (2000) Preoperative use of 3D volume rendering to demonstrate renal tumors and renal anatomy. RadioGraphics 20(2):431–438

38.

Yin Z, Espiritu P, Hakky T, Jutras K, Spiess PE (2014) Predicting ease of perinephric fat dissection at time of open partial nephrectomy using preoperative fat density characteristics. BJU Int 114(6):872–880

39.

Narita S, Kumazawa T, Tsuchiya N, et al. (2017) Host-related risk factors for adherent perinephric fat in healthy individuals undergoing laparoscopic living-donor nephrectomy. Surg Laparosc Endosc Percutaneous Tech 27(4):e69–e73

40.

Kumazawa T, Tsuchiya N, Inoue T, et al. (2012) Association between various indices of obesity and intraoperative factors in laparoscopic donor nephrectomy. J Laparoendosc Adv Surg Tech A 22(6):567–571

41.

Davidiuk AJ, Parker AS, Thomas CS, et al. (2014) Mayo adhesive probability score: an accurate image-based scoring system to predict adherent perinephric fat in partial nephrectomy. Eur Urol 66(6):1165–1171

42.

Uflacker R (2007) Atlas of vascular anatomy: an angiographic approach, 2nd edn. Philadelphia: Lippincott Williams & Wilkins

43.

Dalrymple NC, Prasad SR, Freckleton MW, Chintapalli KN (2005) Informatics in radiology (infoRAD): introduction to the language of three-dimensional imaging with multidetector CT. Radiographics 25(5):1409–1428

44.

Fishman EK, DR Ney, Heath DG, et al. (2006) Volume rendering versus maximum intensity projection in CT angiography: what works best, when, and why. Radiographics 26(3):905–922

45.

Chapman D, Moore R, Klarenbach S, Braam B (2010) Residual renal function after partial or radical nephrectomy for renal cell carcinoma. Can Urol Assoc J 4(5):337–343

46.

Vanel D (2007) The American College of Radiology (ACR) Breast Imaging and Reporting Data System (BI-RADS): a step towards a universal radiological language? Eur J Radiol 61(2):183

47.

Mitchell DG, Bruix J, Sherman M, Sirlin CB (2015) LI-RADS (Liver Imaging Reporting and Data System): summary, discussion, and consensus of the LI-RADS Management Working Group and future directions. Hepatology 61(3):1056–1065

48.

Benadiba S, Verin AL, Pignot G, et al. (2015) Are urologists and radiologists equally effective in determining the RENAL Nephrometry score? Ann Surg Oncol 22(5):1618–1624

49.

Funahashi Y, Murotani K, Yoshino Y, et al. (2015) The renal tumor morphological characteristics that affect surgical planning for laparoscopic or open partial nephrectomy. Nagoya J Med Sci 77(1–2):229–235
About this article
Cite this article
Alsaikhan, N., Alshehri, W., Cassidy, F. et al. Renal tumor structured reporting including nephrometry score and beyond: what the urologist and interventional radiologist need to know. Abdom Radiol 44, 190–200 (2019). https://doi.org/10.1007/s00261-018-1691-0
Keywords
Renal

Mass

Surgical

Planning

Nephrometry score

Ablation