Abstract
Purpose
To review the clinical, multimodality imaging, and pathologic characteristics of abdominal wall endometriosis (AWE), the most common type of extra-pelvic endometriosis.
Methods
116 women with histopathologically confirmed extragenital endometriosis diagnosed between 2/2014 and 6/2017 were evaluated retrospectively. Of these, 26 (22.4%) were found to have AWE and 18/26 met inclusion criteria for imaging. Available imaging studies were re-reviewed by two expert radiologists. Data regarding clinical features, histopathologic findings, and management were collected through medical record review.
Results
21 pathology-proven AWE deposits were identified by imaging in 18 women [mean age at diagnosis of 38.5 years (range 31–48)]. Prior C-section was present in 15/18 (83.3%) and pelvic endometriosis in 3/18 (16.7%) patients. Patients presented with abdominal pain in 14/18 (77.8%) cases, which was cyclical in 8/14; palpable mass in 12/18 (66.7%); fluid discharge in 2/18 (11.1%); and local skin discoloration in 2/18 (11.1%). Of the 21 lesions, 15 were evaluated with US, 10 with CT, and 5 with MRI. Mean lesion dimensions were 2.5 × 2.2 × 2.6 cm, and deposits were predominantly located at midline or left hemiabdomen [22/30 (73.3%)], were either stellate [15/30 (50%)] or round [15/30 (50%)] in shape, had ill-defined margins [21/30 (70%)], were heterogenous in appearance [27/30 (90%)], and involved both deep and superficial abdominal wall layers [17/30 (56.7%)]. On US, lesions were mainly isoechoic/hyperechoic [7/15 (46.7%)], and scarcely vascular [8/15 (53.3%)] with a peripheral vascular pattern [8/13 (61.5%)]. On CT, AWEs were hypervascular and homogeneous [8/10 (80%)], superiorly located to scar tissue, and on MRI lesions appeared hyperintense [4/5 (80%)] to muscle with T2 cystic and T1 hemorrhagic foci [4/5 (80%)]. In 23/27 (85.1%) original reports, there was at least one known mass prior to imaging; AWE was correctly diagnosed in only 7/23 (30.4%) cases. In those with no prior knowledge of a mass, the lesion was detected in 3/4 (75%), but AWE was only diagnosed in a single case. Median time between onset of symptoms and histopathology was 24.41 moths (IQR 15.18–47.33).
Conclusions
AWE is a challenging clinical entity frequently diagnosed with a significant delay and easily misinterpreted despite multimodality imaging. Familiarity with its radiologic features holds the potential for positively impacting diagnosis.
Access options
Buy single article
Instant access to the full article PDF.
US$ 39.95
Tax calculation will be finalised during checkout.
Subscribe to journal
Immediate online access to all issues from 2019. Subscription will auto renew annually.
US$ 79
Tax calculation will be finalised during checkout.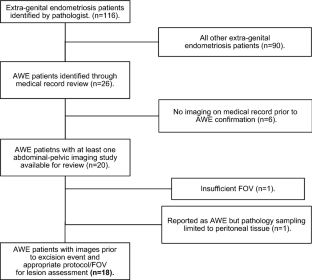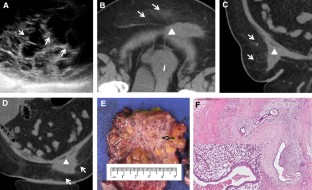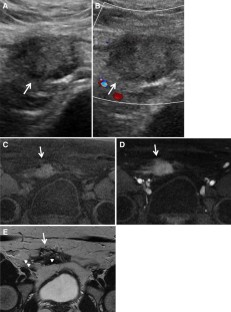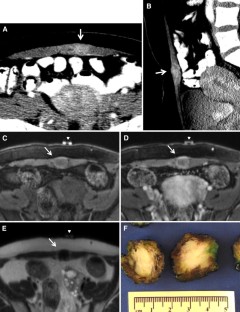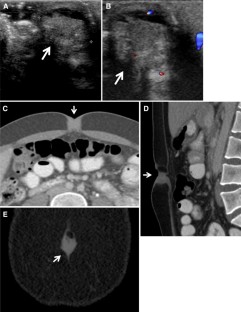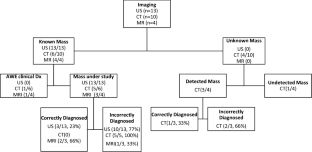 References
1.

Guidice LC, Kao LC (2004) Endometriosis. Lancet 364:1789–1799

2.

Gui B, Valentini A, Ninivaggi A, et al. (2017) Shining light in a dark landscape: MRI evaluation of unusual localization of endometriosis. Diagn Interv Radiol 23(4):272–281

3.

Chamié PC, Blasbalg LP, Pereira R, et al. (2011) Findings of pelvic endo-metriosis at transvaginal US, MR imaging, and laparoscopy. Radiographics 31:77–101

4.

Hensen JH, Vriesman VB, Puylaert JC (2006) Abdominal wall endometriosis: clinical presentation and imaging features with emphasis on sonography. Am J Roentol 186(3):616–620

5.

Iafrate F, Ciolina M, Baldassari P, et al. (2012) Gallbladder and muscular endometriosis: a case report. Abdom Imaging 37(1):120–124

6.

Gidwaney R, Badler RL, Yam BL, et al. (2012) Endometriosis of abdominal and pelvic wall scars: multimodality imaging findings, pathologic correlation, and radiologic mimics. RadioGraphics 32(7):2031–2043

7.

Pados G, Tympanidis J, Zafrakas M, et al. (2008) Ultrasound and MR-imaging in preoperative evaluation of two rare cases of scar endometriosis. Cases J 1(1):97

8.

Dallaudière B, Salut C, Hummer V, et al. (2013) MRI atlas of ectopic endometriosis. Diagn Interv Imaging 94(3):263–280

9.

Yela D, Trigo L, Benetti-Pinto C, et al. (2017) Evaluation of cases of abdominal wall endometriosis at Universidade Estadual de Campinas in a period of 10 years. RBGO Gynecol Obstet 39(8):403–407

10.

Yarmish G, Sala E, Goldman A, et al. (2016) Abdominal wall endometriosis: differentiation from other masses using CT features. Abdom Radiol 42(5):1517–1523

11.

Khan Z, Zanfagnin V, El-Nashar A, et al. (2017) Risk factors, clinical presentation, and outcomes for abdominal wall endometriosis. J Minim Invasive Gynecol 24(3):478–484

12.

Allaire C, Williams C, Bodmer-Roy S, et al. (2018) Chronic pelvic pain in an itnerdisciplinary setting: 1-year prospective cohort. Am J Obstet Gynecol 218:1

13.

Dwivedi AJ, Agrawal SN, Silva YJ (2002) Abdominal wall endometriomas. Dig Dis Sci 47(2):456–461

14.

Weng CS, Yang YC (2011) Villars nodule—umbilical endometriosis. N Engl J Med 364:21

15.

Busard M, Mijatovic V, Van Kuijk C, et al. (2010) Appearance of abdominal wall endometriosis on MR imaging. Eur Radiol 20(5):1267–1276

16.

Savelli L, Manuzzi L, DiDonato N, et al. (2012) Endometriosis of the abdominal wall: ultrasonographic and doppler characteristics. Ultrasound Obstet Gynecol 39(3):336–340

17.

Thurmond A, Harvey WJ, Smith SA (1999) Cesarean section scar as a cause of abnormal vaginal bleeding: diagnosis by sonohysterography. J Ultrasound Med 18(1):13–16

18.

Solak A, Genç B, Yalaz S, et al. (2012) Abdominal wall endometrioma: ultrasonographic features and correlation with clinical findings. Balkan Meical J 30(2):155–160

19.

Ecker A, Donnellan M, Shepherd J, et al. (2014) Abdominal wall endometriosis: 12 years of experience at a large academic institution. Am J Obstet Gynecol 211(4):363.e1–363.e5

20.

Hensen J, et al. (2006) Abdominal wall endometriosis: clinical presentation and imaging features with emphasis on sonography. Am J Roentgenol 186:616–620

21.

Solak A, et al. (2013) Diagnostic value of suceptibility-weighted imaging of abdominal wall endometriosis during the cyclic menstrual changes: a preliminary study. Eur J Radiol 82(9):e411–e416

22.

Burne R, Giudice L (2012) Pathogenesis and pathophysiology of endometriosis. Fertil Steril 98(3):511–519

23.

Katayama M, et al. (2002) Diffusion-weighted echo planar imaging of ovarian tumors: is it useful to measure apparent diffusion coefficients? J Comput Assist Tomogr 26(2):250–256

24.

Nakayama T, et al. (2005) Diffusion-weighted echo-planar MR imaging and ADC mapping in the differential diagnosis of ovarian cystic masses: usefulness of detecting keratinoid substances in mature cystic teratomas. J Magn Reson 22(2):271–278

25.

Genç B, et al (2014) Diffusion-weighted imaging in the evaluation of hormonal cyclic changes in abdominal wall endometriomas. Clin Radiol 69(2):130–136

26.

Danielpour PJ, Layke JC, Durie N, et al. (2010) Scar endometriosis—a rare cause for a painful scar: a case report and review of the literature. Can J Plastic Surg 18(1):19–20

27.

Vural B, Vural F, Müezzinoglu B (2015) An abdominal wall desmoid tumour mimicking cesarean scar endometriomas: a case report and review of the literature. J Clin Diagn Res 9(9):QD14–QD16

28.

Wu JS, Hochman MG (2009) Soft-tissue tumors and tumorlike lesions: a systematic imaging approach. Radiology 253(2):297–316

29.

Khamechian T, Alizargar J, and Mazoochi T (2014) 5-Year data analysis of patients following abdominal wall endometrioma surgery. BMC Womens Health 14:151

30.

Ferrandina G, et al. (2016) Endometriosis-associated clear cell carcinoma arising in caesarean section scar: a case report and review of the literature. World J Surg Oncol 14:1

31.

Fàbregas FF, Guimferrer MC, Casas FT, et al (2014) Malignant transformation of abdominal wall endometriosis with lymph node metastasis: case report and review of literature. Gynecol Oncol Rep 8:10–13

32.

Hoyos L, Johnson S, Puscheck E (2017) Endometriosis and Imaging. Clin Obstet Gynecol 60(3):503–516

33.

Horton JD, DeZee KJ, Ahnfeldt EP, et al. (2008) Abdominal wall endometriosis: a surgeon's perspective and review of 445 cases. Am J Surg 196(2):207–212

34.

Itoh H, Mogami H, Laurice B, et al. (2017) Endometrial stromal cell attachment and matrix homeostasis in abdominal wall endometriomas. Hum Reprod 33(2):280–291

35.

Zhu X, Chen L, Deng X, et al. (2017) A comparison between high-intensity focused ultrasound and surgical treatment for the management of abdominal wall endometriosis. BJOG-Int J Obstet Gy 124:53–58
Ethics declarations
This study required no funding sources, and the authors would like to disclose neither financial nor nonfinancial conflicts of interest for this work. All procedures performed in studies involving human participants were in accordance with the ethical standards of the institutional and/or national research committee and with the 1964 Helsinki declaration and its later amendments or comparable ethical standards; this being a retrospective observational study, informed consent was waived by our institutional review board (IRB). This article does not contain any studies with animals performed by any of the authors.
About this article
Cite this article
Jaramillo-Cardoso, A., Balcacer, P., Garces-Descovich, A. et al. Multimodality imaging and clinicopathologic assessment of abdominal wall endometriosis: knocking down the enigma. Abdom Radiol 45, 1800–1812 (2020). https://doi.org/10.1007/s00261-018-1666-1
Keywords
Endometriosis

Abdominal wall

Magnetic resonance imaging

Computed tomography

Ultrasound