Abstract
Purpose
Aim of the study is to assess the reliability and correlation with surgical peritoneal cancer index (PCI) of combined PET/CT and ceCT scans (PET/ceCT) performed in a session in patients with peritoneal carcinomatosis candidates for cytoreductive surgery (CS) and hyperthermic intraperitoneal chemotherapy (HIPEC).
Methods
We retrospectively analyzed data collected from 27 patients with different types of peritoneal carcinomatosis candidates to CS + HIPEC who underwent FDG PET/ceCT in a single session. Two nuclear medicine physicians and two radiologists independently and blindly evaluated PET/CT and ceCT imaging, respectively. In the case of discordance, the consensus was reached by a discussion between the specialists. Moreover, the combined images were evaluated by all the specialists in consensus. The PCIs obtained from surgical look, PET/CT, ceCT, and PET/ceCT were compared with each other. The coefficients of correlation (r) were calculated. The study was conducted after approval of local ethics committee.
Results
Surgical PCI was available in 21 patients. The coefficient of correlation between PCI of PET/CT and surgery was 0.528, while it resulted higher between PET/ceCT and surgery (r = 0.878), very similar to ceCT and surgery (r = 0.876). The r coefficient between surgical PCI and PET/CT was higher in patients with a non-mucinous cancer (n = 12) than the counterpart (0.601 vs. 0.303) and the addition of ceCT significantly increases the correlation (r = 0.863), which is anyway similar to ceCT alone (r = 0.856).
Conclusions
PET/ceCT as single examination is more accurate than PET/CT but not than ceCT alone for the definition of PCI in a selected group of patients candidates to CS + HIPEC.
This is a preview of subscription content, log in to check access.
Access options
Buy single article
Instant access to the full article PDF.
US$ 39.95
Price includes VAT for USA
Subscribe to journal
Immediate online access to all issues from 2019. Subscription will auto renew annually.
US$ 99
This is the net price. Taxes to be calculated in checkout.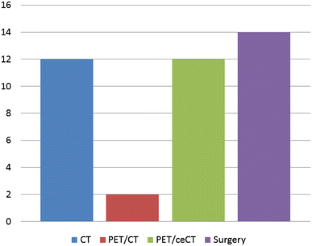 References
1.

Sommariva A, Pilati P, Rossi CR (2012) Cyto-reductive surgery combined with hyperthermic intra-peritoneal chemotherapy for peritoneal surface malignancies: current treatment and results. Cancer Treat Rev 38:258–268

2.

Sugarbaker PH (2006) New standard of care for appendiceal epithelial neoplasms and pseudomyxoma peritonei syndrome? Lancet Oncol 7:69–76

3.

Yan TD, Welch L, Black D, Sugarbaker PH (2007) A systematic review on the efficacy of cytoreductive surgery combined with perioperative intraperitoneal chemotherapy for diffuse malignancy peritoneal mesothelioma. Ann Oncol 18:827–834

4.

Cao C, Yan TD, Black D, Morris DL (2009) A systematic review and meta-analysis of cytoreductive surgery with perioperative intraperitoneal chemotherapy for peritoneal carcinomatosis of colorectal origin. Ann Surg Oncol 16(8):2152–2165

5.

Chua TC, Robertson G, Liauw W, et al. (2009) Intraoperative hyperthermic intraperitoneal chemotherapy after cytoreductive surgery in ovarian cancer peritoneal carcinomatosis: systematic review of current results. J Cancer Res Clin Oncol 135:1637–1645

6.

Rossi CR, Casali P, Kusamura S, Baratti D, Deraco M (2008) The consensus statement on the locoregional treatment of abdominal sarcomatosis. J Surg Oncol 98:291–294

7.

Portilla AG, Shigeki K, Dario B, Marcello D (2008) The intraoperative staging systems in the management of peritoneal surface malignancy. J Surg Oncol 98:228–231

8.

Jacquet P, Jelinek JS, Steves MA, Sugarbaker PH (1993) Evaluation of computed tomography in patients with peritoneal carcinomatosis. Cancer 72(5):1631–1636

9.

de Bree E, Koops W, Kröger R, et al. (2004) Peritoneal carcinomatosis from colorectal or appendiceal origin: correlation of preoperative CT with intraoperative findings and evaluation of interobserver agreement. J Surg Oncol 86:64–73

10.

Pfannenberg C, Königsrainer I, Aschoff P, et al. (2009) (18)F-FDG-PET/CT to select patients with peritoneal carcinomatosis for cytoreductive surgery and hyperthermic intraperitoneal chemotherapy. Ann Surg Oncol 16:1295–1303

11.

Faron M, Macovei R, Goéré D, et al. (2016) Linear relationship of peritoneal cancer index and survival in patients with peritoneal metastases from colorectal cancer. Ann Surg Oncol 23:114–119

12.

Yan TD, Haveric N, Carmignani CP, Chang D, Sugarbaker PH (2005) Abdominal computed tomography scans in the selection of patients with malignant peritoneal mesothelioma for comprehensive treatment with cytoreductive surgery and perioperative intraperitoneal chemotherapy. Cancer 103:839–849

13.

Dowdy SC, Mullany SA, Brandt KR, Huppert BJ, Cliby WA (2004) The utility of computed tomography scans in predicting suboptimal cytoreductive surgery in women with advanced ovarian carcinoma. Cancer 101:346–352

14.

Koh JL, Yan TD, Glenn D, Morris DL (2009) Evaluation of preoperative computed tomography in estimating peritoneal cancer index in colorectal peritoneal carcinomatosis. Ann Surg Oncol 16:327–333

15.

Klumpp B, Aschoff P, Schwenzer N, et al. (2013) Correlation of preoperative magnetic resonance imaging of peritoneal carcinomatosis and clinical outcome after peritonectomy and HIPEC after 3 years of follow-up: preliminary results. Cancer Imaging 13:540–547

16.

Sommariva A, Zagonel V, Rossi CR (2012) The role of laparoscopy in peritoneal surface malignancies selected for hyperthermic intraperitoneal chemotherapy (HIPEC). Ann Surg Oncol 19:3737–3744

17.

Passot G, Glehen O, Pellet O, et al. (2010) Pseudomyxoma peritonei: role of 18F-FDG PET in preoperative evaluation of pathological grade and potential for complete cytoreduction. Eur J Surg Oncol 36:315–323

18.

Brendle C, Schwenzer NF, Rempp H, et al. (2016) Assessment of metastatic colorectal cancer with hybrid imaging: comparison of reading performance using different combinations of anatomical and functional imaging techniques in PET/MRI and PET/CT in a short case series. Eur J Nucl Med Mol Imaging 43:123–132

19.

Pasqual EM, Bertozzi S, Bacchetti S, et al. (2014) Preoperative assessment of peritoneal carcinomatosis in patients undergoing hyperthermic intraperitoneal chemotherapy following cytoreductive surgery. Anticancer Res 34:2363–2368
Ethics declarations
Conflict of interest
All the authors declare no conflict of interest.
Informed consent
Informed consent was obtained from all individual participants included in the study. The study was conducted in accordance with the Declaration of Helsinki, and was performed after the evaluation and approval of local Ethics committee the 18th January 2016 (IOV-CAR-1-2015 Study).
About this article
Cite this article
Sommariva, A., Evangelista, L., Pintacuda, G. et al. Diagnostic value of contrast-enhanced CT combined with 18-FDG PET in patients selected for cytoreductive surgery and hyperthermic intraperitoneal chemotherapy (HIPEC). Abdom Radiol 43, 1094–1100 (2018). https://doi.org/10.1007/s00261-017-1276-3
Keywords
Peritoneal carcinomatosis

PET

CT

HIPEC