Abstract
Purpose
To evaluate the utility of PI-RADS v2 to diagnose clinically significant prostate cancer (CS-PCa) with magnetic resonance ultrasound (MR/US) fusion-guided prostate biopsies in the non-academic setting.
Materials/methods
Retrospective analysis of men whom underwent prostate multiparametric MRI and subsequent MR/US fusion biopsies at a single non-academic center from 11/2014 to 3/2016. Prostate MRIs were performed on a 3-Tesla scanner with a surface body coil. The Prostate Imaging Reporting and Data System (PI-RADS) v2 scoring algorithm was utilized and MR/US fusion biopsies were performed in selected cases. Mixed effect logistic regression analyses and receiver-operating characteristic (ROC) curves were performed on PI-RADS v2 alone and combined with PSA density (PSAD) to predict CS-PCa.
Results
170 patients underwent prostate MRI with 282 PI-RADS lesions. MR/US fusion diagnosed 71 CS-PCa, 33 Gleason score 3+3, and 168 negative. PI-RADS v2 score is a statistically significant predictor of CS-PCa (P < 0.001). For each one-point increase in the overall PI-RADS v2 score, the odds of having CS-PCa increases by 4.2 (95% CI 2.2–8.3). The area under the ROC curve for PI-RADS v2 is 0.69 (95% CI 0.63–0.76) and for PI-RADS v2 + PSAD is 0.76 (95% CI 0.69–0.82), statistically higher than PI-RADS v2 alone (P < 0.001). The rate of CS-PCa was about twice higher in men with high PSAD (≥0.15) compared to men with low PSAD (<0.15) when a PI-RADS 4 or 5 lesion was detected (P = 0.005).
Conclusion
PI-RADS v2 is a strong predictor of CS-PCa in the non-academic setting and can be further strengthened when utilized with PSA density.
This is a preview of subscription content, log in to check access.
Access options
Buy single article
Instant access to the full article PDF.
US$ 39.95
Price includes VAT for USA
Subscribe to journal
Immediate online access to all issues from 2019. Subscription will auto renew annually.
US$ 99
This is the net price. Taxes to be calculated in checkout.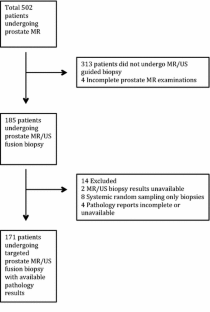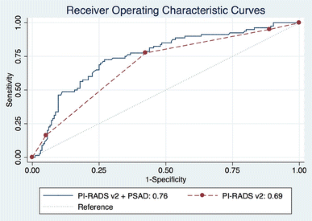 References
1.

NCI (2016) SEER Stat Fact Sheets: prostate cancer. Washington, DC National Cancer Institute. http://seer.cancer.gov/statfacts/html/prost.html. Accessed 8 Nov 2016

2.

ACR (2015) MR Prostate Imaging Reporting and Data System version 2.0. Washington, DC American College of Radiology. http://www.acr.org/Quality-Safety/Resources/PIRADS/. Accessed 8 Oct 2016

3.

Moyer VA (2012) Force USPST. Screening for prostate cancer: U.S. preventive services task force recommendation statement. Ann Intern Med 157(2):120–134

4.

Fine SW, Epstein JI (2008) A contemporary study correlating prostate needle biopsy and radical prostatectomy Gleason score. J Urol 179(4):1335–1338 (discussion 8–9)

5.

Siddiqui MM, Rais-Bahrami S, Truong H, et al. (2013) Magnetic resonance imaging/ultrasound–fusion biopsy significantly upgrades prostate cancer versus systematic 12-core transrectal ultrasound biopsy. Eur Urol 64(5):713–719

6.

Puech P, Rouvière O, Renard-Penna R, et al. (2013) Prostate cancer diagnosis: multiparametric MR-targeted biopsy with cognitive and transrectal US–MR fusion guidance versus systematic biopsy—prospective multicenter study. Radiology 268(2):461–469

7.

Marks L, Young S, Natarajan S (2013) MRI–ultrasound fusion for guidance of targeted prostate biopsy. Curr Opin Urol 23(1):43

8.

Wysock JS, Rosenkrantz AB, Huang WC, et al. (2014) A prospective, blinded comparison of magnetic resonance (MR) imaging–ultrasound fusion and visual estimation in the performance of MR-targeted prostate biopsy: the PROFUS trial. Eur Urol 66(2):343–351

9.

Tran GN, Leapman MS, Nguyen HG, et al. (2016) Magnetic resonance imaging-ultrasound fusion biopsy during prostate cancer active surveillance. Eur Urol. doi:10.1016/j.eururo.2016.08.023

10.

Schimmoller L, Quentin M, Arsov C, et al. (2013) Inter-reader agreement of the ESUR score for prostate MRI using in-bore MRI-guided biopsies as the reference standard. Eur Radiol 23(11):3185–3190

11.

Siddiqui MM, Rais-Bahrami S, Turkbey B, et al. (2015) Comparison of MR/ultrasound fusion–guided biopsy with ultrasound-guided biopsy for the diagnosis of prostate cancer. JAMA 313(4):390–397

12.

AHA (2016) Fast Facts on Academic Hospitals. Washington, DC American Hospital Association. http://www.aha.org/research/rc/stat-studies/fast-facts.shtml. Accessed 8 Dec 2016

13.

AAMC (2016) Key factors about teaching hospitals. Washington, DC American Hospital Association. https://www.aamc.org/download/82452/data/keyfactsaboutth.pdf. Accessed 8 Dec 2016

14.

Rosenkrantz AB, Kim S, Lim RP, et al. (2013) Prostate cancer localization using multiparametric MR imaging: comparison of Prostate Imaging Reporting and Data System (PI-RADS) and Likert scales. Radiology 269(2):482–492

15.

Portalez D, Mozer P, Cornud F, et al. (2012) Validation of the European society of urogenital radiology scoring system for prostate cancer diagnosis on multiparametric magnetic resonance imaging in a cohort of repeat biopsy patients. Eur Urol 62(6):986–996

16.

Lin WC, Westphalen AC, Silva GE, et al. (2016) Comparison of PI-RADS 2, ADC histogram-derived parameters, and their combination for the diagnosis of peripheral zone prostate cancer. Abdom Radiol 41:2209–2217

17.

Hamoen EH, de Rooij M, Witjes JA, Barentsz JO, Rovers MM (2015) Use of the prostate imaging reporting and data system (PI-RADS) for prostate cancer detection with multiparametric magnetic resonance imaging: a diagnostic meta-analysis. Eur Urol 67(6):1112–1121

18.

Schoots IG, Roobol MJ, Nieboer D, et al. (2015) Magnetic resonance imaging–targeted biopsy may enhance the diagnostic accuracy of significant prostate cancer detection compared to standard transrectal ultrasound guided biopsy: a systematic review and meta-analysis. Eur Urol 68(3):438–450

19.

Steiger P, Thoeny HC (2016) Prostate MRI based on PI-RADS version 2: how we review and report. Cancer Imaging 16(1):1

20.

Vargas HA, Hötker AM, Goldman DA, et al. (2016) Updated prostate imaging reporting and data system (PIRADS v2) recommendations for the detection of clinically significant prostate cancer using multiparametric MRI: critical evaluation using whole-mount pathology as standard of reference. Eur Radiol 26(6):1606–1612

21.

Kasel-Seibert M, Lehmann T, Aschenbach R, et al. (2016) Assessment of PI-RADS v2 for the detection of prostate cancer. Eur J Radiol 85(4):726–731

22.

Mertan FV, Greer MD, Shih JH, et al. (2016) Prospective evaluation of the prostate imaging reporting and data system version 2 for prostate cancer detection. J Urol. http://www.sciencedirect.com/science/article/pii/S0022534716301999

23.

Catalona WJ, Smith DS, Ratliff TL, et al. (1991) Measurement of prostate-specific antigen in serum as a screening test for prostate cancer. N Engl J Med 324(17):1156–1161

24.

Hayes JH, Barry MJ (2014) Screening for prostate cancer with the prostate-specific antigen test: a review of current evidence. JAMA 311(11):1143–1149

25.

Vickers AJ (2015) Four flawed arguments against prostate-specific antigen screening (and 1 good one). Urology 85(3):491–494

26.

Rosenkrantz AB, Oto A, Turkbey B, Westphalen AC (2016) Prostate Imaging Reporting and Data System (PI-RADS), version 2: a critical look. Am J Roentgenol 206(6):1179–1183

27.

Lin WC, Muglia VF, Silva GE, et al. (2016) Multiparametric MRI of the prostate: diagnostic performance and interreader agreement of two scoring systems. Br J Radiol 89(1062):20151056

28.

Washino S, Okochi T, Saito K, et al. (2016) Combination of PI-RADS score and PSA density predicts biopsy outcome in biopsy naive patients. BJU Int. doi:10.1111/bju.13465
Ethics declarations
Funding
No funding was received for this study.
Conflict of interest
The authors declare that they have no conflict of interest.
Ethical approval
All procedures performed in studies involving human participants were in accordance with the ethical standards of the institutional and/or national research committee and with the 1964 Helsinki declaration and its later amendments or comparable ethical standards.
Informed consent
The need for informed consent was waived by the Institutional Review Board.
About this article
Cite this article
Jordan, E.J., Fiske, C., Zagoria, R.J. et al. Evaluating the performance of PI-RADS v2 in the non-academic setting. Abdom Radiol 42, 2725–2731 (2017). https://doi.org/10.1007/s00261-017-1169-5
Keywords
Computed tomography

Angiography

Aortic aneurysm

EVAR

Imaging