Abstract
Purpose
To evaluate the imaging features of hepatic segmental atrophy and nodular elastosis.
Materials and methods
In this Institutional review board (IRB)-approved, HIPAA-compliant study, we reviewed imaging features in six cases of histologically confirmed hepatic segmental atrophy (HSA) and nodular elastosis (NE). Retrospective review of ultrasound (US) in 2 patients, computed tomography (CT) in 5 patients, magnetic resonance imaging (MRI) in 4 patients, and positron emission tomography (PET) in 2 patients was performed. Location, size, and attenuation/density/signal intensity of these lesions were evaluated. Clinical presentation and coexistent conditions were also recorded.
Results
All six patients were females. Mean age of presentation was 58.3 years (range 37–80). A single HSA and NE lesion in each patient was found. The mean size of the lesion was 18 mm (range: 3 mm to 36 mm). Most lesions were detected incidentally (5/6). On contrast-enhanced single-phase (portal venous) CT, most lesions were hypodense (4/5) and one lesion was hyperdense to fatty liver parenchyma. On MRI, the lesions were iso- to hyperintense on T2-weighted images, T1 hypointense, and hyperintense on diffusion-weighted images (DWI). Three lesions were hypointense on arterial, portal venous, and delayed phases. One lesion occurring in fatty liver appeared hyperintense on all three phases. Gd-EOB-DTPA-enhanced images were available in 2 patients and lesions were hypointense on the 20-min hepatobiliary phase. On PET, two lesions were isometabolic to the background hepatic parenchyma. On ultrasound, one lesion appeared hypoechoic and another lesion isoechoic to hepatic parenchyma.
Conclusions
Hepatic segmental atrophy and nodular elastosis is an uncommon benign lesion and can simulate metastases due to variable imaging features. Lack of FDG uptake on PET/CT may be a clue to the benign nature of the lesion and may suggest the possibility of HSA and NE.
Access options
Buy single article
Instant access to the full article PDF.
US$ 39.95
Tax calculation will be finalised during checkout.
Subscribe to journal
Immediate online access to all issues from 2019. Subscription will auto renew annually.
US$ 79
Tax calculation will be finalised during checkout.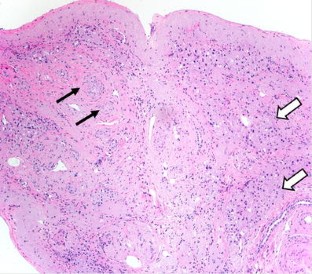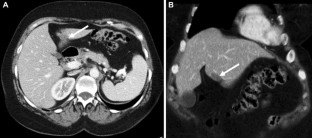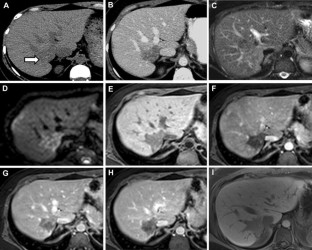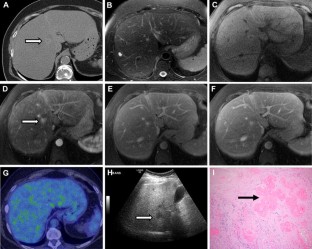 References
1.

Singhi AD, Maklouf HR, Mehrotra AK, et al. (2011) Segmental atrophy of the liver: a distinctive pseudotumor of the liver with variable histologic appearances. Am J Surg Pathol 35:364–371. doi:10.1097/PAS.0b013e31820b0603

2.

Spolverato G, Anders R, Kamel I, et al. (2014) Segmental atrophy of the liver: an uncommon and often unrecognized pseudotumor. Dig Dis Sci 59:3122–3125. doi:10.1007/s10620-014-3231-2

3.

Ham JM (1990) Lobar and segmental atrophy of the liver. World J Surg 14:457–462

4.

Friesen BR, Gibson RN, Speer T, et al. (2011) Lobar and segmental liver atrophy associated with hilar cholangiocarcinoma and the impact of hilar biliary anatomical variants: a pictorial essay. Insights Imaging 2:525–531. doi:10.1007/s13244-011-0100-9

5.

Hann LE, Getrajdman GI, Brown KT, et al. (1996) Hepatic lobar atrophy: association with ipsilateral portal vein obstruction. AJR Am J Roentgenol 167:1017–1021. doi:10.2214/ajr.167.4.8819404

6.

Ham JM (1979) Partial and complete atrophy affecting hepatic segments and lobes. Br J surg 66:333–337

7.

Harbin WP, Robert NJ, Ferrucci JT (1980) Diagnosis of cirrhosis based on regional changes in hepatic morphology. Radiology 135:273–283. doi:10.1148/radiology.135.2.7367613

8.

Hwang S, Park GC, Ha TY, et al. (2012) Hepatic parenchymal atrophy induction for intractable segmental bile duct injury after liver resection. Hepatogastroenterology 59:866–868. doi:10.5754/hge10172

9.

Hwang S, Lee SG, Lee YJ, et al. (2007) Delayed-onset isolated injury of the right posterior segment duct after laparoscopic cholecystectomy: a report of hepatic segmental atrophy induction. Surg Laparosc Endosc Percutan Tech 17:203–205. doi:10.1097/SLE.0b013e31804d4488

10.

Lamireau T, Dubuisson L, Lepreux S, et al. (2002) Abnormal hepatic expression of fibrillin-1 in children with cholestasis. Am J Surg Pathol 26:637–646

11.

Ramadori G, Saile B (2004) Portal tract fibrogenesis in the liver. Lab Invest 84:153–159

12.

Kanta J (2016) Elastin in the liver. Front Physiol 7:491. doi:10.3389/fphys.2016.00491

13.

Hobbs CM, Burch DM, Sobin LH (2004) Elastosis and elastofibromatous change in the gastrointestinal tract: a clinicopathologic study of 13 cases and a review of the literature. Am J Clin Pathol 122:232–237. doi:10.1309/LBGT-CG1Q-CD96-M3NF

14.

Ishida H, Naganuma H, Konno K (1998) Lobar atrophy of the liver. Abdom Imaging 23:150–153

15.

Takayasu K, Muramatsu Y, Shima Y, et al. (1986) Hepatic lobar atrophy following obstruction of the ipsilateral portal vein from hilar cholangiocarcinoma. Radiology 160:389–393

16.

Yamashita Y, Takahashi M, Kanazawa S, et al. (1992) Parenchymal changes of the liver in cholangiocarcinoma: CT evaluation. Gastrointest Radiol 17:161–166

17.

Siegelman ES, Outwater EK, Piccoli CW (1997) MRI of benign and malignant hepatic lobar atrophy. Clin Imaging 21:43–50

18.

Itai Y, Ohtomo K, Kokubo T, et al. (1988) Segmental intensity differences in the liver on MR images: a sign of intrahepatic portal flow stoppage. Radiology 167:17–19

19.

Sica GT, Ji H, Ros PR (2000) CT and MR Imaging of Hepatic Metastases. AJR 174:691–698
Ethics declarations
Funding
No funding was received for this study.
Conflict of interest
The authors confirm that they have no conflict of interest.
Ethical approval
All procedures performed in studies involving human participants were in accordance with the ethical standards of the institutional research committee and with the 1964 Helsinki declaration and its later amendments or comparable ethical standards.
Informed consent
A waiver of informed consent was obtained from our institutional review board.
About this article
Cite this article
Garg, I., Graham, R.P., VanBuren, W.M. et al. Hepatic segmental atrophy and nodular elastosis: imaging features. Abdom Radiol 42, 2447–2453 (2017). https://doi.org/10.1007/s00261-017-1164-x
Keywords
Hepatic segmental atrophy

Nodular elastosis

CT

MRI

PET

Ultrasound