Abstract
Many patients are reluctant to undergo optical colonoscopy for colorectal cancer screening. The Check-Cap colon imaging system is a non-invasive test that comprises an ingestible imaging capsule that emits and detects ultra-low-dose radiation. The capsule generates a 3D reconstruction of the colonic lumen for detection of polyps and cancer. Preliminary preclinical and clinical testing has demonstrated safety and feasibility. Mean radiation dose is estimated at 0.04 mSv. In conclusion, we describe a novel capsule-based, patient-friendly colorectal test that holds potential for non-invasive screening.
Access options
Buy single article
Instant access to the full article PDF.
US$ 39.95
Tax calculation will be finalised during checkout.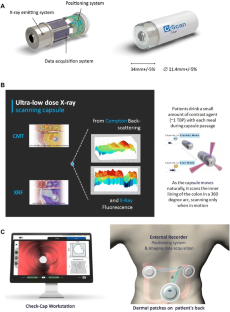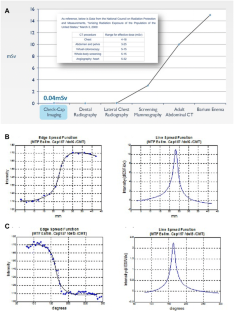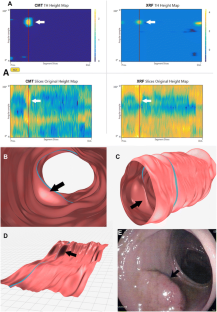 References
1.

Torre LA, Bray F, Siegel RL, et al. (2015) Global cancer statistics, 2012. CA 65:87–108

2.

Levin B, Lieberman DA, McFarland B, et al. (2008) Screening and surveillance for the early detection of colorectal cancer and adenomatous polyps, 2008: a joint guideline from the American Cancer Society, the US Multi-Society Task Force on Colorectal Cancer, and the American College of Radiology. CA 58:130–160

3.

Pickhardt PJ (2016) Emerging stool-based and blood-based non-invasive DNA tests for colorectal cancer screening: the importance of cancer prevention in addition to cancer detection. Abdom Radiol

4.

Pickhardt PJ (2015) CT colonography for population screening: ready for prime time? Dig Dis Sci 60:647–659

5.

Ranasinghe I, Parzynski CS, Searfoss R, et al. (2016) Differences in colonoscopy quality among facilities: development of a post-colonoscopy risk-standardized rate of unplanned hospital visits. Gastroenterology 150:103–113

6.

Rosenthal E (2013) The $2.7 trillion medical bill: colonoscopies explain why U.S. leads the world in health expenditures. The New York Times

7.

Bertuccio G, Caccia S, Macera D, et al. (2013) A mixed-signal ASIC for CdTe/CdZnTe detectors readout in battery powered capsule for colon 3D-imaging. IEEE Trans Nucl Sci 60:3872–3878

8.

Kimchy et al. Intra-lumen polyp detection, US patent 7,787,926

9.

Baum et al. Estimation of distances and size of lesions in the colon with an imaging capsule, US patent 9,037,219

10.

Gluck N, Shpak B, Brun R, et al. (2016) A novel prepless X-ray imaging capsule for colon cancer screening. Gut 65:371–373
Ethics declarations
Funding
No funding was received for this study.
Conflict of interest
Drs. Kimchy, Lifshitz, and Lewkowitz are employed by Check-Cap; Drs. Pickhardt and Arber are advisors to Check-Cap; Dr. Pickhardt is also co-founder of VirtuoCTC, and shareholder in Elucent, SHINE, and Cellectar Biosciences. The other authors declare that they have no conflict of interest.
Ethical approval
All procedures performed in studies involving human participants were in accordance with the ethical standards of the institutional and/or national research committee and with the 1964 Helsinki declaration and its later amendments or comparable ethical standards.
Informed consent
Informed consent was obtained from all individual participants included in the study.
About this article
Cite this article
Kimchy, Y., Lifshitz, R., Lewkowitz, S. et al. Radiographic capsule-based system for non-cathartic colorectal cancer screening. Abdom Radiol 42, 1291–1297 (2017). https://doi.org/10.1007/s00261-016-1026-y
Keywords
Colorectal cancer

Colorectal polyps

Screening

Colon capsule