Abstract
Purpose
The aim of the study was to determine if increasing post-therapy calcification in peritoneal metastases in recurrent low-grade serous ovarian carcinomas indicated response to therapy.
Materials and methods
Retrospective analysis of patients with histologically confirmed, recurrent low-grade serous ovarian carcinoma who received treatment at our institution between 2000 and 2014 was performed. Only patients who had calcified tumor implants and showed either interval increase or decrease in tumor calcification following therapy were included in the study. Pre- and post-therapy CT scans of these patients were reviewed by 2 radiologists independently. Changes in the tumor calcification status and tumor deposits size were correlated with serum CA-125 levels. Fisher's exact test was used to assess the association between peritoneal deposit and calcification status with serum CA-125 status.
Results
35 Patients were included in the study. Based on serial serum CA 125 levels, 22 patients (63%) had progressive disease, 12 (34%) had partial response and 1 (3%) had stable disease. Using RECIST 1.1, 16 had progressive disease, 3 had partial response and 16 had stable disease. In the patients with progressive disease, post-therapy tumor calcification increased in 77% and decreased in 23%. Fischer's exact test showed that serum CA 125 change was significantly associated with change in size of peritoneal deposits and calcification change.
Conclusions
This preliminary study shows that post-therapy increase in peritoneal implant calcification in low-grade serous ovarian carcinomas is not an indicator of response to therapy.
Access options
Buy single article
Instant access to the full article PDF.
US$ 39.95
Tax calculation will be finalised during checkout.
Subscribe to journal
Immediate online access to all issues from 2019. Subscription will auto renew annually.
US$ 79
Tax calculation will be finalised during checkout.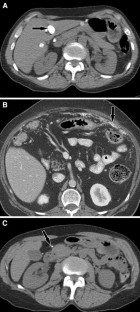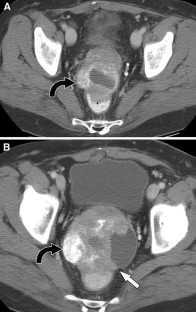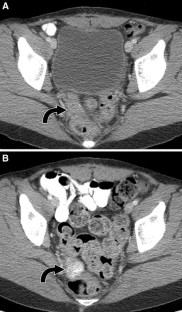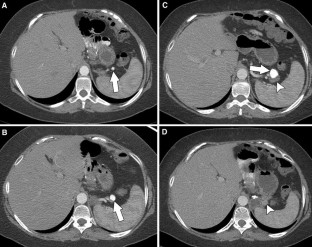 References
1.

Agarwal A, Yeh BM, Breiman RS, Qayyum A, Coakley FV (2004) Peritoneal calcification: causes and distinguishing features on CT. AJR Am J Roentgenol 182(2):441–445. doi:10.2214/ajr.182.2.1820441

2.

Hale HL, Husband JE, Gossios K, Norman AR, Cunningham D (1998) CT of calcified liver metastases in colorectal carcinoma. Clin Radiol 53(10):735–741

3.

Lewis RB, Lattin GE Jr, Paal E (2010) Pancreatic endocrine tumors: radiologic-clinicopathologic correlation. Radiographics 30(6):1445–1464. doi:10.1148/rg.306105523

4.

Mc Auley G, Jagannathan J, O'Regan K, et al. (2012) Extraskeletal osteosarcoma: spectrum of imaging findings. AJR Am J Roentgenol 198(1):W31–W37. doi:10.2214/ajr.11.6927

5.

Pickhardt PJ, Levy AD, Rohrmann CA Jr, Kende AI (2003) Primary neoplasms of the appendix: radiologic spectrum of disease with pathologic correlation. Radiographics 23(3):645–662. doi:10.1148/rg.233025134

6.

Scatarige JC, Fishman EK, Saksouk FA, Siegelman SS (1983) Computed tomography of calcified liver masses. J Comput Assist Tomogr 7(1):83–89

7.

Tateishi U, Hasegawa T, Beppu Y, Satake M, Moriyama N (2003) Primary dedifferentiated liposarcoma of the retroperitoneum. Prognostic significance of computed tomography and magnetic resonance imaging features. J Comput Assist Tomogr 27(5):799–804

8.

Bahr O, Hattingen E, Rieger J, Steinbach JP (2011) Bevacizumab-induced tumor calcifications as a surrogate marker of outcome in patients with glioblastoma. Neuro-oncology 13(9):1020–1029. doi:10.1093/neuonc/nor099

9.

Blazer DG 3rd, Kishi Y, Maru DM, et al. (2008) Pathologic response to preoperative chemotherapy: a new outcome end point after resection of hepatic colorectal metastases. J Clin Oncol 26(33):5344–5351. doi:10.1200/jco.2008.17.5299

10.

Bohlman ME, Lichtenfeld JL, Goldman SM (1981) Lymph node calcification secondary to chemotherapy for histiocytic lymphoma. Diagn Imaging 50(5):259–262

11.

Brereton HD, Johnson RE (1974) Calcification in mediastinal lymph nodes after radiation therapy of Hodgkin's disease. Radiology 112(3):705–707. doi:10.1148/112.3.705

12.

Easson AM, Barron PT, Cripps C, et al. (1996) Calcification in colorectal hepatic metastases correlates with longer survival. J Surg Oncol 63(4):221–225. doi:10.1002/(sici)1096-9098(199612)63:4<221::aid-jso2>3.0.co;2-e

13.

Cheng JM, Tirumani SH, Kim KW, et al. (2013) Malignant abdominal rocks: where do they come from? Cancer Imaging 13(4):527–539. doi:10.1102/1470-7330.2013.0048

14.

Cooper RA (2002) Calcified ovarian metastases. AJR Am J Roentgenol 178(1):243. doi:10.2214/ajr.178.1.1780243b

15.

Mitchell DG, Hill MC, Hill S, Zaloudek C (1986) Serous carcinoma of the ovary: CT identification of metastatic calcified implants. Radiology 158(3):649–652. doi:10.1148/radiology.158.3.3945732

16.

Moncada R, Cooper RA, Garces M, Badrinath K (1974) Calcified metastases from malignant ovarian neoplasm: review of the literature. Radiology 113(1):31–35. doi:10.1148/113.1.31

17.

Pandolfo I, Blandino A, Gaeta M, Racchiusa S, Freni O (1986) Calcified peritoneal metastases from papillary cystadenocarcinoma of the ovary: CT features. J Comput Assist Tomogr 10(3):545–546

18.

Teplick JG, Haskin ME, Alavi A (1976) Calcified intraperitoneal metastases from ovarian carcinoma. AJR Am J Roentgenol 127(6):1003–1006. doi:10.2214/ajr.127.6.1003

19.

Rustin GJ, Quinn M, Thigpen T, et al. (2004) Re: new guidelines to evaluate the response to treatment in solid tumors (ovarian cancer). J Natl Cancer Inst 96(6):487–488

20.

Rustin GJ, Vergote I, Eisenhauer E, et al. (2011) Definitions for response and progression in ovarian cancer clinical trials incorporating RECIST 1.1 and CA 125 agreed by the Gynecological Cancer Intergroup (GCIG). Int J Gynecol Cancer 21(2):419–423. doi:10.1097/IGC.0b013e3182070f17

21.

Burkill GJ, Allen SD, A'Hern RP, Gore ME, King DM (2009) Significance of tumour calcification in ovarian carcinoma. Br J Radiol 82(980):640–644. doi:10.1259/bjr/12716831

22.

Franchi M, La Fianza A, Babilonti L, et al. (1990) Serous carcinoma of the ovary: value of computed tomography in detection of calcified pleural and pulmonary metastatic implants. Gynecol Oncol 39(1):85–88

23.

Silva EG, Deavers MT, Parlow AF, Gershenson DM, Malpica A (2003) Calcifications in ovary and endometrium and their neoplasms. Mod Pathol 16(3):219–222. doi:10.1097/01.mp.0000057236.96797.07

24.

Gershenson DM, Sun CC, Iyer RB, et al. (2012) Hormonal therapy for recurrent low-grade serous carcinoma of the ovary or peritoneum. Gynecol Oncol 125(3):661–666. doi:10.1016/j.ygyno.2012.02.037

25.

Noguera IR, Sun CC, Broaddus RR, et al. (2012) Phase II trial of imatinib mesylate in patients with recurrent platinum- and taxane-resistant low-grade serous carcinoma of the ovary, peritoneum, or fallopian tube. Gynecol Oncol 125(3):640–645. doi:10.1016/j.ygyno.2012.02.034

26.

Romero I, Sun CC, Wong KK, Bast RC Jr, Gershenson DM (2013) Low-grade serous carcinoma: new concepts and emerging therapies. Gynecol Oncol 130(3):660–666. doi:10.1016/j.ygyno.2013.05.021

27.

Agrawal K, Bhattacharya A, Harisankar CN, et al. (2012) F-18 fluoride uptake in calcified extraosseous metastases from ovarian papillary serous adenocarcinoma. Clin Nucl Med 37(1):e22–e23. doi:10.1097/RLU.0b013e3182392441

28.

Dong A, Wang Y, Zuo C (2014) FDG PET/CT in serous psammocarcinoma of the ovary. Clin Nucl Med 39(5):453–455. doi:10.1097/RLU.0b013e318286bdfc

29.

Hu SL, Zhou ZR, Zhang YJ (2012) Calcified metastases from ovarian carcinoma highlighted by F-18 FDG PET/CT: report of two cases. Abdom Imaging 37(4):675–679. doi:10.1007/s00261-011-9800-3

30.

Takeuchi S, Lucchini M, Schmeler KM, et al. (2014) Utility of 18F-FDG PET/CT in follow-up of patients with low-grade serous carcinoma of the ovary. Gynecol Oncol 133(1):100–104. doi:10.1016/j.ygyno.2014.02.008
Acknowledgments
This study was supported by MD Anderson Cancer Center Support Grant No. NIH/NCI P30 CA016672 from the National Cancer Institute, National Institutes of Health.
Ethics declarations
Conflict of interest
All authors confirm that there are no relevant conflicts of interest.
Ethical approval
All procedures performed in studies involving human participants were in accordance with the ethical standards of the institutional and/or national research committee and with the 1964 Helsinki declaration and its later amendments or comparable ethical standards. Being a retrospective study, formal consent was not required. This article does not contain any studies with animals performed by any of the authors.
Informed consent
IRB approval was obtained for a waiver of Informed Consent/Authorization because this is a retrospective chart review that involves no diagnostic or therapeutic intervention, as well as no direct patient contact and no patient identifiers. A consent waiver was granted by the institutional review board.
About this article
Cite this article
Ganeshan, D., Bhosale, P., Wei, W. et al. Increase in post-therapy tumor calcification on CT scan is not an indicator of response to therapy in low-grade serous ovarian cancer. Abdom Radiol 41, 1589–1595 (2016). https://doi.org/10.1007/s00261-016-0701-3
Keywords
CT scan

Ovarian carcinoma

Tumor marker