Abstract
In our clinical experience, pelvic masses from a variety of anatomic sites may be misdiagnosed as ovarian cancer. This tendency to overdiagnose a rare disease probably reflects both its protean imaging appearance and concern for its potential morbidity and mortality. However, radiologists can better serve patients with an analytic approach to the anatomic and tissue features of pelvic masses. We review a range of ovarian cancer mimics and illustrate the radiologic reasoning enabling correct diagnosis.
Access options
Buy single article
Instant access to the full article PDF.
US$ 39.95
Tax calculation will be finalised during checkout.
Subscribe to journal
Immediate online access to all issues from 2019. Subscription will auto renew annually.
US$ 79
Tax calculation will be finalised during checkout.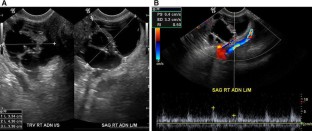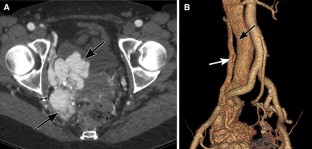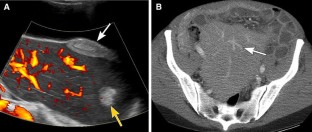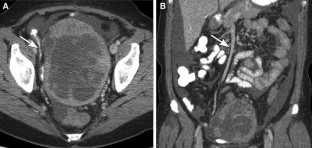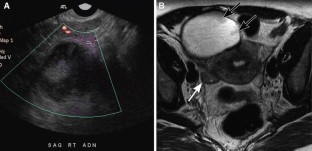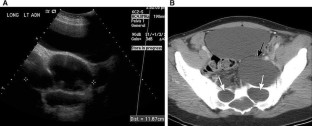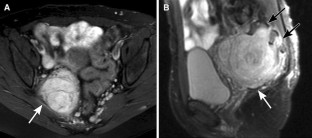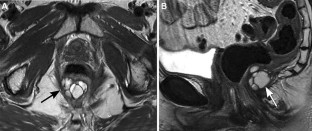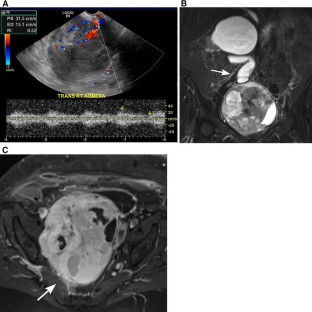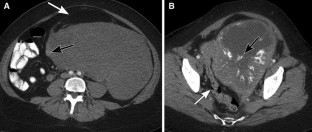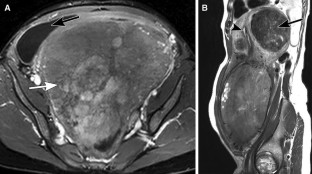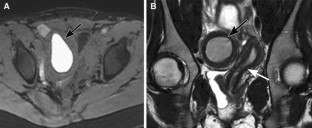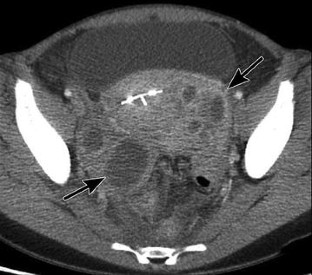 References
1.

Hayat MJ, et al. (2007) Cancer statistics, trends, and multiple primary cancer analyses from the Surveillance, Epidemiology, and End Results (SEER) Program. Oncologist 12(1):20–37

2.

Cannistra SA (2004) Cancer of the ovary. N Engl J Med 351(24):2519–2529

3.

Clarke-Pearson DL (2009) Clinical practice. Screening for ovarian cancer. N Engl J Med 361(2):170–177

4.

Coccia ME, et al. (2014) Adnexal masses: what is the role of ultrasonographic imaging? Arch Gynecol Obstet 290(5):843–854

5.

Meyers MA (1973) Distribution of intra-abdominal malignant seeding: dependency on dynamics of flow of ascitic fluid. Am J Roentgenol Radium Ther Nucl Med 119(1):198–206

6.

Iafrate F, et al. (2012) Peritoneal carcinomatosis: imaging with 64-MDCT and 3T MRI with diffusion-weighted imaging. Abdom Imaging 37(4):616–627

7.

Pannu HK, et al. (2003) Multidetector CT of peritoneal carcinomatosis from ovarian cancer. Radiographics 23(3):687–701

8.

Levy AD, Shaw JC, Sobin LH (2009) Secondary tumors and tumorlike lesions of the peritoneal cavity: imaging features with pathologic correlation. Radiographics 29(2):347–373

9.

Kawamoto S, Urban BA, Fishman EK (1999) CT of epithelial ovarian tumors. Radiographics. 19 Spec No: S85–S102; quiz S263-4

10.

Nik NN, et al. (2014) Origin and pathogenesis of pelvic (ovarian, tubal, and primary peritoneal) serous carcinoma. Annu Rev Pathol 9:27–45

11.

Jain KA (2000) Imaging of peritoneal inclusion cysts. AJR Am J Roentgenol 174(6):1559–1563

12.

Burrows PE (2008) Vascular malformations involving the female pelvis. Semin Intervent Radiol 25(4):347–360

13.

Salemis NS, et al. (2009) Diffuse large B cell lymphoma of the mesentery: an unusual presentation and review of the literature. J Gastrointest Cancer 40(3–4):79–82

14.

Anis M, Irshad A (2008) Imaging of abdominal lymphoma. Radiol Clin N Am 46(2):265–285, viii–ix

15.

Fishman EK, Kuhlman JE, Jones RJ (1991) CT of lymphoma: spectrum of disease. Radiographics 11(4):647–669

16.

de Herder WW (2005) Tumours of the midgut (jejunum, ileum and ascending colon, including carcinoid syndrome). Best Pract Res Clin Gastroenterol 19(5):705–715

17.

Fattori R, et al. (1999) Importance of dural ectasia in phenotypic assessment of Marfan's syndrome. Lancet 354(9182):910–913

18.

Ho NC, et al. (2002) Case 47: dural ectasia associated with Marfan syndrome. Radiology 223(3):767–771

19.

Reed JC, Hallet KK, Feigin DS (1978) Neural tumors of the thorax: subject review from the AFIP. Radiology 126(1):9–17

20.

Killingsworth C, Gadacz TR (2005) Tailgut cyst (retrorectal cystic hamartoma): report of a case and review of the literature. Am Surg 71(8):666–673

21.

Kaijser J, et al. (2014) Presurgical diagnosis of adnexal tumours using mathematical models and scoring systems: a systematic review and meta-analysis. Hum Reprod Update 20(3):449–462

22.

Thomassin-Naggara I, et al. (2013) Adnexal masses: development and preliminary validation of an MR imaging scoring system. Radiology 267(2):432–443

23.

Valour F, et al. (2014) Actinomycosis: etiology, clinical features, diagnosis, treatment, and management. Infect Drug Resist 7:183–197

24.

Lim DR, et al. (2014) Intrauterine contraceptive device-related actinomycosis infection presenting as ovarian cancer with carcinomatosis. Surg Infect (Larchmt) 15(6):826–828
Ethics declarations
Conflict of interest
William R. Masch, Aya Kamaya, Ashish P. Wasnik, and Katherine E. Maturen declare that they have no conflict of interest.
Ethical approval
This study was not supported by grant funding. All procedures performed in studies involving human participants were in accordance with the ethical standards of the institutional research committee and with the 1964 Helsinki declaration and its later amendments or comparable ethical standards.
Informed consent
Informed consent was not obtained for this retrospective review.
Additional information
CME activity. This article has been selected as the CME activity for the current month. Please visit https://ce.mayo.edu/node/14957 and follow the instructions to complete this CME activity.
About this article
Cite this article
Masch, W.R., Kamaya, A., Wasnik, A.P. et al. Ovarian cancer mimics: how to avoid being fooled by extraovarian pelvic masses. Abdom Radiol 41, 783–793 (2016). https://doi.org/10.1007/s00261-015-0570-1
Keywords
Ovarian cancer

Adnexal masses

Cancer mimics

Ovarian malignancy

Gynecologic oncology