Abstract
Purpose
The purpose of the study was to document the clinical impact of CT in elderly patients presenting to the emergency department (ED) with abdominal pain.
Methods
This retrospective IRB-approved study from 2006 to 2013 evaluated 464 patients ≥80 years (mean 89 years, range 80–100: M150, W314), who presented to the ED with acute abdominal symptoms and underwent CT. CTs were divided into those negative and positive for actionable findings, defined as potentially requiring a change in surgical or medical management. Physician diagnosis, treatment plan, and disposition before and after CT were reviewed in the electronic medical record to assess CT influence on management and disposition. CT diagnosis was confirmed with final clinical diagnosis, surgical intervention, pathology, and follow-up. Descriptive statistics were used.
Results
CTs were positive in 55%. The most common diagnoses were SBO (18%), diverticulitis (9%), non-ischemic vascular-related emergency (6%), bowel ischemia (4%), appendicitis (3%), and colonic obstruction (2%). These diagnoses were clinically unsuspected prior to CT in 43% (p < 0.05), with significant difficultly in diagnosing SBO (p < 0.05), diverticulitis (p < 0.01), and colonic obstruction (p < 0.01). Positive CT results influenced treatment plans in 65%, surgical in 48%, and medical in 52%. Disposition from the ED was significantly affected by CT (p < 0.001), 65% of admissions with positive CT (p < 0.001) and 63% of discharges with negative CT (p < 0.001).
Conclusion
Utilization of abdominopelvic CT in geriatric patients presenting to the ED with acute abdominal symptoms strongly influences clinical management and significantly affects disposition. As the US population ages, the clinical impact of emergent CT in the elderly will intensify.
Access options
Buy single article
Instant access to the full article PDF.
USD 39.95
Price excludes VAT (USA)
Tax calculation will be finalised during checkout.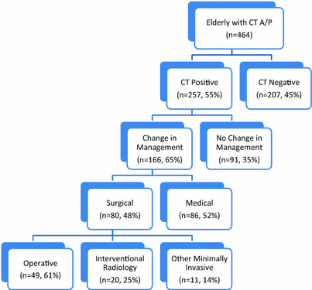 References
Nawar EW, Niska RW, Xu J (2007) National Hospital Ambulatory Medical Care Survey: 2005 emergency department summary. Adv Data 386:1–32

Vanpee D, Swine C, Vandenbossche P, Gillet JB (2001) Epidemiological profile of geriatric patients admitted to the emergency department of a university hospital localized in a rural area. Eur J Emerg Med 8:301–304

Roussel-Laudrin S, Paillaud E, Alonso E, et al. (2005) The establishment of geriatric intervention group and geriatric assessment at emergency of Henri-Mondor hospital. Rev Med Interne 26:458–466. doi:10.1016/j.revmed.2005.03.004

Lewis LM, Banet GA, Blanda M, et al. (2005) Etiology and clinical course of abdominal pain in senior patients: a prospective, multicenter study. J Gerontol A 60:1071–1076

Baum SA, Rubenstein LZ (1987) Old people in the emergency room: age-related differences in emergency department use and care. J Am Geriatr Soc 35:398–404

Mion LC, Palmer RM, Anetzberger GJ, Meldon SW (2001) Establishing a case-finding and referral system for at-risk older individuals in the emergency department setting: the SIGNET model. J Am Geriatr Soc 49:1379–1386

Singal BM, Hedges JR, Rousseau EW, et al. (1992) Geriatric patient emergency visits. Part I: Comparison of visits by geriatric and younger patients. Ann Emerg Med 21:802–807

Yeh EL, McNamara RM (2007) Abdominal pain. Clin Geriatr Med 23:255–270, v. doi:10.1016/j.cger.2007.01.006

Styrud J, Eriksson S (1999) Acute appendicitis in the elderly. An analysis of 47 patients over 80 years of age. Int J Surg Investig 1:297–300

Storm-Dickerson TL, Horattas MC (2003) What have we learned over the past 20 years about appendicitis in the elderly? Am J Surg 185:198–201

Samaras N, Chevalley T, Samaras D, Gold G (2010) Older patients in the emergency department: a review. Ann Emerg Med 56:261–269. doi:10.1016/j.annemergmed.2010.04.015

Martinez JP, Mattu A (2006) Abdominal pain in the elderly. Emerg Med Clin N Am 24:371–388, vii. doi:10.1016/j.emc.2006.01.010

Lunca S, Bouras G, Romedea NS (2004) Acute appendicitis in the elderly patient: diagnostic problems, prognostic factors and outcomes. Rom J Gastroenterol 13:299–303

Freund HR, Rubinstein E (1984) Appendicitis in the aged. Is it really different? Am Surg 50:573–576

Bugliosi TF, Meloy TD, Vukov LF (1990) Acute abdominal pain in the elderly. Ann Emerg Med 19:1383–1386

Hendrickson M, Naparst TR (2003) Abdominal surgical emergencies in the elderly. Emerg Med Clin N Am 21:937–969

van Geloven AA, Biesheuvel TH, Luitse JS, Hoitsma HF, Obertop H (2000) Hospital admissions of patients aged over 80 with acute abdominal complaints. Eur J Surg 166:866–871. doi:10.1080/110241500447254

Brewer BJ, Golden GT, Hitch DC, Rudolf LE, Wangensteen SL (1976) Abdominal pain. An analysis of 1,000 consecutive cases in a University Hospital emergency room. Am J Surg 131:219–223

Larson DB, Johnson LW, Schnell BM, Salisbury SR, Forman HP (2011) National trends in CT use in the emergency department: 1995-2007. Radiology 258:164–173. doi:10.1148/radiol.10100640

Marco CA, Schoenfeld CN, Keyl PM, Menkes ED, Doehring MC (1998) Abdominal pain in geriatric emergency patients: variables associated with adverse outcomes. Acad Emerg Med 5:1163–1168

Lewis LM, Klippel AP, Bavolek RA, et al. (2007) Quantifying the usefulness of CT in evaluating seniors with abdominal pain. Eur J Radiol 61:290–296. doi:10.1016/j.ejrad.2006.09.014

Esses D, Birnbaum A, Bijur P, et al. (2004) Ability of CT to alter decision making in elderly patients with acute abdominal pain. Am J Emerg Med 22:270–272

Green G, Shaikh I, Fernandes R, Wegstapel H (2013) Emergency laparotomy in octogenarians: a 5-year study of morbidity and mortality. World J Gastrointest Surg 5:216–221. doi:10.4240/wjgs.v5.i7.216

McNamara RM, Rousseau E, Sanders AB (1992) Geriatric emergency medicine: a survey of practicing emergency physicians. Ann Emerg Med 21:796–801

Hustey FM, Meldon SW, Banet GA, et al. (2005) The use of abdominal computed tomography in older ED patients with acute abdominal pain. Am J Emerg Med 23:259–265

Rosen MP, Siewert B, Sands DZ, et al. (2003) Value of abdominal CT in the emergency department for patients with abdominal pain. Eur Radiol 13:418–424. doi:10.1007/s00330-002-1715-5

Millet I, Alili C, Bouic-Pages E, et al. (2013) Journal club: acute abdominal pain in elderly patients: effect of radiologist awareness of clinicobiologic information on CT accuracy. AJR Am J Roentgenol 201:1171–1178. doi:10.2214/AJR.12.10287

Rosen MP, Sands DZ, Longmaid HE 3rd, et al. (2000) Impact of abdominal CT on the management of patients presenting to the emergency department with acute abdominal pain. AJR Am J Roentgenol 174:1391–1396. doi:10.2214/ajr.174.5.1741391
Conflict of interest
Rendon C. Nelson: Consultant—GE Healthcare, Inc., Consultant—Nemoto Kyorino, Ltd., and Research support—Bracco Diagnostics, Inc. Carly S. Gardner and Tracy A. Jaffe declare that they have no conflict of interest.
About this article
Cite this article
Gardner, C.S., Jaffe, T.A. & Nelson, R.C. Impact of CT in elderly patients presenting to the emergency department with acute abdominal pain. Abdom Imaging 40, 2877–2882 (2015). https://doi.org/10.1007/s00261-015-0419-7
Published:

Issue Date:

DOI: https://doi.org/10.1007/s00261-015-0419-7
Keywords