Abstract
Purpose
Intrahepatic cholangiocarcinoma (IHC) is an aggressive disease with few reliable preoperative biomarkers. This study aims to elucidate if radiomics extracted from preoperative [18F]FDG PET/CT may grant a non-invasive biological characterization of IHC and predict outcome after complete resection of the tumor.
Methods
All patients preoperatively imaged by [18F]FDG PET/CT who underwent hepatectomy for mass-forming IHC in the period 2010–2019 were retrospectively evaluated. On PET images, manual slice-by-slice segmentation of IHC was performed (Tumor-VOI). A 5-mm margin region was semi-automatically generated around the tumor (Margin-VOI). Textural analysis was performed using the LifeX software. Analyzed outcomes included tumor grading (G3 vs. G1-2), microvascular invasion (MVI), overall survival (OS), and progression-free survival (PFS). The performances of the combined clinical-radiomic models were compared with those of standard clinical models.
Results
Overall, 74 patients (40 females, median age 68 years) were included. Considering tumor grading and MVI, the models combining the clinical data and radiomics of the Tumor-VOI had better performances than the clinical ones (AUC = 0.78 vs. 0.72 for grading; 0.87 vs. 0.78 for MVI). The inclusion into the models of radiomics of the Margin-VOI further improved the prediction of grading (AUC = 0.83), but not of MVI. Considering OS and PFS, the models including the preoperative clinical data and radiomics of the Tumor-VOI and Margin-VOI had better performances than the pure clinical ones (C-index = 0.81 vs. 0.76 for OS; 0.81 vs. 0.72 for PFS) and similar to the models including the pathology and postoperative data (C-index = 0.81 for OS; 0.79 for PFS). No model retained the standard SUV measures.
Conclusion
The PET-based radiomics of IHC can predict pathology data and allow a reliable preoperative evaluation of prognosis. The radiomics of both the tumoral and peritumoral areas had clinical relevance. The combined clinical-radiomic models outperformed the pure preoperative clinical ones and achieved performances non-inferior to the postoperative models.
This is a preview of subscription content,
to check access.
Access this article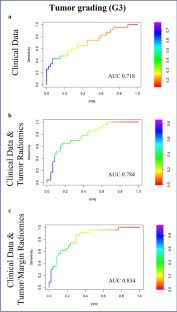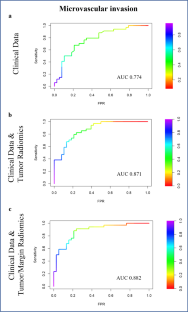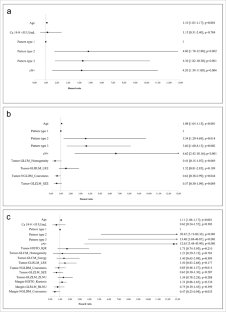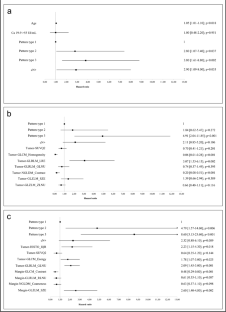 Similar content being viewed by others
Data availability
The datasets generated during and/or analyzed during the current study are available from the corresponding author on reasonable request.
References
Rizvi S, Khan SA, Hallemeier CL, Kelley RK, Gores GJ. Cholangiocarcinoma - evolving concepts and therapeutic strategies. Nat Rev Clin Oncol. 2018;15:95–111.

Saha SK, Zhu AX, Fuchs CS, Brooks GA. Forty-year trends in cholangiocarcinoma incidence in the U.S.: intrahepatic disease on the rise. Oncologist. 2016;21:594–9.

Banales JM, Cardinale V, Carpino G, Marzioni M, Andersen JB, Invernizzi P, Lind GE, Folseraas T, Forbes SJ, Fouassier L, Geier A, Calvisi DF, Mertens JC, Trauner M, Benedetti A, Maroni L, Vaquero J, Macias RI, Raggi C, Perugorria MJ, Gaudio E, Boberg KM, Marin JJ, Alvaro D. Expert consensus document: cholangiocarcinoma: current knowledge and future perspectives consensus statement from the European Network for the Study of Cholangiocarcinoma (ENS-CCA). Nat Rev Gastroenterol Hepatol. 2016;13:261–80.

Mazzaferro V, Gorgen A, Roayaie S, Droz Dit Busset M, Sapisochin G. Liver resection and transplantation for intrahepatic cholangiocarcinoma. J Hepatol. 2020;72:364–77.

Torzilli G, Viganò L, Fontana A, Procopio F, Terrone A, Cimino MM, Donadon M, Del Fabbro D. Oncological outcome of R1 vascular margin for mass-forming cholangiocarcinoma. A single center observational cohort analysis. HPB. 2020;22:570–7.

Conci S, Viganò L, Ercolani G, Gonzalez E, Ruzzenente A, Isa G, Salaris C, Fontana A, Bagante F, Pedrazzani C, Campagnaro T, Iacono C, De Santibanes E, Pinna DA, Torzilli G, Guglielmi A. Outcomes of vascular resection associated with curative intent hepatectomy for intrahepatic cholangiocarcinoma. Eur J Surg Oncol. 2020;46:1727–33.

Hue JJ, Rocha FG, Ammori JB, Hardacre JM, Rothermel LD, Chavin KD, Winter JM, Ocuin LM. A comparison of surgical resection and liver transplantation in the treatment of intrahepatic cholangiocarcinoma in the era of modern chemotherapy: an analysis of the National Cancer Database. J Surg Oncol. 2021;123:949–56.

Bagante F, Spolverato G, Weiss M, Alexandrescu S, Marques HP, Aldrighetti L, Maithel SK, Pulitano C, Bauer TW, Shen F, Poultsides GA, Soubrane O, Martel G, Groot Koerkamp B, Guglielmi A, Itaru E, Pawlik TM. Defining long-term survivors following resection of intrahepatic cholangiocarcinoma. J Gastrointest Surg. 2017;21:1888–97.

Doussot A, Gonen M, Wiggers JK, Groot-Koerkamp B, DeMatteo RP, Fuks D, Allen PJ, Farges O, Kingham TP, Regimbeau JM, D'Angelica MI, Azoulay D, Jarnagin WR. Recurrence patterns and disease-free survival after resection of intrahepatic cholangiocarcinoma: preoperative and postoperative prognostic models. J Am Coll Surg. 2016;223:493–505.

Mavros MN, Economopoulos KP, Alexiou VG, Pawlik TM. Treatment and prognosis for patients with intrahepatic cholangiocarcinoma: systematic review and meta-analysis. JAMA Surg. 2014;149:565–74.

Tsukamoto M, Yamashita YI, Imai K, Umezaki N, Yamao T, Okabe H, Nakagawa S, Hashimoto D, Chikamoto A, Ishiko T, Yoshizumi T, Maehara Y, Baba H. Predictors of cure of intrahepatic cholangiocarcinoma after hepatic resection. Anticancer Res. 2017;37:6971–5.

Fabris L, Sato K, Alpini G, Strazzabosco M. The tumor microenvironment in cholangiocarcinoma progression. Hepatology. 2021;73:75–85.

Job S, Rapoud D, Dos Santos A, Gonzalez P, Desterke C, Pascal G, Elarouci N, Ayadi M, Adam R, Azoulay D, Castaing D, Vibert E, Cherqui D, Samuel D, Sa Cuhna A, Marchio A, Pineau P, Guettier C, de Reyniès A, Faivre J. Identification of four immune subtypes characterized by distinct composition and functions of tumor microenvironment in intrahepatic cholangiocarcinoma. Hepatology. 2020;72:965–81.

Vigano L, Soldani C, Franceschini B, Cimino M, Lleo A, Donadon M, Roncalli M, Aghemo A, Di Tommaso L, Torzilli G. Tumor-infiltrating lymphocytes and macrophages in intrahepatic cholangiocellular carcinoma. Impact on prognosis after complete surgery. J Gastrointest Surg. 2019;23:2216–24.

Lambin P, Leijenaar RTH, Deist TM, Peerlings J, de Jong EEC, van Timmeren J, Sanduleanu S, Larue RTHM, Even AJG, Jochems A, van Wijk Y, Woodruff H, van Soest J, Lustberg T, Roelofs E, van Elmpt W, Dekker A, Mottaghy FM, Wildberger JE, Walsh S. Radiomics: the bridge between medical imaging and personalized medicine. Nat Rev Clin Oncol. 2017;14:749–62.

Song J, Yin Y, Wang H, Chang Z, Liu Z, Cui L. A review of original articles published in the emerging field of radiomics. Eur J Radiol. 2020;127:108991.

Sollini M, Antunovic L, Chiti A, Kirienko M. Towards clinical application of image mining: a systematic review on artificial intelligence and radiomics. Eur J Nucl Med Mol Imaging. 2019;46:2656–72.

Fiz F, Viganò L, Gennaro N, Costa G, La Bella L, Boichuk A, Cavinato L, Sollini M, Politi LS, Chiti A, Torzilli G. Radiomics of liver metastases: a systematic review. Cancers. 2020;12:2881.

Wakabayashi T, Ouhmich F, Gonzalez-Cabrera C, Felli E, Saviano A, Agnus V, Savadjiev P, Baumert TF, Pessaux P, Marescaux J, Gallix B. Radiomics in hepatocellular carcinoma: a quantitative review. Hepatol Int. 2019;13:546–59.

Ji GW, Zhu FP, Zhang YD, Liu XS, Wu FY, Wang K, Xia YX, Zhang YD, Jiang WJ, Li XC, Wang XH. A radiomics approach to predict lymph node metastasis and clinical outcome of intrahepatic cholangiocarcinoma. Eur Radiol. 2019;29:3725–35.

Park HJ, Park B, Park SY, Choi SH, Rhee H, Park JH, Cho ES, Yeom SK, Park S, Park MS, Lee SS. Preoperative prediction of postsurgical outcomes in mass-forming intrahepatic cholangiocarcinoma based on clinical, radiologic, and radiomics features. Eur Radiol. 2021;31:8638–48.

Zhang J, Wang X, Zhang L, Yao L, Xue X, Zhang S, Li X, Chen Y, Pang P, Sun D, Xu J, Shi Y, Chen F. Radiomics predict postoperative survival of patients with primary liver cancer with different pathological types. Ann Transl Med. 2020;8:820.

Yoh T, Seo S, Morino K, Fuji H, Ikeno Y, Ishii T, Taura K, Nakamoto Y, Higashi T, Kaido T, Uemoto S. Reappraisal of prognostic impact of tumor SUVmax by 18F-FDG-PET/CT in intrahepatic cholangiocarcinoma. World J Surg. 2019;43:1323–31.

Ikeno Y, Seo S, Iwaisako K, Yoh T, Nakamoto Y, Fuji H, Taura K, Okajima H, Kaido T, Sakaguchi S, Uemoto S. Preoperative metabolic tumor volume of intrahepatic cholangiocarcinoma measured by 18F-FDG-PET is associated with the KRAS mutation status and prognosis. J Transl Med. 2018;16:95.

Harimoto N, Hoshino K, Muranushi R, Hagiwara K, Yamanaka T, Ishii N, Tsukagoshi M, Igarashi T, Tanaka H, Watanabe A, Kubo N, Araki K, Tomonaga H, Higuchi T, Tsushima Y, Shirabe K. Impact of metabolic parameters of 18F-fluorodeoxyglucose positron-emission tomography after hepatic resection in patients with intrahepatic cholangiocarcinoma. Anticancer Res. 2019;39:971–7.

Boellaard R, O'Doherty MJ, Weber WA, Mottaghy FM, Lonsdale MN, Stroobants SG, Oyen WJ, Kotzerke J, Hoekstra OS, Pruim J, Marsden PK, Tatsch K, Hoekstra CJ, Visser EP, Arends B, Verzijlbergen FJ, Zijlstra JM, Comans EF, Lammertsma AA, Paans AM, Willemsen AT, Beyer T, Bockisch A, Schaefer-Prokop C, Delbeke D, Baum RP, Chiti A, Krause BJ. FDG PET and PET/CT: EANM procedure guidelines for tumour PET imaging: version 1.0. Eur J Nucl Med Mol Imaging. 2010;37:181–200.

Boellaard R, Delgado-Bolton R, Oyen WJ, Giammarile F, Tatsch K, Eschner W, Verzijlbergen FJ, Barrington SF, Pike LC, Weber WA, Stroobants S, Delbeke D, Donohoe KJ, Holbrook S, Graham MM, Testanera G, Hoekstra OS, Zijlstra J, Visser E, Hoekstra CJ, Pruim J, Willemsen A, Arends B, Kotzerke J, Bockisch A, Beyer T, Chiti A, Krause BJ. European Association of Nuclear Medicine (EANM). FDG PET/CT: EANM procedure guidelines for tumour imaging: version 2.0. Eur J Nucl Med Mol Imaging. 2015;42:328–54.

Nioche C, Orlhac F, Boughdad S, Reuzé S, Goya-Outi J, Robert C, Pellot-Barakat C, Soussan M, Frouin F, Buvat I. LIFEx: a freeware for radiomic feature calculation in multimodality imaging to accelerate advances in the characterization of tumor heterogeneity. Cancer Res. 2018;78:4786–9.

Viganò L, Lleo A, Muglia R, Gennaro N, Samà L, Colapietro F, Roncalli M, Aghemo A, Chiti A, Di Tommaso L, Solbiati L, Colombo M, Torzilli G. Intrahepatic cholangiocellular carcinoma with radiological enhancement patterns mimicking hepatocellular carcinoma. Updates Surg. 2020;72:413–21.

Torzilli G. Ultrasound-guided liver surgery. 1st ed. Springer; 2014.

Baheti AD, Tirumani SH, Shinagare AB, Rosenthal MH, Hornick JL, Ramaiya NH, Wolpin BM. Correlation of CT patterns of primary intrahepatic cholangiocarcinoma at the time of presentation with the metastatic spread and clinical outcomes: retrospective study of 92 patients. Abdom Imaging. 2014;39:1193–201.

Conci S, Ruzzenente A, Viganò L, Ercolani G, Fontana A, Bagante F, Bertuzzo F, Dore A, Pinna AD, Torzilli G, Iacono C, Guglielmi A. Patterns of distribution of hepatic nodules (single, satellites or multifocal) in intrahepatic cholangiocarcinoma: prognostic impact after surgery. Ann Surg Oncol. 2018;25:3719–27.

Yang C, Huang M, Li S, Chen J, Yang Y, Qin N, Huang D, Shu J. Radiomics model of magnetic resonance imaging for predicting pathological grading and lymph node metastases of extrahepatic cholangiocarcinoma. Cancer Lett. 2020;470:1–7.

Yao X, Huang X, Yang C, Hu A, Zhou G, Lei J, Shu J. A novel approach to assessing differentiation degree and lymph node metastasis of extrahepatic cholangiocarcinoma: prediction using a radiomics-based particle swarm optimization and support vector machine Model. JMIR Med Inform. 2020;8:e23578.

Zhou Y, Zhou G, Zhang J, Xu C, Wang X, Xu P. Radiomics signature on dynamic contrast-enhanced MR images: a potential imaging biomarker for prediction of microvascular invasion in mass-forming intrahepatic cholangiocarcinoma. Eur Radiol. 2021;31:6846–55.

Xu L, Yang P, Liang W, Liu W, Wang W, Luo C, Wang J, Peng Z, Xing L, Huang M, Zheng S, Niu T. A radiomics approach based on support vector machine using MR images for preoperative lymph node status evaluation in intrahepatic cholangiocarcinoma. Theranostics. 2019;9:5374–85.

Rahmim A, Bak-Fredslund KP, Ashrafinia S, Lu L, Schmidtlein CR, Subramaniam RM, Morsing A, Keiding S, Horsager J, Munk OL. Prognostic modeling for patients with colorectal liver metastases incorporating FDG PET radiomic features. Eur J Radiol. 2019;113:101–9.

Fiz F, Costa G, Gennaro N, la Bella L, Boichuk A, Sollini M, Politi LS, Balzarini L, Torzilli G, Chiti A, Viganò L. Contrast administration impacts CT-based radiomics of colorectal liver metastases and non-tumoral liver parenchyma revealing the "radiological" tumour microenvironment. Diagnostics. 2021;11:1162.

Yugawa K, Itoh S, Iseda N, Kurihara T, Kitamura Y, Toshima T, Harada N, Kohashi K, Baba S, Ishigami K, Oda Y, Yoshizumi T, Mori M. Obesity is a risk factor for intrahepatic cholangiocarcinoma progression associated with alterations of metabolic activity and immune status. Sci Rep. 2021;11:5845.

Lamarca A, Barriuso J, Chander A, McNamara MG, Hubner RA, ÓReilly D, Manoharan P, Valle JW. 18F-fluorodeoxyglucose positron emission tomography (18FDG-PET) for patients with biliary tract cancer: systematic review and meta-analysis. J Hepatol. 2019;71:115–29.

Sollini M, Kirienko M, Gelardi F, Fiz F, Gozzi N, Chiti A. State-of-the-art of FAPI-PET imaging: a systematic review and meta-analysis. Eur J Nucl Med Mol Imaging. 2021;48:4396–414.

Nakanishi R, Oki E, Hasuda H, Sano E, Miyashita Y, Sakai A, Koga N, Kuriyama N, Nonaka K, Fujimoto Y, Jogo T, Hokonohara K, Hu Q, Hisamatsu Y, Ando K, Kimura Y, Yoshizumi T, Mori M. Radiomics texture analysis for the identification of colorectal liver metastases sensitive to first-Line oxaliplatin-based chemotherapy. Ann Surg Oncol. 2021;28:2975–85.

van Helden EJ, Vacher YJL, van Wieringen WN, van Velden FHP, Verheul HMW, Hoekstra OS, Boellaard R, Menke-van der Houven van Oordt CW. Radiomics analysis of pre-treatment [18F]FDG PET/CT for patients with metastatic colorectal cancer undergoing palliative systemic treatment. Eur J Nucl Med Mol Imaging. 2018;45:2307–2317.
Funding
The present study was supported by the AIRC (Italian Association for Cancer Research) [grant #2019–23822] (PI: Luca Viganò).
Ethics declarations
Ethics approval
This study was performed in line with the principles of the Declaration of Helsinki. Approval was granted by the Ethics Committee of Humanitas Clinical and Research Hospital (date 23/02/2021: protocol number 5/21).
Informed consent
Because of the retrospective nature of the analysis, the need for informed consent was waived.
Competing interests
The authors declare no competing interests. Considering the conflicts of interest in general, we state that (1) L.V. received speaker's honoraria from Johnson & Johnson; (2) A.C. received speaker's honoraria from Advanced Accelerator Applications, General Electric Healthcare, Sirtex Medical Europe, and AmGen Europe; received travel grants from General Electric Healthcare and Sirtex Medical Europe; is a member of Blue Earth Diagnostics' and Advanced Accelerator Applications' advisory boards; and received scientific support, in terms of a 3-year Ph.D. fellowship, from the Sanofi Genzyme; (3) F.F. has been a consultant for the MSD Sharp & Dohme GmbH (LLC).
The funders had no role in the design of the study; in the collection, analyses, or interpretation of the data; in the writing of the manuscript; or in the decision to publish the results.
Additional information
Publisher's note
Springer Nature remains neutral with regard to jurisdictional claims in published maps and institutional affiliations.
This article is part of the Topical Collection on Advanced Image Analyses (Radiomics and Artificial Intelligence).
Supplementary Information
Below is the link to the electronic supplementary material.
About this article
Cite this article
Fiz, F., Masci, C., Costa, G. et al. PET/CT-based radiomics of mass-forming intrahepatic cholangiocarcinoma improves prediction of pathology data and survival. Eur J Nucl Med Mol Imaging 49, 3387–3400 (2022). https://doi.org/10.1007/s00259-022-05765-1
Received:

Accepted:

Published:

Issue Date:

DOI: https://doi.org/10.1007/s00259-022-05765-1
Keywords