Abstract
Purpose
Prostate-specific membrane antigen (PSMA) positron emission tomography (PSMA-PET) is an ideal tool for staging and restaging of prostate cancer (PCa). This study was designed to investigate the prognostic role of preoperative 68Ga-PSMA-11 PET/CT in predicting pathological upgrading from multiparametric magnetic resonance imaging–targeted biopsy (mpMRI-TB) to final radical prostatectomy (RP) specimens in patients with localized PCa.
Methods
A total of 67 biopsy-confirmed localized PCa patients with mpMRI and 68Ga-PSMA-11 PET/CT prior to RP were included. Clinical and imaging characteristics derived from mpMRI and PET/CT were compared in patients with or without pathological upgrading. Predictors for pathological upgrading were evaluated by using univariate and multivariable analyses. A prediction model was developed based on the identified parameters and validated using internal validation.
Results
Pathological upgrading from mpMRI-TB to final RP specimens occurred in 38.8% (26/67) of the patients. Multivariable logistic regression analysis showed SUVmax (OR: 1.223, 95% CI 1.068–1.399, p = 0.003); highest tumor grade at mpMRI-TB, ISUP grade group (ISUP GG) 1 vs. 4 (OR: 0.11, 95% CI 0.000–0.452, p = 0.018) and ISUP GG 2 vs. 4 (OR: 0.16, 95% CI 0.001–0.252, p = 0.003); and multifocality on PET/CT (OR: 9.821, 95% CI 1.438–67.085, p = 0.02) were independent risk factors for pathological upgrading. Our developed prediction model based on the identified parameter showed good calibration at internal validation (mean absolute error = 0.033).
Conclusion
68Ga-PSMA-11 PET/CT was found to be an ideal biomarker for the prediction of pathological upgrading from mpMRI-TB to RP, especially for patients with lower tumor grade at mpMRI-TB.
Access options
Buy single article
Instant access to the full article PDF.
US$ 39.95
Tax calculation will be finalised during checkout.
Subscribe to journal
Immediate online access to all issues from 2019. Subscription will auto renew annually.
US$ 119
Tax calculation will be finalised during checkout.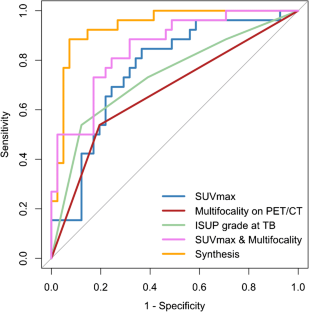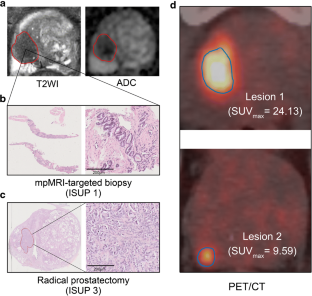 Funding
This study was supported by grants from the Project of Invigorating Health Care through Science, Technology and Education, Jiangsu Provincial Key Medical Discipline (Laboratory) (ZDXKB2016014).
Ethics declarations
Ethics approval
This study was approved by the Ethics Committee of the Drum Tower Hospital (2017-147-01). All procedures performed in studies involving human participants were in accordance with the ethical standards of the institutional and/or national research committee and with the principles of the 1964 Declaration of Helsinki and its later amendments or comparable ethical standards.
Consent to participate
Informed consent was obtained from all individual participants included in the study.
Conflict of interest
The authors declare no competing interests.
Additional information
Publisher's note
Springer Nature remains neutral with regard to jurisdictional claims in published maps and institutional affiliations.
This article is part of the Topical Collection on Oncology - Genitourinary.
Supplementary information
About this article
Cite this article
Yin, H., Chen, M., Qiu, X. et al. Can 68Ga-PSMA-11 PET/CT predict pathological upgrading of prostate cancer from MRI-targeted biopsy to radical prostatectomy?. Eur J Nucl Med Mol Imaging (2021). https://doi.org/10.1007/s00259-021-05217-2
Received:

Accepted:

Published:
Keywords
Prostate cancer

Targeted biopsy

MRI

PSMA PET/CT

Upgrading