Abstract
Purpose
The prevalence of posttraumatic stress disorder (PTSD) is higher among veterans, and can lead to disastrous consequences such as suicide. Eye movement desensitization and reprocessing (EMDR) is recommended in first-line psychotherapies for PTSD. Virtual reality exposure (VRE) coupled with 18F-FDG PET imaging can highlight the activated brain regions during stress exposure. The objective of this study is to identify, after EMDR therapy, the regions of brain metabolism that evolve during the stress exposure of a war scene with symptomatic remission in a group of military veterans suffering from PTSD, and to secondarily search for predictive metabolic features.
Methods
We recruited 15 military veterans suffering from PTSD who performed an 18F-FDG PET sensitized by the exposure to a virtual war scene, before (T0) and after (T1) EMDR therapy. Statistical parametric mapping was used to compare brain metabolism before and after treatment and to study correlations between metabolism and evolution scores on PTSD clinical scales (PTSD Checklist Scale, PCLS; Clinician-Administered PTSD Scale, CAPS).
Results
The metabolic activity of the precuneus was increased after EMDR therapy (p < 0.005 uncorrected, k > 180) and correlated with clinical improvement with the CAPS scale (r = −0.73 and p < 0.001). Moreover, the precuneus metabolic value before therapy predicted the clinical improvement on the PCLS scale (T1-T0) after EMDR (r = −0.667 and p < 0.006).
Conclusion
The clinical improvement in military patients with PTSD after EMDR is related to increased precuneus metabolism upon VR stress exposure.
This is a preview of subscription content, log in to check access.
Access options
Buy single article
Instant access to the full article PDF.
US$ 39.95
Price includes VAT for USA
Subscribe to journal
Immediate online access to all issues from 2019. Subscription will auto renew annually.
US$ 199
This is the net price. Taxes to be calculated in checkout.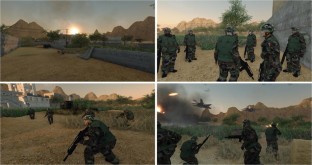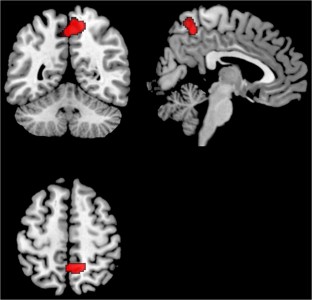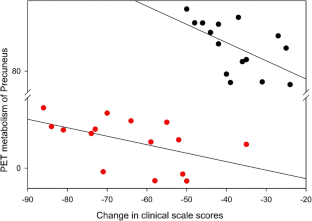 References
1.

Xue C, Ge Y, Tang B, Liu Y, Kang P, Wang M, et al. A meta-analysis of risk factors for combat-related PTSD among military personnel and veterans. PLoS One. 2015;10(3):e0120270.

2.

Yehuda R, Hoge CW, McFarlane AC, Vermetten E, Lanius RA, Nievergelt CM, et al. Post-traumatic stress disorder. Nat Rev Dis Primer. 2015;1:15057.

3.

Rousseau PF, El Khoury-Malhame M, Reynaud E, Zendjidjian X, Samuelian JC, Khalfa S. Neurobiological correlates of EMDR therapy effect in PTSD. Eur J Trauma Dissociation. 2019;3(2):103–11 https://doi.org/10.1016/j.ejtd.2018.07.001 SMASH

4.

Pagani M, Di Lorenzo G, Verardo AR, Nicolais G, Monaco L, Lauretti G, et al. Neurobiological correlates of EMDR monitoring — an EEG study. PLoS One. 2012;7(9):e45753.

5.

Verger A, Guedj E. The renaissance of functional 18F-FDG PET brain activation imaging. Eur J Nucl Med Mol Imaging. 2018;45(13):2338–41

6.

Chiaravalloti A, Pagani M, Micarelli A, Di Pietro B, Genovesi G, Alessandrini M, et al. Cortical activity during olfactory stimulation in multiple chemical sensitivity: a (18)F-FDG PET/CT study. Eur J Nucl Med Mol Imaging. 2015;42(5):733–40.

7.

Verger A, Malbos E, Reynaud E, Mallet P, Mestre D, Pergandi J-M, et al. Brain metabolism and related connectivity in patients with acrophobia treated by virtual reality therapy: an 18F-FDG PET pilot study sensitized by virtual exposure. EJNMMI Res. 2018;8(1):93.

8.

American Psychiatric Association. Diagnostic and statistical manual of mental disorders. 4th ed., text revision (DSM-IV TR). Washington, DC. American Psychiatric Association. 2000.

9.

Ventureyra VAG, Yao S-N, Cottraux J, Note I, De Mey-Guillard C. The validation of the posttraumatic stress disorder checklist scale in posttraumatic stress disorder and nonclinical subjects. Psychother Psychosom. 2002;71(1):47–53.

10.

Blake DD, Weathers FW, Nagy LM, Kaloupek DG, Gusman FD, Charney DS, et al. The development of a clinician-administered PTSD scale. J Trauma Stress. 1995;8(1):75–90.

11.

Fullana MA, Albajes-Eizagirre A, Soriano-Mas C, Vervliet B, Cardoner N, Benet O, et al. Fear extinction in the human brain: a meta-analysis of fMRI studies in healthy participants. Neurosci Biobehav Rev. 2018;88:16–25.
Funding
This work was conducted in the framework of DHU-Imaging thanks to the support of the A*MIDEX project (n°ANR-11-IDEX-0001-02) [« Investissements d'Avenir » French Government programme, managed by the French National Research Agency (ANR)].
Ethics declarations
Conflict of interest
None.
Ethics
Subjects gave written informed consent for their participation in accordance with the Declaration of Helsinki. The study was approved by the Institutional Review Board CPP Sud Méditerrannée (Ref: 2014-002126-12).
Additional information
Publisher's note
Springer Nature remains neutral with regard to jurisdictional claims in published maps and institutional affiliations.
This article is part of the Topical Collection on Neurology.
About this article
Cite this article
Rousseau, P.F., Malbos, E., Verger, A. et al. Increase of precuneus metabolism correlates with reduction of PTSD symptoms after EMDR therapy in military veterans: an 18F-FDG PET study during virtual reality exposure to war. Eur J Nucl Med Mol Imaging 46, 1817–1821 (2019). https://doi.org/10.1007/s00259-019-04360-1
Received:

Accepted:

Published:

Issue Date:
Keywords
Posttraumatic stress disorder

Brain metabolism

PET

Eye movement desensitization and reprocessing

Virtual reality exposure

War

Veterans