Abstract
Purpose
The aim of this study was to compare fluorodeoxyglucose positron emission tomography/computed tomography (FDG PET/CT) and contrast-enhanced computed tomography (CE-CT) for the prediction of progression-free survival (PFS) and disease-specific survival (DSS) in patients with stage IV breast cancer undergoing systemic therapy.
Methods
Sixty-five patients with metastatic breast cancer treated with first- or second-line systemic therapy in prospective clinical trials were included. Response to treatment was evaluated by Response Evaluation Criteria in Solid Tumors (RECIST) 1.1 for CE-CT and by PET Response Criteria in Solid Tumors (PERCIST), respectively.
Results
All responders by RECIST (n = 22) were also responders by PERCIST, but 40% (17/43) of non-responders by RECIST were responders by PERCIST. Responses according to RECIST and PERCIST both correlated with PFS, but PERCIST showed a significantly higher predictive accuracy (concordance index for PFS: 0.70 vs. 0.60). One-year PFS for responders vs. non-responders by RECIST was 59% vs. 27%, compared to 63% vs. 0% by PERCIST. Four-year DSS of responders and non-responders by RECIST was 50% and 38%, respectively (p = 0.2, concordance index: 0.55) as compared to 58% vs. 18% for PERCIST (p < 0.001, concordance index: 0.65). Response on PET/CT was also a significantly better predictor for DSS than disease control on CE-CT.
Conclusions
In patients with metastatic breast cancer, tumor response on PET/CT appears to be a superior predictor of PFS and DSS than response on CE-CT. Monitoring tumor response by PET/CT may increase the power of clinical trials using tumor response as an endpoint, and may improve patient management in clinical routine.
Access options
Buy single article
Instant access to the full article PDF.
USD 39.95
Price excludes VAT (USA)
Tax calculation will be finalised during checkout.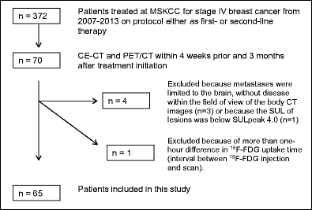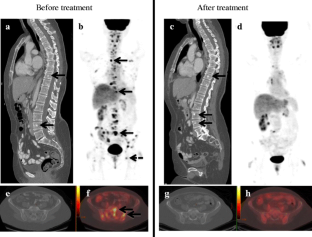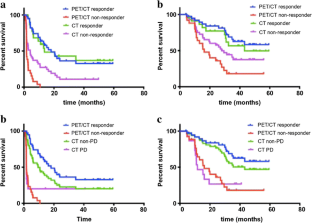 References
United States Food and Drug Administration Backgrounder. Cancer therapies: accelerating approval and expanding access. Ann Pharmacother. 1996;30(7–8):907.

Miller AB, Hoogstraten B, Staquet M, Winkler A. Reporting results of cancer treatment. Cancer. 1981;47(1):207–14.

Therasse P, Arbuck SG, Eisenhauer EA, Wanders J, Kaplan RS, Rubinstein L, et al. New guidelines to evaluate the response to treatment in solid tumors. European Organization for Research and Treatment of cancer, National Cancer Institute of the United States, National Cancer Institute of Canada. J Natl Cancer Inst. 2000;92(3):205–16.

Eisenhauer EA, Therasse P, Bogaerts J, Schwartz LH, Sargent D, Ford R, et al. New response evaluation criteria in solid tumours: revised RECIST guideline (version 1.1). Eur J Cancer. 2009;45(2):228–47. doi:10.1016/j.ejca.2008.10.026.

Burzykowski T, Buyse M, Piccart-Gebhart MJ, Sledge G, Carmichael J, Luck HJ, et al. Evaluation of tumor response, disease control, progression-free survival, and time to progression as potential surrogate end points in metastatic breast cancer. J Clin Oncol. 2008;26(12):1987–92. doi:10.1200/JCO.2007.10.8407.

Weber WA, Gatsonis CA, Mozley PD, Hanna LG, Shields AF, Aberle DR, et al. Repeatability of 18F-FDG PET/CT in advanced non-small cell lung cancer: prospective assessment in 2 multicenter trials. J Nucl Med. 2015;56(8):1137–43. doi:10.2967/jnumed.114.147728.

Jacene HA, Leboulleux S, Baba S, Chatzifotiadis D, Goudarzi B, Teytelbaum O, et al. Assessment of interobserver reproducibility in quantitative 18F-FDG PET and CT measurements of tumor response to therapy. J Nucl Med. 2009;50(11):1760–9. doi:10.2967/jnumed.109.063321.

Hildebrandt MG, Gerke O, Baun C, Falch K, Hansen JA, Farahani ZA, et al. [18F]fluorodeoxyglucose (FDG)-positron emission tomography (PET)/computed tomography (CT) in suspected recurrent breast cancer: a prospective comparative study of dual-time-point FDG-PET/CT, contrast-enhanced CT, and bone scintigraphy. J Clin Oncol. 2016;34(16):1889–97. doi:10.1200/JCO.2015.63.5185.

Groheux D, Giacchetti S, Delord M, de Roquancourt A, Merlet P, Hamy AS, et al. Prognostic impact of 18F-FDG PET/CT staging and of pathological response to neoadjuvant chemotherapy in triple-negative breast cancer. Eur J Nucl Med Mol Imaging. 2015;42(3):377–85. doi:10.1007/s00259-014-2941-1.

Mortazavi-Jehanno N, Giraudet AL, Champion L, Lerebours F, Le Stanc E, Edeline V, et al. Assessment of response to endocrine therapy using FDG PET/CT in metastatic breast cancer: a pilot study. Eur J Nucl Med Mol Imaging. 2012;39(3):450–60. doi:10.1007/s00259-011-1981-z.

Schelling M, Avril N, Nahrig J, Kuhn W, Romer W, Sattler D, et al. Positron emission tomography using [(18)F]fluorodeoxyglucose for monitoring primary chemotherapy in breast cancer. J Clin Oncol. 2000;18(8):1689–95.

Rousseau C, Devillers A, Sagan C, Ferrer L, Bridji B, Campion L, et al. Monitoring of early response to neoadjuvant chemotherapy in stage II and III breast cancer by [18F]fluorodeoxyglucose positron emission tomography. J Clin Oncol. 2006;24(34):5366–72. doi:10.1200/JCO.2006.05.7406.

Gebhart G, Lamberts LE, Wimana Z, Garcia C, Emonts P, Ameye L, et al. Molecular imaging as a tool to investigate heterogeneity of advanced HER2-positive breast cancer and to predict patient outcome under trastuzumab emtansine (T-DM1): the ZEPHIR trial. Ann Oncol. 2016;27(4):619–24. doi:10.1093/annonc/mdv577.

Wahl RL, Jacene H, Kasamon Y, Lodge MA. From RECIST to PERCIST: evolving considerations for PET response criteria in solid tumors. J Nucl Med. 2009;50(Suppl 1):122S–50S. doi:10.2967/jnumed.108.057307.

Gonen M, Heller G. Concordance probability and discriminatory power in proportional hazards regression. Biometrika. 2005;92(4):965–70. doi:10.1093/biomet/92.4.965.

Hendlisz A, Golfinopoulos V, Garcia C, Covas A, Emonts P, Ameye L, et al. Serial FDG-PET/CT for early outcome prediction in patients with metastatic colorectal cancer undergoing chemotherapy. Ann Oncol. 2012;23(7):1687–93. doi:10.1093/annonc/mdr554.

Coleman RE. Clinical features of metastatic bone disease and risk of skeletal morbidity. Clin Cancer Res. 2006;12(20 Pt 2):6243s–9s. doi:10.1158/1078-0432.CCR-06-0931.

Specht JM, Tam SL, Kurland BF, Gralow JR, Livingston RB, Linden HM, et al. Serial 2-[18F] fluoro-2-deoxy-D-glucose positron emission tomography (FDG-PET) to monitor treatment of bone-dominant metastatic breast cancer predicts time to progression (TTP). Breast Cancer Res Treat. 2007;105(1):87–94. doi:10.1007/s10549-006-9435-1.

Stafford SE, Gralow JR, Schubert EK, Rinn KJ, Dunnwald LK, Livingston RB, et al. Use of serial FDG PET to measure the response of bone-dominant breast cancer to therapy. Acad Radiol. 2002;9(8):913–21.

Niikura N, Costelloe CM, Madewell JE, Hayashi N, Yu TK, Liu J, et al. FDG-PET/CT compared with conventional imaging in the detection of distant metastases of primary breast cancer. Oncologist. 2011;16(8):1111–9. doi:10.1634/theoncologist.2011-0089.

Tateishi U, Gamez C, Dawood S, Yeung HW, Cristofanilli M, Macapinlac HA. Bone metastases in patients with metastatic breast cancer: morphologic and metabolic monitoring of response to systemic therapy with integrated PET/CT. Radiology. 2008;247(1):189–96. doi:10.1148/radiol.2471070567.

Caglar M, Kupik O, Karabulut E, Hoilund-Carlsen PF. Detection of bone metastases in breast cancer patients in the PET/CT era: do we still need the bone scan? Rev Esp Med Nucl Imagen Mol. 2016;35(1):3–11. doi:10.1016/j.remn.2015.08.006.

Glendenning J, Cook G. Imaging breast cancer bone metastases: current status and future directions. Semin Nucl Med. 2013;43(4):317–23. doi:10.1053/j.semnuclmed.2013.02.002.

Morris PG, Lynch C, Feeney JN, Patil S, Howard J, Larson SM, et al. Integrated positron emission tomography/computed tomography may render bone scintigraphy unnecessary to investigate suspected metastatic breast cancer. J Clin Oncol. 2010;28(19):3154–9. doi:10.1200/JCO.2009.27.5743.

Thatcher N, Chang A, Parikh P, Rodrigues Pereira J, Ciuleanu T, von Pawel J, et al. Gefitinib plus best supportive care in previously treated patients with refractory advanced non-small-cell lung cancer: results from a randomised, placebo-controlled, multicentre study (Iressa survival evaluation in lung cancer). Lancet. 2005;366(9496):1527–37. doi:10.1016/S0140-6736(05)67625-8.

Riedl C, Pinker K, Ong L, Jochelson MS, Ulaner G, McArthur HL, et al. FDG-PET/CT versus contrast enhanced CT for prediction of progression-free and disease-specific survival in stage IV breast cancer patients. J Clin Oncol. 2015;33(Abstract). http://meetinglibrary.asco.org/content/153557-156
Ethics declarations
Funding
This study was funded by a Susan G. Komen for the Cure research grant (KG110441) and MSKCC Biostatistics Core (P30 CA008748).
Conflict of interest
The authors declare that they have no conflict of interest.
Ethical approval
This HIPAA-compliant, retrospective, single-institution study was performed under institutional review board approval.
Informed consent was waived due to the retrospective nature of the study.
All procedures performed in studies involving human participants were in accordance with the ethical standards of the institutional and/or national research committee and with the 1964 Helsinki Declaration and its later amendments or comparable ethical standards.
Electronic supplementary material
About this article
Cite this article
Riedl, C.C., Pinker, K., Ulaner, G.A. et al. Comparison of FDG-PET/CT and contrast-enhanced CT for monitoring therapy response in patients with metastatic breast cancer. Eur J Nucl Med Mol Imaging 44, 1428–1437 (2017). https://doi.org/10.1007/s00259-017-3703-7
Received:

Accepted:

Published:

Issue Date:

DOI: https://doi.org/10.1007/s00259-017-3703-7
Keywords
FDG

PET/CT

Breast cancer

Treatment response

Survival