Abstract
Purpose
The purpose of this study was to evaluate the efficacy and safety of a novel theranostic agent, 177Lu-DKFZ-PSMA-617 therapy in metastatic castration resistant prostate cancer (mCRPC).
Methods
Thirty-one mCRPC patients with progressive disease despite second-line hormonal therapy and/or docetaxel chemotherapy were recruited for the study. All patients underwent diagnostic68Ga-PSMA-HBED-CCPET/CT, prior to inclusion for therapy. Included patients then underwent quarterly 177Lu-DKFZ-PSMA-617 therapy. Hematological, kidney function, liver function tests, and serum PSA levels were recorded before and after therapy at 2 weeks, 4 weeks, and 3 month intervals. Biochemical response was assessed with trend in serum PSA levels. Metabolic response was assessed by PERCIST 1 criteria. Clinical response was assessed by visual analogue score (VASmax) analgesic score (AS), Karanofsky performance status (KPS), and ttoxicity and response criteria of the Eastern Cooperative Oncology Group (ECOG) criteria.
Results
The mean age of patients was 65.93 ± 9.77 years (range: 38–81 years). The mean activity administered in the 31 patients was 5069 ± 1845 MBq ranging from one to four cycles. There was a decline in the mean serum PSA levels from the baseline (baseline: 275 ng/mL, post 1st cycle therapy: 141.75 ng/mL). Based on biochemical response criteria 2/31, 20/31, 3/31, and 6/31 had complete response (CR), partial response(PR), stable disease (SD), and progressive disease (PD), respectively. Metabolic response revealed 2/6 patients with CR, and the remaining 3/6 patients with PR and 1/6 patients with SD. The mean VASmax score decreased from 7.5 to 3. The mean analgesic score decreased from 2.5 to 1.8 after therapy. The mean KPS score improved from 50.32 to 65.42 after therapies. The mean ECOG performance status improved from 2.54 to 1.78 after therapy. Two patients experienced grade I and grade II hemoglobin toxicity each. None of the patients experienced nephrotoxicity or hepatotoxicity.
Conclusion
177Lu-DKFZ-PSMA-617 radionuclide therapy is a safe and effective approach in the treatment of mCRPC patients.
Access options
Buy single article
Instant access to the full article PDF.
USD 39.95
Price includes VAT (USA)
Tax calculation will be finalised during checkout.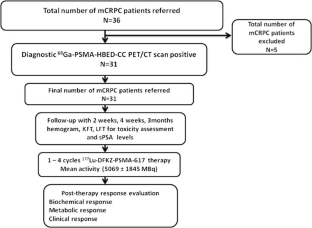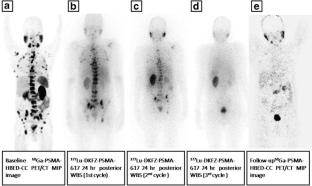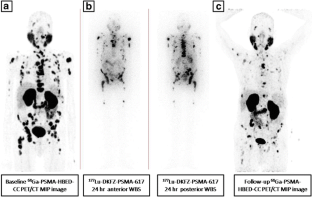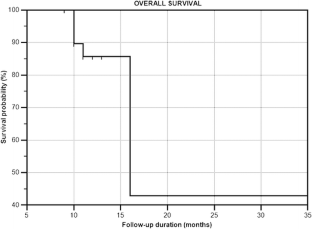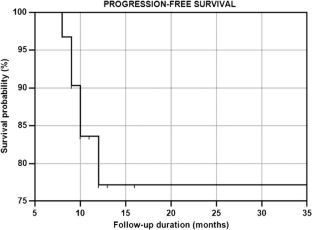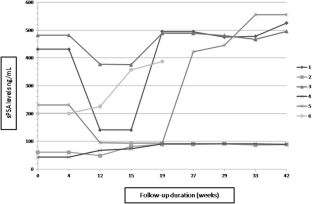 References
1.

Kirby M, Hirst C, Crawford ED. Characterising the castration-resistant prostate cancer population: a systemic review. Int J Clin Pract. 2011;65:1180–92.

2.

Hotte SJ, Saad F. Current management of castrate-resistant prostate cancer. Urol Oncol. 2010;17(Suppl 2):S72–9.

3.

Tannock IF, de Wit R, Berry WR, Horti J, Pluzanska A, Chi KN, et al. Docetaxel plus prednisone or mitoxantrone plus prednisone for advanced prostate cancer. N Engl J Med. 2004;351:1502–12.

4.

Petrylak DP, Tangen CM, Hussain MH, Lara Jr PN, Jones JA, Taplin ME, et al. Docetaxel and estramustine compared with mitoxantrone and prednisone for advanced refractory prostate cancer. N Engl J Med. 2004;351:1513–20.

5.

Benesová M, Schafer M, Bauder-Wust U, Afshar-Oromieh A, Kratochwil C, Mier W, et al. Preclinical evaluation of a tailormade DOTA-conjugated PSMA inhibitor with optimized linker moiety for imaging and endoradiotherapy of prostate cancer. J Nucl Med. 2015;56:914–20.

6.

Stabin MG, Siegel JA. Physical models and dose factors for use in internal dose assessment. Health Phys. 2003;85:294–310.

7.

Van Essen M, Krenning EP, de Jong M, Valkema R, Kwekkeboom DJ. Peptide receptor radionuclide therapy with radiolabelled somatostatin analogues in patients with somatostatin receptor positive tumours. Acta Oncol. 2007;46:723–34.

8.

Kabasakal L, AbuQbeitah M, Aygün A, Yeyin N, Ocak M, Demirci E, et al. Pre-therapeutic dosimetry of normal organs and tissues of (177)Lu-PSMA-617 prostate-specific membrane antigen (PSMA) inhibitor in patients with castration-resistant prostate cancer. Eur J Nucl Med Mol Imaging. 2015;42:1976–83.

9.

Delker A, Fendler WP, Kratochwil C, Brunegraf A, Gosewisch A, Gildehaus FJ, et al. Dosimetry for 177Lu-DKFZ-PSMA-617: a new radiopharmaceutical for the treatment of metastatic prostate cancer. Eur J Nucl Med Mol Imaging. 2016;43:42–51.

10.

Richard L. Wahl1, Heather Jacene, Yvette Kasamon, and Martin A. Lodge. From RECIST to PERCIST: evolving considerations for PET response criteria in solid tumors. J Nucl Med. 2009; 50:5 (Suppl).

11.

Green S, Weiss GR. Southwest Onology group standard response criteria, endpoint definitions and toxicity criteria. Invest New Drugs. 1992;10:239–53.

12.

McCaffery M, Pasero C. Pain: clinical manual. St. Louis: Mosby;1999.p.16.

13.

Crooks V, Waller S, Smith T, Hahn TJ. The use of Karonofsky Performance Scale in determining outcomes and risk in geriatric outpatients. J Gerontol. 1991;46:139–44.

14.

Tagawa ST, Milowsky MI, Morris M, Vallabhajosula S, Christos P, Akhtar NH, et al. Phase II Study of Lutetium-177-Labeled Anti-Prostate-Specific Membrane Antigen Monoclonal Antibody J591 for Metastatic Castration-Resistant Prostate Cancer. Clin Cancer Res. 2013;19:5182–91.

15.

Friedrich SW, Lin SC, Stoll BR, Baxter LT, Munn LL, Jain RK. Antibody-directed effector cell therapy of tumors: analysis and optimization using a physiologically based pharmacokinetic model. Neoplasia. 2002;4:449–63.

16.

Vallabhajosula S, Goldsmith SJ, Hamacher KA, Kostakoglu L, Konishi S, Milowski MI, et al. Prediction of myelotoxicity based on bone marrow radiation-absorbed dose: radioimmunotherapy studies usng 90Y- and 177Lu-labelled J591 antibodies specific for prostate specific membrane antigen. J Nucl Med. 2005;46:850–8.

17.

Heck MM, Retz M, D'Alessandria C, Rauscher I, Scheidhauer K, Maurer T, Storz E, et al. Systemic radioligand therapywith 177Lu-PSMA-I&T in patients with metastatic castration –resistant prostate cancer. J Urol. 2016.

18.

Schmitz MD, Padula GD, Chun PY, Davis AT. Normalization of prostate specific antigen in patients treated with intensity modulated radiotherapy for clinically localized prostate cancer. Radiat Oncol. 2010;5:80.

19.

Lorenzo GD, Buonerba C, Faiella A, Rescigno P, Rizzo M, Autorino R, et al. Phase II study of docetaxel re-treatment in docetaxel-pretreated castration-resistant prostate cancer. BJU Int. 2010;107:234–9.

20.

Baum RP, Kulkarni HR, Schuchardt C, Singh A, Wirtz M, Wiessalla S, et al. Lutetium-177 PSMA radioligand therapy of metastatic castration-resistant prostate cancer: safety and efficacy. J Nucl Med. 2016.

21.

Ahmadzadehfar H, Rahbar K, Kurpig S, Bogemann M, Claesener M, Eppard E, et al. Early side effects and first results of radioligand therapy with 177Lu-DKFZ-617 PSMA of castration-resistant metastatic prostate cancer: a two-centre study. EJNMMI Res. 2015;5:36.

22.

Harrison MR, Wong TZ, Armstrong AJ, George DJ. Radium-223 chloride: a potential new treatment for castration-resistant prostate cancer patients with metastatic bone disease. Cancer Manag Res. 2013;5:1–14.

23.

Parker C, Heinrich D, O'Sullivan JM, et al. Overall survival benefit and safety profile of radium-223 chloride, a first-in-class alpha-pharmaceutical: results from a phase III randomized trial (ALSYMPCA) in patients with castration-resistant prostate cancer (CRPC) with bone metastases. J Clin Oncol. 2012;30(Suppl 5):Abstr 8.
Acknowledgments
We are grateful to Ingo Klette, Radiochemist, Zentralklinik Bad Berka GmbH, Germany for his support in the research work.
Ethics declarations
Conflict of interest
The authors declare that they have no conflict of interest.
Ethical clearance
Ethical clearance received Ref. No IESC/T-229/05.05.2015, RT-46/2015
Informed consent
Informed consent obtained from all patients
Funding
No funding was received from any organisation for this study.
About this article
Cite this article
Yadav, M.P., Ballal, S., Tripathi, M. et al. 177Lu-DKFZ-PSMA-617 therapy in metastatic castration resistant prostate cancer: safety, efficacy, and quality of life assessment. Eur J Nucl Med Mol Imaging 44, 81–91 (2017). https://doi.org/10.1007/s00259-016-3481-7
Received:

Accepted:

Published:

Issue Date:
Keywords
177Lu-DKFZ-PSMA-617 radionuclide therapy

Efficacy

Quality of life

mCRPC