Abstract
Purpose
The presence of activated brown adipose tissue (ABAT) has been associated with a reduced risk of obesity in adults. We aimed to investigate whether the presence of ABAT in patients undergoing 18F-FDG PET/CT examinations was related to blood lipid profiles, liver function, and the prevalence of non-alcoholic fatty liver disease (NAFLD).
Methods
We retrospectively and prospectively analysed the 18F-FDG PET/CT scans from 5,907 consecutive patients who were referred to the Nuclear Medicine Department of the Marmara University School of Medicine from outpatient oncology clinics between July 2008 and June 2014 for a variety of diagnostic reasons. Attenuation coefficients for the liver and spleen were determined for at least five different areas. Blood samples were obtained before PET/CT to assess the blood lipid profiles and liver function.
Results
A total of 25 of the 5,907 screened individuals fulfilling the inclusion criteria for the study demonstrated brown fat tissue uptake [ABAT(+) subjects]. After adjustment for potential confounders, 75 individuals without evidence of ABAT on PET [ABAT(−) subjects] were enrolled for comparison purposes. The ABAT(+) group had lower total cholesterol, low-density lipoprotein cholesterol, alanine aminotransferase, and aspartate transaminase levels (p < 0.01), whereas we found no significant differences in the serum triglyceride and high-density lipoprotein cholesterol levels between the two groups. The prevalence of NAFLD was significantly lower in ABAT(+) than in ABAT(−) subjects (p < 0.01).
Conclusion
Our study showed that the presence of ABAT in adults had a positive effect on their blood lipid profiles and liver function and was associated with reduced prevalence of NAFLD. Thus, our data suggest that activating brown adipose tissue may be a potential target for preventing and treating dyslipidaemia and NAFLD.
Access options
Buy single article
Instant access to the full article PDF.
US$ 39.95
Tax calculation will be finalised during checkout.
Subscribe to journal
Immediate online access to all issues from 2019. Subscription will auto renew annually.
US$ 119
Tax calculation will be finalised during checkout.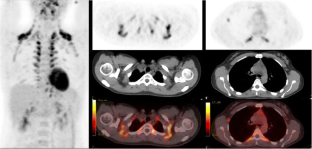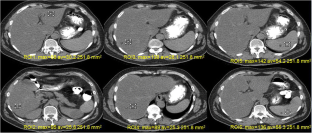 References
1.

Heeren J, Munzberg H. Novel aspects of brown adipose tissue biology. Endocrinol Metab Clin North Am. 2013;42:89–107.

2.

Tews D, Wabitsch M. Renaissance of brown adipose tissue. Horm Res Paediatr. 2011;75:231–9.

3.

Bauwens M, Wierts R, van Royen B, Bucerius J, Backes W, Mottaghy F, et al. Molecular imaging of brown adipose tissue in health and disease. Eur J Nucl Med Mol Imaging. 2014;41:776–91.

4.

Van Marken Lichtenbelt WD, Vanhommerig JW, Smulders NM, Drossaerts JM, Kemerink GJ, Bouvy ND, et al. Cold-activated brown adipose tissue in healthy men. N Engl J Med. 2009;360:1500–8.

5.

Yilmaz Y, Ones T, Purnak T, Ozguven S, Kurt R, Atug O, et al. Association between the presence of brown adipose tissue and non-alcoholic fatty liver disease in adult humans. Aliment Pharmacol Ther. 2011;34:318–23.

6.

Bartelt A, Bruns OT, Reimer R, Hohenberg H, Ittrich H, Peldschus K, et al. Brown adipose tissue activity controls triglyceride clearance. Nat Med. 2011;17:200–5.

7.

Khedoe PP, Hoeke G, Kooijman S, Dijk W, Buijs JT, Kersten S, et al. Brown adipose tissue takes up plasma triglycerides mostly after lipolysis. J Lipid Res. 2015;56:51–9.

8.

Pfannenberg C, Werner MK, Ripkens S, Stef I, Deckert A, Schmadl M, et al. Impact of age on the relationships of brown adipose tissue with sex and adiposity in humans. Diabetes. 2010;59:1789–93.

9.

Perkins AC, Mshelia DS, Symonds ME, Sathekge M. Prevalence and pattern of brown adipose tissue distribution of 18F-FDG in patients undergoing PET-CT in a subtropical climatic zone. Nucl Med Commun. 2013;34:168–74.

10.

Ricci C, Longo R, Gioulis E, Bosco M, Pollesello P, Masutti F, et al. Noninvasive in vivo quantitative assessment of fat content in human liver. J Hepatol. 1997;27:108–13.

11.

Kodama Y, Ng CS, Wu TT, Ayers GD, Curley SA, Abdalla EK, et al. Comparison of CT methods for determining the fat content of the liver. AJR Am J Roentgenol. 2007;5:1307–12.

12.

Hong EP, Park JW. Sample size and statistical power calculation in genetic association studies. Genomics Inform. 2012;10:117–22.

13.

Ouellet V, Routhier-Labadie A, Bellemare W, Lakhal-Chaieb L, Turcotte E, Carpentier AC, et al. Outdoor temperature, age, sex, body mass index, and diabetic status determine the prevalence, mass, and glucose-uptake activity of 18F-FDG-detected BAT in humans. J Clin Endocrinol Metab. 2011;96:192–9.

14.

Vijgen GH, Bouvy ND, Teule GJ, Brans B, Hoeks J, Schrauwen P, et al. Increase in brown adipose tissue activity after weight loss in morbidly obese subjects. J Clin Endocrinol Metab. 2012;97:1229–33.

15.

Jacene HA, Cohade CC, Zhang Z, Wahl RL. The relationship between patients' serum glucose levels and metabolically active brown adipose tissue detected by PET/CT. Mol Imaging Biol. 2011;13:1278–83.

16.

Saito M, Okamatsu-Ogura Y, Matsushita M, Watanabe K, Yoneshiro T, Nio-Kobayashi J, et al. High incidence of metabolically active brown adipose tissue in healthy adult humans: effects of cold exposure and adiposity. Diabetes. 2009;58:1526–31.

17.

Souza MR, Diniz Mde F, Medeiros-Filho JE, Araujo MS. Metabolic syndrome and risk factors for non-alcoholic fatty liver disease. Arq Gastroenterol. 2012;49:89–96.

18.

Zhang Q, Ye H, Miao Q, Zhang Z, Wang Y, Zhu X, et al. Differences in the metabolic status of healthy adults with and without active brown adipose tissue. Wien Klin Wochenschr. 2013;125:687–95.

19.

Szlosarek P, Charles KA, Balkwill FR. Tumour necrosis factor-alpha as a tumour promoter. Eur J Cancer. 2006;42:745–50.

20.

Das SK, Hoefler G. The role of triglyceride lipases in cancer associated cachexia. Trends Mol Med. 2013;19:292–301.

21.

Angulo P. GI epidemiology: nonalcoholic fatty liver disease. Aliment Pharmacol Ther. 2007;25:883–9.

22.

Oh MK, Winn J, Poordad F. Review article: diagnosis and treatment of non-alcoholic fatty liver disease. Aliment Pharmacol Ther. 2008;28:503–22.

23.

Almeda-Valdés P, Cuevas-Ramos D, Aguilar-Salinas CA. Metabolic syndrome and non-alcoholic fatty liver disease. Ann Hepatol. 2009;8:18–24.

24.

Lonardo A, Lombardini S, Ricchi M, Scaglioni F, Loria P. Review article: hepatic steatosis and insulin resistance. Aliment Pharmacol Ther. 2005;22:64–70.

25.

Ekstedt M, Franzen LE, Mathiesen UL, Thorelius L, Holmqvist M, Bodemar G, et al. Long-term follow-up of patients with NAFLD and elevated liver enzymes. Hepatology. 2006;44:865–73.
Acknowledgments
We thank Editage (www.editage.com) for English language editing.
Compliance with ethical standards
ᅟ
Financial support
The authors received no financial support for the research or authorship of this article.
Conflicts of interest
None.
Ethical approval
All procedures performed in studies involving human participants were in accordance with the ethical standards of the institutional and/or national research committee and with the principles of the 1964 Declaration of Helsinki and its later amendments or comparable ethical standards. The study was approved by the institutional ethics committee.
Informed consent
Informed consent was obtained from all individual participants included in the study.
About this article
Cite this article
Ozguven, S., Ones, T., Yilmaz, Y. et al. The role of active brown adipose tissue in human metabolism. Eur J Nucl Med Mol Imaging 43, 355–361 (2016). https://doi.org/10.1007/s00259-015-3166-7
Received:

Accepted:

Published:

Issue Date:
Keywords
Adipose tissue, brown

Dyslipidaemias

18F-Fluorodeoxyglucose

Non-alcoholic fatty liver disease

Positron emission tomography