Abstract
Purpose
Our group has previously reported on the use of 68Ga-ventilation/perfusion (VQ) PET/CT scanning for the diagnosis of pulmonary embolism. We describe here the acquisition methodology for 68Ga-VQ respiratory gated (4-D) PET/CT and the effects of respiratory motion on image coregistration in VQ scanning.
Methods
A prospective study was performed in 15 patients with non-small-cell lung cancer. 4-D PET and 4-D CT images were acquired using an infrared marker on the patient's abdomen as a surrogate for breathing motion following inhalation of Galligas and intravenous administration of 68Ga-macroaggregated albumin. Images were reconstructed with phase-matched attenuation correction. The lungs were contoured on CT and PET VQ images during free-breathing (FB) and at maximum inspiration (Insp) and expiration (Exp). The similarity between PET and CT volumes was measured using the Dice coefficient (DC) comparing the following groups; (1) FB-PET/CT, (2) InspPET/InspCT, (3) ExpPET/Exp CT, and (4) FB-PET/AveCT. A repeated measures one-way ANOVA with multiple comparison Tukey tests were performed to evaluate any difference between the groups. Diaphragmatic motion in the superior–inferior direction on the 4-D CT scan was also measured.
Results
4-D VQ scanning was successful in all patients without additional acquisition time compared to the nongated technique. The highest volume overlap was between ExpPET and ExpCT and between FB-PET and AveCT with a DC of 0.82 and 0.80 for ventilation and perfusion, respectively. This was significantly better than the DC comparing the other groups (0.78–0.79, p < 0.05). These values agreed with a visual inspection of the images with improved image coregistration around the lung bases. The diaphragmatic motion during the 4-D CT scan was highly variable with a range of 0.4–3.4 cm (SD 0.81 cm) in the right lung and 0–2.8 cm (SD 0.83 cm) in the left lung. Right-sided diaphragmatic nerve palsy was observed in 3 of 15 patients.
Conclusion
68Ga-VQ 4-D PET/CT is feasible and the blurring caused by respiratory motion is well corrected with 4-D acquisition, which principally reduces artefact at the lung bases. The images with the highest spatial overlap were the combined expiration phase or FB PET and average CT. With higher resolution than SPECT/CT, the PET/CT technique has a broad range of potential clinical applications including diagnostic algorithms for patients with suspected pulmonary embolism, preoperative evaluation of regional lung function and improving assessment or understanding of pulmonary physiology in the vast range of pulmonary diseases.
Access options
Buy single article
Instant access to the full article PDF.
US$ 39.95
Tax calculation will be finalised during checkout.
Subscribe to journal
Immediate online access to all issues from 2019. Subscription will auto renew annually.
US$ 119
Tax calculation will be finalised during checkout.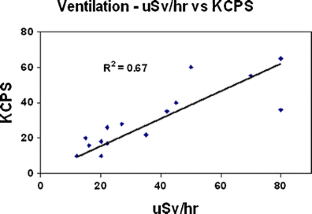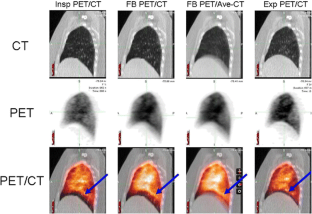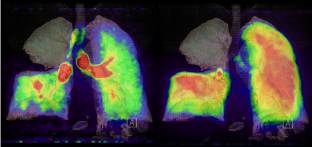 References
1.

Wagner Jr HN, Sabiston Jr DC, Iio M, McAfee JG, Meyer JK, Langan JK. Regional pulmonary blood flow in man by radioisotope scanning. JAMA. 1964;187:601–3.

2.

Leblanc M, Leveillee F, Turcotte E. Prospective evaluation of the negative predictive value of VQ SPECT using 99mTc-Technegas. Nucl Med Commun. 2007;28(8):667–72.

3.

Jogi J, Jonson B, Ekberg M, Bajc M. Ventilation-perfusion SPECT with 99mTc-DTPA versus technegas: a head-to-head study in obstructive and nonobstructive disease. J Nucl Med. 2010;51(5):735–41.

4.

Roach PJ, Gradinscak DJ, Schembri GP, Bailey EA, Willowson KP, Bailey DL. SPECT/CT in VQ scanning. Semin Nucl Med. 2010;40(6):455–66.

5.

Hofman MS, Kong G, Neels OC, Eu P, Hong E, Hicks RJ. High management impact of Ga-68 DOTATATE (GaTate) PET/CT for imaging neuroendocrine and other somatostatin expressing tumours. J Med Imaging Radiat Oncol. 2012;56(1):40–7.

6.

Buchmann I, Henze M, Engelbrecht S, Eisenhut M, Runz A, Schäfer M, et al. Comparison of 68Ga-DOTATOC PET and 111In-DTPAOC (Octreoscan) SPECT in patients with neuroendocrine tumours. Eur J Nucl Med Mol Imaging. 2007;34(10):1617–26.

7.

Hicks RJ, Hofman MS. Is there still a role for SPECT-CT in oncology in the PET-CT era? Nat Rev Clin Oncol. 2012;9(12):712–20.

8.

Kotzerke J, Andreeff M, Wunderlich G. PET aerosol lung scintigraphy using Galligas. Eur J Nucl Med Mol Imaging. 2010;37(1):175–7.

9.

Mathias CJ, Green MA. A convenient route to [68Ga]Ga-MAA for use as a particulate PET perfusion tracer. Appl Radiat Isot. 2008;66(12):1910–2.

10.

Kotzerke J, Andreeff M, Wunderlich G, Wiggermann P, Zophel K. Ventilation-perfusion-lungscintigraphy using PET and 68Ga-labeled radiopharmaceuticals. Nuklearmedizin. 2010;49(6):203–8.

11.

Hofman MS, Beauregard JM, Barber TW, Neels OC, Eu P, Hicks RJ. 68Ga PET/CT ventilation-perfusion imaging for pulmonary embolism: a pilot study with comparison to conventional scintigraphy. J Nucl Med. 2011;52(10):1513–9.

12.

Dice LR. Measures of the amount of ecologic association between species. Ecology. 1945;26(3):297–302.

13.

Suga K, Yasuhiko K, Zaki M, Yamashita T, Seto A, Matsumoto T, et al. Assessment of regional lung functional impairment with co-registered respiratory-gated ventilation/perfusion SPET-CT images: initial experiences. Eur J Nucl Med Mol Imaging. 2004;31(2):240–9.

14.

Nehmeh SA, Erdi YE, Pan T, Pevsner A, Rosenzweig KE, Yorke E, et al. Four-dimensional (4D) PET/CT imaging of the thorax. Med Phys. 2004;31(12):3179–86.

15.

Callahan J, Kron T, Schneider-Kolsky M, Dunn L, Thompson M, Siva S, et al. Validation of a 4D-PET maximum intensity projection for delineation of an internal target volume. Int J Radiat Oncol Biol Phys. 2013;86(4):749–54.

16.

Li G, Citrin D, Camphausen K, Mueller B, Burman C, Mychalczak B, et al. Advances in 4D medical imaging and 4D radiation therapy. Technol Cancer Res Treat. 2008;7(1):67–81.

17.

Dinkel J, Hintze C, Tetzlaff R, Huber PE, Herfarth K, Debus J, et al. 4D-MRI analysis of lung tumor motion in patients with hemidiaphragmatic paralysis. Radiother Oncol. 2009;91(3):449–54.

18.

Nyeng TB, Kallehauge JF, Hoyer M, Petersen JB, Poulsen PR, Muren LP. Clinical validation of a 4D-CT based method for lung ventilation measurement in phantoms and patients. Acta Oncol. 2011;50(6):897–907.

19.

Yamamoto T, Kabus S, von Berg J, Lorenz C, Keall PJ. Impact of four-dimensional computed tomography pulmonary ventilation imaging-based functional avoidance for lung cancer radiotherapy. Int J Radiat Oncol Biol Phys. 2011;79(1):279–88.

20.

Hill RP. Radiation effects on the respiratory system. BJR Suppl. 2005;27:75–81.

21.

Cui G, Gopalan S, Yamamoto T, Berger J, Maxim PG, Keall PJ. Commissioning and quality assurance for a respiratory training system based on audiovisual biofeedback. J Appl Clin Med Phys. 2010;11(4):3262.
Additional information
Jason Callahan and Michael S. Hofman contributed equally to this work.
Electronic supplementary material
Below is the link to the electronic supplementary material.
About this article
Cite this article
Callahan, J., Hofman, M.S., Siva, S. et al. High-resolution imaging of pulmonary ventilation and perfusion with 68Ga-VQ respiratory gated (4-D) PET/CT. Eur J Nucl Med Mol Imaging 41, 343–349 (2014). https://doi.org/10.1007/s00259-013-2607-4
Received:

Accepted:

Published:

Issue Date:
Keywords
68Ga-ventilation/perfusion PET/CT

Respiratory gated PET/CT

Pulmonary embolism

Respiratory motion