Abstract
Purpose
Three-dimensional dosimetry based on quantitative SPECT/CT has potential advantages over planar approaches, but may be impractical due to acquisition durations. We combine one SPECT/CT with improved quantification of multiple planar scintigraphies to shorten acquisitions.
Methods
A hybrid 2-D/3-D quantification technique is proposed, using SPECT/CT information for robust planar image quantification and creating virtual SPECTs out of conjugate-view planar scintigraphies; these are included in a 3-D absorbed dose calculation. A projection model simulates photon attenuation and scatter as well as camera and collimator effects. Planar and SPECT calibration techniques are described, offering multiple pathways of deriving calibration factors for hybrid quantification. Model, phantom and patient data are used to validate the approach on a per-organ basis, and the similarity of real and virtual SPECTs, and of planar images and virtual SPECT projections, is assessed using linear regression analysis.
Results
Organ overlap, background activity and organ geometry are accounted for in the algorithm. Hybrid time-activity curves yield the same information as those derived from a conventional SPECT evaluation. Where correct values are known, hybrid quantification errors are less than 16% for all but two compartments (SPECT/CT 23%). Under partial volume effects, hybrid quantification can provide more robust results than SPECT/CT. The mean correlation coefficient of 3-D data is 0.962 (2-D 0.934). As a consequence of good activity quantification performance, good agreement of absorbed dose estimates and dose-volume histograms with reference results is achieved.
Conclusion
The proposed activity quantification method for 2-D scintigraphies can speed up SPECT/CT-based 3-D dosimetry without losing accuracy.
Access options
Buy single article
Instant access to the full article PDF.
USD 39.95
Price includes VAT (USA)
Tax calculation will be finalised during checkout.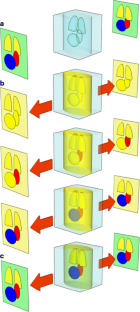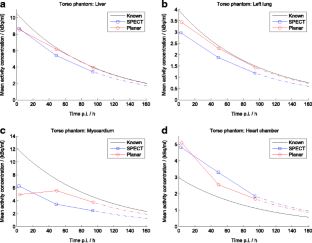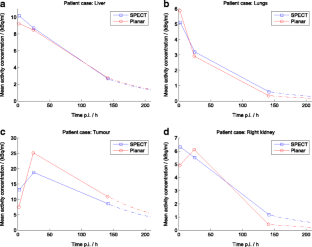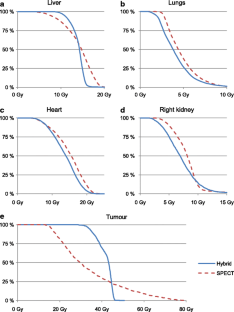 Notes
1.

S r which are too uniform, that is, too similar to the corresponding 1 r , should be excluded to avoid ill-posed equation systems. This, however, was not necessary in our study even with digital model data due to interpolation effects.
References
1.

Dewaraja YK, Wilderman SJ, Ljungberg M, Koral KF, Zasadny K, Kaminiski MS. Accurate dosimetry in 131I radionuclide therapy using patient specific, 3-dimensional methods for SPECT reconstruction and absorbed dose calculation. J Nucl Med 2005;46:840–9.

2.

Hobbs RF, Wahl RL, Lodge MA, Javadi MS, Cho SY, Chien DT, et al. 124I PET-based 3D-RD dosimetry for a pediatric thyroid cancer patient: real-time treatment planning and methodologic comparison. J Nucl Med 2009;50:1844–7.

3.

Ljungberg M, Frey E, Sjögreen K, Liu X, Dewaraja Y, Strand SE. 3D absorbed dose calculations based on SPECT: evaluation for 111-In/90-Y therapy using Monte Carlo simulations. Cancer Biother Radiopharm 2003;18:99–107.

4.

Sgouros G. Dosimetry of internal emitters. J Nucl Med 2005;46:18S–27S.

5.

McParland BJ. Nuclear medicine radiation dosimetry: advanced theoretical principles. London: Springer; 2010. p. 474–6.

6.

Loevinger R, Budinger TF, Watson EE. MIRD primer for absorbed dose calculations, revised. New York: Society of Nuclear Medicine; 1991.

7.

Sjögreen K, Ljungberg M, Strand SE. An activity quantification method based on registration of CT and whole-body scintillation camera images, with application to 131I. J Nucl Med 2002;43:972–82.

8.

Liu A, Williams LE, Raubitschek AA. A CT assisted method for absolute quantitation of internal radioactivity. Med Phys 1996;23:1919–28.

9.

Koral KF, Zasadny KR, Kessler ML, Luo JQ, Buchbinder SF, Kaminski MS, et al. CT-SPECT fusion plus conjugate views for determining dosimetry in iodine-131-monoclonal antibody therapy of lymphoma patients. J Nucl Med 1994;35:1714–20.

10.

He B, Wahl RL, Du Y, Sgouros G, Jacene H, Flinn I, et al. Comparison of residence time estimation methods for radioimmunotherapy dosimetry and treatment planning—Monte Carlo simulation studies. IEEE Trans Med Imaging 2008;27:521–30.

11.

He B, Wahl RL, Sgouros G, Du Y, Jacene H, Kasecamp WR, et al. Comparison of organ residence time estimation methods for radioimmunotherapy dosimetry and treatment planning—patient studies. Med Phys 2009;36:1595–601.

12.

He B, Frey E. Comparison of conventional, model-based quantitative planar, and quantitative SPECT image processing methods for organ activity estimation using In-111 agents. Phys Med Biol 2006;51:3967–81.

13.

Ferrer L, Malek E, Bodet-Milin C, Legouill S, Prangère T, Robu D, et al. Comparison of dosimetric approaches for non-Hodgkin lymphoma in RIT [abstract]. Eur J Nucl Med Mol Imaging 2010;37 Suppl 2:S238.

14.

Frey EC, Tsui BMW. A new method for modeling the spatially variant, object-dependent scatter response function in SPECT. IEEE Nucl Sci Symp Conf Rec 1996;2:1082–6.

15.

Bolch WE, Bouchet LG, Robertson JS, Wessels BW, Siegel JA, Howell RW, et al. MIRD pamphlet No. 17: the dosimetry of nonuniform activity distributions—radionuclide S values at the voxel level. Medical Internal Radiation Dose Committee. J Nucl Med 1999;40:11S–36S.

16.

Schweizer B, Schaefer A, Donsch P, Kremp S, Gouverneur E, Farmakis G, et al. Evaluation of voxel-based dosimetry for targeted radionuclide therapies in phantom studies [abstract]. Eur J Nucl Med Mol Imaging 2009;36 Suppl 2:S428.

17.

Segars W. Development and application of the new dynamic NURBS-based cardiac-torso (NCAT) phantom, University of North Carolina at Chapel Hill; 2001.

18.

He B, Du Y, Segars W, Wahl RL, Sgouros G, Jacene H, et al. Evaluation of quantitative imaging methods for organ activity and residence time estimation using a population of phantoms having realistic variations in anatomy and uptake. Med Phys 2009;36:612–9.

19.

Park M, Mahmood A, Zimmerman R, Limpa-Amara N, Makrigiorgos G, Moore S. Adsorption of metallic radionuclides on plastic phantom walls. Med Phys 2008;35:1606–10.

20.

Schweizer B, Goedicke A. Validation of GEANT 4 for accurate modeling of 111In SPECT acquisition. In: Deserno TM, Handels H, Meinzer HP, Tolxdorff T, editors. Bildverarbeitung für die Medizin 2010; 2010 Mar 18–20; Aachen, Germany. Berlin: Springer, 2010. p. 345–9. Available via: http://ceur-ws.org/Vol-574/bvm2010_70.pdf.

21.

Pereira JM, Stabin MG, Lima FRA, Guimarães MICC, Forrester JW. Image quantification for radiation dose calculations–limitations and uncertainties. Health Phys 2010;99:688–701.
Acknowledgements
The authors wish to thank Prof. Felix Mottaghy for access to the scanning facilities at the University Hospital Maastricht; furthermore, Dr. John Humm for making patient data available for use in this work.
Conflicts of interest
Yannick Berker was a diploma student with Philips; Andreas Goedicke is an employee of Philips; Bernd Schweizer was an employee of Philips.
About this article
Cite this article
Berker, Y., Goedicke, A., Kemerink, G.J. et al. Activity quantification combining conjugate-view planar scintigraphies and SPECT/CT data for patient-specific 3-D dosimetry in radionuclide therapy. Eur J Nucl Med Mol Imaging 38, 2173–2185 (2011). https://doi.org/10.1007/s00259-011-1889-7
Received:

Accepted:

Published:

Issue Date:
Keywords
Radiobiology/dosimetry

Radionuclide therapy

SPECT/CT

Conjugate views

Activity quantification