Abstract
P-glycoprotein (Pgp) is an ABC (ATP binding cassette) transporter that is often overexpressed in tumours, contributing significantly to their multidrug resistance. In this study, we explored whether the radiotracers used in tumour diagnostics can be used for in vivo visualisation of Pgp-related multidrug resistance. We also examined the effects of different Pgp modulators on the accumulation of these radioligands in tumours with or without Pgp expression. In a SCID BC-17 mouse model, cells of the drug-sensitive KB-3-1 (MDR−) and the KB-V1 Pgp-expressing (MDR+) human epidermoid carcinoma cell lines were inoculated to yield tumours in opposite flanks. For in vivo scintigraphic (biodistribution) and positron emission tomography (PET) examinations, the mice were injected with technetium-99m hexakis-2-methoxybutylisonitrile (99mTc-MIBI), carbon-11 labelled methionine and fluorine-18 fluoro-2-deoxy-d-glucose (18FDG). For validation, in vitro cell studies with 99mTc-MIBI, 99mTc-tetrofosmin, [11C]methionine and 18FDG were carried out using a gamma counter. The expression and function of the MDR product were proved by immunohistochemistry and spectrofluorimetry. 99mTc-MIBI uptake was significantly lower in KB-V1 cells as compared with KB-3-1-derived tumours in vivo (Pgp+/Pgp− =0.61±0.13; P<0.01) and cells in vitro (Pgp+/Pgp− =0.08±0.01; P<0.001).Cyclosporin A reversed 99mTc-MIBI uptake in the Pgp+ cells, while verapamil failed to modify it. 18FDG uptake was significantly higher in KB-V1 tumours (Pgp+/Pgp− =1.36±0.05; P<0.01) and cells (Pgp+/Pgp− =1.52±0.12; P<0.001). Whereas cyclosporin A eliminated the difference between FDG uptake in MDR+ and MDR− cell lines, verapamil significantly increased it. When the animals were treated with verapamil, the ratio of 99mTc-MIBI uptake in the MDR+ tumours to that in the MDR− tumours decreased to 0.38±0.05 (P<0.01), while the ratio of 18FDG uptake increased to 2.1±0.3 (P<0.001). There were no significant differences in the [11C]methionine uptake in the MDR+ and MDR− tumours and cell lines, nor was [11C]methionine accumulation modified by cyclosporin A. Parallel administration of 18FDG and 99mTc-MIBI combined with verapamil treatment seems to be a good candidate as a non-invasive marker for the diagnosis of MDR-related Pgp expression in tumours.
Access options
Buy single article
Instant access to the full article PDF.
USD 39.95
Price excludes VAT (USA)
Tax calculation will be finalised during checkout.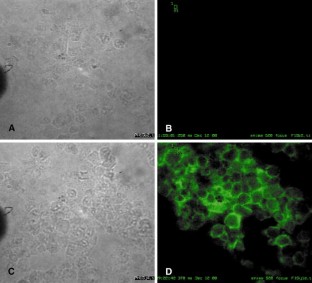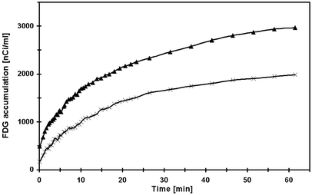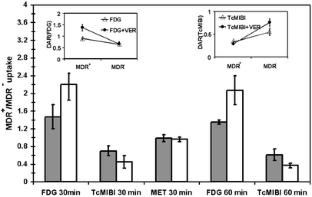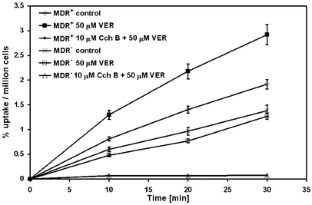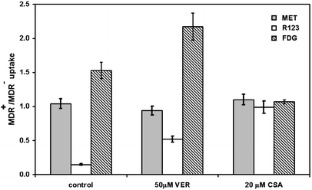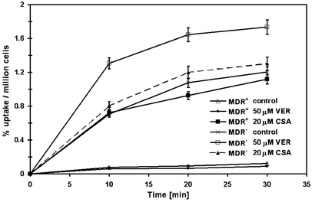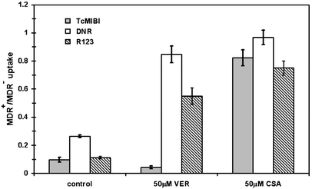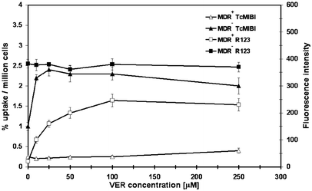 References
Sharom FJ. The P-glycoprotein efflux pump: how does it transport drugs? J Membr Biol 1997; 160:167–175.

Hendrikse NH, Franssren EJF, van der Graaf WTA, Vaalburg W, de Vries EGE. Visualization of multidrug resistance in vivo. Eur J Nucl Med 1999; 26:283–293.

Litman T, Druley TE, Stein DW, Bates SE. From MDR to MXR: new understanding of multidrug resistance systems, their properties and clinical significance. Cell Mol Life Sci 2001; 58:931–959.

Lehne G. P-glycoprotein as a drug target in the treatment of multidrug resistant cancer. Curr Drug Targets 2000; 1:85–99.

Dean M, Hamon Y, Chimini G. The human ATP-binding cassette (ABC) transporter superfamily. J Lipid Res 2001; 42:1007–1017.

Trock B, Leonessa JF, Clarke R. Multidrug resistance in breast cancer: a meta analyses of MDR1/Pgp 170 expression and its possible functional significance. J Natl Cancer Inst 1997; 89:917–931.

Simon SM, Schindler M. Cell biological mechanism of multidrug resistance in tumors. Proc Natl Acad Sci U S A 1994; 91:3497–3504.

Del Vecchio S, Ciarmiello A, Salvatore M. Clinical imaging of multidrug resistance in cancer. Q J Nucl Med 1999; 43:125–131.

Zhou J, Higashi K, Ueda Y, Kodama Y, Guo D, Jisaki F, Sakurai A, Takegami T, Katsuda S, Yamamoto I. Expression of multidrug resistance protein and messenger RNA correlate with99mTc-MIBI imaging in patients with lung cancer. J Nucl Med 2001; 42:1476–1483.

Pauwels EKJ, McCready VR, Stoot JHMB, van Deurzen DFP. The mechanism of accumulation of tumour-localising radiopharmaceuticals. Eur J Nucl Med 1998; 25:277–305.

De Moerloose B, Van der Wiele C, Dhooge C, Philippé J, Speleman F, Benoit Y, Laureys G, Dierckx RA. Technetium-99m sestamibi imaging in paediatric neuroblastoma and ganglioneuroma and its relation to P-glycoprotein. Eur J Nucl Med 1999; 26:396–403.

Hendrikse NH, Franssren EJF, van der Graaf WTA, Meijer C, Piers DA, Vaalburg W, de Vries EGE.99mTc-MIBI is a substrate for P-glycoprotein and the multidrug associated protein. Br J Cancer 1998; 77:9675–9682.

Kostakoglu L, Kiratli P, Ruacan S, Hayran M, Emri S, Ergün EL, Bekdik CF. Association of tumor washout rates and accumulation of technetium-99m-MIBI with expression of P-glycoprotein in lung cancer. J Nucl Med 1998; 39:228–234.

Goda K, Balkay L, Márián T, Trón L, Aszalós A, Szabó G Jr. Intracellular pH does not affect drug extrusion by P-glycoprotein. J Photochem Photobiol B: Biol 1996; 34:177–182.

Sarkadi B, Price EM, Boucher RC, Germann UA, Scarborough GA. Expression of the human multidrug resistance cDNA in insect cells generates a high activity drug-stimulated membrane ATPase. J Biol Chem 1992; 267:4854–4858.

Mankoff DA, Bellon JR. Positron-emission tomographic imaging of cancer: glucose metabolism and beyond. Semin Radiat Oncol 2001; 11:16–27.

Wahl LR. Targeting glucose transporters for tumor imaging: "sweet" idea, "sour" result. J Nucl Med 1996; 37:1038–1041.

Jager P, Vaalburg W, Pruim J, de Vries E, Langen K, Piers A. Radiolabeled amino acids: basic aspects and clinical applications in oncology. J Nucl Med 2001; 42:432–445.

Shen DW, Cardarelli C, Hwang J, Cornwell MM, Richert N, Ishii S, Pastan I, Gottesman MM. Multiple drug-resistant human KB carcinoma cells independently selected for high level resistance to colchicines, adriamycine or vinblastine show changes in expression of specific proteins. J Biol Chem 1986; 261:7762–7770.

Hamacher K, Coenen HH, Stöcklin G. Efficient stereospecific synthesis of no-carrier-added 2-(18F)-fluoro-2-deoxy-d-glucose using aminopolyether supported nucleophilic substitution. J Nucl Med 1986; 27:235–238.

Sarkadi É, Kovács Z, Andó L, Szelecsényi F. Preparation of [11C] labeled methyl iodide using aqueous HI adsorbed on alumina. Radiochim Acta 1997; 76:197–201.

Márián T, Balkay L, Krasznai Z, Trón L. Membrane permeability changes induce hyperpolarization in transformed lymphoid cells under high density culture conditions. Cytometry 2000; 41:186–192.

Barbics E, Kronauge JF, Cohen D, Davison A, Jones AG, Croop JM. Characterization of P-glycoprotein transport and inhibition in vivo. Cancer Res 1998; 58:276–282.

Rodrigues M, Kalinowska W, Zielinski C, Sinzinger H. Verapamil decreases accumulation of99Tcm-MIBI and 99Tcm-tetrofosmin in human breast cancer and soft tissue sarcoma cell lines. Nucl Med Commun 2001; 22:645–650.

Rao VV, Chiu ML, Kronauge JF, Piwnica-Worms D. Expression of recombinant human multidrug resistance P-glycoprotein in insect cells confers decreased accumulation of technetium-99m-sestamibi. J Nucl Med 1994; 35:510–515.

Cayre A, Moins N, Finat-Duclas F, Maublant J, Verrelle P. Comparative99mTc-sestamibi and 3H-daunomycin uptake in human carcinoma cells: relation to the MDR phenotype and effects of reversing agents. J Nucl Med 1999; 40:672–676.

Broxterman HJ, Pinedo HM, Kuiper CM, Schuurhuis GJ, Lankelma J. Glycolysis in P-glycoprotein-overexpressing human tumor cell lines. Effects of resistance-modifying agents. FEBS Lett 1989; 247:405–410.

Broxterman HJ, Pinedo HM, Schuurhuis GJ, Lankelma J. Cyclosporin A and verapamil have different effects on energy metabolism in multidrug-resistant tumour cells. Br J Cancer 1990; 62:85–88.

Nagy H, Goda K, Arceci R, Cianfriglia M, Mechetner E, Szabó G Jr. P-glycoprotein conformational changes detected by antibody competition. Eur J Biochem 2001; 268:2416–2420.

Goda G, Nagy H, MechetnerE, Cianfriglia M, Szabó G Jr. Effects of ATP depletion and phosphate analogues on P-glycoprotein conformation in live cells. Eur J Biochem 2001; 269:2672–2677.

Utsunomiya K, Ballinger JR, Piquette-Miller M, Rauth AM, Tang W, Su Zi-Fen, Ichise M. Comparison of the accumulation and efflux kinetics of technetium-99m sestamibi and technetium-99m tetrofosmin in an MRP-expressing tumour cell line. Eur J Nucl Med 2000; 27:1786–1792.

Rybczynska M, Liu R, Lu P, Sharom FJ, Steinfels E, Di Pietro A, Spitaler M, Grunicke H, Hofmann J. MDR1 causes resistance to the antitumour drug miltefosine. Br J Cancer 2001; 84:1405–1411.

Schuldes H, Doleres J, Zimmer G, Knobloch J, Bickeboller R, Jonas D, Woodcock BG. Reversal of multidrug resistance and increase in plasma membrane fluidity in CHO cells with R-verapamil and bile salts. Eur J Cancer 2001; 37:670–667.

Lu P, Liu R, Sharom FJ. Drug transport by reconstituted P-glycoprotein in proteoliposomes. Effect of substrates and modulators, and dependence on bilayer phase state. Eur J Biochem 2001; 268:1687–1697.
Acknowledgements
This study was partly supported by ETT 10/104/2000, ETT 04/473/2000, ETT 111/2001, ETT T01/103 and OTKA 038270, OTKA 032563.
About this article
Cite this article
Márián, T., Szabó, G., Goda, K. et al. In vivo and in vitro multitracer analyses of P-glycoprotein expression-related multidrug resistance. Eur J Nucl Med Mol Imaging 30, 1147–1154 (2003). https://doi.org/10.1007/s00259-003-1204-3
Received:

Accepted:

Published:

Issue Date:

DOI: https://doi.org/10.1007/s00259-003-1204-3
Keywords
P-glycoprotein

Multidrug resistance

99mTc-MIBI
[11C]methionine
18FDG