Abstract
Deep fibromatosis is a locally aggressive neoplasm commonly involving the extremities. Several authors have described imaging features and complications associated with deep fibromatosis. We present the case of a 33-year-old man who presented with a right gluteal fibrous mass identified on magnetic resonance imaging (MRI), which was associated with a pseudoaneurysm originating from the right superior gluteal artery on serial follow-up with MRI and computed tomography. No intervention was done, and after conservative management, spontaneous thrombosis of the pseudoaneurysm was developed. Such imaging finding is the first report of a spontaneous development of pseudoaneurysm caused by deep fibromatosis, which could be a life-threatening condition and should be considered when dealing with deep fibromatosis and deciding on the appropriate treatment.
Access options
Buy single article
Instant access to the full article PDF.
USD 39.95
Price excludes VAT (USA)
Tax calculation will be finalised during checkout.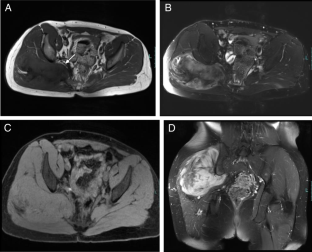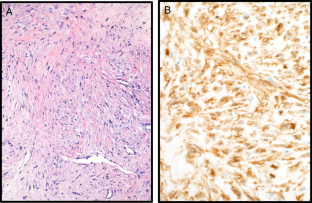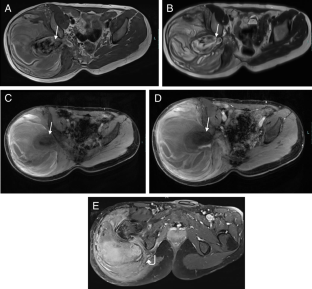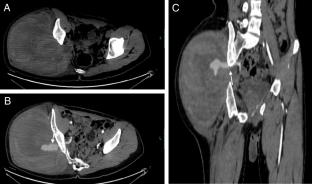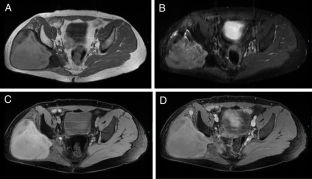 Data availability
Data sharing not applicable to this article as no datasets were generated or analysed during the current study.
References
Trautmann M, Rehkämper J, Gevensleben H, et al. Novel pathogenic alterations in pediatric and adult desmoid-type fibromatosis – a systematic analysis of 204 cases. Sci Rep. 2020;10:3368.

Master S, Mangla A, Puckett Y, Shah C. Desmoid tumor [Internet]. Ncbi.nlm.nih.gov. 2022. Available from: https://www.ncbi.nlm.nih.gov/books/NBK459231/. Accessed 25 September 2022

Nieuwenhuis M, Casparie M, Mathus-Vliegen L, Dekkers O, Hogendoorn P, Vasen H. A nation-wide study comparing sporadic and familial adenomatous polyposis-related desmoid-type fibromatoses. Int J Cancer. 2010;129(1):256–61.

De Wever I, Cin P, Fletcher C, et al. Cytogenetic, clinical, and morphologic correlations in 78 cases of fibromatosis: a report from the CHAMP Study Group. Mod Pathol. 2000;13(10):1080–5.

Desmoid Tumor - NORD (National Organization for Rare Disorders) [Internet]. NORD (National Organization for Rare Disorders). 2022. Available from: https://rarediseases.org/rare-diseases/desmoid-tumor/. Accessed 25 September 2022

Long N, Gounder M, Crago A, Chou A, Panicek D. Pseudoaneurysm within a desmoid tumor in an extremity: report of 2 cases. Skeletal Radiol. 2021;50(10):2107–15.

Cuomo P, Scoccianti G, Schiavo A et al. Extra-abdominal desmoid tumor fibromatosis: a multicenter EMSOS study. BMC Cancer. 2021;21(1). https://doi.org/10.1186/s12885-021-08189-6

Schlemmer M. Desmoid tumors and deep fibromatoses. Hematol/Oncol Clin North America. 2005;19(3):565–71.

Escobar C, Munker R, Thomas J, Li B, Burton G. Update on desmoid tumors. Ann Oncol. 2012;23(3):562–9.

McDonald E, Yi E, Wenger D. Extraabdominal desmoid-type fibromatosis. Radiographics. 2008;28(3):901–6.

Stoeckle E, Coindre J, Longy M, et al. A critical analysis of treatment strategies in desmoid tumours: a review of a series of 106 cases. Eur J Surg Oncol (EJSO). 2009;35(2):129–34.

Devata S, Chugh R. Desmoid tumors. Hematol Oncol Clin North Am. 2013;27(5):989–1005.

Molloy AP, Hutchinson B, O'Toole GC. Extra-abdominal desmoid tumours: a review of the literature. Sarcoma. 2012;2012:1–9.

Sundaram M, McGuire M, Schajowicz F. Soft-tissue masses: histologic basis for decreased signal (short T2) on T2-weighted MR images. Am J Roentgenol. 1987;148(6):1247–50.

Murphey M, Ruble C, Tyszko S, Zbojniewicz A, Potter B, Miettinen M. Musculoskeletal fibromatoses: radiologic-pathologic correlation. Radiographics. 2009;29(7):2143–83.

Ganeshan D, Amini B, Nikolaidis P, Assing M, Vikram R. current update on desmoid fibromatosis. J Comput Assist Tomogr. 2019;43(1):29–38.

Briand S, Barbier O, Biau D, et al. Wait-and-see policy as a first-line management for extra-abdominal desmoid tumors. J Bone Joint Surg. 2014;96(8):631–8.

Zheng C, Zhou Y, Wang Y, Luo Y, Tu C, Min L. the activity and safety of anlotinib for patients with extremity desmoid fibromatosis: a retrospective study in a single institution. Drug Des Dev Ther. 2020;14:3941–50.

Alman B, Attia S, Baumgarten C, et al. The management of desmoid tumours: a joint global consensus-based guideline approach for adult and paediatric patients. Eur J Cancer. 2020;127:96–107.

Gounder M, Mahoney M, Van Tine B, et al. Sorafenib for advanced and refractory desmoid tumors. N Engl J Med. 2018;379(25):2417–28.

Schmitz J, Schmit G, Atwell T, et al. Percutaneous cryoablation of extraabdominal desmoid tumors: a 10-year experience. Am J Roentgenol. 2016;207(1):190–5.

Redifer Tremblay K, Lea W, Neilson J, King D, Tutton S. Percutaneous cryoablation for the treatment of extra-abdominal desmoid tumors. J Surg Oncol. 2019;120(3):366–75.

Ilaslan H, Schils J, Joyce M, Marks K, Sundaram M. Radiofrequency ablation: another treatment option for local control of desmoid tumors. Skeletal Radiol. 2009;39(2):169–73.

Ghanouni P, Dobrotwir A, Bazzocchi A, et al. Magnetic resonance-guided focused ultrasound treatment of extra-abdominal desmoid tumors: a retrospective multicenter study. Eur Radiol. 2016;27(2):732–40.

Cassidy M, Lefkowitz R, Long N, et al. Association of MRI T2 signal intensity with desmoid tumor progression during active observation. Ann Surg. 2020;271(4):748–55.
Ethics declarations
Informed consent
Informed consent was obtained from the patient to publish this report including the clinical history and imaging.
Conflict of interest
The authors declare no competing interests.
Additional information
Publisher's note
Springer Nature remains neutral with regard to jurisdictional claims in published maps and institutional affiliations.
Rights and permissions
Springer Nature or its licensor (e.g. a society or other partner) holds exclusive rights to this article under a publishing agreement with the author(s) or other rightsholder(s); author self-archiving of the accepted manuscript version of this article is solely governed by the terms of such publishing agreement and applicable law.
About this article
Cite this article
Alsayegh, H., Alzaid, T., Khawaji, A. et al. Aggressive gluteal fibromatosis: a rare case associated with spontaneous superior gluteal artery pseudoaneurysm. Skeletal Radiol 52, 1593–1598 (2023). https://doi.org/10.1007/s00256-022-04263-7
Received:

Revised:

Accepted:

Published:

Issue Date:

DOI: https://doi.org/10.1007/s00256-022-04263-7
Keywords