Abstract
This review illustrates the multimodality assessment of transfascial muscle and other soft tissue herniations of the extremities. Transfascial herniations of the extremities can develop from congenital or acquired disruptions of the deep fascia, resulting in herniation of the underlying muscle, nerve, or soft tissue tumor into the subcutaneous tissues. While most patients present with a painless subcutaneous nodule that may change in size with muscle activation, some may experience focal or diffuse extremity symptoms such as pain and paresthesias. Although the diagnosis may be clinically suspected, radiologic evaluation is useful for definitive diagnosis and characterization. Ultrasound is the preferred modality for initial workup through a focused and dynamic examination. Magnetic resonance imaging can be utilized for equivocal, complicated, and preoperative cases. Computed tomography is less useful in the evaluation of transfascial herniations in the extremities due to similarities in the attenuation between muscle and fascia, which can decrease the conspicuity of small defects.
Access options
Buy single article
Instant access to the full article PDF.
USD 39.95
Price excludes VAT (USA)
Tax calculation will be finalised during checkout.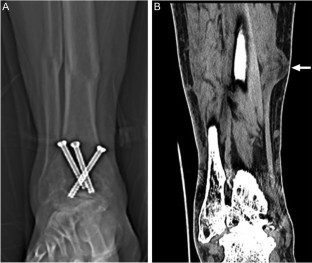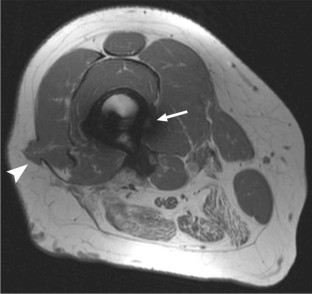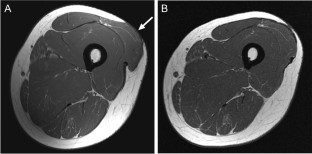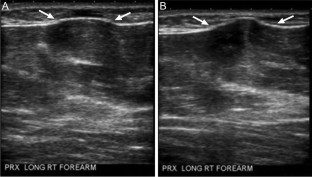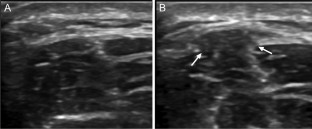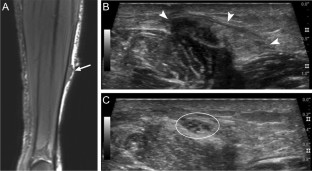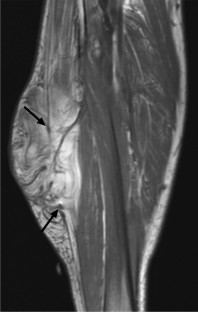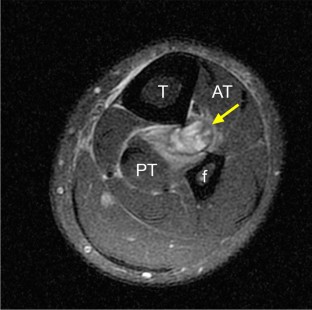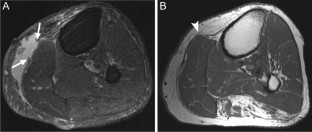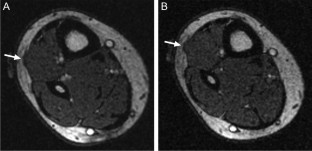 References
Clinite KL, Wyble A, Sugarman JL. Tibialis anterior muscle herniation in adolescents: a case series and review of the literature. Pediatr Dermatol. 2019;36(5):664–7. https://doi.org/10.1111/pde.13875.

Hullur H, Salem Y, Al Khalifa J, Salem A. Tibialis anterior muscle hernia: rare but not uncommon. BMJ Case Rep. 2016;2016:bcr2016217569. https://doi.org/10.1136/bcr-2016-217569.

Kendi TK, Altinok D, Erdal HH, Kara S. Imaging in the diagnosis of symptomatic forearm muscle herniation. Skeletal Radiol. 2003;32(6):364–6. https://doi.org/10.1007/s00256-002-0615-8.

Nguyen JT, Nguyen JL, Wheatley MJ, Nguyen TA. Muscle hernias of the leg: a case report and comprehensive review of the literature. Can J Plast Surg. 2013;21(4):243–7.

Flores DV, Mejía Gómez C, Estrada-Castrillón M, Smitaman E, Pathria MN. MR imaging of muscle trauma: anatomy, biomechanics, pathophysiology, and imaging appearance. Radiographics. 2018;38(1):124–48. https://doi.org/10.1148/rg.2018170072.

Kim JY. Herniation of a lipomatous tumor in the extremity: a report of 3 cases. J Korean Radiol Soc. 2007;57:175–9.

Foresti M. Superficial peroneal nerve compression due to peroneus brevis muscle herniation. J Radiol Case Rep. 2019;13(11):10–7. https://doi.org/10.3941/jrcr.v13i11.3757.

Fustà-Novell X, Morgado-Carrasco D, Iranzo P, Giavedoni P. Transfascial muscular hernias: diagnosis by dynamic ultrasonography. Sultan Qaboos Univ Med J. 2019;19(3):e264–6. https://doi.org/10.18295/squmj.2019.19.03.016.

Sharma N, Kumar N, Verma R, Jhobta A. Tibialis anterior muscle hernia: a case of chronic, dull pain and swelling in leg diagnosed by dynamic ultrasonography. Pol J Radiol. 2017;82:293–5. https://doi.org/10.12659/PJR.900846.

Lane JE, Woody CM, Lesher JL. Tibialis anterior muscle herniation. Dermatol Surg. 2002;28(7):641–2. https://doi.org/10.1046/j.1524-4725.2002.01304.x.

Khaladkar SM, Kondapavuluri SK, Kamal A, Kalra R, Kamal V. Detection of myofascial herniation on dynamic sonography and magnetic resonance imaging. Case Rep Radiol. 2016;2016:4245189. https://doi.org/10.1155/2016/4245189.

Bergmann G, Ciritsis BD, Wanner GA, Simmen HP, Werner CM, Osterhoff G. Gastrocnemius muscle herniation as a rare differential diagnosis of ankle sprain: case report and review of the literature. Patient Saf Surg. 2012;6(1):5. https://doi.org/10.1186/1754-9493-6-5.

Ihde H. On muscular hernia of the leg. Acta Chir Scand. 1929;65:97–120.

Sanders BS, Bruce J, Robertson J. Treatment of a symptomatic forearm muscle herniation with a mesh graft. Sports Health. 2011;3(2):179–81. https://doi.org/10.1177/1941738111398616.

Mellado JM, Pérez del Palomar L. Muscle hernias of the lower leg: MRI findings. Skeletal Radiol. 1999;28(8):465–9. https://doi.org/10.1007/s002560050548.

Kramer DE, Pace JL, Jarrett DY, Zurakowski D, Kocher MS, Micheli LJ. Diagnosis and management of symptomatic muscle herniation of the extremities: a retrospective review. Am J Sports Med. 2013;41(9):2174–80. https://doi.org/10.1177/0363546513493598.

Hallinan JTPD, Smitaman E, Huang BK. Dynamic ultrasound imaging of peroneus longus muscle herniation: a case report and review of the literature. Am J Phys Med Rehabil. 2019;98(7):e69–70. https://doi.org/10.1097/PHM.0000000000001099.

Beggs I. Sonography of muscle hernias. AJR Am J Roentgenol. 2003;180(2):395–9. https://doi.org/10.2214/ajr.180.2.1800395.

American College of Radiology. ACR Appropriateness Criteria®. Available at https://acsearch.acr.org/list. Accessed 18 Apr 2022.
Acknowledgements
The authors thank Sonia Watson, Ph.D. for assistance in preparation of the manuscript.
Ethics declarations
Ethics approval
All procedures in studies involving human participants were in accordance with ethical standards of the institutional and/or national research committee and with the 1964 Helsinki Declaration and its later amendments or comparable ethical standards.
Consent to participate
Approval from the Institutional Review Board was obtained. In keeping with the policies for a review, informed consent was not required.
Conflict of interest
The authors declare no competing interests.
Additional information
Publisher's note
Springer Nature remains neutral with regard to jurisdictional claims in published maps and institutional affiliations.
About this article
Cite this article
Pitot, M.A., Powell, G.M., Holcomb, R. et al. Multimodality evaluation of transfascial muscle and other soft tissue herniations of the extremities. Skeletal Radiol 52, 1–8 (2023). https://doi.org/10.1007/s00256-022-04121-6
Received:

Revised:

Accepted:

Published:

Issue Date:

DOI: https://doi.org/10.1007/s00256-022-04121-6
Keywords
Muscle herniation

Extremity

Fascial defect

Ultrasound

MRI